Engauge Experimental Film Festival 2019
Thu Nov 07 — Sat Nov 09, 2019
Each program in the festival is ticketed individually
Regular pricing for short film programs:
$13 General Admission
$10 Student/Senior
$7 NWFF Member
Special event pricing for Crackpot Crafters live performance on closing night:
$17 General Admission
$13 NWFF Member
Full festival passes:
$70 General Admission
$40 NWFF Member
** Engauge will screen only films that originated on film – read on to learn which screenings are presented on celluloid! **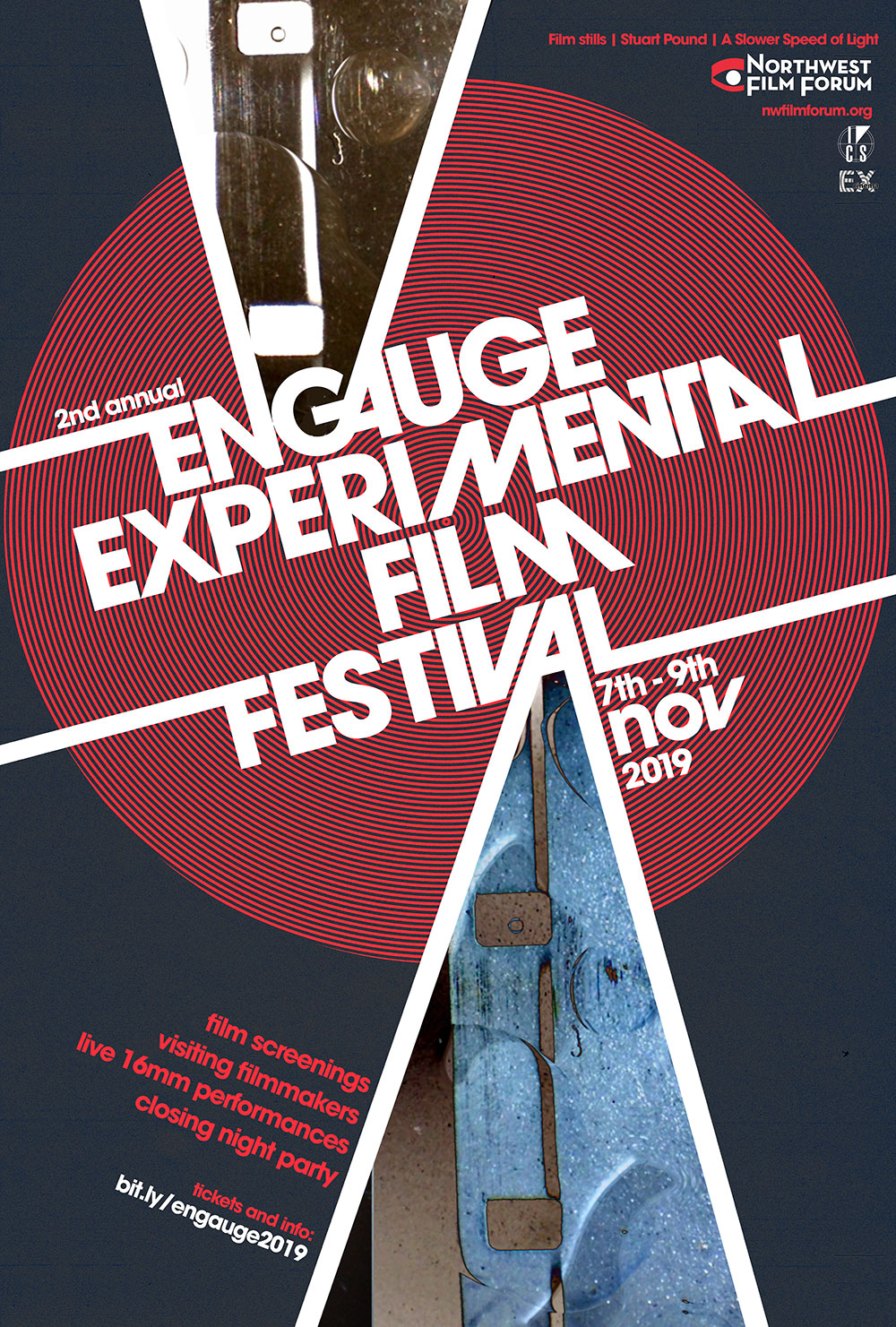 ---
Each Fall, Engauge Experimental Film Festival hosts screenings sponsored by the Interbay Cinema Society in partnership with Northwest Film Forum. The festival screens only work that originates on film, by filmmakers both local and international.
This year's festival features films from 20 countries and 11 states:
Countries: Argentina, Brazil, Canada, Chile, China, Colombia, Ecuador, France, Germany, Greece, Iran, Ireland, Italy, Paraguay, Russia, South Africa, Switzerland, Taiwan, United Kingdom, United States
States: California, Colorado, Connecticut, Georgia, Florida, Massachusetts, Minnesota, New Mexico, New York, North Carolina, and Washington
---
Engauge Experimental Film Festival is pleased to partner with Northwest Film Forum to present their second cameraless filmmaking workshop.
For fans of direct animation, contact printing, and photograms – this is a dream workshop. No filmmaking experience is required to participate. No cameras means no new devices to learn the quirks of, no lenses to focus; no muss!
Experimental filmmaker and Emerson College Visual and Media Arts Prof. Kathryn Ramey will walk students through a range of ultra-accessible filmmaking processes, starting with painting unexposed stock with developer, which can be done with the lights on, and then photogramming in the dark! Small objects and materials (go wild – paper clips, beads, seed pods, earrings, pencil shavings – anything goes) layered on film can be exposed with flashlights, then your film can be turned into a positive by overlaying it on dry, developed film. We'll even add soundtracks from found footage.
Some processes are immediately satisfying, some more gradually, but all can make it to being looped and projected before the workshop lets out. Let your creativity run wild, experimentalists! For an example of what comes out of Kathryn Ramey's cameraless workshops, watch a video here >
This workshop takes place at Pound Gallery, 1216 10th Ave. (between Pike and Seneca)
Instructor Kathryn Ramey is the author of the book Experimental Filmmaking: Break the Machine (Focal Press, 2016).
---
This festival, presented by Interbay Cinema Society and Northwest Film Forum, is supported by EXcinema and The Sprocket Society.
---
---