Honey Pluton: I've Always Been Like This [In-Person Only]
$15 General Admission
This event is ticketed by Honey Pluton. NWFF cannot help you with refunds, ticket transfers, or any of that other business.
Click for Accessibility Info
Ticketing, concessions, cinemas, restrooms, and our public edit lab are located on Northwest Film Forum's ground floor, which is wheelchair accessible. All doors in Northwest Film Forum are non-motorized, and may require staff assistance to open. Our upstairs workshop room is not wheelchair accessible.
The majority of seats in our main cinema are 21″ wide from armrest to armrest; some seats are 19″ wide. We are working on creating the option of removable armrests!
We have a limited number of assistive listening devices available for programs hosted in our larger theater, Cinema 1. These devices are maintained by the Technical Director, and can be requested at the ticketing and concessions counter. Also available at the front desk is a Sensory Kit you can borrow, which includes a Communication Card, noise-reducing headphones, and fidget toys.
The Forum does NOT have assistive devices for the visually impaired, and is not (yet) a scent-free venue. Our commitment to increasing access for our audiences is ongoing, and we welcome all public input on the subject!
If you have additional specific questions about accessibility at our venue, please contact our Patron Services Manager at maria@nwfilmforum.org. Our phone number (206-329-2629) is voicemail-only, but we check it often.
Made possible due to a grant from Seattle Office of Arts & Culture, in partnership with Sensory Access, our Sensory Access document presents a visual and descriptive walk-through of the NWFF space. View it in advance of attending an in-person event at bit.ly/nwffsocialnarrativepdf, in order to prepare yourself for the experience.
NWFF patrons will be required to wear masks that cover both nose and mouth while in the building. Disposable masks are available at the door for those who need them. We are not currently checking vaccination cards. Recent variants of COVID-19 readily infect and spread between individuals regardless of vaccination status.
Read more about NWFF's policies regarding cleaning, masks, and capacity limitations here.
---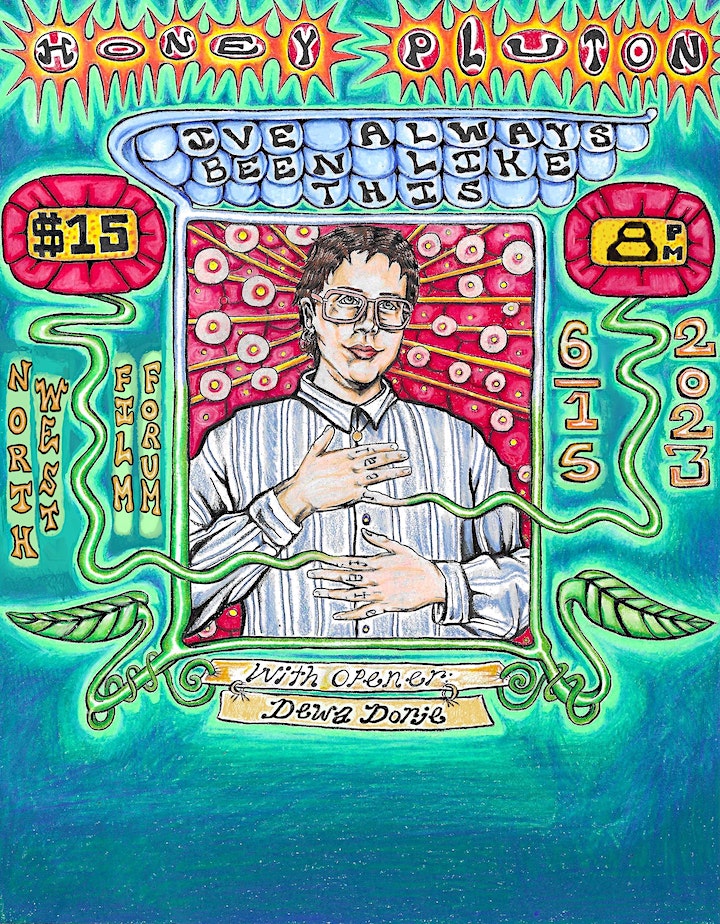 About the show:
Honey Pluton presents: I've Always Been Like This. A temporal, non linear comedic foray through and within time, a retrospective of their life thus far, an intimate and vulnerable look into what it has meant to be, and how and why they (and we) Have Always Been Like This. AND YEA ITS GONNA BE FUNNY AND TRANSGENDER TOO 🙂 With an opening set by Dewa Dorje!

Honey Pluton is a New York City based comedian. They don't have very many credits but it doesn't really matter. They like to have fun, to create their own reality, and hopefully benevolently impact yours.

Dewa Dorje is a Tibetan American stand up comedian and single mom of two; born and raised in the 206 (Seattle for the nerds). She jokes about life's hardships with explicit honesty and a smile. She is hilarious and easy to love. Dewa says her jokes are "rooted in feminism and anti-white supremacy," AND she loves to talk about yak dung. Dewa is passionate about healing intergenerational trauma and comedy. She has performed all over including Bumbershoot and the All Jane Comedy festival. She has a comedy podcast, Dank Moms, and hosts her own comedy talk show Dee's Nuts at the famous Crocodile in Seattle. Please get vaxxed, wear a mask, and laugh hard everyday.
---