The Illuminated Space: Book Launch with Screenings, Readings & Conversation
Jan. 13, 2021 from 7–8:30pm PST
Sliding scale admission: $5–25.
Please pay what you can; proceeds support Northwest Film Forum during our closure!

• • HOW TO PARTICIPATE VIRTUALLY • •
Purchase your sliding scale ticket through Brown Paper Tickets.
Registrants will receive an email from NWFF at least 1 hour before showtime with information on how to tune in to the live program. (Don't see it? Check your spam filter.)
If you encounter any issues tuning in, please contact rana@nwfilmforum.org for a quick follow-up. (But please, check your spam first!)
** This live, one-time event is co-presented by The 3rd Thing, MicroActs, and Three Dollar Bill Cinema; the program includes screenings of Marilyn Freeman's short films, readings, and a discussion moderated by Elliat Graney-Saucke. Full details below! **
About
This live event features contemplative filmmaker Marilyn Freeman who will share a selection of their short, evocative films interspersed with brief readings from their new book, The Illuminated Space (The 3rd Thing, 2020). Praised by filmmakers, film theorists and leaders in the contemplative practice community, Freeman's film work and writing invites us, as audiences and readers, into deep encounters with the world and with ourselves. Moderated by fellow filmmaker Elliat Graney-Saucke, the evening's program will include an introduction and conversation, allowing ample time for audience interaction with the artist.
"In this startlingly beautiful and evocative work combining essay, poetry and prayer-like reflection, Marilyn Freeman… urges us to wake up, to learn to love everything in the loving of one thing. I felt as though I was hearing the voice of a great mystic calling to me through time, through distance, through fog, speaking to me personally." Judith Valente, Author of How to Live and The Art of Pausing
"If you are unfamiliar with the work of Marilyn Freeman, you must get acquainted. These films have been transformative for me in the deep spiritual way that I have encountered other artists like Annie Dillard, Mary Oliver, and bell hooks." Gabriel Molinaro, Songwriter/Musician, Curator & Pastor of Sanctuary Church Seattle

---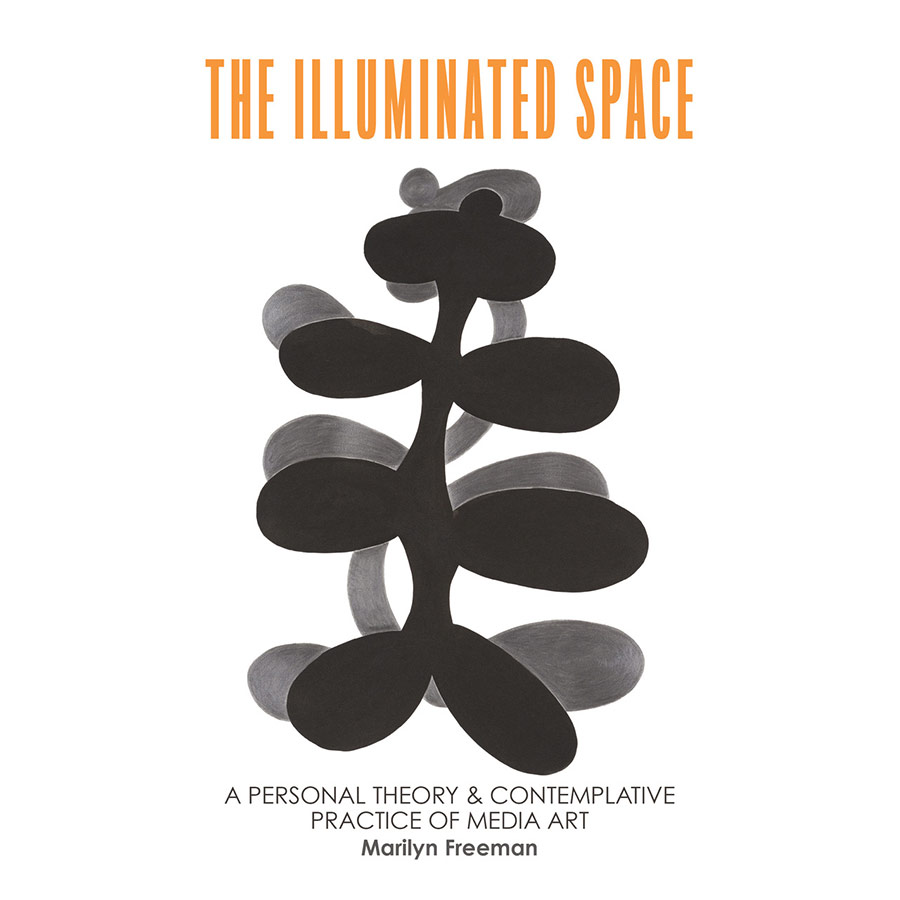 The Illuminated Space: A Personal Theory & Contemplative Practice of Media Art
In this many-faceted, vibrant gem, author Marilyn Freeman offers up a contemplative practice of dowsing for and creating "opportune moments" of insight and healing in media art. With humor and humility, Freeman reveals an innovative process developed over years of art-making, study and personal searching—a process of waking up again and again to the extraordinary possibilities hidden in everyday existence. Freeman introduces a theory of "evocative" practice as an alternative to the conventions of narrative and non-fiction filmmaking—a risky and rigorous engagement with form that invites the audience to participate in the creation of meaning. Freeman's inquiry goes far deeper than just a critical study of audio/visual media—into the human heart, with its shimmering capacity for honest and compassionate reckoning. Transgressing disciplinary boundaries and trading authority for authentic inquiry, Freeman takes us with them on a foray into time-based art that leaps and wanders from movie theaters to museums to Instagram in search of the "illuminated spaces" where we encounter ourselves and each other. (from the publisher, The 3rd Thing)
"In a lyrical, devoutly modest and vibrantly alive voice, Freeman awakens us to numinous possibilities that await both in art and in the whole wide world around us … a book of uncommon grace." – Bill Nichols, author of numerous film books including Introduction to Documentary, 3rd ed.
"The Illuminated Space is a lyrical poetic tribute to queer independent and experimental film." – Gwendolyn Audrey Foster, Filmmaker, Author & Professor of Film, University of Nebraska
"By staging propitious encounters with the past and the present, the living world and inspiring films, Marilyn Freeman discloses the infinite potential of a dialectical method that seeks its own illuminated space in between sounds and images, trauma and intimacy, lyricism and playfulness, time and consciousness." – Laura Rascaroli, author of The Personal Camera: Subjective Cinema and The Essay Film and How the Essay Film Thinks
Get a 20% discount with the publisher's Transfer of Power sale now through inauguration day, January 20th. And, with every sale, the publisher donates 20% to The Okra Project — an organization by and for trans artists of color.
---

Mercy
(Marilyn Freeman, 2016, 5 min)
A road trip unexpectedly leads American filmmaker Marilyn Freeman to the origins of racism in this contemplative video essay on reckoning with the religious roots of white supremacy.

Loss and Love
(2019, 4 min)
A dream, the blurring edges of reality, a sibling's passing and an owl coalesce in this lyrical filmic essay pondering the mystery of love.

All the Courtesy of Love
(2020, 5.5 min)
Laced with mystical bits from Rumi and St. Benedict, this fragmentary, playful, reflection on hospitality is paired visually with an enduring shot through the open doorways of an empty farmers' market in mid-winter.

How Long Will You Sleep
(2019, 5.5 min)
About consciousness and arousing one's soul through the everyday, this spacious poetic film is inspired by a troubled meditation on a medieval saint.

On Opening
(2020, 3.5 min)
With that dreaminess of a slow ride through town as the sun rises, the miseries of our moment give way to what might be possible in this fleeting meditation on the act of imagining.

I love what you said to me
(2019, 5 min)
Time and space are upended in a visual diptych of an otherwise ordinary coastal sunset in this intimate contemplation on how the moment of loving one thing connects us to every moment we have loved any thing.
---

Marilyn Freeman is an interdisciplinary artist working at the intersections of reckoning and resiliency, queerness and film, and contemplative, creative and social practices. Their films have been featured on PBS and in galleries, theaters, festivals and spirituality centers worldwide, including The Powerhouse Arena in New York City, the British Film Institute, Seattle International Film Festival, Montréal's Festival of International Cinema, Cologne's Feminale, Sydney's Queer Screen, the Paris Lesbian Film Festival, L.A.'s Outfest, San Francisco's Frameline, the Bologna Lesbian & Gay Film Festival, Barcelona's Int'l Lesbian and Gay Film Festival, Ladyfests from Olympia to London, Seattle's Northwest Film Forum and Beijing Contemporary Art Center in China. Freeman's text and media arts essays have been published in/at The Fourth Genre, Blackbird, Ninth Letter, TriQuarterly, Rolling Stone and Abbey of the Arts. Freeman is the author of The Illuminated Space: A Personal Theory and Contemplative Practice of Media Art (The 3rd Thing, 2020), creator of Cinema Divina–short evocative films for contemplative, social practice; co-founder of the media arts studio, Wovie; screenwriter/producer of Sophisticated, about golden era film director Dorothy Arzner; and recipient of The Evergreen State College Faculty Foundation Grant, The Arch & Bruce Brown Foundation Grant, Artist Trust Grants for Artist Projects and multiple Washington State Artist Trust Media Arts Fellowships. Freeman's work most recently showed in London's MircoActs Artist Film Screenings, in Los Angeles at the 2020 Film and Video Poetry Symposium and will screen at the International Video Poetry Festival in Athens during March, 2021.
On social media:
Instagram: @cinemadivina
Facebook: @marilynjfreeman
Twitter: @marilynfreeman
Linkedin: @marilynfreeman

Elliat Graney-Saucke (she/they) is a white queer femme documentary filmmaker, cultural organizer and educator. Since 2000, Elliat has directed/produced films internationally in the US, Germany, Denmark, the UK, Poland, Serbia, Italy, Spain, Canada and Israel/Palestine. Elliat is currently completing her/their second feature documentary, Boys on the Inside, about three Latinx 'boys' who have experienced incarceration in women's prisons. The Resilience of King Khazm, now streaming on the EVRGRN Channel, was produced in 2018 through SIFF/WA Filmworks, and is about Khazm, a wheelchair-bound artist who heads Seattle's 206 Zulu Hip Hop crew, as well as stories of his grandfather's time in Japanese internment camps. Currently in production is the short doc with the working title Safta, about a holocaust survivor and her close and complex relationship to her granddaughter.
Elliat has taught and curated multiple programs on the ethics of documentary film as Executive Director of Seattle Documentary Association (2019–2020), including the weekend retreat program for DocForest 2019 (on Wenatchee traditional land). After completing an NEA Our Town oral history media project for the National Performance Network (New Orleans) in 2018, Elliat went on to develop an Arts Leadership training program for the Certified Creative Districts of the Washington State Arts Commission and is now leading media production for their Creative Start Studio for Arts Education.
While based in Berlin, Germany, 2009–2015, Elliat produced videos, performed, organized international queer festivals and cultural heritage conferences, as well as obtaining an MA in World Heritage Studies. Elliat has produced over 20 short films and one completed feature, screening work in 13 countries. Pending publication, Elliat is currently editing an international collection of time lapsed essays on arts and heritage through the international research platform Innovate Heritage in Berlin/Rome. Elliat also founded and is currently leading the SeaDoc Cohort program for Seattle Documentary Association.
---