KINOFEST Seattle 2019
Tue Oct 22 — Tue Nov 05, 2019
$13 General Admission
$10 Student/Senior
$7 NWFF Members
About
The Portland German Film Festival in collaboration with Northwest Film Forum presents the 4th annual KINOFEST Seattle 2019, a showcase of German language films from Germany, Austria, and Switzerland.
This annual festival includes documentary and fictional short and feature-length films that represent the state-of-the-art in German language filmmaking, giving audiences a chance to experience the diversity, history, and progress of German-speaking countries in Europe.
All films are shown in German with English subtitles.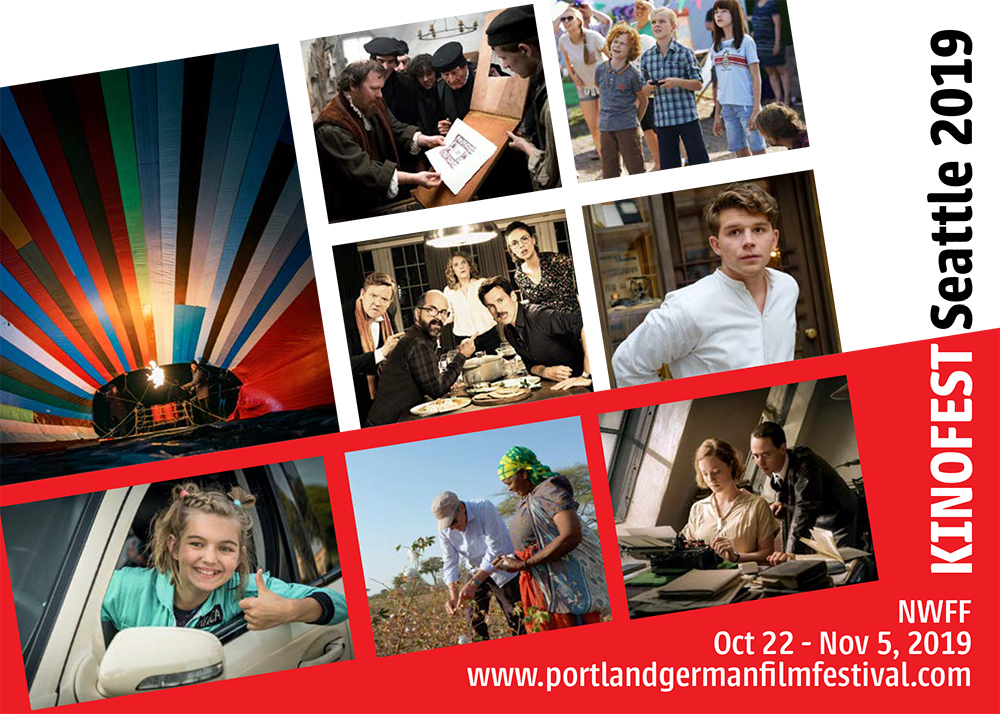 ---
(Michael Bully Herbig, Germany, 2019, 125 min)
Thüringen, Summer 1979. The Strelzyk and Wetzel families have been working on an audacious plan for more than two years: they want to flee East Germany in a self-made hot-air balloon. But the balloon crash-lands just before the West German border. The Stasi finds traces of the attempted escape and launches immediately an investigation, while the two families are forced, under extreme time pressure, to build a new escape balloon. The Stasi get closer and closer each day – a nerve-racking battle against the clock begins…
(Nino Jacusso, Switzerland, 2019, 89 min)
Three players in the free-market economy assume responsibility for society and subsequent generations: they practice sustainability. The film examines various stages in the careers of successful entrepreneurs who operate on a local, national and international level and deliver on their promise of a sustainable future.
(Stefan Haupt, Switzerland, 2019, 129 min)
Zurich, 1519. Arriving with nothing but his impassioned eloquence and radical ideas (e.g. clerics should be free to marry who they choose—radical even today), a young priest sparks a revolution that would challenge the Catholic stronghold over the people, reforming a faith, a nation, and the world. Based on the extraordinary life of Ulrich Zwingli, this lush historical epic reveals how one man's powerful words and deeds took aim against the tyranny of the time and its suffocating religious strictures. Amid charges of blasphemy and heresy, Zwingli's denunciation of Biblical hypocrisy slowly begins to sway others to his side, including Anna, a devout widow with a passion for learning. As Zwingli's controversial positions advance the city toward civil war, his deep bond with Anna is at stake. Multiple award-winning director Stefan Haupt (The Circle) and lead actor Maximilian Simonischek (The Divine Order) craft an intensely vibrant reconstruction of a pivotal moment in Swiss history and an incendiary romance set amid a period of intense transition.
(Mark Schlichter, Germany, 2019, 103 min)
What would Alfons Zitterbacke give to be a great athlete, a super student and an astronaut, just like Alexander Gerst. But that isn't what his world looks like. The 11-year-old stumbles from one mishap to the next. Everyone seems to gang up on him. Unfair teachers, vicious classmates and a very strict father generally make life miserable for him – until out of the clear blue, an aircraft competition offers the opportunity to participate in an astronaut camp, and Alfons sees his chance. At last he can show the world what a brilliant inventor he is – particularly Emilia, the new girl in class. The only trouble is that Alfons's rival, Nico, also decides to take part in the competition and challenges him to a dual: Are you chicken or what? In his dilemma, Alfons drags his best friend Benni, into the affair, and now there's no way out: They have to win the competition. But how?
Alfons Zitterbacke is an action-packed comedy about friendship, outer space, fathers and sons and the best plans for building rockets.
(Sönke Wortmann, Germany, 2018, 91 min)
It should have been a wonderful evening. Stephan (Christoph Maria Herbst) and Elisabeth have invited their family and friends for dinner, but as soon as Thomas (Florian David Fitz) announces that he and his pregnant girlfriend are planning to name their unborn son Adolf, things get out of hand. A bitter confrontation ensues revealing a clash of egos as truths are dragged to light, kicking and screaming. As the evening escalates and unforgivable things are said on all sides, the argument about baby names turns into a feast of childhood transgressions and hidden passions, served up for all to enjoy.
A breakout hit at the German box office, award-winning director Sönke Wortmann (The Miracle of Bern, 2003) has crafted this outstanding social satire lathered in witty dialogue and perfect timing where German guilt and angst over the Nazi past meets a family dinner gone awry.
(Heinrich Breloer, Germany & Austria, 2018, 187 min)
Bertolt Brecht, a theatre revolutionary, poet of the state, outsider, looks back on his life in 1956, the year of his death, in East Berlin: from provocations in the Augsburg of the First World War, to the early poetic and amorous height flights in Munich and Berlin in the 1920s, his escape from Hitler and US exile, followed by his later years caught in a dilemma between timeless classic and a failing GDR class fighter, an inflexible free man and a compromised Artist.
"I will show the world how it really is," the pupil Eugen Berthold Friedrich Brecht told a friend, and he said: "I'll come right after Goethe." It was an early mission, and it looked like pure megalomania. The two-parter traces the paths and wrong ways in which the gifted sickly, shy and at the same time cheeky boy who finally, despite the most turbulent times, became the most influential playwright of the German language in the world – almost as much hated as admired on his way. Brecht's love and friendship relationships, the competing ones, the temporary ones, the lifelong ones, are closely linked to this unique career.
Over a period of 40 years, Heinrich Breloer tells the story of the life of the most frequently played German playwright of the 20th century, a life so moved by art, women and contemporary history. By the end of the 1970s, Heinrich Breloer had already approached the figure of Brecht with a television documentary and had many conversations with contemporary witnesses. Numerous interviews with Brecht's employees and companions from recent years were added to the current film. Together with documentary material from the archives and intensive research, they complete the documentary fiction.
(Katja Benrath, Germany, 2019, 100 min)
With never-ending optimism, Rocca and her friends prove that even children have the power to change the world.
Brave, funny, and one of a kind: that's Rocca. Rocca is eleven years old and lives a rather unique life. While her dad is watching over her as an astronaut from outer space, Rocca lives alone with her squirrel and is attending a normal school for the first time in her life. At school her carefree and non-conformist way of life instantly stands out. She fearlessly confronts the class bullies, because first and foremost Rocca stands up for justice. That's why she makes friends with the homeless Caspar and tries to help him. All the while she is also attempting to win over her grandmother's heart.
This is the feature film debut by Katja Benrath, whose graduation project Watu Wote: All of Us won a Student Academy Award® last year and was then nominated for the Academy Award® as Best Live Action Short Film.
(Nikolaus Leytner, Germany & Austria, 2018, 108 min)
A tender, heart-breaking story about one young man and his friendship with Sigmund Freud (Bruno Ganz) during the Nazi occupation of Vienna.
Seventeen-year-old Franz journeys to Vienna to apprentice at a tobacco shop. There he meets Sigmund Freud, a regular customer, and over time the two very different men form a singular friendship. When Franz falls desperately in love with the music-hall dancer Anezka, he seeks advice from the renowned psychoanalyst, who admits that the female sex is as big a mystery to him as it is to Franz. As political and social conditions in Austria dramatically worsen with the Nazis' arrival in Vienna, Franz, Freud, and Anezka are swept into the maelstrom of events. Each has a big decision to make: to stay or to flee?
---
This festival is proudly sponsored by CONDOR.
---