Liebigstraße 34 Berlin Eviction Story
Feb. 13 at 10am PST / 7pm CET
Sliding scale admission: $0–25.
Please pay what you can; all proceeds support Liebig 34 directly. We are aware that there may be barriers to international ticket purchases; independent donations to Liebig are possible here and through the button below.

---
Northwest Film Forum is SCREENING ONLINE! NWFF's physical space is temporarily closed in light of public health concerns around COVID-19, but community, dialogue, and education through media arts WILL persist.
• • HOW TO WATCH • •
Reserve your ticket through Brown Paper Tickets.
Registrants will receive an email from NWFF at least 1 hour before showtime with information on how to tune in to the live program. (Don't see it? Check your spam filter.)
If you encounter any issues logging in, please contact paul@nwfilmforum.org for a quick follow-up. (But please, check your spam first!)
In early October 2020, Liebigstraße 34, one of Berlin's last legalized squats, was evicted by over 1,500 police officers. Liebig34 was an anarcha-queer feminist house taking up an entire building block. The 30-year-old autonomous collective supported ideas of D.I.Y. and consensus, and provided a living space free from homo- & transphobia, sexism, and racism—residents could not be cis-men. The house included an Infoshop called "Daneban" stocked with books and pamphlets created by the international anarchist scene and a bar and performance space run by the XB collective, who also served affordable vegan VoKü ("people's kitchen") dinners once a week.
On February 13th we will screen It's on Liebigstraße 34, a short documentary by Liza Lindgren and Siri Hedenström about the house as it was in 2006, in an online program that includes former residents of the house and a discussion about collective anti-capitalist spaces around the world. Proceeds will support the needs of the Liebig34 community.
** Presented by Elliat Graney-Saucke and Catalina Alvarez, in association with the Queer Zine Archive and Arts at Antioch College. **
Films in this screening:
It's on Liebigstraße 34 by Liza Lindgren & Siri Hedenström (30 min)
Architecture of La Zad by Jaime Iglehart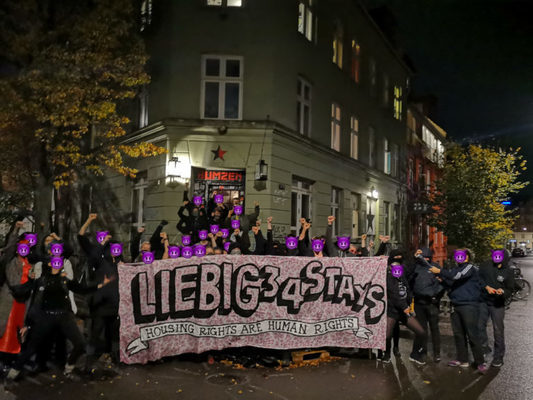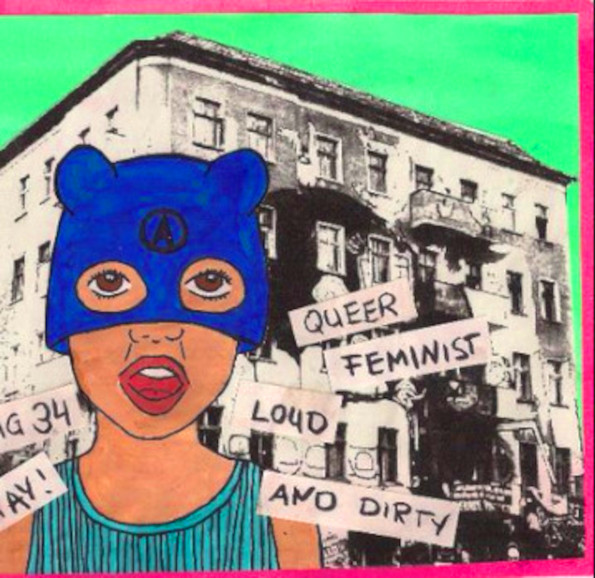 Photo credits:
"Liebig34 Stays" banner: Squat!net
"Queer feminist loud and dirty" illustration & header image: thefreeonline
---