Longest Night: Solstice Ceremony 2019
Sat Dec 21
Doors: 5.30pm
First event: 6.30pm
Sliding scale admission: $15–35, in $10 increments.
Due to the high cost of producing this event, those with means are encouraged to pay at a higher price point.
About
Enter a waking dream as NWFF is transformed in celebration of the longest night of 2019. Full of ambient electronic music, live performances, guided movement, wellness activities, participatory rituals, and countless inventions culled from subconscious states, LONGEST NIGHT is a communally-minded, staff-invented, season-inspired Solstice party that brings light to the liminal space of the year's darkest day.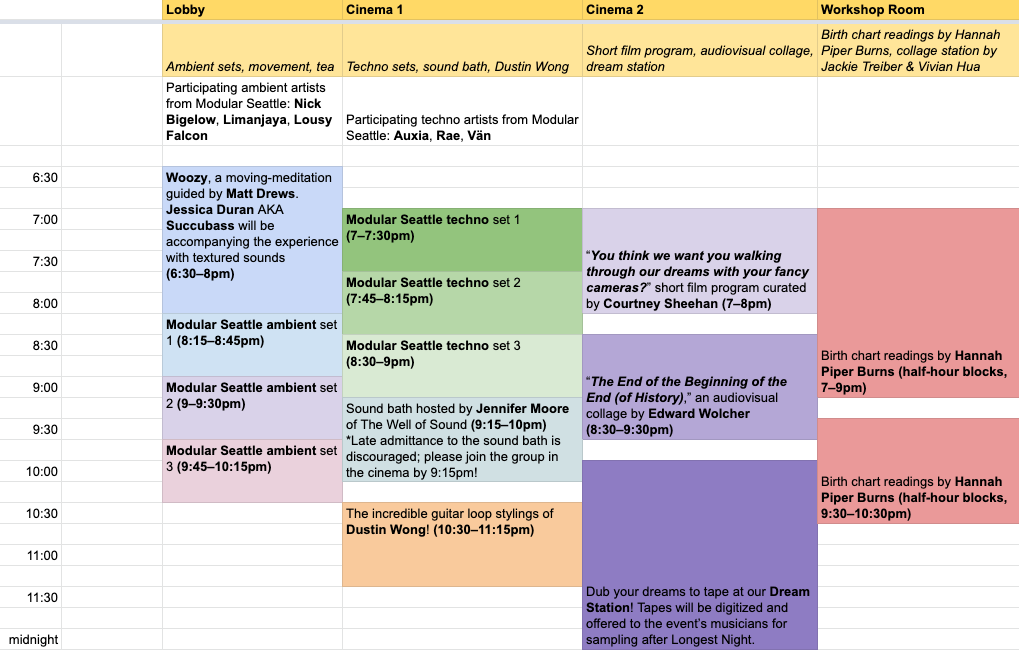 Cinema 1
Participating techno artists from Modular Seattle: Auxia, Rae, Vän
* Late admittance to the sound bath is discouraged; please join the group in the cinema by 9:15pm! Bring comfort items: pillows, yoga mats, blocks, blankets, etc, if you plan to bathe 〰️😌〰️
Cinema 2
7–8pm | "You think we want you walking through our dreams with your fancy cameras?" short film program curated by Courtney Sheehan
8:30–9:30pm | "The End of the Beginning of the End (of History)," an audiovisual collage by Edward Wolcher
10pm–midnight | Dub your dreams to tape at our Dream Station! Tapes will be digitized and offered to the event's musicians for sampling after Longest Night.
Workshop Room
7–9pm & 9:30–10:30pm | Birth chart readings by Hannah Piper Burns *
ongoing | Collage station presented by Jackie Treiber & Vivian Hua
* Sign up for your reading in advance here!
---
Dustin Wong was born in Hawaii and grew up in Japan. From 2003 to 2009, he played in Ecstatic Sunshine and Ponytail in Baltimore. After leaving these bands, Dustin started his solo guitar performances by layering loops, experimenting with rhythms, harmonies and structure, resulting in a kind of sonic architecture.
From 2012, he started to collaborate with Takako Minekawa in Japan and has released three albums, this time with an interest in sampling. They utilize a sampler/keyboard, collecting found sound from their environment. Now based in Los Angeles, they have ventured into the realm of improvisation, collaborating with numerous other musicians to expand their expression and perspectives.
MODULAR SEATTLE is devoted to electronic music, art, and community in the Puget Sound area, focused mainly on modular and hardware-based synthesizers and the people who create with them. They provide monthly performance events, educational lessons and workshops, and access to music-making technology.
Participating Modular Seattle Artists:
Auxia
Vän
Rae
Limanjaya
Nick Bigelow
Threshold: A Sound Bath led by Jennifer Moore
Threshold is a sonic crossfade in time and space to honor the deep wisdom of night giving way to a compassionate dawn.
---
Jennifer Moore, founder of The Well of Sound, is a multi-disciplinary artist born and raised in the Northwest, with a focus in sound and music. She draws inspiration from daily life. She creates as a practice of love and freedom. She believes sharing to be an integral part of growth and healing. On the steel pan drums, hosting a sound bath, or selecting as DJ Freequeensee, she understands vibration to be a fundamental building block of life and change.
Woozy is an accessible dance practice crafted to ignite union and flow. Access healing and pleasure as the mind•body•spirit system is showered with poetic cues as a guided improvisation. It harnesses somatic techniques to honor each person's unique sensations, histories, and movement qualities.
The lens of Woozy allows one to unwind bound, stuck, or self-conscious embodiment and perceive oneself as a conduit for many textures, images, states, and rhythms. Heightened and available bodies then generate compositional perspectives towards connection, moving through an arch of individual research toward the communal.
Woozy aims for the liminal, a dreamy seam of trance, which excavates our boundaries between physical, emotional, cerebral, and energetic. Cultivate a supple curiosity through this lush moving-meditation guided by Matt Drews. Eject from the norm, ride a lucid groove, and fade into wholeness.
Jessica Duran aka Succubass will be accompanying the experience with textured sounds.
Photo by @salt.photo
Hannah Piper Burns is an extramundane anthropologist of her culture's phenomena, detritus, kitsch, and trauma. She is guided by the axioms "as above, so below" and "not either/or, but both and yes." Her project-based multimedia practice evokes ambivalent embodiment, intimacy with complicity, and the metaphysics of banality. She plays fast and loose with the idea of mediums and materials.
As an astrologer, she hosts a podcast, Stars and Roses, that examines Reality TV through the lens of astrology and the zodiac, reads natal charts on a by-donation basis, and creates monthly "lunation incantations" for full moon ritual work.
"Hannah brings such a cool, contemporary, unique voice to astrology. She brings pop culture relevance and a deep awareness of social justice to her astrology practice, allowing us to learn about ourselves alongside our place in the modern world at large. I love working with her!" – Caitlin M., Mexico City
"The End of the Beginning of the End (of History)" by Edward Wolcher
A video and audio collage of the media ephemera of the first twenty years of the 21st century, The End of the Beginning of the End (of History) uses live video mixing along with procedurally generated imagery and improvised electronic music to create a psychic portrait of our minds trying to make sense of living in our past's future. As we pass through the solstice into a new decade, the performance will chart a horoscope for the screen-addled subconscious.
Edward Wolcher is a writer, curator, and media artist based in Seattle.
"You think we want you walking through our dreams with your fancy cameras?" Short Film Program Curated by Courtney Sheehan
"You're joking. The potential for this device is awesome. It can take visual information straight from the brain. Once they do that, you can suck out our dreams and look at them like television." – Karl, Until the End of the World, Wim Wenders, 1991
Have you ever been struck by that sudden, reality-ripping sensation that you're dreaming? What if you could choose to become lucid like that every night – and even control the direction of your dream? Now, imagine that someone else could do that to you – peer into your dreaming brain and influence the contents and quality of your dream experience.
Winter Solstice, 2019: Welcome to the advent of dream tech – devices and applications that interface directly with the dreaming mind at night. It may sound straight outta Inception or Black Mirror, but best pinch yourself, because dream tech is right around the corner. Just a couple of examples from the marketplace and the lab: wearable lucid dream sleep masks sold by startups, and scientific experiments to record dream "movies" (yep, Wim Wenders totally called it in Until the End of the World). As we keep pushing past the boundary of consciousness, profound questions arise about what this all means for the future. Is the most mysterious human frontier now fair game for technological intervention?
This compilation of short films, promotional product videos and media coverage offers a primer on dream tech, the barely emerging industry and a fascinating realm of neurotechnology. Dreaming – perhaps the weirdest thing we all have in common – is about to get weirder.
Curated by Courtney Sheehan, director of Anybody's Dream 
---
This event also serves as a birthday party for Sagittarius and Capricorn folks, such as:
Dec. 5: Edward Wolcher (of Town Hall)
Dec. 9: Tanya Tran (of Tacoma Film Festival & Grand Cinema)
Dec. 19: Courtney Sheehan (contributing curator, not in attendance)
Dec 20: Vivian Hua (of Northwest Film Forum) & Emily Pothast (of world domination)
January 3: Gina Altamura (of Holocene, PDX)

January 9: Emily Zimmerman (of Jacob Lawrence Gallery)
Want to make this your celebration, too? E-mail vivian@nwfilmforum.org with thoughts and ideas!
---
---