Off the Page – An AWP Offsite Event [In-Person Only]
This event took place on Mar 9, 2023
$10 suggested donation (no one turned away)
⚠️ Public safety notice ⚠️
NWFF patrons will be required to wear masks that cover both nose and mouth while in the building. Disposable masks are available at the door for those who need them. We are not currently checking vaccination cards. Recent variants of COVID-19 readily infect and spread between individuals regardless of vaccination status.
NWFF is adapting to evolving recommendations to protect the public from COVID-19. Read more about their policies regarding cleaning, masks, and capacity limitations here.
Northwest Film Forum and Kamari Bright present an AWP offsite event: Off the Page will be an introductory, hands-on workshop highlighting non-traditional expressions of poetry. Participants will have a chance to experience animation poetry, embodied movement poetry, and video poetry in a lively, drop-in setting.
Drink special: a poem-inspired specialty drink!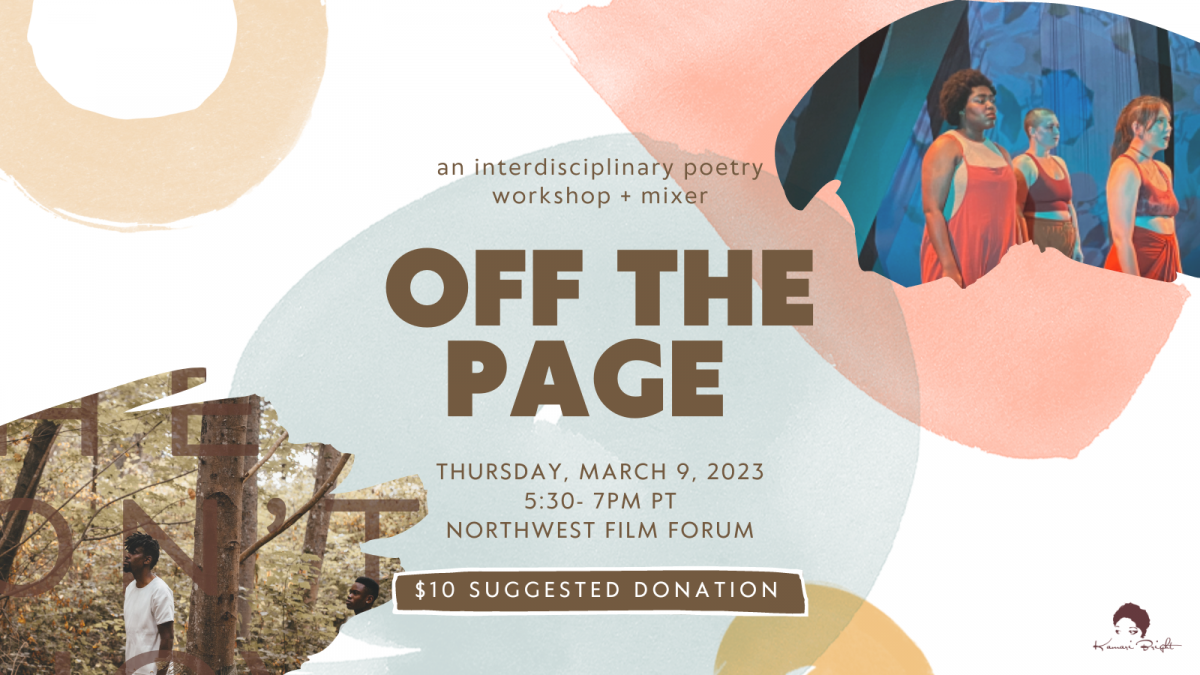 ---

Kamari Bright
Driven by the desire to chronicle history-in-the-making through the innovative use of text and visuals, the work produced by Kamari Bright aims to inspire all creative souls, from young to seasoned. She often pulls inspiration from introspection and observation; examining history, current events, and her own growth journey to inspire her next creations. The St. Louis-born creative has had poetry featured in "NILVX: A Book of Magic," "2018 Jack Straw Writers Anthology," "Moss," and Bellwether Arts Week. Her videopoems have been awarded at the Tacoma Film Festival, Seattle Black Film Festival, and the Film & Videopoetry Symposium; and have screened widely in festivals from the United States to Germany.

Patrycja Humienik
Patrycja Humienik, daughter of Polish immigrants, is a writer, editor, teaching artist & performer based in Seattle, WA. She serves as Assistant Poetry Editor with Newfound and Events Director for The Seventh Wave. Patrycja works for the University of Washington's Office of Equity & Justice in Grad Programs, in service of underrepresented graduate students, faculty, and staff. She has received fellowships from the Jack Straw Writing Program and Brooklyn Poets, and was a semi-finalist for the 2021 92Y Discovery Prize and a runner-up for the Lighthouse LitFest and Key West Emerging Writer Awards. Patrycja has developed writing and movement workshops for the Henry Art Gallery, Puksta Civic Engagement Foundation, in prisons, and elsewhere. She is currently working on her first book of poems, Anchor Baby.

Cadence Video Poetry Festival
Cadence Video Poetry Festival, presented by Northwest Film Forum, programmed in collaboration with Seattle author Chelsea Werner-Jatzke and artist Rana San, is a series of screenings, workshops, and discussions on the genre of video poetry, during National Poetry Month.
Cadence approaches video poetry as a literary genre presented as visual media that makes new meaning from the combination of text and moving image. Featuring screenings, an artist residency, generative workshops for youth and adults, and juried awards, the festival fosters critical and creative growth around the medium of video poetry.
---
March 8–11, 2023
Seattle Convention Center (705 Pike St.)
The AWP Conference & Bookfair is the annual destination for writers, teachers, students, editors, and publishers of contemporary creative writing. It includes thousands of attendees, hundreds of events and bookfair exhibitors, and four days of essential literary conversation and celebration. The AWP Conference & Bookfair has always been a place of connection, reunion, and joy, and we are excited to see the writing community come together again in Seattle, Washington in 2023.
---