Pony World Theatre – Suffering, Inc. [Online]
View this program
Oct. 23, 2020 at 7pm PDT

Or view it on-demand any time
Oct. 24–25, 2020
• • HOW TO WATCH VIRTUALLY • •
Purchase your pay-what-you-can ticket through Brown Paper Tickets.
Your email receipt will contain a link and password for viewing, under "Ticket Details." (Don't see it? Check your spam filter.)
If you encounter any issues logging in, please contact paul@nwfilmforum.org. (But please, check your confirmation email!)
** Following the opening night screening, join the cast and crew of Suffering, Inc for a live Zoom Q&A hosted by Pony World Managing Partner Sann Hall and featuring Director Brendan Healy! **
About
"One must portray life not as it is, not as it ought to be, but as it appears in our dreams."
A whimsical, stirring, and highly original play by Pony World Theatre, Suffering, Inc. portrays a week in the life of a modern-day office. The staff of New Life Capital are experts in fiscal planning, bankruptcy, heartbreak, environmentalism, and regret. What begins on Monday as routine ends on Friday in the remarkable as daily despairs bloom into fantastical transformations. Pony World Theatre combines their fanciful style with the words of the greatest Russian playwright of all times: Anton Chekhov (1860 – 1904). Though set in our contemporary times, every line of dialogue in Suffering, Inc. comes from one of his classical works. Praised by The Seattle Times as one of the seven most memorable plays of the last decade, Suffering, Inc. shows that when it comes to the human heart, the more things change, the more they stay the same.
Conceived and directed by Brendan Healy.
Starring: Carrie Cates, J. Martin Dinn, Mark Fullerton, Megan Jackson, Kenna Kettrick, Heather Persinger, and Rudy Roushdi.
This production was recorded at 12th Avenue Arts in July 2016.

---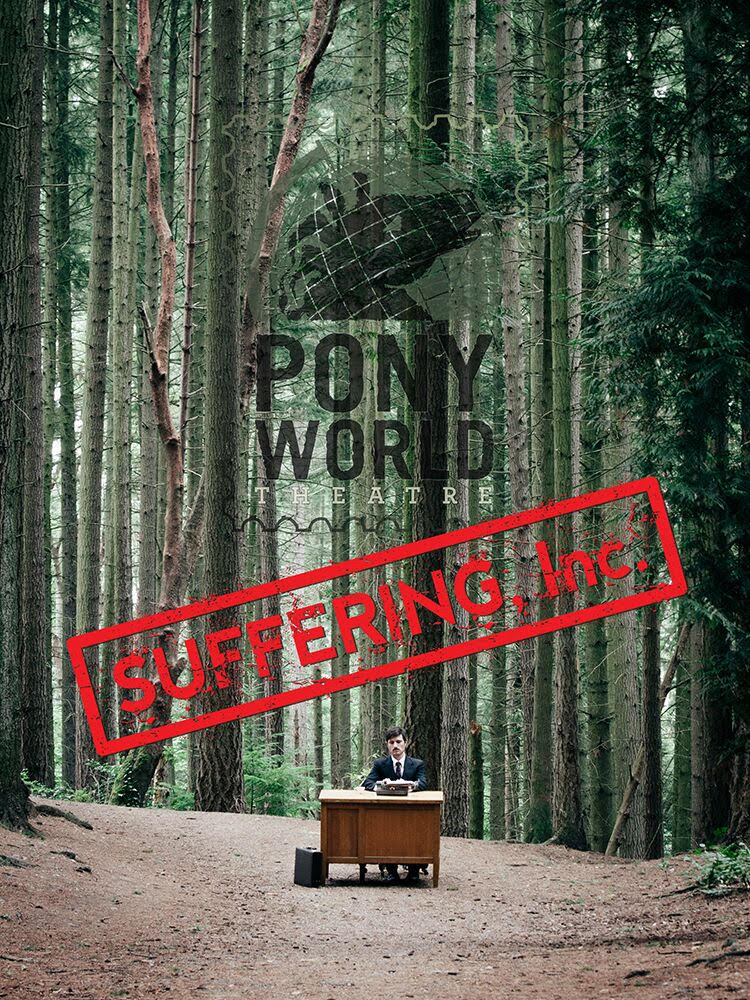 ---

About Pony World Theatre
Pony World Theatre is an ensemble of artists who create playful and evocative performances that engage audiences in meaningful questions. They combine striking visuals, elastic realities, and boundless imagination into uncommon narratives.
Their name, Pony World, references a point in the creative process when anything is still possible—when everyone can have their own pony.  By infusing their entire process with this spirit, the company strives to create theatre that delights as it reveals, excites as it transforms.
---