Seat @ the Table with LuluNation & Mr. B
This event took place on Jan 21, 2018
$16 General Admission
$13 Member
$16 Gift Ticket – Gift a ticket for those who couldn't otherwise attend
Featured guests will discuss the theme: CUDDLING is Political: To fight the struggle, we need to snuggle.
About
"Seat @ the Table: With LuluNation & Mr. B" is an interactive Talk Show with a live studio audience. We bring together modern day thinkers and doers to discuss politics, media, pop culture, music, and food centered on joy and justice. Participants will address the theme "CUDDLING is political: To fight the struggle, we need to snuggle." #LuluNation (Tuesdays, 7–9pm!) and Mr. B each host shows on Hollow Earth Radio.
FEATURING…
Superb homemade desserts by Bessie's Cakes,
Poetry by b-boy and artist Carlos Nieto,
Interviews with singer-rapper-activist-snackmasta Rogue Pinay and snuggle specialist Briq House,
Amazing discussion participants, including DJ Phenohype (aka Allison Masangkay), writer/composer/performer Amber Flame, writer/actor/community organizer Hodan Hassan, the Community Engagement Coordinator for TRANSform Washington Isyss Honnen, and activist Laurie Rocello Torres,
…Seat @ the Table promises a cuddle-centric conversation and community feast for the senses!
Please note: By purchasing a gift ticket, your contribution will allow someone to attend who otherwise couldn't. This ticket will be distributed at will call on the day of the event.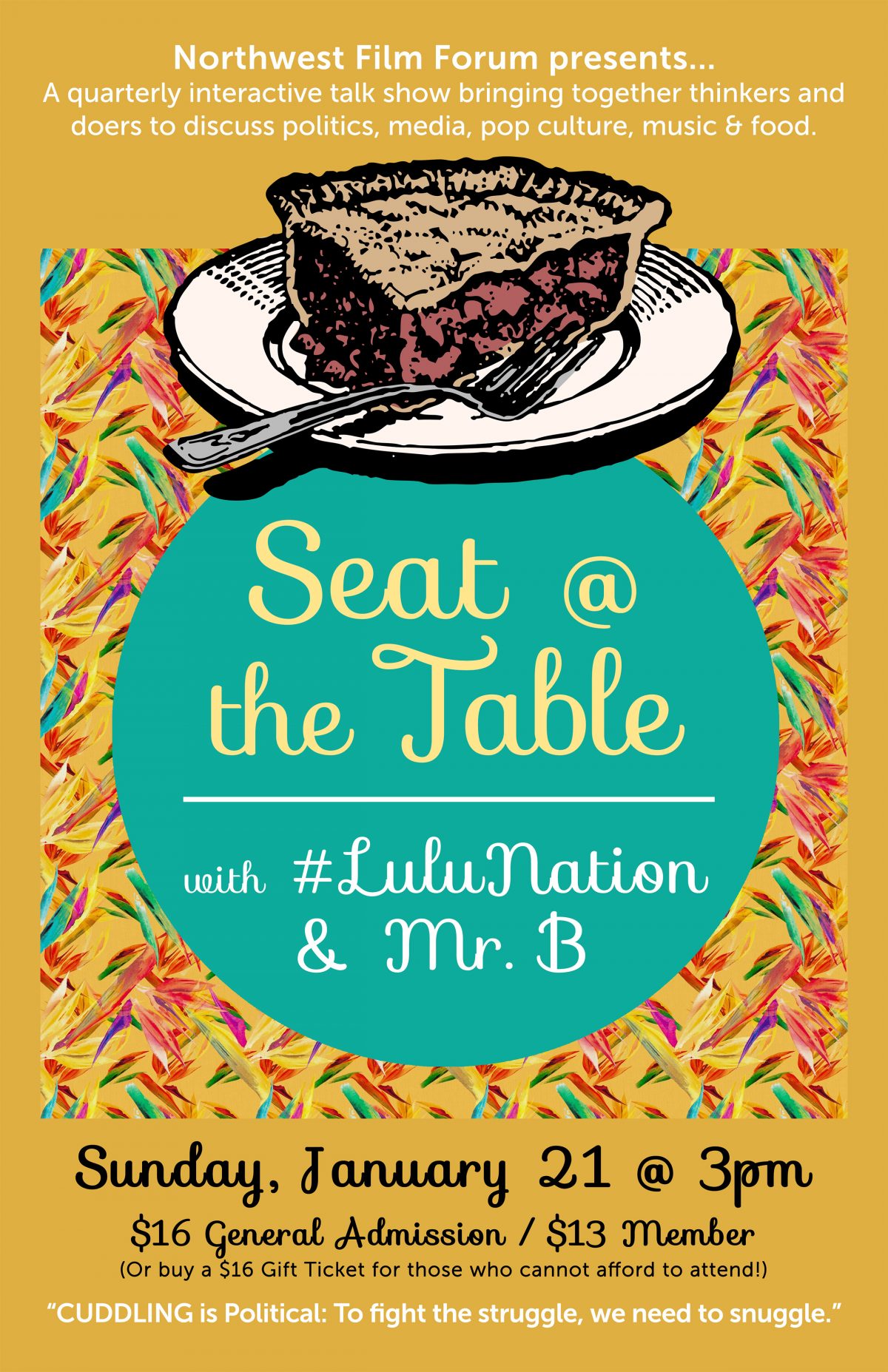 ---

Allison Masangkay
Allison Masangkay (DJ Phenohype) is a queer Filipinx American artist, student, and social justice advocate. Her work is influenced by and dedicated to her childhood in northern New Jersey, survival in Sequim, Washington, ancestral memory, and diaspora feels. Her sets include a range of genres, especially Jersey club, soul, hip hop, and house.

Amber Flame
Amber Flame is a writer, composer and performer, whose work has garnered artistic merit residencies with Hedgebrook, The Watering Hole, Vermont Studio Center, and Yefe Nof. Flame's original work has been published in diverse arenas, including Winter Tangerine, The Dialogist, Split This Rock, Black Heart Magazine, Sundress Publications, FreezeRay, Redivider Journal and more. A 2016 Pushcart Prize nominee, Jack Straw Writer and recipient of the CityArtist grant from Seattle's Office of Arts and Cultural Affairs, Amber Flame's first full-length poetry collection, Ordinary Cruelty, was recently published through Write Bloody Press. Flame joins the Hugo House in Seattle as the 2017 poetry Writer-in-Residence, and is a queer Black single mama just one magic trick away from growing her unicorn horn.

Ms. Briq House
Ms. Briq House is an advocate of sexual liberation and an experiential instructor of intimacy. Others may also know her as a Queer Sex and Body Positive Burlesque Performer, Producer, Emcee, Professional Cuddler, Story Teller, and all-around Bad Ass Bitch. Her Magnetic energy and fearless performance style have won over the hearts of audiences all over the world including Germany and Puerto Vallarta. In addition to her world travels Ms. Briq House is ecstatic to be headlining Jeezy's Juke Joint: An All Black Burlesque Festival this Spring 2018 in Chicago Illinois!
With a smile that lights up a room and an ass that won't quit, Ms. Briq House offers something for everyone with her sly, seductive, stripteases. This proud size 16 Queen is the Producer of The Sunday Night Shuga Shaq: An All People of Color Burlesque Revue; the only monthly all People of Color Burlesque Revue in the PNW. You can find her and her production at Theatre off Jackson in Seattle Monthly and at Crush Bar in Portland quarterly!!
To keep up with Ms. Briq House and all of her shenanigans please follow her on Instagram, Twitter, or Facebook.

Carlos Nieto Mosqueda
Carlos Nieto Mosqueda is South Seattle bboy, poet, writer, scholar, and artist in general. He uses he/him pronouns and has been writing poetry since 2011. He uses his art as a healing process for himself and to cast a light of love into the world, to hopefully make the world a less lonely place to live in. Carlos likes talking about his culture, his community, and history in his poems. He enjoys laughing about shit and dancing. Shout out to all his artists all over the world.

Hodan Hassan
Hodan Hassan is a community organizer, writer and actor living in Seattle, WA. She has a degree in Political Science from the University of Washington and is now working with the people of color-led climate justice organization, Got Green. In her lifetime she hopes to have an impact on the fight for Black and collective liberation. When she is not working, especially during the fall, she's watching a ton of TV shows.

Isyss Honnen
Isyss identifies as Fa'afafine (Samoan gender identity translated as "in the manner of a woman"), and is a trans woman from Samoa. She is the Community Engagement Coordinator for TRANSform Washington, and also works as a Finance Associate for Pride Foundation. She is currently pursuing a Bachelor of Science Degree in Accounting with plans to become a CPA and start a firm run by QTPIs – Queer and Trans Pacific Islanders. She serves as the Co-Chair for UTOPIA Seattle after having served 5 years as part of the organization's Executive Leadership. She is a co-facilitator for [trans]ACTION, a monthly support group for former and current PI Trans & Gender Non-Conforming sex workers. Isyss advocates for API trans and gender non-conforming sex workers affected by inequities in access to healthcare, education, employment, housing, etc. She is passionate about decolonizing anti-Black racism, transphobia, and sexism within Samoan culture, language, and traditions.

(they/them pronouns) Laurie Rocello Torres' work with social justice began when they moved to Seattle in 2013 for a yearlong service fellowship with Puget Sound Sage, after graduating with a Bachelors in Organizational Communications from Bradley University. They are passionate about community resilience, supporting people in having healthy and politicized relationships, and creating the conditions for people to be truly liberated. They have done work around environmental, economic, gender, racial, and transformative justice in the community. In their free time, Laurie loves to sing, dance, and teach a community self-defense and wellness class for queer and trans people of color called Building Autonomy and Safety for Everybody (BASE).  They also currently serve as the Deputy Secretary General of GABRIELA Seattle, a collective of Pin@ys who do cultural and political education work around labor issues impacting Filipino migrant workers, and are a consultant for Carolyn Peruth, a QTPOC owned and operated consulting and coaching practice. They are also a member of Got Green's Young Workers in the Green Movement.

Rogue Pinay
rogue pinay/ kp been servin the people raps and snacks since day 1 (circa 2006). when they are not figuring out their next snack or meal, you can find them mobilizing communities to end violence at API Chaya and building qtpoc power with BASE and Queer The Land. they have been making revolutionary anthems and filipemo love songs with kalu and richard since 2014 #tropiqaldepression
---