Seat @ the Table with LuluNation & Mr. B – Get Sprung
This event took place on Apr 22, 2018
$16 General Admission
$13 Member
$16 Gift Ticket – Gift a ticket for those who couldn't otherwise attend
Get Sprung* with LuluNation, Mr. B, and their pop culture and political pundits as they talk about coming out of the winter months with a bang by learning new flirting techniques with local guests along with how to spring into political action with hilarious and witty commentary on things that matter in popular culture and politics such as political Twitter fingers, #Oprah4President, #WakandaForever, DACA, why Snoop Dogg and Martha Stewart are friends, Gentrification and Red Apple, Lemon Pepper Kick Backs, and our changing landscape as neighbors and a city.
About
* Sprung (slang noun or verb): When you first meet or notice someone and you instantly want to know them and be close to them. You rearrange your life for them to notice you in real life and/or social media. As time progresses, sometimes you "connect" and continue to be sprung, but sometimes you don't, and continue to fixate on said person unhealthily.
#LuluNation
#MrB
Participants listed below!
Please note: By purchasing a gift ticket, your contribution will allow someone to attend who otherwise couldn't. This ticket will be distributed at will call on the day of the event.
#LuluNation (Tuesdays, 7–9pm!) and Mr. B each host shows on Hollow Earth Radio. Tune in, or listen to their archives on Mixcloud!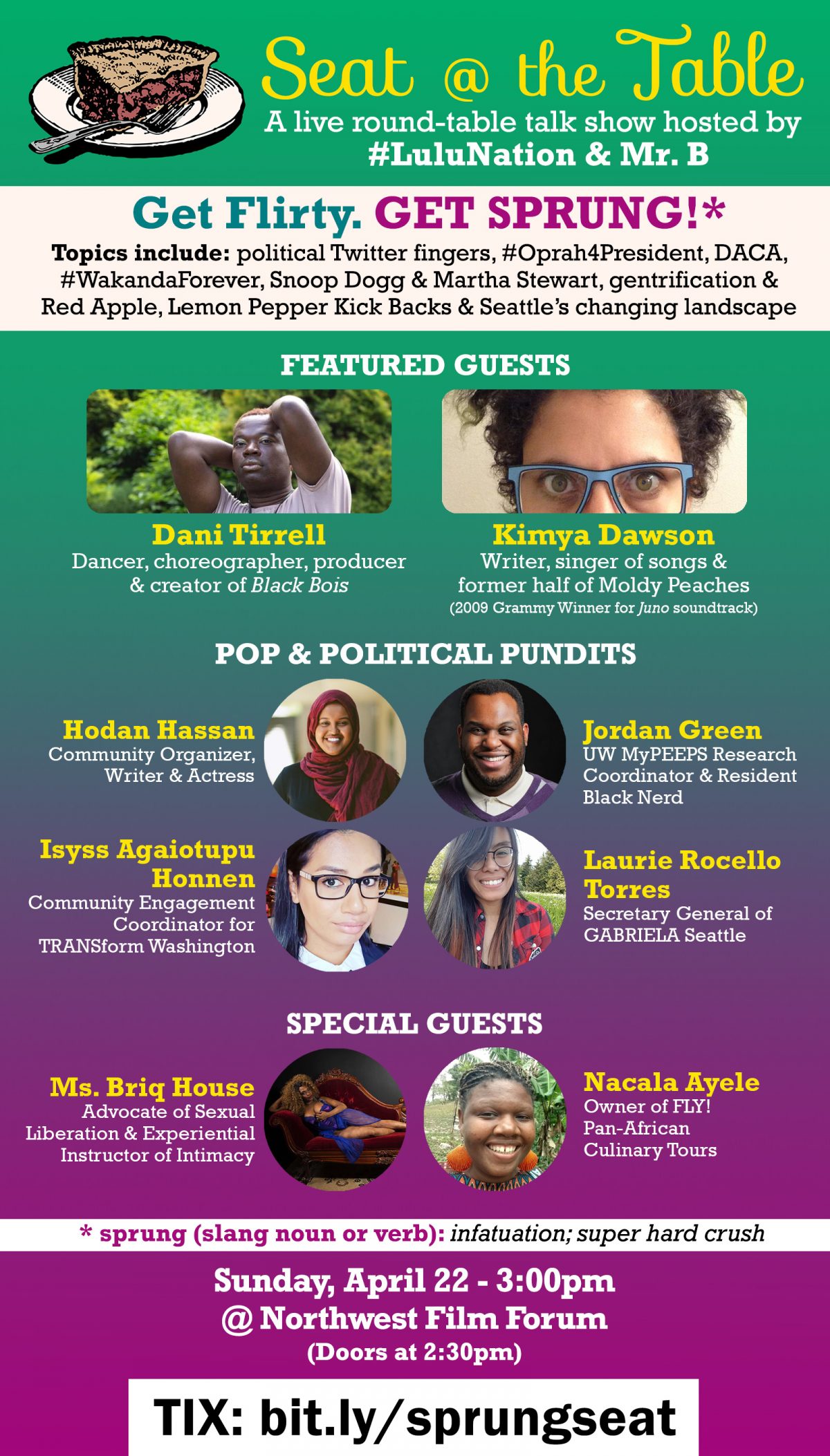 ---

LuluNation
Luzviminda Uzuri Carpenter (pronounced Loose-b-min-dah ooh-zir-e car-pen-ter) aka Lulu, is a cultural worker and producer that has resided in Seattle, WA for over (12) years and has made a commitment to the 206 being her home base. She has shown that commitment through space-making and place-making projects locally that develop art and artists locally and nationally focused on marginalized communities, voices, images, and visibility, such as Washington Hall and youth mentorship within organizations such as the Service Board (tSB) and YouthSpeaks, to name a few. Currently, she works at Seattle Girls' School for the past two and a half years, as the 5th-8th Performance Studies and Production teacher. Lulu is the creator, Producer, and Host of "#LuluNation + Crew with Mr. B" on Hollow Earth Radio, a Talk Show on air at KHUH LP 104.9 FM in the Central District and online at www.hollowearthradio.org.  She works with Seattle Women Who Rock Community who focuses on an annual (Un)Conference & Film Festival and grassroots archiving of community artists stories and is the former Co-Chair of the City of Seattle LGBTQ Commission. In 2018, she started a policy project called Alphabet Alliance of Color which focuses on the story gathering and grassroots archiving of Queer and Trans People of Color in Seattle and King County in order to envision a different future based on the documentation of our collective resilience and started her first LIVE STUDIO AUDIENCE QUARTERLY SHOW at the Northwest Film Forum called "Seat @ the Table with #LuluNation + Mr. B."

Dani Tirrell
Black Bois is a movement and theater piece that explores how black men/bois grieve, show rage, express joy, and cry. Dancer and choreographer Dani Tirrell looks into the depths of these emotional states and asks, How do we live with our pain? Who are we really in our pain? And how do we show love towards each other? Inspired by the lives of Kalief Browder and Tamir Rice, Black Bois is a meditation on being a black boi/male in the United States. Featuring live music, collaboration with a large cast of local artists/performers, community classes, and installations, this performance project celebrates black bodies in space and provokes an emotional engagement with movement.
Dani Tirrell creates movement pieces inspired by Dani's queer, gender non-conforming, and black experience. Dani has danced with Jazz and Spirit Dance Theater of Detroit, Monroe Ballet Company and Dani Tirrell Dance Theater. Dani has performed and shown work at Black Choreographers Festival (San Francisco), Gay City Arts (Seattle), Bumbershoot: Velocity Dance Center Showcase, Showing Out: Black Contemporary Choreographers (Seattle), Young Tanz Sommer (Austria), Northwest New Works Festival: On the Boards (Seattle), Risk/Reward (Portland), Seattle Art Museum, and Erased (Color Lines Dance Ensemble) as part of Nights at the Neptune (Neptune Theater, Seattle).

Kimya Dawson
Kimya Dawson is a celebrated writer and singer of songs and an all-purpose force for good in the world. First making her artistic mark as half of the antifolk duo the Moldy Peaches, Kimya soon turned to solo work, where the twisted punchline poetry of the Peaches was deployed in the service of Dawson's gem-like personal narratives, creating such singular works as I'm Sorry That Sometimes I'm Mean (2002), My Cute Fiend Sweet Princess (2004), Hidden Vagenda (2004), Remember That I Love You (2006), and Thunder Thighs (2011), and earning her a 2009 Grammy for her work on the soundtrack for the film, Juno. More recently, she joined forces with hiphop artist Aesop Rock to form the Uncluded, whose debut record Hokey Fright was released to critical acclaim in 2013. She frequently tours the world, often with her kid Panda by her side.

Ms. Briq House
Ms. Briq House is an advocate of sexual liberation and an experiential instructor of intimacy. Others may also know her as a Queer Sex and Body Positive Burlesque Performer, Producer, Emcee, Professional Cuddler, Story Teller, and all-around Bad Ass Bitch. Her Magnetic energy and fearless performance style have won over the hearts of audiences all over the world including Germany and Puerto Vallarta. In addition to her world travels Ms. Briq House is ecstatic to be headlining Jeezy's Juke Joint: An All Black Burlesque Festival this Spring 2018 in Chicago Illinois!
With a smile that lights up a room and an ass that won't quit, Ms. Briq House offers something for everyone with her sly, seductive, stripteases. This proud size 16 Queen is the Producer of The Sunday Night Shuga Shaq: An All People of Color Burlesque Revue; the only monthly all People of Color Burlesque Revue in the PNW. You can find her and her production at Theatre off Jackson in Seattle Monthly and at Crush Bar in Portland quarterly!!
To keep up with Ms. Briq House and all of her shenanigans please follow her on Instagram, Twitter, or Facebook.

Nacala Ayele
Nacala Ayele is the creator and owner of FLY! Pan-African Culinary Tours. She has traveled to Ghana, Kenya, Jamaica, Trinidad, and The Bahamas to gather recipes, meet culinary historians, and collect stories of Black people and the African diaspora through food. She is enamored with the richness of Black foodways. From the creativity of African dishes pre-colonialism, to the ingenuity used to craft meals using food products brought from Europe, and Africa, the history of Black folks can be found in the cultural, social, and economic practices related to the production and consumption of food. She sees how the African diaspora combined indigenous foods from the lands where Africans departed and where they arrived after crossing and surviving the middle passage. Her work is a collection of these food ways woven into interactive experiences. She has catered lunches for Young Women Empowered (Y-WE) teaching youth about history and food preparation; collaborated with Afrodisiac Erotic Poetry to offer the "Agabayun (or miracle) Berry Experience;" assisted That Brown Girl Cooks in testing recipes for the Seattle Center's Festál cookbook to commemorate their 20th Anniversary, and has catered various community fundraisers and gatherings.

Hodan Hassan
Hodan Hassan is a community organizer, writer and actor living in Seattle, WA. She has a degree in Political Science from the University of Washington and is now working with the people of color-led climate justice organization, Got Green. In her lifetime she hopes to have an impact on the fight for Black and collective liberation. When she is not working, especially during the fall, she's watching a ton of TV shows.

Isyss Honnen
Isyss identifies as Fa'afafine (Samoan gender identity translated as "in the manner of a woman"), and is a trans woman from Samoa. She is the Community Engagement Coordinator for TRANSform Washington, and also works as a Finance Associate for Pride Foundation. She is currently pursuing a Bachelor of Science Degree in Accounting with plans to become a CPA and start a firm run by QTPIs – Queer and Trans Pacific Islanders. She serves as the Co-Chair for UTOPIA Seattle after having served 5 years as part of the organization's Executive Leadership. She is a co-facilitator for [trans]ACTION, a monthly support group for former and current PI Trans & Gender Non-Conforming sex workers. Isyss advocates for API trans and gender non-conforming sex workers affected by inequities in access to healthcare, education, employment, housing, etc. She is passionate about decolonizing anti-Black racism, transphobia, and sexism within Samoan culture, language, and traditions.

Jordan Green
Jordan Green is a researcher and designer from San Francisco, CA.
By the time he had graduated high school he had worked for organizations like Community United Against Violence and Lavender Youth Recreation Information Center (LYRIC). He had also served on LYRIC's Board of Directors for five years, serving as co-chair of the board for four of those years. After LYRIC, Jordan worked at the ACLU as the Outreach Coordinator, where he designed statewide promotional materials and conducted educational workshops for teachers and students.
He graduated from Portland State University with a Bachelors of Science in Community Health Education where he focused on epidemiology and the social determinants of health. While in college, he founded, designed, and executed the first and second Queer Students of Color Conference (QSOCC) as the school's first ever Queer Students of Color Resource Coordinator. QSOCC was the first ever regional conference focused specifically on Queer Students of Color needs, attracting international attendees its first and second years.
After college, he went on to work with the Oregon Health Authority, Multnomah County, Cascade AIDS Project, and Portland Community College. At Portland Community College, he worked as the Program Assistant to the Multicultural Center where one of his primary responsibilities was coordinating the PCC WACIPI Winter Powwow.
Jordan works at the University of Washington as a Research Coordinator for a Mobile Health App. Before working at University of Washington, Jordan worked at Gay City: Seattle's LGBTQ Center as their Communications Designer and HIV Tester.
He currently lives in Seattle with his partner and two cats.

(they/them pronouns) Laurie Rocello Torres' work with social justice began when they moved to Seattle in 2013 for a yearlong service fellowship with Puget Sound Sage, after graduating with a Bachelors in Organizational Communications from Bradley University. They are passionate about community resilience, supporting people in having healthy and politicized relationships, and creating the conditions for people to be truly liberated. They have done work around environmental, economic, gender, racial, and transformative justice in the community. In their free time, Laurie loves to sing, dance, and teach a community self-defense and wellness class for queer and trans people of color called Building Autonomy and Safety for Everybody (BASE).  They also currently serve as the Deputy Secretary General of GABRIELA Seattle, a collective of Pin@ys who do cultural and political education work around labor issues impacting Filipino migrant workers, and are a consultant for Carolyn Peruth, a QTPOC owned and operated consulting and coaching practice. They are also a member of Got Green's Young Workers in the Green Movement.
---