South Sound Experimental Film Festival 2022 [Hybrid]
Sat Nov 26: 7.00pm PDT
Sun Nov 27: 7.00pm PDT
In-Person Tickets
(please note: different films play on Saturday vs. Sunday)
$17 General Admission
$13 NWFF Member
$17 General Admission
$13 NWFF Member
Hybrid Passes
(sold through our Eventive platform, passes grant access to both virtual and in-person screenings)
$30 General Admission
$25 NWFF Member
⚠️ Public safety notice ⚠️
NWFF patrons will be required to wear masks that cover both nose and mouth while in the building. Disposable masks are available at the door for those who need them. We are not currently checking vaccination cards. Recent variants of COVID-19 readily infect and spread between individuals regardless of vaccination status.
NWFF is adapting to evolving recommendations to protect the public from COVID-19. Read more about their policies regarding cleaning, masks, and capacity limitations here.
About
The South Sound Experimental Film Festival is a celebration of experimental filmmaking from local artists in the Pacific Northwest. Our intention is to harbor a community for the exploration and development of the creative potentialities of the growing medium. Our mission is to platform independent work which may otherwise get pushed to the fringe due to identity, insufficient resources, or qualifications of practice or technique.
The inaugural festival of 2021, in partnership with Northwest Film Forum, was a complete success. We are beyond grateful for the incredible support we have received from NWFF, and thanks to their continual sponsorship, we are looking forward to another year of screening the best experimental independent cinema we can find in the PNW.
In collaboration with NWFF, we are further able to contribute to a vast international network of experimentation, new filmic vocabulary and contemporary hybridity—within the usage, development, and screening of film.
We invite you to join us on November 26 & 27 at Northwest Film Forum! Thank you for your support.
Miracles
(Mary Evans, Eugene, OR, 3:18 min)
Stara, a teen-witch-pop-star performs MIRACLES. Miracles is a type of mantra and a manifestation using pop frequency for positivity. Anything is possible if you believe in M-I-R-A-C-L-E-S.
Aquí
(Melina Kiyomi Coumas, Portland, OR, 4:09 min, in Spanish with English subtitles)
Aquí is an experimental 16mm short film exploring what home means to a multicultural young woman living in Oregon.
Clamorseeking
(Connie Fu, Seattle, WA, 15:15 min)
Clamorseeking is an audiovisual project made over the course of two months living in a tiny house in Poulsbo on the Kitsap Peninsula. Many of the percussive sounds in the music came from field recordings of shells, stones, wood, and water that were encountered and played with on daily walks. I wanted to create an audiovisual object that embodies the experience of introspection aligning with freedom and creativity.
The Tetrahedron
(Jonah Barrett, Olympia, WA, 19:07 min)
In an alternate reality, a team of scientists provoke an ancient inter-dimensional deity known as THE TETRAHEDRON. What started as a scientific exploration turns into a fight for survival as several team members find themselves hopping through various dimensions.
Ogre Hole
(Echo Chambers, Olympia, WA, 5 min)
A magical potion and mysterious glory hole suddenly appear to transform a group of bored babes into their truest and most uninhibited forms. Shot by an entirely trans and non-binary cast and crew, Ogre Hole, is a light-hearted exploration of transness.
Line of Apsides
(Miles Sprietsma, Portland, OR, 2:53 min)
A concrete reproduction of a distant neolithic past meets the infrastructure of a green future amidst an ethereal desiccated landscape.
12 Months First Love
(Ruby Mullen, Portland, OR, 9:29 min)
Each segment of 12 Months First Love was constructed under restrictions: they could only be made from videos, photos, and music created during the month which they represent. Created chronologically throughout 2019, these video collage pieces were then compiled together. The film "documents" the first year of a relationship which becomes long-distance, the death of a childhood pet, and the travels between home and not-home.
Inhale/Exhale
(Neely Goniodsky, Seattle, WA, 1 min)
An attempt to follow a breathing exercise which turns into a nightmare.
Monstres en Mer (Somewhere at Sea)
(Elizabeth Chamberlain, Olympia, WA, 6:02 min)
A new melody for an ancient song whose voice has been lost – pilgrims on a still sea plunge into fear when a powerful storm pulls them out farther and farther, until suddenly an eerie calm creeps in and a giant sea serpent appears, ready to fight. "Le Voyage de saint Brendan" is recounted in the medieval insular dialect of Old French and accompanied with an English translation reflecting the 12th century metric and rhyme scheme.
Secret Place
(Ryan Zemke, Seattle, WA, 9 min)
Lost in Barcelona, Alicia tries to find the place that she used to visit as a child.
Lima's Place
(Hailey Bunn, Seattle, WA, 10:45 min)
In response to scc's experimental theater showcase prompt "Origins: True Tales of the American Immigrant Experience."
Day Dreamin'
(Alice Grendon, Olympia, WA,  8:34 min)
Day Dreamin' takes place between the bed and scenes along the Salish Sea, and forest. The film tells the story of a person struggling to get out of bed, preferring the excitement of the semi-lucid morning dream space to the presumed monotony awaiting in the day ahead.
The Walls Were Violet
(Jenn Sova, Portland, OR, 7:19 min)
A meditation on interiors, exteriors, and the shadows between them.
Ranger Danger
(Meriden Vitale, Port Townsend, WA, 6:42 min)
During the summers of 2020 and 2021, I worked as a fire lookout for the US Forest Service on the Willamette National Forest in the foothills of the Cascades. I lived alone with my dog at Warner Lookout and was responsible for tracking weather and new fire starts. This film is a compilation of images from my time at work as well as video poems I curated and filmed in my off hours.
After Katie
(M. Diana d'Arc, Olympia, WA, 7:51 min)
When an unexpected tragedy occurs, how can one family navigate the aftermath? A tribute to a young girl who died before her time and what happened after through the memories of her family. This work in progress concerns topics of child death and grief. Support this work by becoming a patron at patreon.com/Mistress_Diana_Darc.
T'shuvah
(Roz Stranger, Portland, OR, 2:53 min)
T'shuvah is an experimental film exploring the ways we repeatedly return to self through love and loss. In Jewish practice t'shuvah is a process of spiritual accountability, a time of realignment with personal and collective healing and transformation. The sonic landscape is composed of the amalgamation of six separate poems that lead into one cohesive piece, to which improvised movement is paired. T'shuvah documents the gesticulation of poetics. This is a dance between poetry and movement; traversing the nuance of beginnings and endings, tenderness and anger, pain and joy.
Mental Soirée
(Alberto Arellano, Spain, 5:14 min)
A Manual for a correct study of Telepathy in 3 steps leads the story through an evocative universe in which the characters are immersed. The mind is like a shipwreck, which always leaves remains on the beach…a story depicted in colors, shapes and symbols. Mental Soirée tells the story of two shipwrecked people who meet in an unique soirée. HONORABLE MENTION
Eyes and Horns
(Chaerin Im, Korea, 6:15 min)
Exploration of masculinity begins with the Minotaur, a mythical creature Picasso used to portray himself in his etching print series. The Minotaur goes through a violent struggle between being male and female. Finally, lines blur and boundaries of sexes disappear. HONORABLE MENTION
---
Apocryphal Tome
(Miles Sprietsma, Portland, OR, 6:09 min)
Inspired by the kinetic-sculpture films of Marcel Duchamp, the animated mandalas of Jordan Belson, and 70's grind-house theater intros, Apocryphal Tome utilizes a readymade-assist, (assembled from a lamp-shade, turn-table, and multi-colored light-bulbs) triple-exposed on 200ft of 16mm film, resulting in a hypnotizing kaleidoscope of colors. Set to a contemporary psych-rock track from Portland's Lunar Grave.
Window Circumstance
(Sierra Grove, Olympia, WA, 3 min)
Window Circumstance creates a parallel between windows, vision and the cinema screen: a framed, chanced-based light show.
SAYOR
(Kathryn Ramey, WA, 10 min)
An acronym for swimming at your own risk, SAYOR refers to a forum without a moderator. Three years in the lives of three AMAB (assigned male at birth) children with a parent/observer. What does it mean to be male in the 21st century?
A Report of Ongoing Research into Cosmic Intrusions upon the Paradigm of Fatherhood
(Noah Weisel, Seattle, WA, 4:35 min)
This four-part film conducts a survey of Material Cinema techniques, composed almost entirely from hand-manipulated 16mm and 8mm celluloid, including archival and newly shot footage, as well as direct animation. A quick, feverish examination of the psychological horror which accompanies the fathering of twins.
A Series of Shorts
(Inga Markstrom, Brookings, OR, 6:06 min)
A collection of short films made out of collage with mixed media paper, puppets, and background.
Summertime Blues
(Jalen Christopher, Eugene, OR, 22:26 min)
Summertime blues is a reflection on unresolved and unreciprocated love through a series of visual poems.
Harmonium
(Miles Sprietsma, Portland, OR, 4:15 min)
A document of the ethereal features surrounding oceanic bodies, the recycling of life and death through the constant flux of coastline.
Thoughts On Time & Lessons Learned
(Victor Anthony Martin, Seattle, WA, 8:31 min)
An experimental audio/visual diary consisting of a group of people discussing their thoughts regarding time, aging, and lessons learned.
The Knots We Tie
(Khali Watson, Seattle, WA, 5:02 min)
Intertwined in a web of memories, two strangers explore a newly developed love.
N-tor.6
(Seth Nehil, Portland, OR, 3:45 min)
Two friends find unique ways to send messages through time and space. A quasi-narrative music video.
Mary Olson Farm
(Neely Goniodsky, Seattle, WA, 3 min)
This film was created during an artist residency at the Mary Olson Farm. It's an animated documentary portraying the history of the farm and the Olson family through animated objects found on site.
Call Me Back
(Melina Kiyomi Coumas, Portland, OR, 2:37 min)
Originally made just for family, the filmmaker uses the last voicemail left on her phone by her Grandmother in this experimental short that becomes a meditation on loss and haunted spaces. Footage was shot on Super 8mm film one summer upon returning home to Hawaii, a few years after her Grandmother's passing.
Thaw
(HMFF, Seattle, WA, 11:20 min)
Thaw is one of an ongoing series of audiovisual works that explore the digital mediation of natural phenomena. This immersive film is meant to simulate the experience of losing oneself in the contemplation of shifting bodies of water. Ideally, our film will generate the same feelings of calm and meditative introspection; and potentially help urban-dwelling humans feel less alienated from their natural origins.
We Are Not the Same
(Dame Goya, Olympia, WA, 3:14 min)
A girl is woken up in the middle of the night by strange noises to discover a clone of herself in her house. The confusion deepens upon interacting with her double.
Zealot
(Kendall Yoder, Ellensburg, WA, 8:25 min)
Solomon tries to appease his God, and is willing to go to whatever extent in order to do so. Shot as a modern black and white silent film.
Viaduct
(Dave Harvey, Olympia, WA, 27:11 min)
12 trips over Seattle's Alaskan Way Viaduct the day before it was torn down, shot on Super 8mm film, edited together and slowed down, with original synth and drums soundtrack.
The Moon Rises During the Day (Sound Sculpture)
(Na Li, China, 3:13 min)
The 2D abstract hand-drawn animation comes from Na Li's improvisational drawings inspired by a piece of music. She visualized the sound through automatic drawing, creating the film in a semi-conscious state. Na drew symbols to represent the sounds and instruments she heard, using abstract drawings to translate a poem. HONORABLE MENTION
futile/gestures
(Yolanda Tianyi-Shao 韶天怡 & Aaron Holmes, US, 7:44 min)
Two dancers entangled—conversation to conflict to dissolution. / A hand-drawn animated film for which all the frames were drawn simultaneously by 100 people over the course of a 30-minute performance. HONORABLE MENTION
---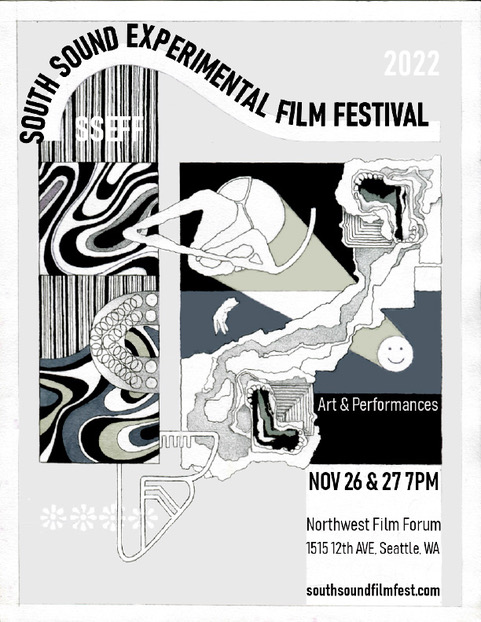 ---
---