Terror Pigeon: Surround Sound Laydown
---
This event took place on Apr 7, 2017
$12 General Admission
$9 Student/Senior
$7 Member
Curt Oren is a solo woodwinds and electronics performer from Chicago, Illinois. Weaving together live scored short films, a powerpoint presentation about getting in touch with your emotions, and a singalong-as-healing-ritual, Curt Oren builds towering monoliths of sound and turns them to rubble, only to climb out of the ashes just so he can pet his dog again. He bakes chocolate chip cookies from scratch for every show and is unfortunately a meme. It's simple.  curtoren.bandcamp.com
Linda Fenstermaker is an experimental filmmaker and graduate of Hampshire College. She works on celluloid film formats, including 16mm and Super 8mm. In her work, she explores interactions and relationships between body and landscape, in discovering new avenues for female representation. In addition to filmmaking, Linda has curated and co-curated multiple programs, including Ovular Films, as well as been a visiting artist at The Evergreen State College, Seattle University and the University of Washington. She currently lives in Seattle.
About
Terror Pigeon: Surround Sound Laydown is a live show and immersive experience featuring a set of mostly brand new Terror Pigeon music performed for an audience that is lying on the ground. The music is performed in hexaphonic sound, with a speaker in each corner and a subwoofer on each side of the audience all operating independently, creating a lush, serene, and for brief moments, punishing, soundscape. An accompanying visual will be projected. The show is a half hour long. Attendees are encouraged to bring blankets, sleeping bags, pillows, foam, thermarests, and big stuffed animals to the show for their comfort.
This performance will also feature a film by Linda Fenstermaker and the poetry of Lauren Moore, each of whom will be in attendance.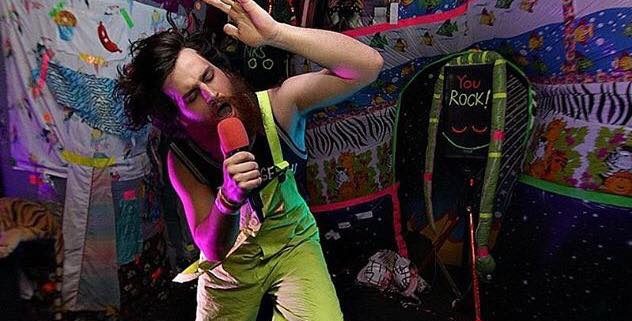 ---