7th Vancouver Turkish Film Festival 2020 [Online]
Screening online
Dec. 16–21
Tickets and passes available!
$8 USD Individual Ticket
$25 USD Festival Pass
Please note that while this platform will process your purchase in USD, the exchange rate has been taken into consideration and pass values were set with CAD in mind.
** Pre-recorded Q&As associated with each screening will be included in the event playlist. **
About
The 7th Vancouver Turkish Film Festival returns in 2020 with four feature films — including tales of a forbidden love affair in Love, Spells and All That (Aşk, Büyü, vs.) and the perils and triumphs of a beekeeper in Hive (Kovan). Light is cast upon intimate family dynamics within Turkish society in Not Knowing (Bilmemek), which follows the story of a frayed family facing life's many unknowns, and La Belle Indifférence (Küçük Şeyler), an absurdist foray into a couple's growing detachment from reality and thus, each other. A robust short film program consisting of ten films includes three Grand Jury favorites and, with its nearly three-hour runtime, offers a varied and expansive view of the region. Most screenings will be followed by a pre-recorded Q&A with filmmakers.
Founded in 2011 by a group of film enthusiasts, directors and industry workers, the Vancouver Turkish Film Festival is a collaborative effort that aims to showcase a variety of Turkish films.
The VTFF takes pride in showcasing the best of contemporary Turkish cinema, featuring both popular mainstream favourites and internationally acclaimed, award-winning films.
The Vancouver Turkish Film Festival is being organized by the Canadian Turkish Society (TCS), a non-profit organization that continues to increase the public's knowledge of contemporary and traditional Turkish art and culture.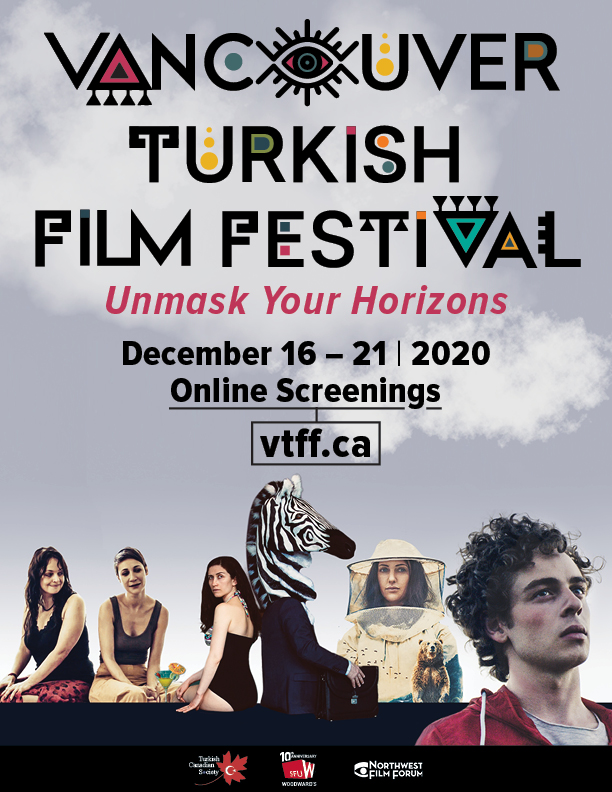 ---
** This program includes a pre-recorded Q&A with director Eylem Kaftan! **
(Eylem Kaftan, Turkey, 2019, 93 min, in Turkish w/ English subtitles)
Ayşe returns from Berlin where she has been living, to her family home in the eastern wilderness of Turkey's Black Sea region to see her ailing mother, Cemile, whose dying wish is that Ayşe take over the family business—beekeeping. Though Ayşe prefers her city life and is terrified of bees, she agrees to stay on for a while. As she overcomes her fears and gradually learns the craft under the guidance of the family beekeeper Ahmet, she finds herself head to head with several forces threatening the colony's wellbeing, including a marauding bear. Will she save the remaining hives?
** This program includes a pre-recorded Q&A with director Kıvanç Sezer! **
(Kıvanç Sezer, Turkey, 2019, 96 min, in Turkish w/ English subtitles)
Onur is sacked from his job as manager of a pharmaceutical company. He's not too bothered about being unemployed, but the same cannot be said of his wife Bahar. As Onur becomes indifferent to her anxieties and the world around him and their relationship reaches a tipping point, we witness their reality through an absurdist lens in this episodic narration of the lives of two corporate, middle class people.
** This program is intended for audiences 19+ and includes a pre-recorded Q&A with actress Ece Dizdar! **
(Ümit Ünal, Turkey, 2019, 96 min, in Turkish w/ English subtitles)
As teenagers, Eren and Reyhan are bound by a forbidden love affair. Eren is the daughter of a powerful member of parliament, while Reyhan's father is the keeper in Eren's family summer house on the Istanbul island of Büyükada. When their relationship is discovered, Eren's family forces their separation by sending Reyhan and her father away from the island and Eren to a boarding school in Europe.
Two decades later, Reyhan is back on the island, living with a younger man. A glimpse of Reyhan on social media inspires Eren to leave Europe, track her down, and pledge her undying love in a bid to restore what they lost. Reunited, they return to their memories together and attempt to make sense of the years and distance that have grown between them, and the possibility that an old love spell might have something to do with their connection.
** This program includes a pre-recorded Q&A with director Leyla Yılmaz! **
(Leyla Yılmaz, Turkey, 2018, 95 min, in Turkish w/ English subtitles)
Selma and Sinan are frustrated with each other after years of marriage. Their son, Umut, is trying to get to know and prove himself. All three are dissatisfied with their lives. Umut is a water polo player, a gentle and quiet high school senior, trying to live his life in a complicated world. When a fellow player spreads a rumor that Umut is gay, he refuses to comment. While Selma and Sinan struggle with their failing relationship, Umut's persistent silence over his sexuality spirals out of control until one day, he disappears.
** This program is intended for audiences 19+. **
This year, the STFF Shorts Committee selected ten short films, including three Grand Jury favorites. All shorts in this package are eligible for an Audience Award, cast a vote for your favorite film here: bit.ly/vtffshortsvote.
SHORT FILM PROGRAM:
Free Fun
(Fehmi Öztürk, Turkey, 2020, 5 min, in Turkish w/ English subtitles)
When Kika enters an adult VR game, she encounters something she never expected. Nothing will ever be the same again.
Cleats (Krampon)
(Abdullah Şahin, Turkey, 2020, 11 min, in Turkish w/ English subtitles)
A story of true friendship between Ilyas, Ahmet, and Emir as represented in a pair of cleats.
Best Actress (En İyi Kadın Oyuncu)
(Umut Alaz Kökçü, Turkey, 2020, 20 min, in Turkish w/ English subtitles)
Melis, a post-graduate student writing her thesis, interviews a 70s erotic movie star, slowly uncovering a blurry past and dark secrets.
Some Cats of the Neighborhood (Mahallenin Bazı Kedileri) 
(Emre Sefer, Turkey, 2020, 20 min, in Turkish w/ English subtitles)
A woman in her 50s goes about her life, isolated from other people until one day, during her daily routine of feeding cats in the park, her life becomes entangled with a stranger in unexpected ways.
Aylin
(Ozan Yoleri, Turkey, 2020, 20 min, in Turkish w/ English subtitles)
In 12-year-old Irmak's eyes, Aylin embodies excitement, independence, and womanhood. Irmak idolizes her older friend and comes to realize that her admiration may be more complicated than she thought.
Turning to Dust (Toz Olmak) 
(Hüseyin Aydin Gürsoy, France, 2020, 20 min, in Turkish w/ English subtitles)
Due to unpaid wages, Elif and her husband are deep in debt. Elif's husband wants to return to Turkey, but she believes there's a better future for her son in France and has no intention of giving up.
Rain, Snorkel & Green Beans (Yağmur, Şnorkel ve Taze Fasulye) 
(Yavuz Akyıldız, Turkey, 2020, 19 min, in Turkish w/ English subtitles)
On an ordinary day, a 32-year-old son confronts his father to tell him he is moving out to discover himself and a new life. It will be much more difficult than he thinks to realize this desire.
Octopus (Ahtapot) 
(Engin Erden, Turkey, 2020, 13 min, in Turkish w/ English subtitles)
Tired of being pushed around by adults, best friends Ece and Efe make a plan to prove themselves, unaware of the price they will have to pay on this hot, lazy summer day on the Aegean coast.
Break Off (Paydos) 
(Öykü Orhan, Turkey, 2020, 18 min, in Turkish w/ English subtitles)
Zeliha is a mother of two and works in a steel saucepan factory. After being unexpectedly fired, she struggles to find work and while maintaining appearances with her children.
The Thousand and One Nights (Binbir Gece Masalları) 
(Mahsum Taskin, Turkey, 2020, 17 min, in Kurdish w/ English subtitles)
Seyithan, who lives in a Kurdish village in Eastern Turkey, comes across the tales of The Thousand and One Nights and begins seeking out the missing parts.
STFF Shorts Program has been accepting short film submissions annually since 2014 and received 200+ submissions in 2020.



---