Local Sightings Film Festival 2004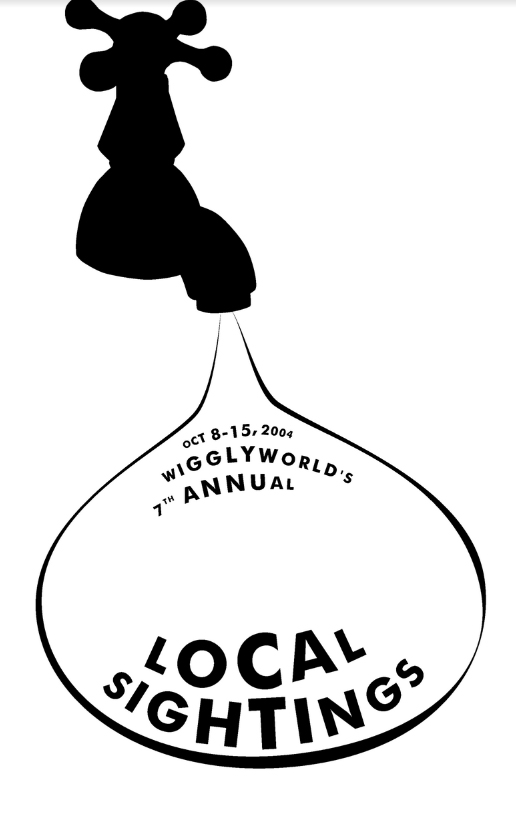 About
In partnership with Altoids, the Curiously Strong Mints
Sponsored by: 4Culture, City of Seattle Mayor's Office of Film and Music and The Stranger
Refreshing like a tall glass of cool water! That's what you have to look forward to during our annual celebration of local cinema. This year's festival is bigger than any we've held before with 90+ films screening over the course of 8 days! This handy-dandy program will be your guide for this week as you trailblaze through a fecund landscape of movies and mirth.
We are delighted to present this year's festival at our brand new home on 12th Avenue. After a year long transition, it brings a gleeful smile to our hearts to see audiences enjoying themselves in our new cinemas. It is a feat we could only have accomplished with the help of some enormously generous volunteers. Thanks guys!
This year is also unique because we have a new partner helping us to present this festival: Altoids, the Curiously Strong Mints. We are honored to have Altoids' recognition of our film community. With their help we are presenting direct cash awards to two filmmakers during our closing night party. Also, we are able to make all 7pm and 7:30pm shows for the entire week FREE!
So let the bursting flavor crystals of alternative cinema refresh your worn-out taste buds. Enjoy the show!
Opening Night: featuring the world premiere film screening of Borrowing Time
Friday, Oct 8, 7pm – FREE
Borrowing Time
(Webster Crowell, 2004, 16mm, 100min.)
"It is more exiting to be lured into using one's imagination, than watching something impeccable and searching for it's flaws—and Borrowing Time sets out to be nothing, if not flawed." -Webster Crowell
Borrowing Time is an ambitious feature film by Seattle filmmaker and animator Webster Crowell. Based aesthetically on serial adventure films from the '30s and '40s, this epic scale, low budget film has all of the ingredients small films are supposed to avoid, including barbaric locations, the end of the world, and an army of explosive, animated monsters. Returning to the disciplines employed before the invention of modern effects, it is a film in which aliens have manners, spaceships fly on wires, and computers employ large, calibrated knobs and switches. The result is an homage to our earliest cinematic fantasies unlike anything seen in some time.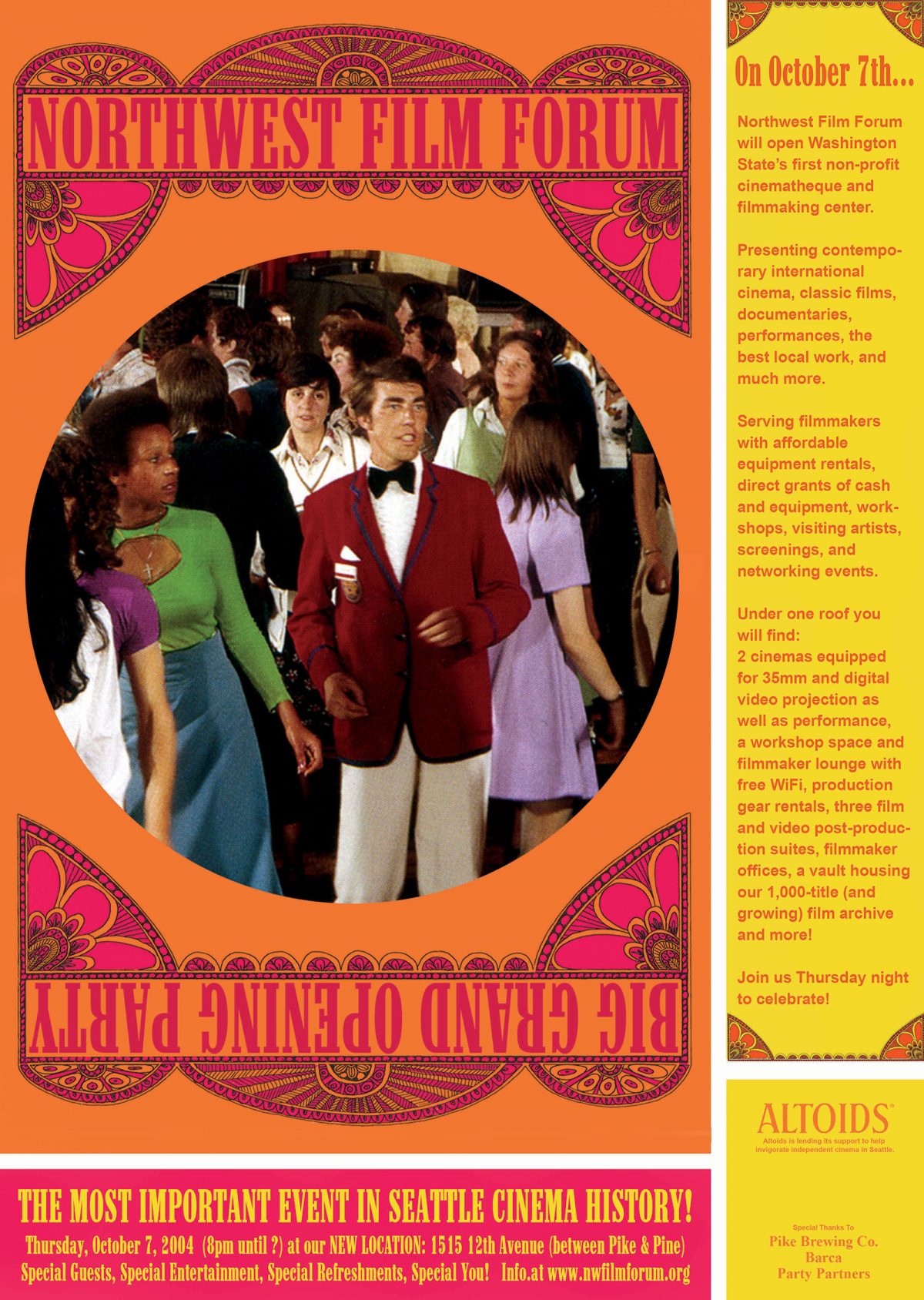 Screenings & Events
Shorts: Strangely Poetic
Saturday, Oct 9, 5pm
(also plays Thursday, Oct 14, 9pm)
mmmmmm
(Sebastian del Castillo, 2003, VHS, 1min.)
Video found footage of delicious food and people who enjoy it.
Proscenium
(Megan Griffiths, Celia Beasley, 2004, BetaSP, 1min.)
In the middle of another mundane shift, a man discovers new life through the magic of cinema.
To Wander
(Andrew Warren, 2004, 16mm, 7.5min.)
A man wanders through time and space contemplating his direction.
Fugue
(Trish van Huesen, 2004, 16mm, 7min.)
Inspired by musical and psychological definitions, Fugue examines the dark flight from identity and environment.
The Practical Butt Cutter
(Brady Hall, Calvin Reeder, 2004, DVD, 6min.)
Terry is a scholarly man. He lives for history, classic literature and speaking with a possibly fake British accent. What then should this being of academia do when he suddenly comes face to ass with a butt cutting lunatic?
Hinterlands (open shadow)
(Brian Short, 2004, BetaSP, 4min.)
A short meditation on desert landscapes and related imagery, based loosely around themes in T. S. Elliot's poem "The Waste Land."
Highway Ninja Shark
(Peter Mitchell, 2004, BetaSP, 4min.)
An animated music video for Seattle band Greenwood All Stars.
I Have Seen Explosions in Thine Eyes
(Christian Palmer, 2004, DV, 1.5min.)
A loud, frenetic, and largely unintelligible mess describing the collapse of a romantic relationship and its smoldering epilogue.
Foster Island
(Serge Gregory, 2004, 35mm, 5min.)
A journey through Seattle as a deserted landscape in which the only signs of people are the images they have left behind.
Les Nanas
(Danielle Morgan, 2004, DV, 3min.)
A day in the lives of three doll-like women. It's a tea party gone wrong. It is also a visual interpretation of a piece of music by the Artie Smudges Trio.
Splitting Hares: A Cautionary Tail
(Winda Benedetti, 2004, DV, 4.5min.)
Sometimes running away isn't the best way to escape your problems. But don't tell Dave that. He has a problem. A big problem. A big, hairy problem with pink ears, a cotton tail and a bad attitude.
The Amazing Clermont
(Drew Christie, 2004, BetaSP, 10.5min.)
A crooked antique dealer gets a taste of his own medicine when one of his schemes backfires.
Father Prester
(Dino Lencioni, 2003, BetaSP, 13min.)
A priest's two-day hiking trip turns chaotic when he is held captive by two mountain men.
October
(Peter Vogt, 2004, BetaSP, 3min.)
A remembrance of someone who just left the room.
Flight From Death
Saturday, Oct 9, 5:30pm
(Patrick Shen, Greg Bennick, 2004, BetaSP, 85min.)
Hailed by some viewers as a "life-transformational film," Flight from Death uncovers fear of death as a possible root cause of much of our everyday behaviors. Through stunning visuals and insightful interviews, this multiple award-winning film (Best Documentary – 2003 Silver Lake Film Festival & Audience Award for Best Documentary – 2003 Beverly Hills Film Festival) explores human beings' innate and subconscious fear of death and portrays the impacts of that fear on our behavior, specifically in regard to violence.
Shorts: Tragedy and Comedy
Saturday, Oct 9, 7pm
(also plays Monday, Oct 11, 9:30pm)
F**CKED
(Neill Barham, 2004, DV, 1.5min.)
Sometimes it's a good idea to erase the videotape of you and the girlfriend sometime soon after you made it. This trailer is a silly, sloppy preview of a Seattle 7 coming attraction.
Almost
(James Tien, 2003, DV, 7.5min.)
A young man's attempted suicide is interrupted by a video email from his ex-girlfriend. Can true love save your life?
Twice Removed
(Heather Hughes, 2004, BetaSP, 17min.)
Such ordinary things make Lucy afraid; sunshine, white roses, children with blonde hair, and the name Perry, such an ordinary name. Twice Removed is based on the classic 1954 short story by Rosemary Timperley.
Get the F***in' Money
(Sam Akina, 2003, DV, 17.5min.) The greedy feed the needy in this twisted noir tale of bank robbers, ex-cons and hidden loot.
The Winter of Her
(Heath Ward, 2004, DV, 21min.)
Throughout her days, Alicia struggles to understand the events that brought her father to abandon her, her mother to close off from the world and herself to lose hope.
Combustible Chef
(Per Anderson, 2004, 35mm, 7min.)
Chef Boulais poaches catfish better than anyone else in town. But his celebrity rival is becoming famous on television-and Claudia, the restaurant critic, has her own fish to fry. Why? She's his ex-wife.
Hobos
(Clyde Garrido, 2004, DV, 13min.)
Arnie and Steve (two hobos) can't seem to muster up enough energy to do anything at all.
Kitchen Soup for the Soul
(Dom Zook, 2004, DV, 1min.)
In this parody of the wholesome American family commercial, good home cooking and the moms who cook them, often have other things simmering below the surface.
Quick Brown Fox
Saturday, Oct 9, 7:30pm
(Ann Hedreen, Rustin Thompson, 2004, DVD, 62min.)
Who are you if you can't remember who you are? Quick Brown Fox explores the notion of how memories define us and how Alzheimer's can indiscriminately steal one's identity and family history.
Ann Hedreen's documentary is a gripping personal investigation into her mother's battle with Alzheimer's disease. This powerful and poetic film combines a moving family journey with an insightful look at the science and politics of Alzheimer's – a disease that now affects more than 18 million people worldwide. Hedreen's uncompromising pursuit of possible causes and potential cures takes her from the copper mines of her mother's childhood home in Butte, Montana to an Alzheimer's research center in Washington where she volunteers as a research subject – with humorous and humbling results. And her fascinating interviews with prominent doctors and researchers offer insight into the fickle politics of funding and recent controversies surrounding stem-cell research. Interweaving super-8 home movies, 1950s medical films and heartbreaking interviews with her family, Hedreen's timely film bravely confronts the disease that has mangled the mind of her once beautiful and brainy mom, and raises profound questions about just how important our memories are.
plays with
Visual Memories: Japanese American Internment
(Rachel Lordkenaga, 2004, DV, 48min.)
A documentary investigating the lives of Japanese Americans during the WWII internment. Current Seattle area residents are interviewed about their time during the internment and asked to express their feelings and perspectives through art.
Buffalo Bill's Defunct
Saturday, Oct 9, 9pm
Northwest Film Center's Best of the 30th Northwest Film & Video Fest
Saturday, Oct 9, 9:30pm
The best shorts from Portland's annual regional film and video festival. 2003's judge was James Benning.
A Man and His Pants
(Christopher Tenzis, 3.5min.)
Dissecting a pratfall evolves into the editor's rollicking drum solo. Elmer Fudd goes dada.
49?
(Sherman Alexie, Eric Frith, Holly Taylor, 2003, 6min.)
A film about a forgotten Native American Music genre.
American Nutria
(Matt McCormick, 10min.)
Brought to America from Argentina as a farmable, fur-bearing replacement for the dwindling beaver population, nutria have adapted in the wild and are now causing economic and environmental havoc.
Fast Forward
(Melisa McGregor, 9min.)
Courtship, infidelity, deceit and redemption, all in less time than an episode of The Fifth Wheel.
Why the Anderson Children Didn't Come to Dinner
(Jamie Travis, 16.5min.)
Three seven-year-olds endure the culinary abuse of their ogreish mother.
Blender: Rotation Test 1-3
(Rob Tyler, 3min.)
A surprisingly suspenseful journey into the turbulent world of frappe and puree.
Three
(Nick Peterson, 12min.)
A wordless, lyrical and touching portrait of a mother and daughter out on the town.
Transgenic Romance
(Morgan Currie, 6min.)
Deadpan yet absurd voiceover describes a love affair between a Rhesus monkey and a jellyfish, two species whose genes were successfully spliced together by scientists in 2002.
Wrong Message Phone Number
(Bruce Alcock, 2min.)
A rambunctious illustration of some cantankerous audio footage found in a phone machine.
Entry
(Dayna & Gaelen Hanson, 5min.)
With Seattle dance/theater company 33 Fainting Spells, a single phrase of movement occures within the narrow bounds of an overgrown sidewalk.
Meridian Days
(Trevor Fife, 11.5min.)
A gorgeously photographed, elegantly paced sepia tone pleasure cruise with the filmmaker and the grandmother he gently observes and whose language he threatens to understand.
Film Company presents: Late Show
Saturday, Oct 9, 11:30pm
Starting this fall NWFF undertakes a new initiative that will begin to retell the story of independent filmmaking: The Film Company at Northwest Film Forum. Led by filmmaker and producer Gregg Lachow and consisting of a core staff of film professionals, The Film Company is the nation's only non-profit film studio. The company will generate, develop, and produce a yearly season of new films and mixed-media projects, and serve as staff and support for innovative creators from near and far. Among the more exciting of our undertakings will be The Late Show, a bi-monthly extravaganza of new work in film, performance, music, and dance. Audiences interested in entertaining, innovative local work should attend. Artists interested in creating work for The Late Show should contact gregg@nwfilmforum.org.
Shorts: In Nature
Sunday, Oct 10, 3pm
(also plays Tuesday, Oct 12, 9pm)
Summer
(Lynn Shelton, 2004, DV, 5min.)
At the onset of her adolescence, a young girl meanders through an introspective summer day. Made with support by WigglyWorld's Roll Camera Artist Access Program.
Hush
(Mike Seely, 2003, BetaSP, 5min.)
A man's meditation on the sounds in nature.
Oil and Water
(Corwin Fergus, 2004, DV, 26min.)
Filmed before and after the Exxon Valdez oil spill, Oil and Water–reflections on nature, madness and psyche is a portrait of Prince William Sound, as seen by a man in a kayak. It is a love song to nature, a mourning cry for the wounded natural world and an attempt to navigate despair.
Ambiance
(Serge Gregory, 2004, 16mm, 4min.)
A meditation on the city as a cacophony of the natural and the man-made. One in a series of Seattle landscape films.
Up Thornton Creek
(Peter Vogt, 2004, 50min.)
A chronicle of a desperate effort to save a river with an active salmon run from a land developer.
City Without a Home
Sunday, Oct. 10, 3:30pm
Max Rules
Sunday, Oct 10, 5pm
(Robert Burke, 2004, DVD, 72min.)
Max Rules is a kid's action-adventure about three best friends who aren't your average junior-high students. Max and his friends find thrills in spying on their families, sneaking into each other's houses, and organizaing elaborate pranks at school. As the ringleader, Max is a frequent visitor to the principal's office. He lives with his uncle, Rick Brinkley, developer of top-secret equipment for the government… equipment that Max and his friends borrow on a regular basis. Jessica is well versed in kickboxing and self-defence, while Scott is proficient at wire-tapping and hacking. Together they make up the components of a sophisticated, well-oiled team. When Max discovers information about the whereabouts of a stolen FBI microchip, he and his friends decide to use their skills and cutting edge technology to embark on the most exciting mission of their lives.
Plays with
Perfections
(David Rowe, Tran Quoc Bao, 2004, BetaSP, 3min.)
A young student endures a hard day at high school. He arrives home and takes his first breath of freedom.
Shorts: Five Real Documentaries Plus One Fake
Sunday, Oct 10, 5:30pm
(also plays Monday, Oct 11, 7:30pm)
Mary Klern: Street Artist
(Steve Utaski, 2004, DVD, 7min.)
A short documentary about a woman's struggle to balance the demands of motherhood with her aspirations as an artist. The subject, Mary Klein, is a single parent and Seattle resident who worked as a street artist in Seattle while raising her young son, Rocket.
Lipstick Men
(Heather Renee Ayres, 2004, BetaSP, 6min.)
Lipstick Men is about four gay friends sharing the "essence" of being drag queens. Through a whirlwind glimpse into their lives, we meet Miss Bea Haven (a red hot newcomer), Sylvia O'Stayformore (one of Seattle's premiere drag queens), Yoko Moshi-moshii (a Japanese drag ballerina), and Julia Xan (a beauty specialist).
Tips for Talking to Strangers
(Fiona Otway, 2004, DV, 6min.)
In a media-saturated world, what happens when neighbors start talking to each other? A short documentary about the growing national phenomenon of conversation cafes and their origins in Seattle.
Seattle: Fremont / Monsruang
(Wes Kim, 2004, DV, 6min.)
People respond to far-out architecture in Fremont.
Game Show Duo
(Patricia Boiko, 2003, DV, 6min.)
Heartfelt movie about a loving couple who spent 30-plus years addicted to being on game shows.
Uniforms
(Tim Boyd, 2004, BetaSP, 40min.)
This pretentious comedy attempts to have the last word on the fake documentary genre. As the film's four main characters chase their dreams, the film struggles in its attempt to maintain perspective on itself. Starring Indy-rock heroes Nick, Ben and Chris of Death Cab for Cutie.
An Evening of Personal Cinema by Jon Behrens and R.K. Adams
Sunday, Oct 10, 7pm
Northwest filmmakers Jon Behrens and R.K. Adams have each been building a body of work for years. Over this time they have been known to collaborate on a film now and then. Included in the program are the films Cinematic Abstractions # 4, the award winning Vernal Obeisance which recently screened to a packed house during Bumbershoots One Reel Film Fest, and the World Premiere of their latest Opus POLYCHROMASIA ANTIPODE. Also included in the program will be films made by each of the filmmakers that were done on their own. This program will be part of a forth coming DVD, Films Without Words which should be in stores in December.
Poetry in Wartime
Sunday, Oct. 10, 7:30pm
(Rick King, 2004, DVD, 74min.)
Poetry in Wartime is a feature-length documentary that sharply etches the experience of war through powerful images and the words of poets unknown and world-famous. Soldiers, journalists, historians and experts on combat interviewed in Poetry in Wartime add diverse perspectives on war's effects on soldiers, civilians and society. In Poetry in Wartime, poets around the world, from the United States and Colombia to Britain and Nigeria to Iraq and India, share their views and experiences of war that extend beyond national borders and into the depth of the human soul.
The film also brings to life how poetry and war have been intertwined since the beginning of recorded history-from ancient Babylonia and the fields of Troy-to the great conflicts of the 20th century and the current war in Iraq. The stirring words of poets of the past–Homer, Wilfred Owen, Siegfried Sassoon, Emily Dickinson, Langston Hughes, Walt Whitman and Shoda Shinoe from Hiroshima are combined with more recent voices: a Vietnam vet, poets in war-torn Baghdad, a poet whose family experienced the devastating war in Biafra. The poetry moves us to the emotion of war explained to us by soldiers, journalists and a doctor who have experienced the effects of combat firsthand. The poetry illuminates the reality. And the documentary reality helps us to understand the poetry. Together they sear the experience, emotions and sacrifices of war into our hearts and minds.
Shorts: Dancing and Dating
Sunday, Oct 10, 9pm
(also plays Thursday, Oct 14, 7:30pm)
Duel
(Danielle Morgan, 2004, DV, 3.5min.)
Duel is a film created from a dance piece entitled "How to Live Alone" by Winnipeg choreographer, Coral Aiken. Bellingham band, Goldstar provides the music for this exploration of the dynamics of separating.
Terry
(Jessica Baxter, 2004, DV, 2.5min.)
What do zombies do when they are in love? They go on a date! Local band The Tangents provide the music.
Soul Gold
(Reed O'Beirne, 2004, DV, 1.5min.)
A fire pageant in honor of light and dynamism featuring Cirque de Flambe and other Seattle-based fire artists.
Boy in a Blue Sweater
(Sebastian del Castillo, 2004, VHS, 2min.)
Video found footage of a boy and his family starting the day.
Obessession Study I
(Alan Pruzan, Juliet Pruzan, Amii Legendre, 2004, DVD, 14min.)
Relationsips and self-worth are explored in this quirky drama about unsung public servants.
Begin
(Mary Welch, 2004, DV, 2.5min.)
This is the story of the egg and the sperm made in the filmmaker's backyard.
Rent's Due
(Andy McCone, 2004, DV, 8min.)
When Dorothy's rent is due and she is out of money, her landlord threatens to evict her. She has one hour. Soon the entire community is in an uproar.
The Man Who Fell in Love
(Amira Lopez, 2004, DV, 13min.)
A sweet tale about a man who falls to Earth.
8 Minutes to Love
(Thom Harp, 2004, BetaSP, 13min.)
Sandra Oh stars in this short film about a woman who is confronted by her cheating ex-boyfriend at a speed dating event. She gives him eight minutes to try to win her back. The clock is ticking…
Sandwiches
(Jennifer Labbienti, 2004, DV, 3.5min.)
In this film noir, a mysterious woman walks into a diner looking for, well, a sandwich.
Afternoon Delight
(Thom Harp, 2004, BetaSP, 6min.)
A young woman sneaks into her boyfriend's apartment and prepares a suggestive treasure hunt for him. But when he returns home early from work, there are more surprises in store for each of them.
Hedda Gabler
Sunday, Oct 10, 9:30pm
(Paul Willis, 2004, DV, 90min.)
As a founder of Printer's Devil Theater, Paul Willis staged a live performance of Hedda Gabler in 2000 to widespread acclaim. With his film, he brings the same actors from the play and transforms the live performance into a motion picture with ingenious artistic dexterity. The production used MiniDV video cameras and post production manipulation at Flying Spot to successfully capture an oppressive suburban heat which quickly turns into a powder keg of re-ignited desire.
"This visually-stunning adaptation of the Henrik Ibsen play transposes the action into a contemporary setting in which the newly-married, quick-witted and energetic Hedda (Heidi Schreck) and her bland but stable husband George (Matt Ford) have recently arrived in their brand new home. When a friend informs them that George's professorship at the university might be threatened by the rebound of his academic and onetime romantic rival Eilert (Deron Bos), everyone's insecurities bubble up to the surface."
Hedda Gabler was made possible through support from The Northwest Film Forum, Flying Spot and the Allen Foundation for the Arts.
Gas City
Monday, Oct 11, 7pm
We pay tribute to Seattle independent filmmaking from 25 years ago with this special presentation of Jeff Meyer's groundbreaking film.
(Jeff Meyer, 1978, 16mm, 108min.)
"Jeff Meyer's Gas City is in many ways the movie that Northwest filmmakers and buffs have been waiting for: an authentic, original film of and about the Northwest, independently created and produced by a young filmmaker who makes his home here." -John Hartl, Seattle Times
Somewhere in the middle a desert, Lyle wakes up from the nightmare which must have been his past, and heads for what he hopes will be a new and successful life on a stretch of Highway 99. His only companion from the past is his 1968 Dodge Polara, a souped-up former California Highway Patrol car which he knows is the hottest car around. He soon finds a job at a gas station and gets to know the other attendant, who becomes his roommate. Dale's girlfriend, Pat, introduces Lyle to Sherry, who waits tables at a nearby cafe. Sherry, almost thirty and feeling that it might already be too late to find a husband, worries that she might be doomed to spend the rest of her life as a waitress on Highway 99. She clings quickly to Lyle, hoping that he might be her way out. Lyle eventually quits the gas station for a better job, but is ultimately unable to cope with it either. Lyle's patience grows thin with Dale and Pat who spend most of their time sitting around the apartment drinking and with Sherry who is pressuring him into marriage. Finally, as everything begins to crumble, Lyle gets into his trusty Dodge and must decide what he should do with what remains of what until now has seemed like a pointless existence.
Unsung
(Matt Daniels, 2004, DV, 75min.)
Successful karaoke video producer Bruce looking back at how he made it 'big.' Before it all started, he was living with his ex-girlfriend and her new boyfriend, which caused headaches for him and his best friend Chuck. But when the two friends discover the path to half-wit glory and stardom in making karaoke videos and convince karaoke phenom Dillon to star in their first video, a karaoke video production starts with a bang. When a seductress turns the guys inside out, the resulting rock star bender and vicious right hooks threaten to destroy the entire production.
plays with
In the Loaming
(Mark Engle, J. Cody Lucido, 2003, DV, 19.5min.)
Linda Miller, plagued by nightmares since childhood, sets forth a chain of events in order to relive her past. Along with her fiance, Dustin, she heads back to the inherited property that started her nightmares. With a picnic and rekindled romance at hand, not all is as it seems and their world is about to take a turn towards evil.
Shorts: Tragedy and Comedy
Monday, Oct 11, 9:30pm
Prescription: Silliness! Films by Dave Hanagan
Tuesday, Oct 12, 7pm
Buffoons are abound in this review of work by the WigglyWorld studio director. This show will feature the world premiere of Circadia Sees the Moon–made with the support of Artist Trust, 4culture, and Mayor's Office of Cultural Affairs-along with a handful of recent short films, and clips of previous work. One unifying theme ties together the career of Dave's work: characters that lack a firm grasp of reality. How silly is that?
Circadia Sees the Moon (rough cut)
(2004, DV, 16min.)
The story of a woman who sees the night for the first time.
The Story of Christmas
(2003, DV, 5min.)
Birds in Winter
(2004, DV, 20min.)
Kodachrome Confidential
(2003, 16mm, 5min.)
plus more…
Super Celluloid Open Screening
Wednesday, Oct 13, 7pm
WigglyWorld challenges Super-8 and 16mm filmmakers to explore their town and inject a little subversion into it. Your assignment: you must make a movie in one day in a semi-public space not always conducive to art projects-such as a bank, a train station, a gas station or a grocery store. You must introduce one (and only one) external prop that otherwise doesn't belong there (big stuffed bear, inflatable swimming pool chair, Bea Arthur, etc.). And then come to the screening and marvel at the craziness! Submit your film to WigglyWorld by October 6. Call Dave if you need more details at 206-329-2629.
Big City Dick
Wednesday, Oct 13, 7:30pm
(Todd Pottinger, 2004, 120min.)
"The culmination of 10 years' work undertaken by three Seattle-based filmmakers (working both independently and together), the film offers an epic immersion into the highly eccentric life and work of Richard Peterson, a bear of a music- and career-obsessed, possibly autistic keyboardist and trumpeter who has produced several albums' worth of his own unmistakable brand of lounge music. What makes this film so special, however, is the way it takes a man whose strange, self-empowering odyssey might have made for a piece of trite inspirationalism on the order of Radio or Shine and instead engages him on his own terms, resulting in a hilarious and touching tribute to the American entrepreneurial spirit." -Scott Foundas, L.A. Weekly
The Emergency Pants Collection: 9 Short Films by William Weiss
Wednesday, Oct 13, 9pm
The Emergency Pants Collection is the new film from Seattle-based filmmaker William Weiss. The nine films in the collection are the result of four years of work on what was originally designed as a single feature-length piece inspired by the works of Charles and Ray Eames, and by 1970s "Sesame Street" vignettes. Each of the films will be shown for the first time, on brand new 16mm prints.
Ladies and Gentlemen
(2004, 16mm, 5min.)
A young man projects himself into a karaoke fantasy as he waits on hold for a radio station's dedication show.
Earthquake
(2004, 16mm, 2min.)
Inanimate objects come to life as electricity fills the ear.
Dirty Baby Says Hello
(2004, 16mm, 5min.)
Dirty Baby spends a day in the garden with the flowers and the animals.
Operating Instructions
(2004, 16mm, 2min.)
Everything you ever wanted to know about that thing, and more. Abbreviated.
October 2000
(2004, 16mm, 3min.)
The filmmaker's diary of a night out with friends.
Have You Seen Me?
(2004, 16mm, 5min.)
An essay on identity and identification, inspired by the weekly images.
The Week in Review
(2004, 16mm, 5min.)
Animated designs and textures move to music by Ben McAllister.
I Love a Parade
(2004, 16mm, 3min.)
A young man, chased through the streets by a parade, decides to be happy for a change.
Emergency Pants
(2004, 16mm, 23min.)
A romantic comedy about grass strains.
A Summer's Tale
Wednesday, Oct 13, 9:30pm
(Gregg Lachow, 2004, DV, 40min.)
Gregg Lachow has been creating original works in film and performance for twenty-two years, the last seventeen in Seattle. He has made numerous short films, including the Emmy-nominated To Have and To Hold for PBS. His four feature films have played at festivals and art houses worldwide, and his work has been the subject of retrospectives at the Amercan Cinematheque in LA and Pioneer Theater in NY. Other films include Silence!, a feature with all dialogue, music, and fx performed live by a troupe of thirteen actors and musicians. In addition to his film work, Lachow is the co-founder and director of the internationally-acclaimed performance group Run/Remain, which has toured its unique blend of theater, film, live music, and dance to wide acclaim in the U.S. and Europe, and which will premiere a new work in May at the Seattle International Children's Festival. Gregg co-created and co-produced The Late Night Club at New City Theater, and the Belltown Coliseum, a downtown storefront performance space, and recently co-created The Film Company at Northwest Film Forum, the nation's only non-profit film studio.
Not Recommended Usage: An Evening of Cameraless Films
Thursday, Oct 14, 7pm
For the past three years, the "Crackpot Crafters" have gathered once a week to make cameraless handmade movies directly on film leaders, boldly experimenting with materials in ways not recommended by any manufacturer. It's an informal free weekly gathering, open to all, sharing ideas and fellowship, kind of like (as one participant put it) "a quilting bee for film dorks." The group started in South Boston, MA, and then had sessions alternating weekly between Providence, RI and Waltham, MA, Devon Damonte then did a tour of 24-Hour Moviemaking Experiments across Canada and US. It came to settle into alternating weekly between Olympia Film Society and 911 Media Arts in Seattle. The group currently meets each week, rotating between homes in Olympia, Tacoma and Seattle.
This show presents the best bits from over one hundred of these sessions, as construed by the current participants. The program also includes completed works by Eric Ostrowski Golden Daisy, Devon Damonte Fuckingoofy, Jason Gutz and Stephanie Warren. There will also be the world premiere of Duct Duct Goose a new audience participation film utilizing a bad print of Devon's recent film Duct and Cover and inviting everybody there to draw on or otherwise mess with it, then we'll watch it right away. The idea is that every time Duct Duct Goose is shown that audience will alter it and watch it again. So the film will grow and transform with each screening. Crackpot Crafters' ringleaders are also available to teach more in-depth hands-on workshops in conjunction with the screening.
Tell Us the Truth
Thursday, Oct 14, 9:30pm
(Gabriel Miller, Cecily Pingree, 2004, DVD, 97min.)
Chronicling the 2003 fifteen-city musical and education tour challenging corporate media consolidation and raising awareness of global trade issues, Tell Us the Truth includes dramatic footage of the unprovoked police attacks on demonstrators to the FTAA (Free Trade Area of the Americas) meetings in Miami. Participating artists include Billy Bragg, Steve Earle, Jill Sobule, Rage Against the Machine's Tom Morello, Janeane Garafolo, Lester Chambers of the Chambers Brothers, The Coup's Boots Riley, REM's Mike Mills, and Jenny Toomey, founder of the Future of Music Coalition.
Closing Night Awards Show
Friday, Oct 15, 7pm
Join us as we party-down and award one feature film and one short film with the Altoids Independent Cinema prizes. The feature length film will be awarded a weeklong theatrical run at NWFF, a $1,000 grant and a percentage of earnings from the box office. The selected short film will receive a $2,500 grant, $2,500 of studio time and equipment at Wiggly World Studios and screenings at NWFF cinemas. The awards will be announced at 7pm. The three judges will be on hand to award the prizes. It will be followed by a reception where everyone will be rewarded with snacks and beverages!
After the announcement, we will be screening the winning feature and short film. Stick around and enjoy the show!
Press
"[Northwest Film Forum is] the preeminent steward of our local film scene." —Seattle Weekly
"The only important festival dedicated to local/regional films…Introduces audiences to the best the local scene has to offer." —The Stranger, 2010
"This thoughtfully curated collection of locally produced shorts, features, and archival films is unafraid of experimentation and steps outside of the standard no-budget tropes of so many amateur productions." –The Stranger
"[NWFF is] an instant Capitol Hill landmark, and the [Local Sightings] fest could be a landmark party." -Tim Appelo, Seattle Weekly
"At a time when most independent filmmakers are vying fora slot at Sundance or courting Hollywood's so-called 'indie-film' boutiques, it's refreshing to see a film that caters exclusively to the mysteries of artistic expression…Local Sightings is under the radar, but not for long." -Jeff Shannon, Seattle Times
"The films in the Northwest Film Forum's Local Sightings Film Festival are genuine independents, developed and created with Pacific Northwest talent in front of and behind the camera, from Vancouver, B.C., to Portland, as well as points between and beyond." -Sean Axmaker, Seattle PI