Local Sightings Film Festival 2005
About
In partnership with Altoids, the Curiously Strong Mints
Sponsored by:
4Culture
Seattle Mayor's Office of Film & Music
Artsfund
Mayor's Office of Arts & Cultural Affairs
Jonas Jensen Fremond Studios
The Paul G. Allen Family Foundation
Washington State Arts Commission
---
With Local Sightings, Northwest Film Forum opens its cinemas every year to showcase the best in recent local films. This year we are delighted to be presenting some unique movie-going experiences. Among the collections of experimental, narrative and documentary films are Vancouver artist Alex MacKenzie's dual projector performance Parallax, a retrospective of Seattle artist Bob Hutchinson's animated films, and a mind-bending and ear-splitting performance by Northwest musicians as they accompany experimental films in Eyes and Ears Explosion.
When you witness the spectacle that is Northwest Filmmaking you learn about some of the original stories that can only come from these mountainous, rainy lands. Expand your consciousness with a town that hosts an annual outhouse race! Freak out as you watch a mild-mannered computer programmer cast away his mortal coil with an online fetish! Go bug-eyed as you watch a man trek from Seattle to LA on foot to meet Werner Herzog! It's all here in this diorama of virtue and depravity that we call the cinema!
We are delighted to welcome back our major sponsor Altoids, the Curiously Strong Mints. We are honored to have Altoids' recognition of our film community. With their help, we are awarding direct cash prizes to two filmmakers and presenting many of the shows for FREE!
---
OPENING NIGHT
The Greenan Tapes
Friday, October 7, 7:00pm – Free
(also plays Tuesday, Oct 11, 9:00pm)
(Shep Salusky, 2005, Super16m>DVCam, 95min.)
World Premiere!
Western States Continuing Education is pleased to present The Greenan Tapes. This award winning program consists entirely of real footage captured by cameras in Dr. Licea's psychotherapy office. The cameras were mandated by his professional licensing board after he was found in violation of the ethical practice of psychology.
Dr. Licea begins treatment with a mysterious airplane cash victim, Terisa Greenan. He quickly identifies her core conflicts and issues. To his surprise, deftly applied interventions backfire. Dr. Licea fears revealing his rocky sessions to his supervisor, James Lapan. In a moment of clarity, he comes clean with Lapan who is sufficiently impressed by Licea's honesty to permit continued practice.
Licea's new found integrity serves him well as Ms. Greenan tosses out ethical dilemmas at a furious pace. Though he turns her temptations to therapeutic advantage, she is not really appreciative. For some strange reason, the better his work, the worse his own life becomes. His wife leaves him. This precipitates a slow descent into madness (bipolar disorder with psychotic features, to be precise). He tenaciously clings to the treatment of Ms. Greenan. He believes her cure will redeem his life, and prove his commitment to higher principles. In a peculiar twist, Ms. Greenan insists the only way she can be cured is if he commits a most egregious breach of ethics. As his psychotic fog thickens, he accepts her reasoning.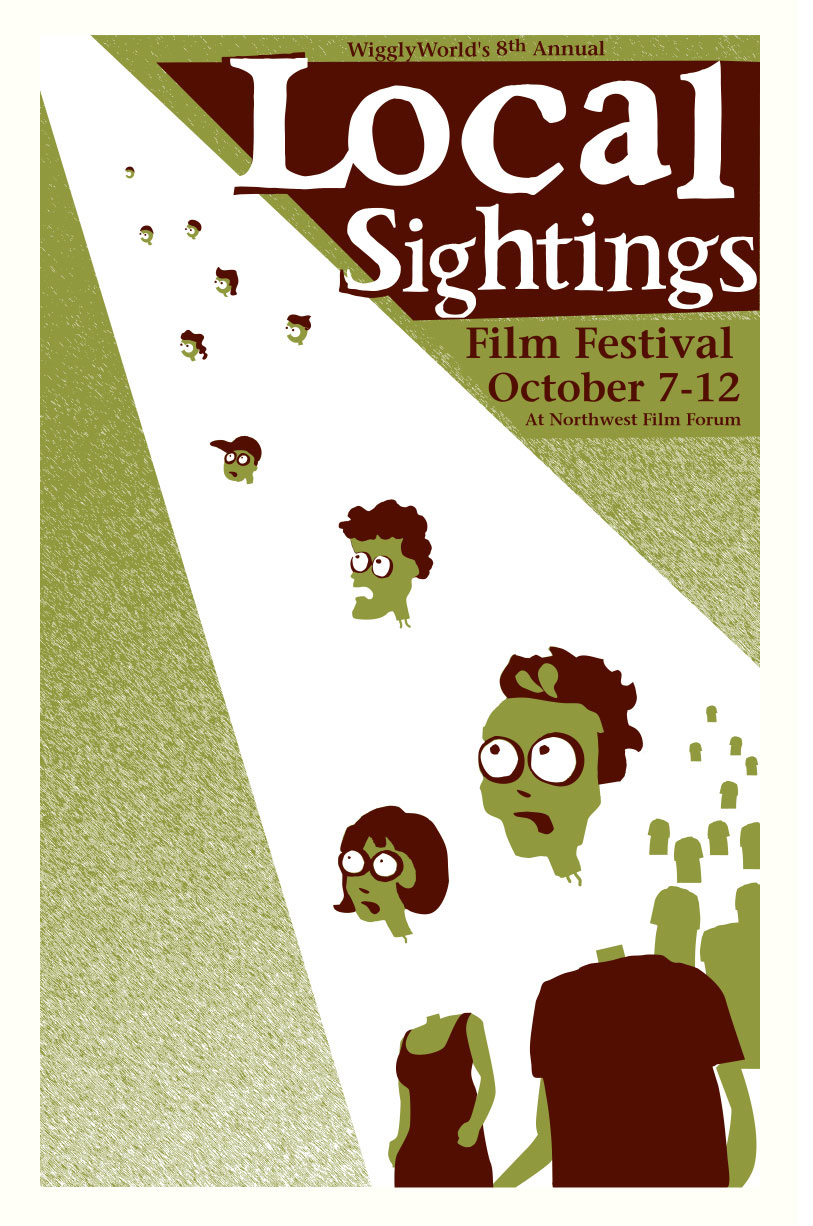 Screenings & Events
Trouble Brewing
Friday, Oct 7, 11:00pm
Anybuddy Home?
(Joe Shapiro, 2005, DVD, 5.5min.)
Disposing of a buddy's body can be such a bother…
Driver's Ed
(Thom Harp, 2005, BetaSP, 11min.)
After failing her test four times, Kate turns to Safe-T Drivers instructor Mr. Meeker (Tony Doup), who thinks he might be able to teach her to drive, if he can just survive the first lesson.
Snow Day, Bloody Snow Day
(Jessica Baxter & Faye Hoerauf, 2005, MiniDV, 13min.)
When an unexpected snowstorm strikes Seattle, the dead rise from their graves to prey on the city's helpless citizens. From the confines of their living room, a group of unlikely heroes emerge to stop the flesh hungry hordes, only to discover that zombies aren't the only evil they are up against.
What Robots Bear
(Natt Thangvijit, 2005, MiniDV, 1.5min.)
A robot programmed to destroy the city meets an unlikely obstacle along the way. What Robots Bear is a stop-motion animated short that combines models and simple line drawings to convey an alternate universe.
Dead End
(Nick Thompson, 2004, DVCam, 17min.)
When young Eric accidentally awakens evil spirits, he is left to fend for himself with a chainsaw and a cleaver as his friends turn into flesh-eating zombies. Inspired by The Evil Dead trilogy.
Murder In Order of Appearance
(Christy Elton, 2004, MiniDV, 7.5min.)
Why did the hostess leave the party for saran wrap and who is the blonde with an eye for jewelry? Find out what happens when you mix liquor, socialites and greed.
Mistaken
(Eric Colley, 2005, MiniDV, 24min.)
It was supposed to be a trip to Mardi Gras for a young couple, but Joe pulls a prank on a hitchhiker that goes too far. Should you trust your gut instinct or could you be mistaken?
Bad Advice
(Terran Gregory, 2005, MiniDV, 6min.)
Rufus Johnson is having what could be the best day of his life, until he's given some bad advice.
–
Lady Be Good
(work in progress)
Saturday, Oct 8, 5pm
(Kay D. Ray, 2005, DVD, 120min.)
This documentary concentrates on the contributions of American women instrumentalists in jazz from the early part of this century to the 1970′s and the development and extent of the all-woman groups. Lady Be Good provides tremendous insight into the lives of women jazz instrumentalists, their musical contributions, their journeys overcoming vast and constant obstacles by interweaving interviews, fabulous archival footage, music and photographs of these women and their bands.
–
High School Film Festival
Saturday, Oct 8, 6:00pm
Local Sightings opens this year with a special screening of local high school films! The Local High School Sightings portion of the festival is curated by filmmaker/educators Matt Lawrence and Cheryll Hidalgo, and Karina Kunins, filmmaker and Youth Taskforce Leader for the Seattle Art Museum. Work from students in narrative, documentary, animation, music video, and experimental/art film will be screened. Come check out tomorrow's filmmakers and learn who is coming up on the heels of today's artists!
–
The Dating Scene
Saturday, Oct 8, 7:30pm
(also plays Monday, Oct 10, 9:00pm)
Driving Around, Following Strangers
(Michael Harring, 2005, BetaSP, 13min.)
Carl finds himself having trouble relating to his grandfather and his girlfriend. When he borrows his grandfather's car to explore the town, his interest is piqued by an attractive woman whom he watches traveling from place to place.
Hello
(John Helde, 2005, 35mm, 19min.)
When Max (Eric Stoltz) decides to approach his fellow ferry-commuter Rory (Susanna Thompson), he hopes simply saying "hello" might change his life for the better, but when her unresolved personal life intervenes, Max must manage a little more risk than he bargained on.
Sly Dog
(Krishna Devine, 2005, BetaSP, 10min.)
A front-yard scuffle sets into play a tale of infidelity and contempt in this suburban dark comedy.
Pickup
(David Miller, 2004, MiniDV, 10min.)
A sordid tale of how one night, fueled by an angry break-up, Mary is charmed and seduced by a charismatic stranger with unexpected, humiliating and amusing consequences. Pickup is a stylistic tribute to the early Nouvelle Vague.
Zombie Night
(Bret Fetzer, 2004, MiniDv, 10min.)
The siren call of the zombie movie subculture interferes with the happiness of a young couple.
Pile Driver
(Calvin Reeder, 2005, 14min.)
A story of two reckless young lovers whose fateful union meets a premature bitter end.
Day Fable
(Darby McDevitt, 2004, DVD, 10min.)
It begins with some sky. Some cottony moisture. An uncanny place. A man is there beneath music, somewhere. Recovering from wounds to his liver, the damage done in the usual way. Here is a fable about things gained, things lost, and repetitive stress injuries. People prance about in their underwear. Knives are involved. There is no blood, only a cup of tea and a mysterious stranger. The man knows his duty. Does he do it? Does he?
–
War-torn Documentaries
Saturday, Oct 8, 7:45pm
(also plays Sunday, Oct 9, 5:00pm)
Bombs Away, Millions a Day
(Patricia Boiko, 2005, DVCam, 8min.)
Journey with an artist, two doctors and a grandmother to Hanford where the "nuclear" was put into nuclear weapons. Now hidden from public view by post-9/11 security, Hanford remains a costly mystery to most Americans.
Beyond Wartime
(Andrew Himes, 2005, DVD, 20min.)
Beyond Wartime focuses on specific people and projects working to heal the trauma of war by working with such groups as veterans and their families, civilian victims and war refugees, and peoples and communities embroiled in chronic conflict.
My Saraab
(Sarna Lapine, 2005, MiniDV, 23min.)
After a thirteen-year separation from his family, Sabah Al-Dhaher returns home, to Iraq. Painting and carving brings him peace and connection in a world torn asunder by war.
–
Love Letter
Saturday, October 8, 9:00pm
(Sam Richert, 2005, MiniDV, 75min.)
Love Letter is a documentary portrait of the Queen Bees, a Seattle-based drag and burlesque troupe. Frank interviews are mixed with performance footage to illustrate how theory becomes practice for a group of thoughtfully frivolous activists. Produced and directed by Sam Richert with the help of her filmmaking comrades and the support of the Seattle queer community.
Through drag, cabaret, burlesque, and spoken word, the Queen Bees provide radical, entertaining, and subversive art and performances motivated by goals of liberation and revolution, to diverse audiences. The Queen Bees are queers and allies of various identities who inject intellect, sass, humor, and politics into our communities.
Plays with
Circus of Infinity
(Sue Corcoran, 2005, DVD, 10min.)
Circus cannon performer Baby Violet wonders if there will be a net to catch her from her fall.
–
Ray of Darkness
Saturday, October 8, 9:30pm
(JK Realms, 2005, DVD, 97min.)
They call it the INLAND EMPIRE, a point of uncharted wilderness within the Cascade Mountains. Everyone's being drawn there, but no one knows why. When a mysterious phone call, from within the INLAND EMPIRE, relays a homicide in progress, Seattle investigators set out to find one of their comrades, recently discovered missing. Thrown into a mix of hype and paranoia surrounding this dark land, they stumble across more than they bargained for…
–
Aliens Cut My Hair
Saturday, October 8, 11:00pm
(Michael Macintosh, 2005, DVD, 71min.)
When young captain-to-be Dick Priapus disses the hairstyle given to him by a hairdresser, he had no idea she would become the Mighty Trendar, the most powerful alien, drag queen hairdreser within 23 parsecs. But Priapus can't satisfy his young partner and first mate Lt. Biff, and Trendar sees the opportunity to take control of the Starship Penetrator and seek her revenge. Only Nurse Lucy, the omniscient pharmaceutical officer realizes that the whole of their lives are being played out for the sadistic entertainment of a television audience, but even Lucy might be too late to stop Tredar's Luv Zombie, who Biff has found much more satisfying than his dear captain. Is it too late to save the Penetrator?
Plays with
Hell and the Waitress
(George Kloss, 2005, DVCam, 8min.)
When a businessman stops for a bite to eat at a local cafe, he becomes infuriated by a waitress who can't seem to do anything right. Things go from bad to worse until he learns what's behind her behavior and sets out to make things right.
–
Parallax
Sunday, October 9, 7:00pm
(Alex Mackenzie, 2005, 16mm, 40min.)
Tonight, NWFF is host to Vancouver's Alex MacKenzie, a vanguard force for underground cinema. He will be present to exhibit his latest work, a stunnig dual-projector performance of manipulated found footage.
"Parallax is a dual-projector performance that employs two antique analytic projectors and draws from a large personal collection of old industrial and educational films. Through a long and mostly intuitive process, MacKenzie selected images from this archival footage and re-photographed, hand-processed and chemically manipulated them. This treatment allowed him to modify and shape the imagery, re-purposing it for his own means as a way to (temporarily) give dead and forgotten footage new life. At the same time, the unpredictability of the hand-processing and the degradation caused by the re-photography introduced an element of serendipity, which also became part of the process. The final piece is composed of short sections or chapters of related imagery, which are linked together through a loose narrative arc that moves form the natural to the human made, from the child to maturity an civilization."
-Larissa Fan, TAKE ONE
–
Reality, or Something Like It
Sunday, Oct 9, 7:00pm
(also plays Tuesday, Oct 11, 9:00pm)
All Features Great and Small
(Casey Chinn, 2005, DVD, 16min.)
Brandy Peters is an independent film editor living in Hollywood and striving to find balance between her professional and artistic aspirations. The only thing standing between her and the career she wants are her filmmaker clients.
Identity Crisis
(Patrick Moriarity, 2005, DVD, 3min.)
Skinny white Nebraska rock icon Charlie Burton tells the story of how his sick father once mistook him for big black bluesman Buddy Miles.
Fast Crapper
(Renate Fleischer, 2005, BetaSP, 7min.)
An outhouse race takes place in Conconully, Washington every January. There aren't many rules, just a toilet seat, paper and somebody on the pot.
Spank the Monkey Pub
(Matt Wilkins, 2005, DVCam, 1min.)
A softball team's unlikely win triggers exuberant madness.
In Flux
(Elisa Barrios, 6 min.)
Walking to Werner
(Dayna Hansen & Linas Phillips, 2005, DVD, 30min.)
Actor/filmmaker Linas Phillips makes a pilgrimage on foot from Seattle to L.A. to meet director Werner Herzog. But Herzog may not be there, and as Linas interviews the marginal figures he meets en route, his film becomes more about humanity than the journey.
An Appetite for Bernard Brady
(Chris Mangano, 2005, DVCam, 14.5min.)
Bernard Brady is a lonely computer programmer until he is flung back into a world of suppressed obsessions that originated in childhood. Finding an outlet for these fixations through the internet, he discovers a new fetish that ultimately proves to be a little more appealing, but by no means more tasteful.
Famed
(Paul Willis, 2005, DVD, 5.5min.)
After enduring homelessness, gambling problems, and a career as an Elvis Impersonator, Jerry Allen sets out on a quest for the true meaning of fame. This surprising and sometimes discomforting portrait unfolds against the spectacle of the Sundance Film Festival in Park City, UT.
–
Experimental: Pursuits
Sunday, Oct 9, 9:00pm
(also plays Tuesday, Oct 11, 7:00pm)
Otra Vida/Another Life
(Karry Fefer, 2005, DVD, 20min.)
Filmed in the Caribbean and Seattle, Another Life is a bicultural, bisexual and bilingual film that explores a woman's search for that elusive place of acceptance and belonging.
The Fruits of Our Labors
(Lynn Shelton, 2004, 35mm, 16min.)
In this lyrical film, women share the private pain and weird joy of being new mothers. The Fruits of Our Labors takes aim at and deconstructs the sacred truths of motherhood, drawing viewers into the unacknowledged realities and unexpected joys of discovering that your life has turned upside down.
Strange Weather
(Salise Hughes, 2005, DVCam, 2min.)
A meditation on chaos using a wide range of manipulated found footage from science demonstrations to flooded homes to mystic creatures casting spells.
The Cat and the Clown
(Vanessa Briggs, 2005, DVD, 8.5min.)
This story tells us about a great friendship between a cat and a clown who go on a honeymoon with their dinosaur pet.
Ghetto Gardens
(Bonnie Blue, 2005, DVD, 10min.)
In a fast growing world with an ever-hardening shell, something seems to be rising from the cracks of its surface.
Drift
(Kate Knappett, MiniDV, 2005, 4min.)
An autobiographical film which uses various metaphors to explore feelings about identity, home and family.
Wait For Me
(Noel Paul, 2005, Mini DV, 12min.)
A poem, a dance, a speeding motorcycle, Wait For Me is a cinematic haiku whose three movements tell a simple love story.
The Sound Machine
(Redwar Blissblood, 2004, MiniDV, 14min.)
The Sound Machine is the story of a man who invents a device that enables him to make a series of unpleasant discoveries regarding the secret lives of plants.
–
Waiting for Nesara
Sunday, October 9, 9:00pm
(Zeb & Elisa Haradon, 2005, DVD, 77min.)
Filmed on location in Utah in the months between September 11th, 2001 and the start of the war in Iraq, Waiting for Nesara documents the true story of The Open Mind Forum, a messianic group of Salt Lake City ex-Mormons, and the radical faith that binds them together in the wake of 9/11. The group anxiously waits for the implementation of NESARA, a miraculous secret law hundreds of years in the making- that they believe was blocked and covered up by the Bush administration. The group believes that the 9/11 attacks were Bush's first attempt to delay NESARA's implementation, and that the Iraq war will be his second.
Guided by constant internet updates from New Age gurus, the group believes NESARA will abolish the IRS, remove George Bush from office, expose him as a reptilian alien, distribute millions to the worthy few, and install a UFO-flying Jesus Christ as America's new leader.
As the deadline for Bush's War on Iraq approaches, the group struggles to remain united, positive, and retain a sense of control-channeling all of their faith and prayers toward the desperate hope that the UFO allies will intervene in time to prevent it, ensure NESARA's implementation, and bring about a new golden age.
–
The Animated Films of Robert Hutchinson
(Robert Hutchinson, 1973-2004) Monday, Oct 10, 7:00pm
We'll be showing a selection of the animated films of Robert Hutchinson. Starting in the 1970s, Robert held screenings of avant-garde cinema in his garage, featuring films prints from artists like Stan Brakhage and the Kuchar Brothers. Robert entered filmmaking as a painter, first making films of collage cut-outs and then experimenting with other techniques like pixelated motion and chalk-board animation. His films reached a lot of exposure, and one was awarded a local Emmy. Robert will be in attendance to talk about his films and the filmmaking community in Seattle during the 70s and 80s. Currently he teaches at Shoreline Community College.
–
Experimental: Ambiance
Monday, Oct 10, 7:00pm
(also plays Wednesday, Oct 12, 9:00pm)
The Hummingbird
(Eric Ostrowski, 2005, MiniDV, 2min.)
Mixed media on film with direct sound – chasing the trail of an elusive bird that goes 'humm.'
Hex
(Sean Blosl, 2005, MiniDV, 15min.)
A man confronts unity in a non-linear story that takes you on a kinetic journey to the sun – a slow flood of shifting images, dense sound and dialogue.
Petruchska
(Donald Byrd and Mitch Marcus, 2005, MiniDV, 25min.)
From acclaimed Seattle choreographer Donald Byrd comes this contemporary retelling of the 1911 ballet of the same title about three "puppets" acting out a drama of desire, flirtation, jealousy, and rage.
Whale Song
(Jennifer Labbienti, 2005, Super8, 5min.)
A direct animation tribute to Stan Brakhage.
Last Day of Dreaming
(Jason Gutz, 2004, Super8, 18min.)
By using comic tools such as word balloons, simplifying people or objects to a few lines, exaggerated gestures and visual sound effects, Last Day of Dreaming tells the story of Dicky, a nice enough fellow who has plenty of dreams, but as for reality, that's another story. Live musical accompaniment.
Tidalwave
(Salise Hughes, 2005, MiniDV, 1.2min.)
The narrator, who is reciting his own dream, has been plagued with dreams of tidal waves before he ever saw the ocean. The film is an interpretation of his dream incorporating manipulated found film footage.
Theories in Ambient Television Broadcasting
(Brian Short, 2005, MiniDV, 7.5min.)
Theories in Ambient Television Broadcasting is a framework for creating televised programming, without specific subject matter, which behaves as a design element within the architectural space of its presentation.
An Experiment in Autobiography
(Erin Obradovich, 5.6min.)
–
The Telephone Pole Numbering System
Monday, October 10, 9:00pm
(William Weiss, 2005, DVCam, 82min.)
Septuagenarian Robert, one-part Mister Rogers and two-parts Don Quixote, is a late night paper delivery driver with dreams of greatness. How can there be order in the world, he wonders, if the telephone pole numbering system is so out-of-joint?
Theanna, a vibrant woman d'une certaine age, is the city's underground oracle on all things lost, found, and happening, thanks to her collection and archive of the paper postings found on telephone poles. Theanna-and her faithful dog Tattoo-keep a close eye on Robert and his old pal Wally as they navigate city streets and forest pathways, industriously attempting to apply their own system of logic and meaning to the telephone pole numbering system.
Woven into the travels of these unique characters are short, documentary-like moments illuminating the "truth" behind the telephone pole numbering system as explained by experts in the utilities industries. As Robert and Walt learn, sometimes the answers to life's seemingly complicated questions are remarkably simple.
Plays with
Brand Upon the Brain! – Behind the Scenes
(Guy Maddin, 2005, DVD, 8min.)
Shot in the winter of 2005 in collaboration with The Film Company in Seattle, The Brand Upon the Brain! is Guy Maddin's latest feature. This behind-the-scenes footage of the production also features commentary by Maddin.
–
Borrowing Time
Tuesday, October 11, 7:00pm
(Webster Crowell, 2005, DVCam, 90min.)
We're happy to premiere the Redux of last year's opening night film! With editor Joe Shapiro, Web is re-presenting his film with a shorter running time and more complete sound track. Let's celebrate the wisdom of revisiting something good and turning into something great!
"It is more exiting to be lured into using one's imagination, than watching something impeccable and searching for it's flaws – and Borrowing Time sets out to be nothing, if not flawed."
-Webster Crowell
Based aesthetically on serial adventure films from the '30s and '40s, this epic scale, low budget film has all of the ingredients small films are supposed to avoid, including barbaric locations, the end of the world, and an army of explosive, animated monsters. Returning to the disciplines employed before the invention of modern effects, it is a film in which aliens have manners, spaceships fly on wires, and computers employ large, calibrated knobs and switches. The result is an homage to our earliest cinematic fantasies unlike anything seen in some time.
–
Eyes and Ears Explosion: Extreme film and music
Wednesday, October 12, 7pm
This program will showcase collaborations between Northwest media and sound artists pushing the envelope with form and content. Live soundtrack performances by: NOGGIN, Withdrawal Method, Foque Mopus, Blood Clot and Spaceship X will accompany many of the films.
Films Include:
Interdependence Day
(Devon Damonte)
When shock and awe met safe and sane. A cycle of loops of labels from used fireworks that washed up on the beach, via multiple projections, with some variable speed and other minor manipulations.
Vent
(Danielle Morgan, 2005, Super8, 3min.)
Originally created for the Straight 8 Festival in London, Vent is one reel of Super8 edited in camera, a collaboration with choreographer Heather Gibbons with music created by Gust Burns, Kathleen Keogh and Bryan Eubanks.
Oona's Veil
(Brian Frye, 2000, 16mm, 8min.)
There is only one film-record of Oona Chaplin (nee O'Neill) – a screen test made for a film in which she was cast and never appeared, having met and married Charlie Chaplin before shooting commenced. Hers was quite possibly the briefest film career ever. Her original screen test was re-photographed; and later exposed to chemicals, buried, and left on a fire escape for a year. What was left over was untangled, spliced together into something approaching a continuous strip of film, and printed. The sound consists of a 78 of Whispering Hope, played at 33 rpm.
S8K40@5&18
(Bridget Irish, 2005, Super 8, 4.5min.)
An expanded cinema piece about the atmosphere of projection using abstract imagery combined with projector speed and sound manipulation performed live by the artist.
Mixed Media on Film
(Eric Ostrowski, 2005, 16mm, 10min.)
This is a hand-painted work with various other media (fabrics, organic matter, garbage found on the street, etc.) applied to clear celluloid. It broke the projector during two test screenings, but somehow managed to premiere at The Olympia Experimental Music Festival 2005 and receive an exuberant response.
Boxed-In
(Kevin Jacobs, 2005, Super8)
A welded headdress-wearing alien resembling a deep-sea diver tries to escape from a burning building.
---
2015 Jurors
Michelle Satter
Rebecca Campbell
Ted Hope
Richard Peña