Local Sightings Film Festival 2009
WINNERS:
Best Feature: River Ways by Colin Stryker
Best Short: The Heart is What Remains by Alexandra Roxo
Special Short Jury Prize: Claustrophobia by Joe Shapiro
---
FRI, October 2, 9pm
Opening Night Party
Seattle filmmakers, movie buffs and partiers walk the red carpet at NWFF's annual opening night bash. With booze flowing, music blaring, and performances tickling the eyes and imaginations, we begin our 12th Annual Local Sightings Festival in stylish debauchery. $5/NWFF members, $7/non-members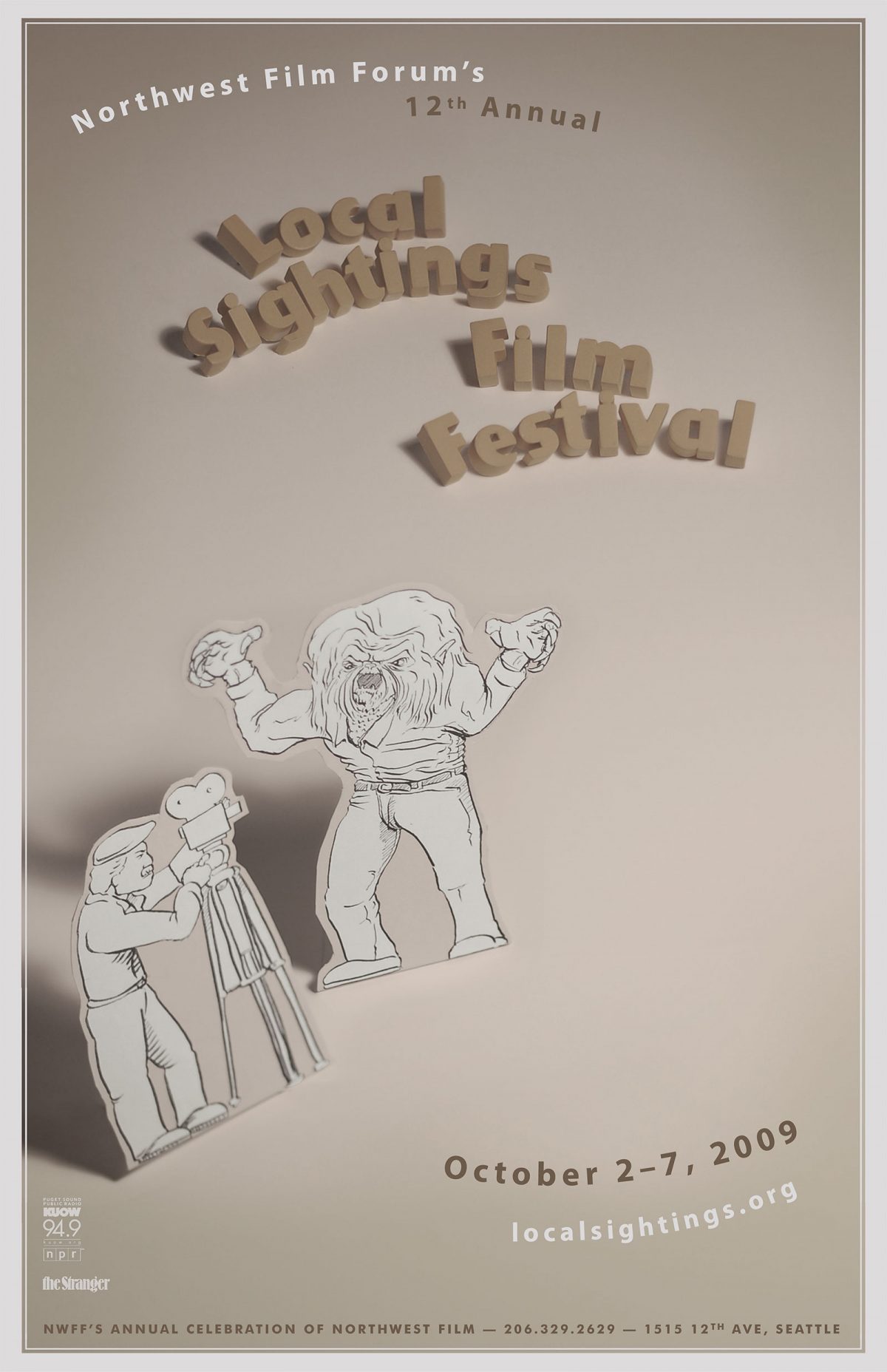 Screenings & Events
FEATURE FILMS
FRI, October 2, 7pm
The Mountain, The River and The Road
(Michael Harring, Seattle, 2008, 75min)
The latest of Seattle's forays into the new talkies drably bestowed with the moniker "mumblecore" stars some of the genre's finest, Justin Rice (Mutual Appreciation, Alexander The Last), Tipper Newton (LOL, Hannah Takes The Stairs) and Joe Swanberg (Nights and Weekends, LOL). Born out of a chance encounter at our 2007 Local Sightings, Michael Harring's 16mm feature debut finds Jeff (Rice) as his parents are kicking him out of the house. Faced with an uncertain future, Jeff starts out on a road trip to Austin, TX with his friend, Tom (Swanberg) who's also escaping his own relationship problems. Half way through the journey Tom jets to sort out issues with his girl friend while Jeff decides to stay behind in the town of Kernville, CA in hopes that he will be struck with inspiration as he avoids the pressures of home. Unfortunately, all he ends up doing is wandering the sleepy small town and watching daytime television. Then one day, after locking himself out of his motel room, Jeff meets the beautiful Cat (Newton), a chainsaw- toting rural gal who happens to work at the front desk of the motel. After some of the genre's finest moments of early relationship stumbling, it's beginning to seem like Jeff just might stay on, but with Tom returning and reality setting in, could this be a life developing, or is he still just putting off his future? The Mountain, The River and The Road is a beautifully shot debut from another of Seattle's up and coming talents.
Plays with:
——————–
Blanco
(Timothy Orme, Boise, 2009, 11min)
The story of Trista, a young girl forced to take care of her dying mother, and what happens the day she finally returns to school.
———-
———-
SAT, October 3, 7pm
When Life Was Good
(Terry Miles, Vancouver, 2008, 86min)
Atmospheric and suggestive, realistic but dreamlike in its graceful ellipses, this is a film of quiet power and sharp acuity. Writer-director Terry Miles has said that he aimed to make a film that consisted of the small but important moments that most conventional features skip over, and he's succeeded marvelously. The clinking of wine glasses, closing of doors and chirping of cell phone ringtones carry as much weight and veracity as the dialogue. Set among the thirtysomething urban bohemian crowd, When Life Was Good immerses us in the lives of Brooklyn (Kristine Cofsky), an indecisive, pensive girl who has just left her boyfriend for reasons she can't fully explain, and her friends Casey (Casey Manderson) and Faith (Keri Horton), another couple heading for the rocks. The plot turns and the arcs of these characters and their stories are subtly concealed beneath a thick texture of rambling conversation and moments of silent repose. Shooting by day, writing and editing at night, Miles used what he calls a "guided improvisational style." Working with basic ideas dictated by the previous day's shooting, he and his actors (all superb) have conjured up an instantly recognizable world of awkward, darting glances, overlapping dialogue and pregnant pauses. It's a vision that rings true in the most intimate way.

————
SAT, October 3, 7pm
Work in Progress: Wheedle's Groove
(Jennifer Maas, Seattle, 2009, 87min)
Seattle, get ready for some Soul searching! Jennifer Maas' work in progress Wheedle's Groove provides a look back some thirty years before grunge music put Seattle on the map, when late 1960s groups like Black on White Affair, The Soul Swingers, and Cold, Bold & Together filled airwaves and packed clubs every night of the week. Many groups started to receive widespread attention with invitations to perform on national television and collaborate with mainstream acts. Just as many of the groups were on the verge of breaking out, the fickle public turned its ear to disco, and Seattle's soul scene slipped into obscurity. Rediscover that history with local collector DJ Mr. Supreme, who uncovered Seattle's soulful past after finding a dusty Black on White Affair 45 called 'Bold Soul Sister' in a 99-cent bin at a Seattle Center record show. By 2003, he had a rough impression of a once-thriving scene and a hefty collection of Seattle soul and funk 45s, some of which were fetching upwards of $5,000 on the collector circuit. Supreme approached local record label Light In The Attic with the idea of releasing a Seattle soul and funk compilation. Light In The Attic spent twelve months tracking down artists and fleshing out the story of Seattle's funky past, and the result was a CD compilation entitled Wheedle's Groove. At the CD release party in August of 2004, a line of nostalgic 60-somethings and funk-hungry 20-somethings wrapped around the building as the musicians inside, now janitors, graphic designers, and truck drivers, look back at careers derailed and prepare to perform together for the first time in 30 years.
Plays with:
Botswana, USA
(Joriah Goad, Seattle, 2009, 8min)
An episode from a series centered around the tumultuous relationships of the residents of the Zulu Inn, an American resort in Africa.
———
SAT, October 3, 11pm
Punch
(Jay Cynik, USA, 2009, 84min)
The question is, "Do you want to get f***ed up… or do you want to get f***ed down?" From beginning to end, Punch is a high-octane, foul-mouthed, blood-soaked movie. More true to a comic book style than any of the recent Hollywood creations, Punch is adapted from The Last Stand of the Teenage Mod Murder Squad, created Jay Cynik and graphic artist Simon Young. Punch paints a gritty city life (looking quite similar to Georgetown) filled with casual and frequent drug use, casual and frequent sex, and casual and frequent violence. A bloody dual between the leaders of a biker gang and a band of car thugs is the backbone of a story that weaves together amazingly colorful yet demented characters. The confrontations turn more epic and more gorey as it becomes clear that everyone onscreen is an unwitting pawn in a clash of wills between God and The Devil. Drawing equally from cult gore films as much as Tarantino-style action and dialogue, Punch unfolds smartly as both a parody and a legit thrill ride, capitalizing on a raw, irreverent attitude and gutsy performances from everyone in the ensemble cast.
"The film's over-the-top violence makes one laugh as well as cringe, the dialogue crackles and occasionally turns lyrical, and the cast of relative unknowns carries the story's feverish lunacy with zest and raw talent." -Seattle Times
Plays with:
Under Pressure
(Daniel DeVita, Mike Dinsmore, Vancouver B.C., 2009, 9min)
A young man shrinks himself in order to save his mother from the horrors of his father's cancerous mouth.
—————–
—————–
SUN, October 4, 7pm
Bury Me in Redwood Country
(Benjamin Greene, Benjamin Cameron, USA, 2009, 63min)
The Redwood tree is a meditation on humility. Its species evolved ages before the emergence of man, persisting through the coming and going of dinosaurs. Many alive today are older than Christ. It is the tallest and largest tree on the planet, the scaffolding of vibrant micro-ecosystems, and constituent of a cathedralic spiritual aesthetic. Bury Me in Redwood Country takes us into that landscape, where people with deep associations with the trees live out their lives. Two naturalists who discovered the tallest known tree on the planet travel into an unknown basin to find and measure a 356 foot tall Redwood. The foremost redwoods scientist explains the fascinating biology of 'cathedral' trees. A 70-year old redwood logger trains for 100-mile ultra-marathons in the woods. And the oldest living Yurok tribal elder weaves baskets in accordance with her matrilineal tradition. We are left with an unavoidable realization that these ancient forests are silent witnesses of our transient lives and human history.
———–
———–
MON, October 5, 7pm
American Collectors
(Bob Ridgley, Terri Krantz, USA, 2009, 60min)
Most of us know someone who collects something–30% of Americans do–and we love them anyway. But what drives obsessions such as this? That is the beating heart and prime directive of this verite documentary, which examines the relationship between people and their objet du desir. From rock band KISS memorabilia to antique axes, from bobble heads to a giant ball of string, each collector tells their story, and each fascinating tale cumulatively suggests that our proclivity to collect often means more than meets the eye. Filmmaking team Terri Krantz and Bob Ridgley stay admirably restrained as they artfully explore this entertaining topic and its cast of colorful characters.
Plays with:
It's in the P-I
(Bradley Hutchinson, Seattle, 2009, 7.5min)
As newspapers across the country struggle to stay viable, Seattle's own Post Intelligencer was slated for closure.
———
———-
TUES, October 6, 7pm
River Ways
(Colin Stryker, USA, 2007, 85min)
River Ways explores the lives of regular working people affected by the issue of whether to remove four dams on the Snake River in Eastern Washington. Environmental groups and fishing interests criticize the dams for their negative impact on salmon populations, but agricultural communities dependent on the dams oppose efforts to remove them. Combining interviews with careful everyday observation, and set against the scenic backdrop of the Pacific Northwest, River Ways introduces us to a set of characters with a surprisingly complex mix of perspectives. Frank Sutterlict, a Native American fisherman living in an encampment on the Columbia River, struggles to make ends meet in the face of dwindling salmon numbers; Ben Barstow, a family farmer in Washington, fears the effect of dam removal on his already marginal business; and Mark Ihander, a commercial fisherman, hangs on to an industry in economic decline. What emerges is a complex portrait of an issue that reaches to the heart of the ideological differences that characterize and divide the Pacific Northwest, and indeed many environmental issues throughout the world.
"You are unlikely to see a truer portrait of what America has been and what it is becoming." –Seattle PostGlobe
"A remarkably evenhanded (though not naive) and compelling investigation into both sides of a debate over whether to remove four dams on the Snake River in Eastern Washington." -Seattle Times
————
————
TUES, October 6, 7pm
Co-Presented by Longhouse Media and National Geographic All Roads Film Project
Dear Lemon Lima – Cast & Crew Screening!
(Suzi Yoonessi, Seattle, 2009, 87min)
Half-Eskimo high schooler Vanessa Lemor, the protagonist of Dear Lemon Lima, is probably too old to be doodling rainbows and bunnies that poop pastel hearts, though director Suzi Yoonessi believes there's nothing sadder than outgrowing childhood. Here, the Me and You and Everyone We Know producer-turned-director raids her own adolescent diary to garnish an otherwise familiar misfit teen comedy with endearing personal touches. From its hand-drawn opening credits to the climactic dance-off before an auditorium of peers, this Juno-meets-Napoleon Dynamite hybrid substitutes Seattle for the quiet town of Fairbanks, Alaska. The film follows introspective 13-year-old Vanessa Lemor, who spends her days pouring her heart out into the pages of her diary and dealing with the pain of being recently dumped. While her ex-beau Philip reinvents himself as one of the popular kids, Vanessa remains stuck in a lonesome state of adolescent awkwardness, intent on winning back her beloved. Together with a gang of social outcasts called the FUBARs (short for 'F***ed Up Beyond All Recognition'), Vanessa enters her school's Snowstorm Survivor competition, an event inspired by the World Eskimo Indian Olympics, convinced that sporting victory will be her way back into Philip's heart.
Call (206) 329-2629 for ticket information.
———-
———-
WEDS, October 7, 7pm
Where You From
(Sabrina Lee, Montana, 2008, 76min)
A surprising journey into rural American hip-hop, Where You From follows a beat far from the urban streets where the music was born. With dense redwood forests, rocky mountain vistas, and the dramatic rhythms of hip-hop as a backdrop, Where You From enters the lives of three extraordinary individuals as it chronicles their pursuit of acceptance, fame, and even salvation. There's Franco from Fortuna, California, who hopes to win the top prize at Scribble Jam, the hip-hop competition that helped launch Eminem; Tommy 2 Tone from Livingston, Montana, who is fighting addiction and legal problems as he tries to make his music and become a good father and husband; and Chris from Bozeman, Montana, who is still seeking closure in his relationship with his estranged alcoholic father. Where You From is a visually stunning, provocative portrait of young men confronting small town life, broken families, and drug addiction–ultimately seeking triumph in their music.
---
Installation Ongoing, October 3-7, Cinema 2
Tania Kupczak-Recent Video Works About Weather
Part diary and part meteorological observation, this screening presents three videos about the emotional content of precipitation. Geography is the map of memory, and movement becomes the catalyst for remembering. Presented as single-channel digital video.
Please join us for an opening reception Saturday, October 4 from 3-5pm.
---
SAT, October 3, 5pm
Admission is Free!
Clay Animation Network
What do aliens, video games, Halloween, morphing monsters, talking dinosaurs, wizards, magical creatures, superhero mushrooms, and food with an attitude all have in common? They are all original animations produced by the students of classes taught by Lukas Allenbaugh as part of his traveling program, Clay Animation Network. Lukas has been teaching animation classes to 5-60 year olds in Seattle and the surrounding area for several years. Students learn character and set design, script and story writing, acting out the story, storyboarding, timing, and animating. This showcase will feature recent work made by students. More information and online movies are available at www.cancancancan.com.
————
————-
SUN, October 4, 5pm
Admission is Free!
Seattle 69: A Conversation with Seattle Historian Paul Dorpat
This year Northwest film forum embarked on an exhaustive retrospective of the cinema of 1969. So we only thought it appropriate to invite Seattle's resident historian Paul Dorpat to join us as we explore Seattle in the late sixties–from Anti-war marches, human be-ins, rock festivals, psychedelic drugs, underground newspapers, free universities, light shows, city riots, radical skirmishes, and hippie antics are chronicled with personal anecdotes, contemporary accounts, and historical insights. Join us as we travel back in time and examine what Seattle looked like just 40 years ago.
——–
——-
SUN, October 4, 7pm
Admission is Free!
Film Saloon: Locally Grown Music Videos
Since the advent of MTV, music videos have evolved over a few short decades to become a unique and distinct art form. Local Sightings has invited some of Seattle's prolific music video creators to show off some of their recent work and talk about their unique approaches and behind-the-scenes challenges. Expect to see some endearing stop-motion animation, experience a few eye-popping effects, and hear some great music. And hang out afterwards with our guests as we dispense with the formalities, and turn the cinema into our festival lounge.
————
———–
MON, October 5, 7pm
Century 20 – Historic Northwest Film
Film Originals, The Work of George and Helen Smith
George and Helen Smith made films together for over thirty years. George worked behind the camera as cinematographer and editor, while Helen wrote scripts for the nearly 40 titles they produced under the name Film Originals. Their films focused on a variety of topics including the rise of aeronautics in American transportation, the Northwest timber industry, and environmental conservation. Featured films from the George and Helen Smith Collection, recently acquired by the UW Libraries Special Collections, include Last of the Log Drives (1970), Flying Businessman (1953), Those Were the Days (1971) and Telephone Creek (1950). The screening will include program notes and comments from Hannah Palin, Film Archives Specialist.
—————
————–
WEDS, October 7, 7pm
A Natural Selection – Films From Portland
Portland filmmaker and visual artist Vanessa Renwick presents some hopping films from Portland's finest artists. Lions! Bicycles! Melting Polar Opposites! Rabbits! Record Stores! Beluga Whales! Tears! Mind Bending! and MORE! Featuring works from: Melody Owen, Zachary Margolis, Judah Switzer, Karl Lind, Liz Haley, Robin Moore, Alicia McDaid, and Vanessa Renwick.
——-
——–
———-
—————–
SAT, October 3, 9pm
Shorts: Imagine That
Man Talk
(Ben Harris, Seattle, 2009, 8min)
Two smarmy businessmen compete for the upper hand while speaking a language that leaves no room for interpretation.
——————-
Already Gone
(Clyde Petersen, Seattle, 2009, 4min)
This music video for The Shaky Hands is a stop-motion party with stilt-houses, giant ships and a logging truck.
———–
Meeting Miss Fortune
(Joon Chang, Seattle, 2009, 4min)
Clock in, clock out. Nothing but bad luck in-between. Hank's daily routine has become a chore. That is, until he meets Miss Fortune. She's playful, charming, and completely oblivious to his advances. Has Hank met his match?
————–
A Water Tale
(SJ Chiro, Seattle, 2009, 14min)
In a fairy tale, a girl is taken to the underwater palace by the King Fish.
—————
The Hot Dog Cycle
(Morgan Dusatko, Seattle, 2009, 29min)
A depressed hot dog falls in love with a girl. Through the magic of public access television, our hero finds that love is not always served on a steaming hot bun.
—————-
Dream Job
(Jef Faulkner, Seattle, 2009, 6min)
Stuck in an unsatisfying job, an imaginative young woman doodles her idealistic careers only to realize that even the most glamorous fantasies aren't flawless.
———-
As Was Said
(Przemek Pardyak, Seattle, 2008, 19min)
A woman faces mysterious characters, strange obstacles, and her own fears as she searches for her disappeared lover.
————-
9-1-Mum
(Allison Beda, Vancouver B.C., 2009, 3min)
Dana calls her mother on Mothers Day, with what she thinks is a medical emergency–involving a spork. Her mother thinks she is a hypochondriac!
———-
———-
SUN, October 4, 9pm
Shorts: Obstacles to Overcome
HART
(Vanessa Williams, Seattle, 2009, 10.5min)
Amber is a young girl trying to find herself, but with a pair of antlers on her head she isn't sure whether to impress her fellow classmates or the animals at the local nature reserve.
———–
Between Night
(Scott Ballard, Portland, 2008, 17.5min)
A chance encounter frees a humble man from his routine as a street sweeper. A jazz infused homage to the spirit of longing and change.
===========
Balance
(Ben Rapson, Seattle, 2009, 10min)
Please and annoy, beg and blame, animosity and longing: two dancers demonstrate the kiss-fight-kiss cycle of relationships.
————
Unexpected
(Paul Maupoux, Seattle, 2008, 18min)
Against their better judgment, a couple allows a stranger into their house, only to realize he does not plan to leave. Filmed with no script or predetermined plot outline, the actors were placed in the situation and improvised their way through it while three cameras filmed what happened.
————
Committed
(Garett Garrido, Des Moines, 2008, 10min)
Sean, after having troubles with his relationship, delves into his girlfriend's past only to be troubled by what he finds.
————–
Musicophilia
(Craig Packard, Shoreline, 2009, 8min)
In the quiet moments of a lonely man's daily grind, a song begins to play. And play. Day and night. Incessantly.
—————–
Intermission
(Andrew Franks, Seattle, 2009, 7min)
Julian awakens in aftermath of a mass suicide. Not knowing how or why he got there, he sets out to investigate this bizarre scenario; the only problem is Julian cannot distinguish the difference between reality and memory.
———–
Claustrophobia
(Joe Shapiro, Seatte, 2009, 4min)
A claustrophobic 9-year-old confronts his deepest fear… with a little help from Spider Man.
———-
———-
———–
———
MON, October 5, 9pm
Shorts: People and Places
Talking Heads
(Gabe Van Lelyveld, Kristina Whipple, Port Townsend, 2009, 19min)
Over three hundred interviews went into the making of this short documentary that asks people of all ages and backgrounds, "Who are you?" and "What do you want out of life?" Interviewees are presented from youngest to oldest, creating a patchwork of individuals and outlooks on life.
————
Real Change: In Seattle
(Mike Denman, Bothell, 2008, 11min)
With real-world examples, this poignant documentary sheds light on a Seattle non-profit organization committed to making a positive impact in the homeless community.
—————
Dark Material
(Ruth Gregory, Lane Stroud, Seattle, 2009, 7min)
Three artists talk about how they draw inspiration from the shadows.
————-
The Love Play of the Gods
(Vimlan K. Bundschuh, Vashon Is., 2009, 49min)
Often seen as the "Kama Sutra in Stone," the temple city of Khajuraho in Central India is world famous for its masterpieces of erotic art. Built a thousand years ago, the temples are a vivid expression of the Hindu and Tantric philosophies that describe all aspects of life as part of the Divine.
————-
—————
TUES, October 6, 9pm
Shorts: Abstractions
Pulled From the Ground
(Michael Bragg, Creswell, 2009, 11min)
Pulled from the Ground documents a struggle for stability against the constant flux of existence within the exaggerated setting of an obsession with roots.
———-
The Heart is What Remains
(Alexandra Roxo, Seattle, 2009, 13min)
Two lovers meet and experience the birth, life, and death of love.
———-
Kicks 4 Cranes
(Matt Cibelli, Seattle, 2009, 8min)
Kicks 4 Cranes is a documentary. Actually it's two documentaries–about women's shoes and tower cranes.
——-
A Moment's Reverie
(Tess Martin, Seattle, 2007, 10min)
While on a train trip, the letters in a girl's book come alive and take her on a journey through thoughts and memories.
————
When Herons Dream
(Serge Gregory, Seattle, 2009, 10.5min)
When Herons Dream imagines the perspective of a great blue heron as it moves through the seasons and a Northwest landscape shaped by water.
———
Final Heart Beats Black
(Michael Harring, Seattle, 2009, 3min)
A music video for Sleepy Eyes of Death. An ancient sleeping being (looking very much like a beautiful young woman) must end one world in order for another to be reborn. This involves the regurgitation of a magic flying crystal.
————
Oov
(Thom Heileson, Wyndel Hunt, Seattle, 2007, 4min)
Videography, photography, motion graphics and digital manipulation are combined to create visual interpretations of abstract aural compositions.
———-
Claire
(Colin Cooper, Vancouver B.C., 2008, 9min)
A young woman faces subconscious manifestations of various aspects of her own vulnerability.
———-
Endless Tunnel
(Tommy Thompson, Olympia, 2008, 5min)
An exploration of a stress-saturated world, examined using the stratastencil animation technique.
———-
Television and the Public Interest
(Amber M. Rose, Olympia, 2009, 4min)
Combining clips from educational films of the '70s and a speech by the FCC chairman in 1961, this piece is a campy commentary about the state of television.
———-
Two Dots
(Britta Johnson, Seattle, 2009, 4.5min)
Marbles illustrate the subtle math of a relationship in this video made for Lusine's song Two Dots.
———-
———-
————-
WEDS, October 7, 9pm
Shorts: Experiments in Storytelling
Aphids
(Matthew Brown, Seattle, 2009, 15.5min)
A woman, her garden, and the creatures that live within it.
——–
The Aliens
(Sarah Ricci, Seattle, 2009, 3min)
Using found footage, The Aliens is an adaptation of the poem by poet Charles Bukowski.
———–
Animateness
(Margaritte Knezek, Olympia, 2009, 11min)
With Super-8 documentation of ancient pagan sites in England and Wales, Animateness is a personal documentary that explores spirituality and the natural world.
———–
Reunion
(Colin Cooper, Vancouver B.C., 2009, 9min)
A social misfit's encounter with a prostitute is subjected to a fractured recollection.
———
Be Your (Most Attractive) Self
(Ricki Mason, Seattle, 2008, 5min)
Five girls in vintage swimsuits do calisthenics, scurry like rodents, and perform Esther Williams inspired canons amongst Christmas lights.
———–
The Chronicles of Cleo and Jack
(Karn Junkinsmith, Shoreline, 2009, 15min)
A love story about a young couple that skateboard and dance in the streets while harassed by a pack of dancing freaks.
———–
Anabel and My Weekend Alone
(Matthew Witschonke, Seattle, 2007, 4min)
As an essay about artistic process, social anxiety, and finding love, Anabel employs many forms of animation including hand-drawn, stop-motion, and pixilation.
——–
Waterway
(Britta Johnson, Seattle, 2009, 9min)
This stop-motion animated film follows large drops of water as they travel through rocks, ferns, plant roots, microbes and other creatures that naturally clean them.
———-
One Shot Film
(Barry Jenkins, Seattle, 2009, 7min)
The latest in NWFF's one-shot film project comes from juror Barry Jenkins whose short film quietly and lyrically follows a young girl as she navigates a gas station robbery.