Local Sightings Film Festival 2011
celebrations
Friday, September 30, 9pm
Opening Night Party
Join us for our annual blow-out opening party, filling Northwest Film Forum's entire space with a who's who of Northwest artists, drinks, DJs and dancing, performances, and film and video projections. Music provided by "Ear Candy" Randy (revolver, london loves) spinning rock, pop and indie music from 60′s mod and ye-ye to 70′s glam and punk to 80′s underground and wave and 90′s britpop and indie to 00′s electro and revival. Songs you love as you love them, no dup dup dup, expect loads of bomp bomp bomp!
==
Thursday, October 6, 9pm
Closing Night Party
Join us for the post-awards finale as our resident DJ ham. again spins the finest mash-ups that we revel to deep into the night!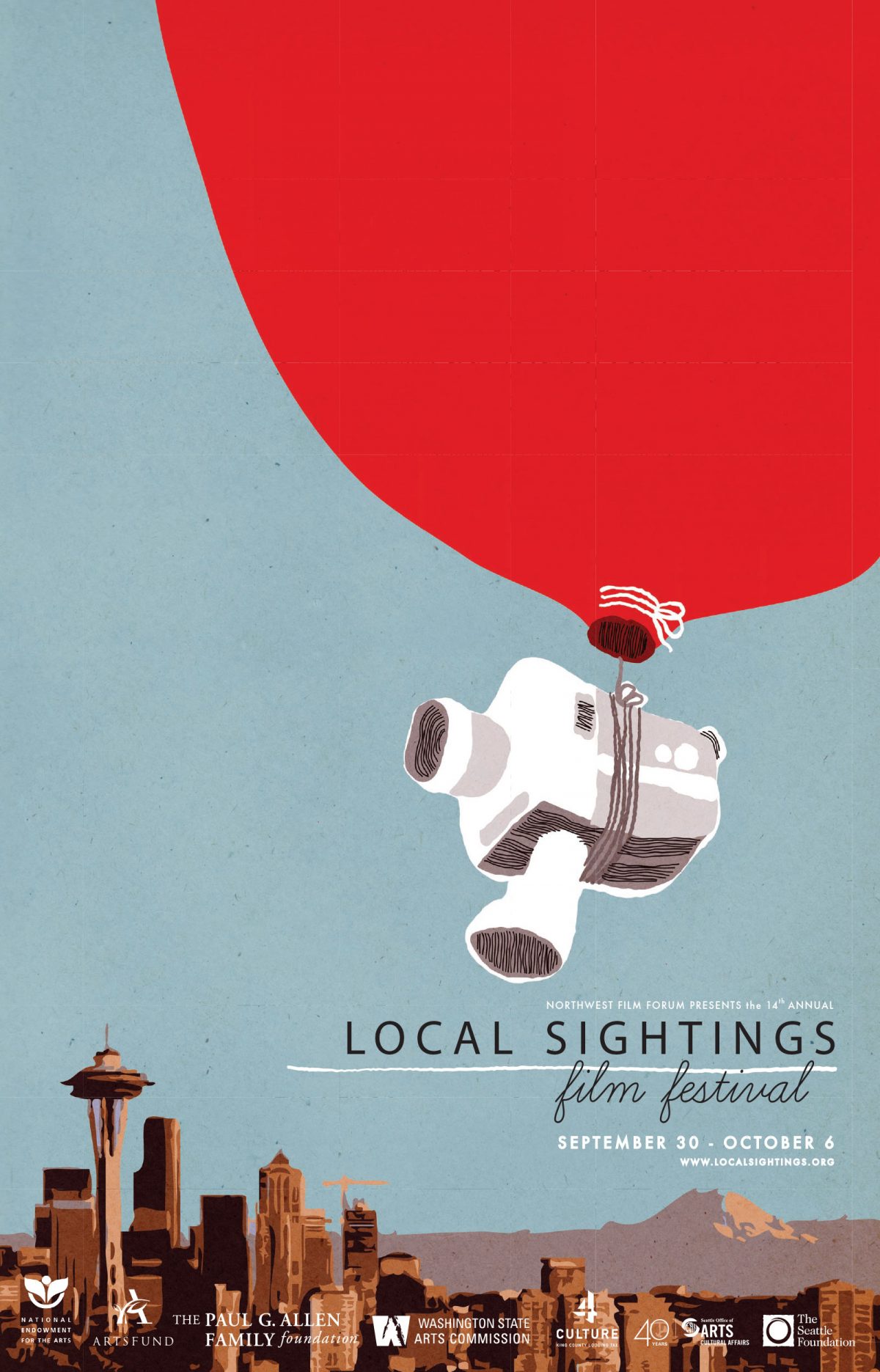 documentary features
Saturday, October 1, 7pm
Confluence
(Vernon Lott & Jennifer Anderson, Idaho, 53 min)
Vernon Lott's and Jennifer Anderson's Confluence documents a series of disappearances from the Lewsiton-Clarkston Valley, along the Idaho/Washington state line. As we are educated by interviews with victims' families and retired and active law enforcement officers, the story continually twists into an even more gruesome tale as the methods and motivations of a serial killer begin to take shape. Unlike the trite television programs that share the crime drama tone, the film's complexities remain a beguiling riddle right up to the end. Despite the meticulous efforts of vigilant officers, the thin thread of evidence faces an impenetrable wall of unknowns. We must share the difficult reality of the victims' families and accept that much about these disappearances will remain unknown and the murderer exists only as an apparition, perpetually hidden from our view. Meanwhile, the Lewiston-Clarkston Valley is itself an ever-present character in this story. Philip Bloom's immaculate cinematography, filmed at the height of a lush summer, underlines the eeriness of the events by seducing us with a moving portrait vast open hills, powerful rivers and a limitless, western sky. Bitterness and sweetness come together in Confluence.
Screens with:
Summer Elegy
(Serge Gregory, Washington, 14min)
On the remote West Coast of Ireland, a poet seeks to inspire an ailing painter, filling in his canvas with a monologue on rural life and the meaning of landscape.
Website >> | Facebook >>
==
Saturday, October 1, 9pm
The Wanteds
(Stephanie Smith, Oregon, 87 min)
What starts as a straightforward journey of an eccentric and maniacally optimistic musician's impromptu, no-budget tour of the US morphs into a moving portrait of a man on the rocks. The Wanteds introduces us to Tommy, a intrepid musician on a one man tour that is abruptly altered when his girlfriend unexpectedly announces she is pregnant. As his dream of the life on the road fades this extraordinarily candid documentary becomes an journey into one man's personal struggle with the past and future. Incredibly persistent and charismatic, Tommy, visits his hometown and family during a haphazard tour and comes face to face with a history of abuse as he struggles with his own impending fatherhood. Beautiful and poignant, The Wanteds shows us how the personal slithers its way into artistic being.
| Website >> |  Trailer >>
==
Monday, October 3, 7pm
Sound and Vision
Set against the BP Deepwater Horizon disaster of 2010, the gorgeously shot Sound and Vision is a call to arms for the Puget Sound region. A documentary in eight parts, moving from stirring scenes of the BP disaster to the threats facing Puget Sound, examining oil spills, plastic trash, legacy pollution, and ongoing degradation in the form of storm water and household toxins. Unlike many environmental documentaries, Sound and Vision more than tosses the gauntlet; it actually offers up practical ways that people can be involved in working for ocean health.
Screens with:
Song of the Spindle
(Drew Christie, 2011, Washington, 4min)
A slightly humorous and sometimes scientific discussion between a human and a sperm whale.
==
Tuesday, October 4, 7pm
Pedal Driven: A Bikeumentary
Deep in the Wenatchee National Forest illicit mountain bikers race through the trees on clandestine trails seeking the thrill of the mountain ride. Pedal-Driven delves into the mountain biking underworld in national forests across the west and the escalating controversy between those hungry to ride and the federal land managers charged with protecting the public lands. This rhythmic documentary follows the process of conflict, negotiation and cooperation between two groups both fighting for the same thing–the ability to play in the woods. Even as the filmmakers examine the clash of land use philosophies, they explore the greater Northwest to find instances where the forest service and mountain bikers have come to cooperative solutions proving that a common ground between can be reached.
| Website >>
==
Wednesday, October 5, 7pm
A Lot Like You
Growing up Eliaichi Kimaro was always proud of her mixed-race background although she never understood why. As a first generation American, Eliaichi's only knowledge of her Tanzanian ancestry has been through stories passed down from her father. To find a narrative of her own, she decides to travel to her father's village on Mt. Kilimanjaro to finally get to know the family she has only known from afar. Bringing with her an outsider's curiosity, Eliaichi asks her relatives questions that most people who grew up in the village never thought to ask–including her father. Through these personal interviews, Eliaichi uncovers the dark secrets of her family's culture and in doing so discovers an unexpected deep personal connection to her Tanzanian roots. In many ways, A Lot Like You becomes a lot like me.
| Trailer >> |  Facebook >>
narrative features
Friday, September 30, 7pm
The Oregonian
(Calvin Lee Reeder, Washington, 81min)
The Oregonian's protagonist, a woman waking up from a car crash on a deserted road, has an important journey ahead of her. Using surrealism, 70s shock horror cinema and Throbbing Gristle's mandate, "entertainment through pain," as a starting point, director Calvin Lee Reeder has made a road trip film that deprives its audience of every conventional expectation in a movie-going experience. The Oregonian re-imagines our dreary, forested Northwest landscape as a purgatory from an old-time religion, complete with its own symbolism, a cast of arch-angels and at least 59 levels of hell.
Our hero (played by Lindsay Pulsipher), injured from her crash, ventures along an eerily abandoned road in search of help. Her paranoia mounts as she encounters stranger and stranger characters: another auto accident victim in a frog costume, a taciturn and breakfast-obsessed truck driver, hippies and musicians–all of whom provide little help and lack essential characteristics to be considered fellow humans. Flashbacks reveal a bucolic farm life she left after a bitter end to a relationship. As more is revealed, the less we trust our own interpretation of events and the sanity of our protagonist.
This is a film that assaults the senses with a screeching sound design, coarse, violent imagery and just plain freakiness. But below and above the shock value, it taps into something vital and raw. For those viewers who can appreciate the utter absurdity of human existence, the film offers an uncanny humor (a la Lynch, Cronenberg, Jodorowsky). As the Oregonian is finally released from her strange journey, we are offered no explanations or conclusions, but we share with her a deep feeling of transformation as if re-birthed after discarding a decayed reptilian skin.
Screens with:
Vampire Hummingbirds: Pain in the Nectar
(Aaron Bourget, Washington, 11min)
A film about short attention spans and killer hummingbirds.
| Website >> | Trailer >>
==
Sunday, October 2, 7pm
Light Of Mine
(Brett Eichenberger, Oregon, 82 min)
Brett Eichenberger's first feature film tells the story of Owen, an aspiring photographer with an eye disease that has left him without sight in one eye and will soon leave him blind in both. Fearful and uncertain of how long his vision will last, his wife Laura proposes they fulfill their lifelong dream of a photography expedition to Yellowstone National Park. When they stop to visit Owen's childhood friend Eddie, an Iraq veteran who has recently returned from combat, Eddie helps assuage Owen's fear of the unknown. But as the journey continues, Owen and Laura's love and trust in each other is tested, until Owen, determined to photograph despite his loss of sight, discovers that he has a choice to see what he wants to see.
| Website >> | Trailer >>
==
Sunday, October 2, 8pm
How The Fire Fell
(Edward P. Davee, Oregon)
In Corvallis, Oregon in 1903, Edmund Creffield set out to teach the true word of god to those who would listen and in doing so a religious cult was born. Poignant and beautiful, How the Fire Fell, the shimmering love-child of Bergman, Malick, and Tarkovsky, is a semi-silent study of the activities and atmosphere of the rise of a community created by a prophet and its effect on not only the members within but those surrounding it. From its conception, the audience bears witness to the events as a cult member, watching and observing through the three-year reign of the Brides of Christ sect. As if peering through a faded memory, How the Fire Fell takes you through a moment of time in a haze of mystery and wonder.| Trailer >>
short films
Saturday, October 1, 7pm
Looking In
Self-reflective shorts
The Last City in the East
(Erik Hammen, Washington, 6min)
Punk poet Paul D. Dickinson returns to the city that made him: St Paul, Minnesota.
Website >>
The Subjective Response
(Aaron Bourget, Washington, 2min)
An investigation of criticism and viewer perspective.
Connect To
(Wonder Russell, Washington, 17min)
A runaway and a reject meet on a cross-country bus, and discover an unexpected need for each other
| Facebook >>
Family Time
(Zheng Wang, Washington, 9min)
An Asian American family spend time together every evening watching TV. Or do they really?
Howard from Ohio
(SJ Chiro, Washington 8min)
Adapted from Keri Healey's Frank Story about a woman and her encounter with a man she meets online.
Facebook >> | Website >>
The House I Keep
(Jhene Erwin, Washington, 11min)
A story of loss and transformation that centers around a mother's struggle to come to terms with a recent miscarriage.
Trailer >> | Website >> | Facebook >>
The Lost Van Gogh
(Jessica Lyness, Oregon, 16min)
Shot from the POV of a painting, this comedic caper frames perfectly the value of art.
Uu
(Edward Westerhuis, Yukon Territory, 2min)
Uu is a fictitious narrative that compensates for the loss of the landform the city of Whitehorse was named after.
Mother-in-Law
(Latesha Miller, 2011, Washington, 11min)
A woman is upset when her mother-in-law destroys her birthday.
Snapshots
(Andrew Birchall, Washington, 5min)
A man tries to blackmail his wife's lover. It turns out that the wife set the whole thing up and that they've been doing this for awhile.
==
Sunday, October 2, 9pm
This Sporting Life
Reflections on sports and the outdoors.
The Art of Speed
(Angelo Baca, Washington, 7min)
A Navajo and Japanese local speedskater has aspirations for national and Olympic glory in the dangerous sport she loves.
Mad Miners Muck Up
(Andrew Connors, Yukon Territory, 9min)
A Yukon man looks back on his childhood experiences of learning to play hockey in 30 below with hard-checking miners on an outdoor rink in Elsa, Yukon.
Smoke, Sand and Rubber
(Greg Brotherton, Washington, 30min)
Former midget race car driver, Mel Anthony, 87 years old, returns to the track for the first time in 54 years, racing the Northwest Vintage Circuit.
Trailer >>
Still
(Longhouse Media, Washington, 8min)
This short film follows traditional hunter Glen Pinkham.
Nettles and Ivy
(Lisandro Alonso, Washington, 7min)
Shot in the foothills of the Cascades, what starts as a mediation on horses turns into something completely different.
==
Monday, October 3, 7pm
Views from the Inside
Introspective shorts
Alone
(Ethan Seneker, Samantha Jensen, Washington, 9min)
Andrew discovers that his last night at home might be spent alone.
The Banned High Fivin' White Guys Sketch
(Brian Rosenquist, Washington, 8min)
The long lost "banned" sketch from Seattle's own high fivin' white guys.
History is Us
(Drew Christie, Washington, 5min)
A young man attempts to enlighten his grandfather on the importance of history.
Missing Elizabeth
(Carl Billington, Washington, 7min)
Henry plays hide and seek with his sister but his game might just be a part of his imagination.
Playfish
(Jillian Suleski, Washington, 9min)
A young girl's future aspirations runaway from her.
So This Priest Walks into a Bar
(Mark Lundsten, Washington, 10min)
A priest walks into a bar and then nothing is as it seems.
The Closer You Get to Canada
(John Bolton, British Columbia, 10min)
A disturbing black comedy about two old friends plotting an escape to Canada from a "seniors game preserve" in the United States of the near future.  Based on the short story by Thomas King.
Trailer >>
Three Actresses Walk into a Bathroom
(Jade Justad, Washington, 10min)
A short comedy about the fierce rivalries and desperate lengths three actresses will go in order to score the role of 'Junkie Whore with a Heard of Gold'
==
Tuesday, October 4, 7pm
Nothing but the Truth
Non-fiction shorts
Ali and Paul
(Bob Ridgley, Washington, 15min)
The viewer shares in the passion, joy and achievements between Paul and his Bird of Prey, as well as maintaining relationships, job and other aspects of life.
Crops for Clunkers
(Lou Karsen, Washington, 22min)
The Seattle Urban Farm Company transforms a ë78 Mazda pickup into a living garden.
Trailer >>
Frank Fairfield
(Austin Wilson, Washington, 13min)
Frank Fairfield is a 25 year old, old-time, musician from Los Angeles – who is living proof that time travelers are among us.
Trailer >>
Hall of the Giant
(Michael Falcone, Washington, 5min)
A brief history of the Fremont troll
I'm Here
(Alonzo Clemons, Washington, 5min)
A short documentary about a woman fighting MS
The Journey of Moms Plus
(Christy X, Washington, 7min)
A moving look at a social program that helps mothers with drug addiction.
Facebook >>
Look Up at the Stars Portugal
(Matthew Brown, Washington, 4min)
An abstract portrait of Portugal during the week a boys life was ending, his energy blasting off … back up into the atmosphere.
==
Tuesday, October 4, 9pm
Syncopation
Experiments in sound, movement, and image
Red Light Bulbs
(Clyde Petersen, Washington, 5min)
Trans/Stripper/Doll/Animated/Psychedelic/Music Video/Extravaganza
Eye Liner
(Joanna Priestley, Oregon, 4min)
Playful abstract animation that explores archetypes of the human face, patterning and cultural effigies that echo facial features.
H Becomes a K
(Stephen Friedrick, Washington, 6min)
An exploration of family history, memory, and the ghosts found therein.
The Isolationist
(Malika Weeden, Washington, 4min)
An examination of a suburban woman's structured world and her ensuing mental breakdown.
Not Like Any Other Feeling
(Clyde Petersen, Washington, 4min)
Animated music video
Proteus
(Lori Hiris, Montana, 10min)
Lush, transforming chalk drawings construct a meditation on genetics.
Radio Limbo
(Steve Demas, Washington, 4min)
A middle-aged hipster starts his trip by getting lost in the woods – or so it seems.
Stocat
(Stephen Friedrick, Washington, 2min)
Assembled found footage looking at human control over chance.
The Swimmer
(Salise Hughes, Washington, 4min)
Inspired by the 1968 film of the same name staring Burt Landcaster, a man discovers the backyard swimming pools doting the landscape in front of him form a river leading to his house. He decides to swim home.
The Wrong Moves
(Matthew Witschenke, Washington, 4min)
A music video for the band 'Foreign Friends' featuring Seattle's Mirrorman.
These Cold Hands
(Brian Perkins, Washington, 4min)
Kellen just wants his own bench to sit on in the park, but he goes on a phantasmagoric adventure instead.
Tracings
(Marissa Rae Niederhauser, Washington, 16min)
A surreal and haunting dance film set in a crumbling house.
You Are Here
(Ben Rapson, Washington, 8min)
An environmental silent dance film, about humanity, the ocean, and the 2010 BP oil explosion.
Night Falls on Jack and Cleo
(Karn Junkinsmith, Washington, 20min)
Jack and Cleo are still together and unhappy and the gypsies are still harassing them as they navigate their world urban.
Trailer >>
special presentations
September 30-October 5, Nightly
Debt Ceiling Package
A program in a box, or in this case a suitcase, the opening of which will call out the transactional relationship of the curator and the spectator/audience. We have invited a few local artists, curators, and arts administrators each to curate a "program" that consists of a selection of objects, books, and/or DVDs that focus on his or her discipline's indebtedness to the art of cinema, a de facto self-contained argument. Each curator fills a suitcase with his or her "program," making it a one of a kind art object. Each curator will define the value of this new object, and it will be made available for sale during the festival along with a short essay/apologia explaining the choices (and the narrative) therein. Artists commissioned for this project are visual artist Susan Robb, writer/poet Rebecca Brown, modern dance duo Beth Graczyk and Corrie Befort, multi-media artist Joe Milutis, and dancer choreographer Shannon Stewart.
==
Saturday, October 1, 4pm
Be Safe: Films by Jim Lawless and Chuck Fey
Jim Lawless was a professional industrial filmmaker, writer, producer and director working in Seattle from the 1950s until the 1990s. His company Jim Lawless Motion Picture Consultants, Inc. produced a number of safety related films that were sponsored and distributed by Safeco Insurance Company. Several of these films were produced in collaboration with Mountain Rescue Council of Seattle, an early proponent of using film for training starting in the 1950s with Ira Spring's film, Mountains Don't Care, 1957 which was written by Jim Lawless. The camera work on all these films was mostly that of Chuck Fey–a well-known cameraman in the Northwest since the 1950s who worked on many films–from industrial, television (Exploration Northwest), to Hollywood movies (Frances, Harry and the Hendersons). Films shown will be The Thermal Wilderness (1975, 29min), Ripple (1971, 28min), Climbing Country (1980, 28min) and The Bicycle Driver (1973, 15min).
==
Wednesday October 5, 7pm
Both Worlds
Stefan Gruber's Both Worlds is a live performance art animation piece. Every show is fully participatory with audience presence greatly effecting the direction of the piece. Audiences are treated to a 10 minute cartoon with live score by Jherek Bischoff, and live voices by the animator and audience participants. The experience features a fully colored hand animated luscious cartoon world where hollow glass men learn to meditate and are filled to their brims with lightning, a mute liberator is granted 3 wishes in an Eden like garden, and cartoon deities sit upon mountaintops ready to trade gardening tips about their mountainside utopias. Each performance is accompanied by 2 improvised animated portraits drawn of audience members. In the closing section, a menu is given out of Gruber's early works, and audience members call out their choices.
Screens with:
Stefan Gruber:Liberating Animation
special programs
October 1-2, 9am-6pm
Wallrus
Wallrus, an animated wall project lasting four years and involving 8 animators, continues in its third installment on Saturday, Oct 1st and Sunday, Oct 2nd, 9am-6pm in a special Local Sightings Film Festival event in Seattle's Carl Anderson Park. Local animator Tess Martin will direct a group of other independent animators in the animation of a life size whale, part of her film about animals tentatively titled 'Cat Person.' This event is free. Those members of the public interested in being interviewed (audio only) are especially encouraged to attend.
Website >>
==
Saturday, October 1, 1:30pm
Creative Film Funding in the Age of Kickstarter
While the hottest trend in film finance for micro and low budget films is crowdfunding, grants and traditional investor financing still remain. A hybrid approach may now be the best financing plan.  Fidelma McGinn, Executive Director of Artist Trust will moderate a conversation with panelists Lyall Bush, Executive Director of Northwest Film Forum (NW Film Fund), Doreen Mitchum, from 4 Culture, and Sundance sccepted producer Lacey Leavitt (The Off Hours). All regularly help producers and filmmakers source and structure financing that services the creative demands of the film while maximizing returns on the investment. Join us in a discussion on what your financing options are, how to get donors, granting organizations, and investors interested in funding your work and determining what's a good budget for realistic recoupment in today's crowded media market.
==
Saturday, October 1, 5pm
The New Video Marketplace

We are all storytellers.  And for each of us, I see a change in the way we view digital media. Transmedia is the latest buzz to describe cross-platform media development, production, distribution and promotion.  Linking many digital options together builds a sure winner in your presentations for financial support. Digital Cinema is more than distributing feature films via satellite. Digital Television is certainly more than the concept of multicasting, centralcasting and secondary digital channels. I work to assist documentary filmmakers by providing greater awareness of the importance of digital assets and features in business proposals.
5:00 PM to 5:30 PM – Describe the marketplace – as I see it.
5:30 PM to 6:00 PM – A positive exchange workshop to solve real problems
6:00 PM to 6:30 PM – The classic question and answer period.
6:30 on – Open
==
Sunday, October 2, 4pm
The Perfect Score: Building Collaboration between Filmmakers and Composers
The Seattle Composers' Alliance present The Perfect Score. Composer and Filmmaker teams will discuss their creative process together as they create the right score for the scene. On the panel there will be composer Eric Goetz with filmmakers Kris and Lindy Boustedt (Perfect 10) and Timothy Watkins (Photo Booth). Also composer Jason Staczek with filmmaker SJ Chiro (Howard from Ohio). The panel will be moderated by composer and producer Catherine Grealish (A Musing).
==
Sunday, October 2, 2-4pm
History Is____ Youth Film Meet-Up
Join Northwest Film Forum, SIFF and the Museum of History & Industry (MOHAI) for a film networking event exclusively for young film enthusiasts (22 years and younger). Connect with professionals in the local film industry, view film screenings, and enjoy good food & drink. This event is completely FREE!
==
Wednesday, October 5, 5pm
Demystifying Distribution
One of the primary concerns facing independent filmmakers upon completion of their projects poses the following questions–"Now that my film is 'in the can,' what do I do? Where do I go?" Independent filmmakers and business professionals share insights and realistic solutions to the behind-the-scenes process of getting your independent film into the marketplace. Navigating the seemingly burdensome terrain of film distribution may seem like such a daunting task that makers often neglect to consider this part of the production process until it's too late. Join Oly Ravid, Michael Galinsky and Debbi Berlin as they discuss a myriad of ideas and options that are available to properly promote market and finally distribute independent films and videos to the right venues, allowing work to be exposed to the largest audiences possible, and maybe even eventually providing an income for the artists' efforts
==
Wednesday, October 5, 5pm
Film Incentive Panel
Over the past five years, 70 projects have completed principal photography with help of funding assistance from Washington Filmworks (WF) including 28 feature films, 5 television projects, and 37 regional and national commercials. Many of the projects greenlit by WF are directed by some of Washington state's most notable directors, such as Lynn Shelton, Megan Griffiths, and David Russo, to name a few! WF takes pride in supporting our local creative talent and the countless cast, crew and support services that make them look good!
As the Washington film community looks ahead to the 2012 legislative session, we set our collective sights on getting the production incentive program renewed. The incentive program remains the best tool that the state has to win motion picture business and keep our local film community working. With additional budget shortfalls anticipated, the 2012 legislature will be charged with making deeper, more significant cuts. And as elected officials evaluate what social services to cut, the film community will be asking for money to renew the production incentive program.
Please join leaders from Washington Filmworks, the Washington state legislature and our creative community to learn about our strategic plans for the 2012 legislative session. We will need the support of the statewide film community to get the program renewed. Please come, listen, learn and ask questions about how you can take charge of your career and help to ensure the future of filmmaking in the Evergreen state.
Guests in attendance:
Becky Bogard, Chair of WF Board of Directors
Don Jensen, WF Board Member/Chair of WF Legislative Committee
Amy Lillard, WF Executive Director
Senator Kohl-Welles
Peggy Case
work in progress
Monday, October 3, 9pm
Big Joy
(Washington)
James Broughton was a pioneer of West-Coast experimental film. It wasn't until he was 30 that he even dabbled in the art, still nascent as a medium for creative expression when he began in the 1940s, but he turned to film at a time when suicide was his main preoccupation, and it saved him. Big Joy is the first documentary attempt to explore Broughton's life and work. This work-in-progress screening offers festival goers an exclusive opportunity to see part of the feature length film while also viewing several of Broughton's 23 own films.