2019 Sundance Film Festival Short Film Tour
This event took place Jan 17 - Feb 9, 2020
$13 General Admission
$10 Student/Child/Senior
$7 Member
About
The 2019 Sundance Film Festival Short Film Tour is a 96-minute theatrical program of seven short films selected from this year's Festival, widely considered the premier showcase for short films and the launchpad for many now-prominent independent filmmakers for more than 30 years. Including fiction, documentary and animation from around the world, the 2019 program offers new audiences a taste of what the Festival offers, from sharply-written comedy and drama to edgy genre and an intimate family saga.
Fueled by artistic expression and limited only by their runtime, short films transcend traditional storytelling. They are a significant and popular way artists can connect with audiences. From documentary to animation, narrative to experimental, the abbreviated form is made for risk-taking. The Festival has always treated short films with the highest regard and gives a home to both established and new filmmakers with shorts for audiences to discover and celebrate.
The Festival's Short Film Program has long been established as a place to discover talented directors, such as past alums Damien Chazelle, Wes Anderson, Jill Soloway, Spike Jonze, Paul Thomas Anderson, Dee Rees, Taika Waititi, Trey Parker and Matt Stone, Lake Bell, Debra Granik, Jay and Mark Duplass, Todd Haynes, Lynne Ramsay, Andrea Arnold, and many others.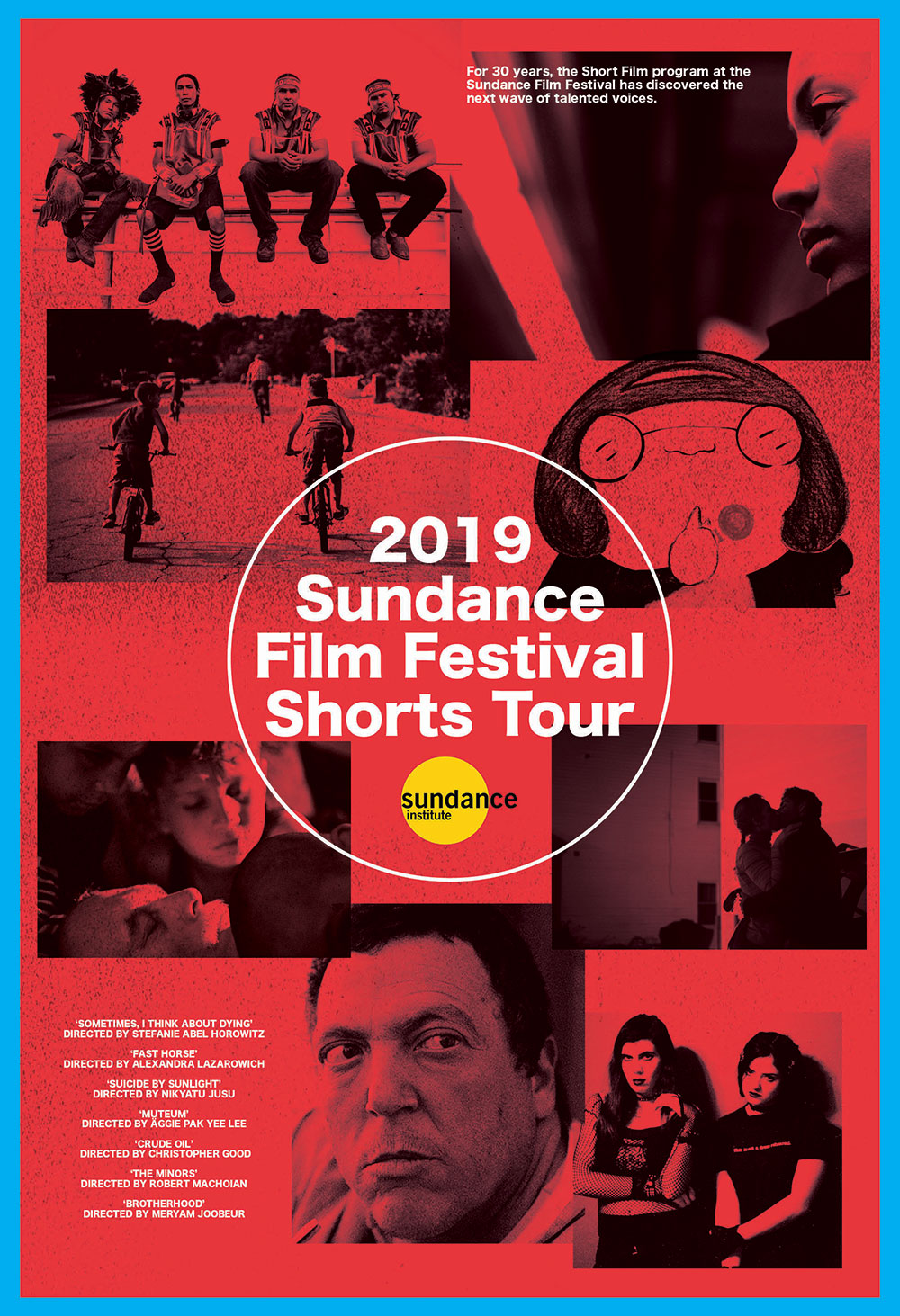 ---
sometimes, i think about dying
(Stefanie Abel Horowitz, US) — Fran is thinking about dying, but a man in the office might want to date her.
FAST HORSE
(Alexandra Lazarowich, Canada) — The Blackfoot bareback horse-racing tradition returns in the astonishingly dangerous Indian Relay. Siksika horseman Allison RedCrow struggles with second-hand horses and a new jockey on his way to challenge the best riders in the Blackfoot Confederacy.
Suicide By Sunlight
(Nikyatu Jusu, US) — Valentina, a day-walking Black vampire protected from the sun by her melanin, is forced to restrain her bloodlust to regain custody of her estranged daughters.
Muteum
(Äggie Pak Yee Lee, Estonia & Hong Kong) – In an art museum, we learn – from outer to inner, from deep to its deepest, seriously and sincerely.
Crude Oil
(Christopher Good, US) – Jenny breaks free from a toxic friendship and learns to harness her magical, useless superpower.
The MINORS
(Robert Machoian, US) – A slice of life about a grandpa and his grandsons, the future and the past.
Brotherhood
(Meryam Joobeur, Canada, Tunisia, Qatar & Sweden) – When a hardened Tunisian shepherd's son returns home after a long journey with a new wife, tension rises between father and son.
---