2020 Sundance Film Festival Short Film Tour (Virtual Version)
View these films
Jul. 24 – Aug. 21, 2020
$10 General Admission on Vimeo VOD
On sale now!

About
The 2020 Sundance Film Festival Short Film Tour (Virtual Version) is an 82-minute theatrical program of 6 short films selected from this year's Festival. Widely considered the premier American showcase for short films and the launchpad for many now-prominent independent filmmakers for more than 30 years, the Short Film Tour includes fiction, documentary and animation from around the world, giving new audiences a taste of what the Festival offers.
Fueled by artistic expression and limited only by their runtime, short films transcend traditional storytelling. They are a significant and popular way artists can connect with audiences. From documentary to animation, narrative to experimental, the abbreviated form is made for risk-taking. The Festival has always treated short films with the highest regard and created a home for both established and new filmmakers with shorts for audiences to discover and celebrate.
The Festival's Short Film Program has long been established as a place to discover talented directors, such as past alumni Dee Rees, Taika Waititi, Debra Granik, Damien Chazelle, Wes Anderson, Jill Soloway, Spike Jonze, Paul Thomas Anderson, Trey Parker and Matt Stone, Lake Bell, Jay and Mark Duplass, Todd Haynes, Lynne Ramsay, Andrea Arnold, and many others.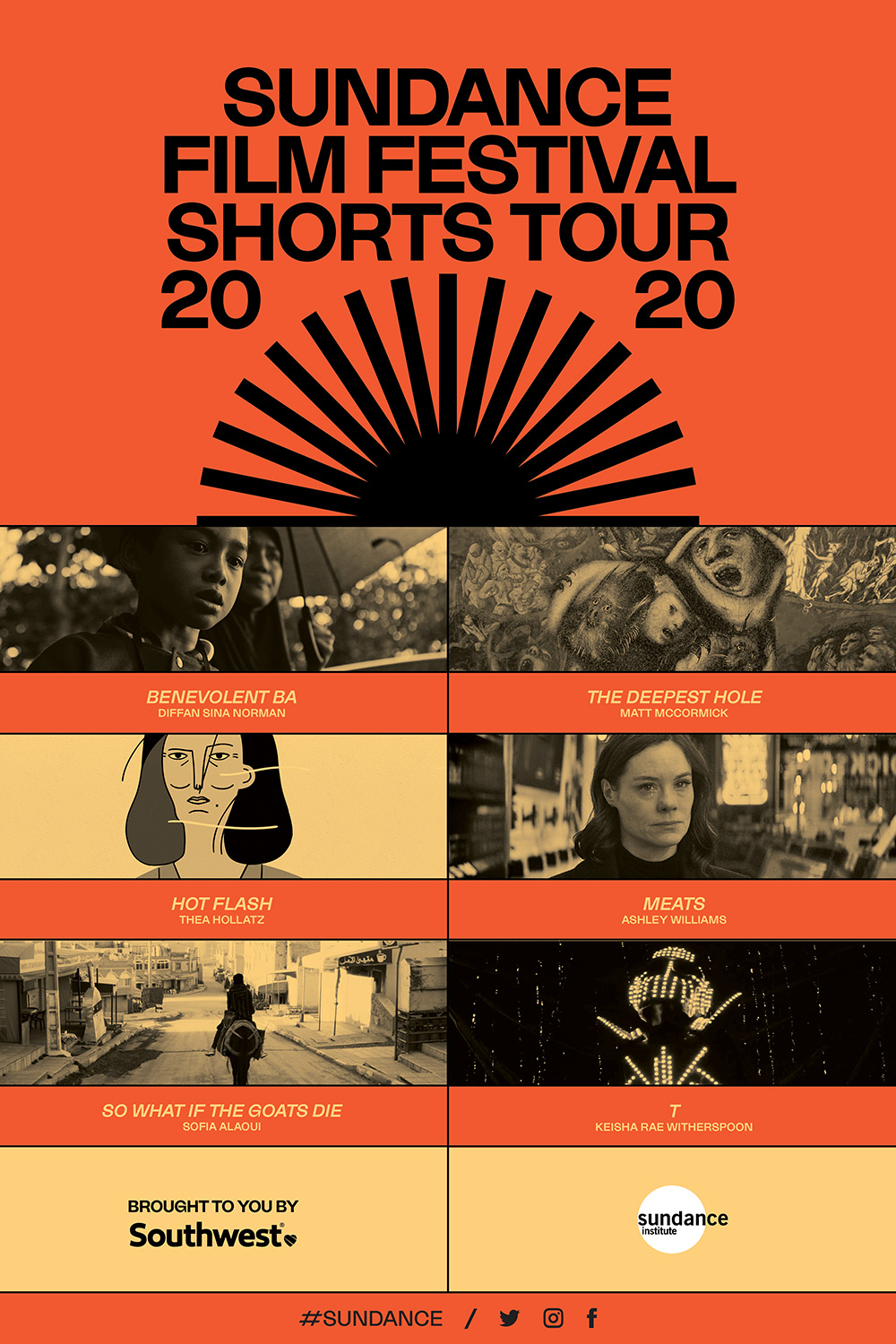 ---
Benevolent Ba
Malaysia & US (Director and screenwriter: Diffan Sina Norman)
A devout woman's lust for virtue thrusts her family into a sacrificial slaughter of biblical proportions.
Hot Flash
Canada (Director and screenwriter: Thea Hollatz)
Ace is having a hot flash, and she's about to go live on local television. How one woman tries to keep her cool when one type of flash leads to another.
The Deepest Hole
US (Director: Matt McCormick) ** Local Sightings Film Festival alum! **
While the space and arms races are Cold War common knowledge, few know about the United States and Soviet Union's race to dig the deepest hole. This is particularly surprising since Hell may have been inadvertently discovered in the process.
Meats
US (Director and screenwriter: Ashley Williams)
A pregnant vegan struggles with her newfound craving for meat.
T
US (Director and screenwriter: Keisha Rae Witherspoon)
A film crew follows three grieving participants of Miami's annual T Ball, where folks assemble to model R.I.P. t-shirts and innovative costumes designed in honor of their dead.
So What if the Goats Die
France & Morocco (Director and screenwriter: Sofia Alaoui)
Abdellah, a young shepherd living in the mountains, is forced to brave the snow blocking him in order to get food and save this cattle. Once he gets to the village, he faces a supernatural phenomenon. Winner, Sundance Film Festival Short Film Grand Jury Prize.
---
Diffan Sina Norman (Benevolent Ba)
Diffan Sina Norman is a Kuala Lumpur–born, LA-based artist, filmmaker, and writer. His work has been featured at the Sundance Film Festival, SXSW, Rotterdam, Raindance, and the National Art Gallery of Malaysia. His short film Kekasih, which premiered at the 2014 Sundance Film Festival, was made possible with a grant from the National Film Development Corporation of Malaysia (FINAS). More recently, his script Sitora the Weretiger was a recipient of a FINAS Feature Film Development Grant.
Thea Hollatz is a director and production designer who graduated from Ryerson University's film program in 2014. Her production-design credits include the TIFF premieres Cardinals (2017), Firecrackers (2018), and most recently The Rest of Us (2019). Hot Flash is her debut short.
Matt McCormick (The Deepest Hole)
Matt McCormick is an artist and filmmaker from the Pacific Northwest whose films include Buzz One Four, Some Days Are Better Than Others, and The Subconscious Art of Graffiti Removal.
Ashley Williams has worked as an actress in TV, film, and theater since she was eleven. Credits include: Jim Gaffigan Show, A Most Violent Year, Something Borrowed, Margin Call, How I Met Your Mother, a dozen TV movies, and one Broadway flop. In addition to Meats, Ashley wrote/stars in Stud Boob with her sister, Kimberly Williams-Paisley. Ashley shadowed directors Seth Gordon, Michael Nankin, and Pamela Fryman. She's currently prepping her first feature film.
Keisha Rae Witherspoon (T)
Keisha Rae Witherspoon is an independent filmmaker currently based in South Florida. Her work is driven by interests in science, speculative fiction, and fantasy, as well as documenting the unseen and unheralded nuances of diasporic peoples. She is creative director and co-founder of Third Horizon, a Caribbean artist collective responsible for Papa Machete, which had its U.S. premiere at the 2014 Sundance Film Festival.
Sofia Alaoui (So What If the Goats Die)
Sofia Alaoui spent her childhood between Morocco and elsewhere in Asia, Africa, and the Middle East. She has directed both documentary and fiction shorts that have been selected for many festivals. Her latest documentary was released on the Moroccan main channel in 2019. Sofia is aiming for a cinema beyond borders that flirts with cinematographic genres. She is currently developing her first feature and TV series. She founded the Moroccan production company Jiango Film.
---