2022 Sundance Film Festival Short Film Tour [In-Person Only]
This event took place Jan 4 - Jan 14, 2023
$14 General Admission
$10 Student/Child/Senior
$7 Member
⚠️ Public safety notice ⚠️
NWFF patrons will be required to wear masks that cover both nose and mouth while in the building. Disposable masks are available at the door for those who need them. We are not currently checking vaccination cards. Recent variants of COVID-19 readily infect and spread between individuals regardless of vaccination status.
NWFF is adapting to evolving recommendations to protect the public from COVID-19. Read more about their policies regarding cleaning, masks, and capacity limitations here.
various directors
France, Indonesia, Lebanon & US
1h 35m
About
(various directors, France, Indonesia, Lebanon & US, 95 min TRT)
The 2022 Sundance Film Festival Short Film Tour is a 95-minute theatrical program of 7 short films curated from the 2022 Sundance Film Festival short film program, including three titles that won Festival awards.
Considered the premier showcase for short films and the launchpad for many now-prominent independent filmmakers, the Festival includes fiction, documentary and animation from around the world. Throughout its almost 40 years of history, the Festival has always supported short films, providing a platform for both established and new filmmakers to connect with audiences. The 2022 Short Film Tour program is a sampling of Festival offerings and a testament to the unique storytelling potential that the format holds. Audiences who missed the Sundance Film Festival – which took place online and in-person in 7 cities across the country from January 20 through January 30 this year – can enjoy a mix of fiction, documentary, and animated shorts that are funny, sad, inspirational, and full of strong characters.
The Festival's Short Film Program has long been established as a place to discover talented directors, such as past alumni Andrea Arnold, Lake Bell, Damien Chazelle, Destin Daniel Cretton, Jay and Mark Duplass, Cary Joji Fukunaga, Debra Granik, Rashaad Ernesto Green, Reinaldo Marcus Green, Sterlin Harjo, Todd Haynes, Don Hertzfeldt, Shaka King, Lynne Ramsay, Dee Rees, Joey Soloway, Taika Waititi, and many others.
Synopsis and stills courtesy of Sundance Institute.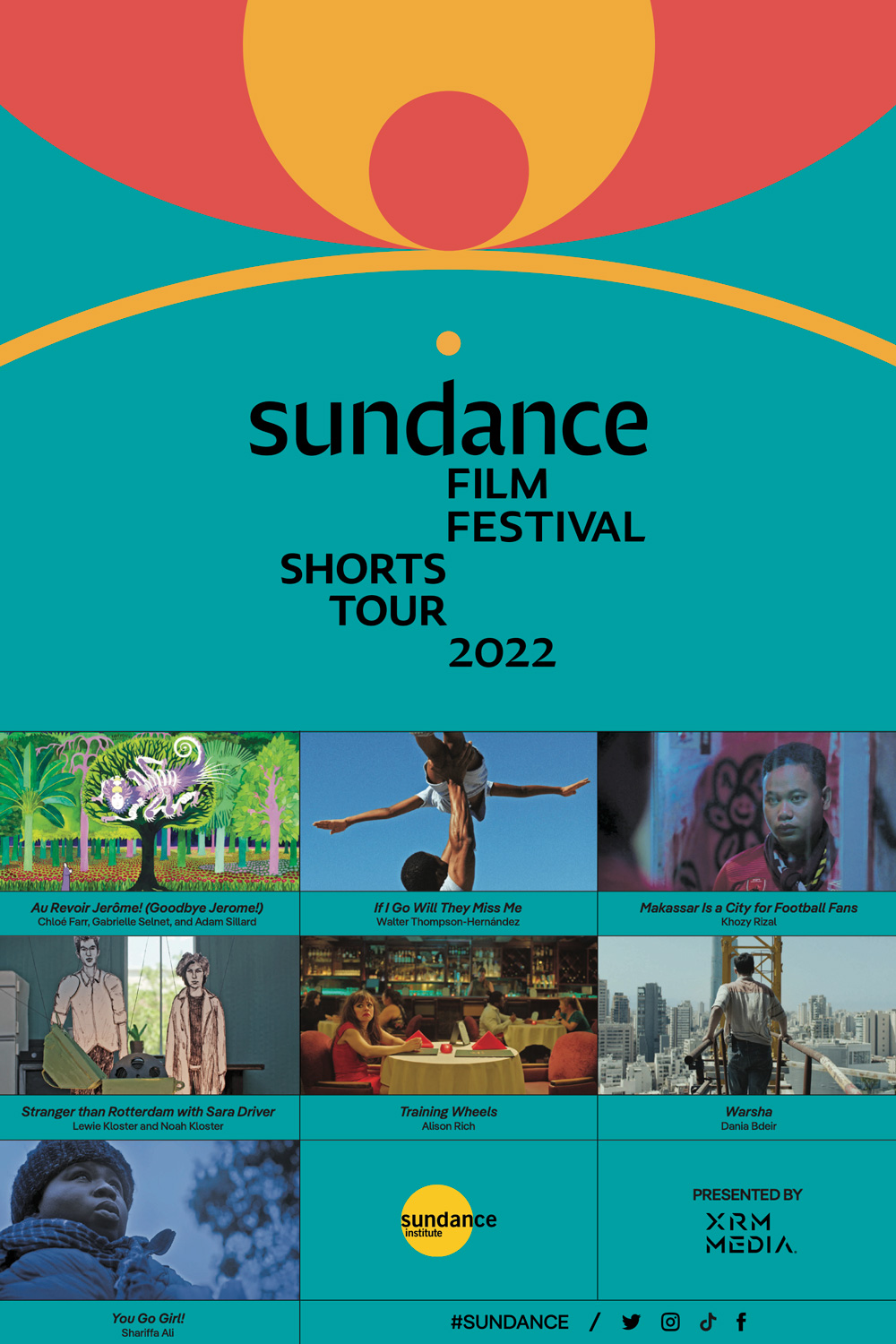 Warsha
France & Lebanon (Director and Screenwriter: Dania Bdeir, Producer: Coralie Dias)
A Syrian migrant working as a crane operator in Beirut volunteers to cover a shift on one of the most dangerous cranes, where he is able to find his freedom. Fiction. Cast: Khansa. Short Film Jury Award: International Fiction.
Dania Bdeir is a Canadian-Lebanese writer and director. She's a member of the Brooklyn Filmmakers Collective and has an MFA in directing from NYU's Tisch School of the Arts. In 2019 she was selected as a Berlinale Talent and participated in its Short Film Station with Warsha. She is currently based in Dubai and is developing her first feature film.
You Go Girl!
U.S.A. (Director: Shariffa Ali, Producers: Adrian Alea, Kamilah Long, Courtney Williams Screenwriters: Shariffa Ali, Kamilah Long, Courtney Williams, David Zheng)
Audrey, a New York City comedian who can make a joke of any situation, faces a staggering challenge in the beautiful mountains of Oregon. Can this city woman overcome her fears and rise? Fiction. Cast: Tiffany Mann.
Shariffa Chelimo Ali is an international creative leader committed to advancing radical change through the power of art and activism. Originally from Kenya and raised in South Africa, Ali has been a resident of New York since 2013 where she works primarily as a director of theater, film, and VR (previous Sundance Selection Atomu), community organizer and professor at Princeton University.
Stranger Than Rotterdam with Sara Driver
U.S.A. (Directors: Lewie Kloster, Noah Kloster, Screenwriter: Sara Driver)
In 1982, the completion of Jim Jarmusch's sophomore film, Stranger Than Paradise, hinged on producer Sara Driver's willingness and ability to smuggle one of the world's rarest and most controversial films across the Atlantic Ocean. Non-fiction / Animated. A Short Film Special Jury Award: Screenwriting.
Lewie Kloster is one half and co-founder of animation brother duo team, Tall Glass with Ice Inc. He is a class of 2017 alumni of NYU's Tisch School of the Arts with a BFA in Film & Television. Living and working out of Brooklyn, NY, he focuses on documentary storytelling via the form of animation, driven by first-person narration.
Noah Kloster is one half and co-founder of animation brother duo team, Tall Glass with Ice Inc. Living and working out of Brooklyn, NY, he focuses on documentary storytelling via the form of animation, driven by first-person narration.
IF I GO WILL THEY MISS ME
U.S.A. (Director and Screenwriter: Walter Thompson-Hernández, Producer: Stuart McIntyre)
Lil' Ant is obsessed with Pegasus, the Greek mythological character, since first learning about him at school in Watts, California. He begins to notice imaginary airplane people around his home, and yearns to fly with them. Fiction. Cast: Anthony Harris Jr. Short Film Jury Award: U.S. Fiction.
Walter Thompson-Hernández is from Southeast Los Angeles. His work has been featured by The New York Times, The New Yorker, CNN, The Guardian, and others. He is currently in post-production for a feature film titled The Sky is Blue, set in the Rio de Janeiro neighborhood of Santo Amaro.
Training Wheels
U.S.A. (Director and Screenwriter: Alison Rich, Producers: Olivia Aguilar, Bridgett Greenberg, Laura Schwartz, Peter Principato)
A socially inept woman rents one man to prepare for another. Fiction. Cast: Alison Rich, George Basil, Jack Cutmore-Scott, Zeke Nicholson, Kathy Yamamoto.
Alison Rich is an actor, writer, and director. Training Wheels is her second short. Her first short, The Other Morgan, premiered at SXSW in 2021. Other credits include acting on ABC's The Goldbergs and HBO Max's The Other Two, writing for Saturday Night Live and The Goldbergs, and directing various digital and stage projects, including Ego Nwodim's one woman show.
Goodbye Jerome! (Au revoir Jérôme!)
France (Directors and Screenwriters: Gabrielle Selnet, Adam Sillard, Chloé Farr, Producer: Moïra Marguin)
Having just arrived in paradise, Jerome sets out to find his wife Maryline. In the course of his search, he sinks into a surreal and colorful world in which no one seems to be able to help him. Animation. Voice Cast: William Lebghil, Alma Jodorowsky.
After studying animation at Gobelins, Gabrielle Selnet will learn movie direction at La Poudrière.
Adam Sillard graduated from Gobelins animation section.
Chloé Farr graduated from the Gobelins animation section. She will study directing at La Poudrière school.
Makassar is a City for Football Fans
Indonesia & France (Director and Screenwriter: Khozy Rizal, Producers: John Badalu, Bruno Smadja, Khozy Rizal)
In a city where men have to go crazy about football, Akbar has to pretend to love the game in order to prevent rejection from his new college friends. Fiction. Cast: Sabri Sahafuddin, Muh. Saleh Hasanuddin, Atdriansyah Arismunandar.
Khozy Rizal is a film director based in Makassar, Indonesia. His first short film, Annisa, won Grand Prize International at 14th Mobile Film Festival and got a grant to produce his new short film, Makassar is a City for Football Fans. The film won the Jury Prize at the 2021 Sundance Film Festival Asia and was selected in various film festivals.
---
About the Sundance Film Festival
The Sundance Film Festival has introduced global audiences to some of the most groundbreaking films of the past three decades, including Flee, CODA, Passing, Summer Of Soul (…or, When the Revolution Could Not Be Televised), Clemency, Never Rarely Sometimes Always, Zola, On the Record, Boys State, The Farewell, Honeyland, One Child Nation, The Souvenir, The Infiltrators, Sorry to Bother You, Won't You Be My Neighbor?, Hereditary, Call Me By Your Name, Get Out, The Big Sick, Mudbound, Fruitvale Station, Whiplash, Brooklyn, Precious, The Cove, Little Miss Sunshine, An Inconvenient Truth, Napoleon Dynamite, Hedwig and the Angry Inch, Reservoir Dogs and sex, lies, and videotape.
This year the Festival received 10,374 short film submissions and selected 59 to show. The Festival programs a collection of shorts from its most recent Festival for a theatrical tour of independent art houses in cities throughout the U.S. It is one of very few theatrical releases of short films in the United States.
Follow Sundance Institute on Facebook, Instagram, Twitter and YouTube.
---