2023 Sundance Film Festival Short Film Tour [In-Person Only]
$14 General Admission
$10 Student/Child/Senior
$7 NWFF Member
various directors
Belgium, Canada, France & US
1h 30m
About
(various directors, Belgium, Canada, France & US, 90 min TRT)
The 2023 Sundance Film Festival Short Film Tour presented by Shutterstock is an 90-minute theatrical program of seven short films curated from the 2023 Sundance Film Festival, including two Festival Award-winning titles.
Considered the premier showcase for short films and the launchpad for many now-prominent independent filmmakers, the Festival includes fiction, documentary and animation from around the world. Throughout its almost 40 years of history, the Festival has always supported short films, providing a platform for both established and new filmmakers to connect with audiences. The 2023 Short Film Tour program is a sampling of Festival offerings and a testament to the unique storytelling potential that the format holds. Audiences who missed the Sundance Film Festival – which took place online and in-person in Park City, Utah January 19 through January 29 this year – can enjoy a mix of fiction, documentary, and animated shorts that are funny, sad, inspirational, and full of strong characters.
The Festival's Short Film Program has long been established as a place to discover talented directors, such as past alumni Andrea Arnold, Lake Bell, Damien Chazelle, Destin Daniel Cretton, Jay and Mark Duplass, Debra Granik, Rashaad Ernesto Green, Reinaldo Marcus Green, Todd Haynes, Sterlin Harjo, Don Hertzfeldt, Sky Hopinka, Shaka King, Lynne Ramsay, Dee Rees, Joey Soloway, Taika Waititi, and many others.
Synopsis and stills courtesy of Sundance Institute.
Click for Accessibility Info
Ticketing, concessions, cinemas, restrooms, and our public edit lab are located on Northwest Film Forum's ground floor, which is wheelchair accessible. All doors in Northwest Film Forum are non-motorized, and may require staff assistance to open. Our upstairs workshop room is not wheelchair accessible.
The majority of seats in our main cinema are 21″ wide from armrest to armrest; some seats are 19″ wide. We are working on creating the option of removable armrests!
We have a limited number of assistive listening devices available for programs hosted in our larger theater, Cinema 1. These devices are maintained by the Technical Director, and can be requested at the ticketing and concessions counter. Also available at the front desk is a Sensory Kit you can borrow, which includes a Communication Card, noise-reducing headphones, and fidget toys.
The Forum does NOT have assistive devices for the visually impaired, and is not (yet) a scent-free venue. Our commitment to increasing access for our audiences is ongoing, and we welcome all public input on the subject!
If you have additional specific questions about accessibility at our venue, please contact our Patron Services Manager at maria@nwfilmforum.org. Our phone number (206-329-2629) is voicemail-only, but we check it often.
Made possible due to a grant from Seattle Office of Arts & Culture, in partnership with Sensory Access, our Sensory Access document presents a visual and descriptive walk-through of the NWFF space. View it in advance of attending an in-person event at bit.ly/nwffsocialnarrativepdf, in order to prepare yourself for the experience.
NWFF patrons will be required to wear masks that cover both nose and mouth while in the building. Disposable masks are available at the door for those who need them. We are not currently checking vaccination cards. Recent variants of COVID-19 readily infect and spread between individuals regardless of vaccination status.
Read more about NWFF's policies regarding cleaning, masks, and capacity limitations here.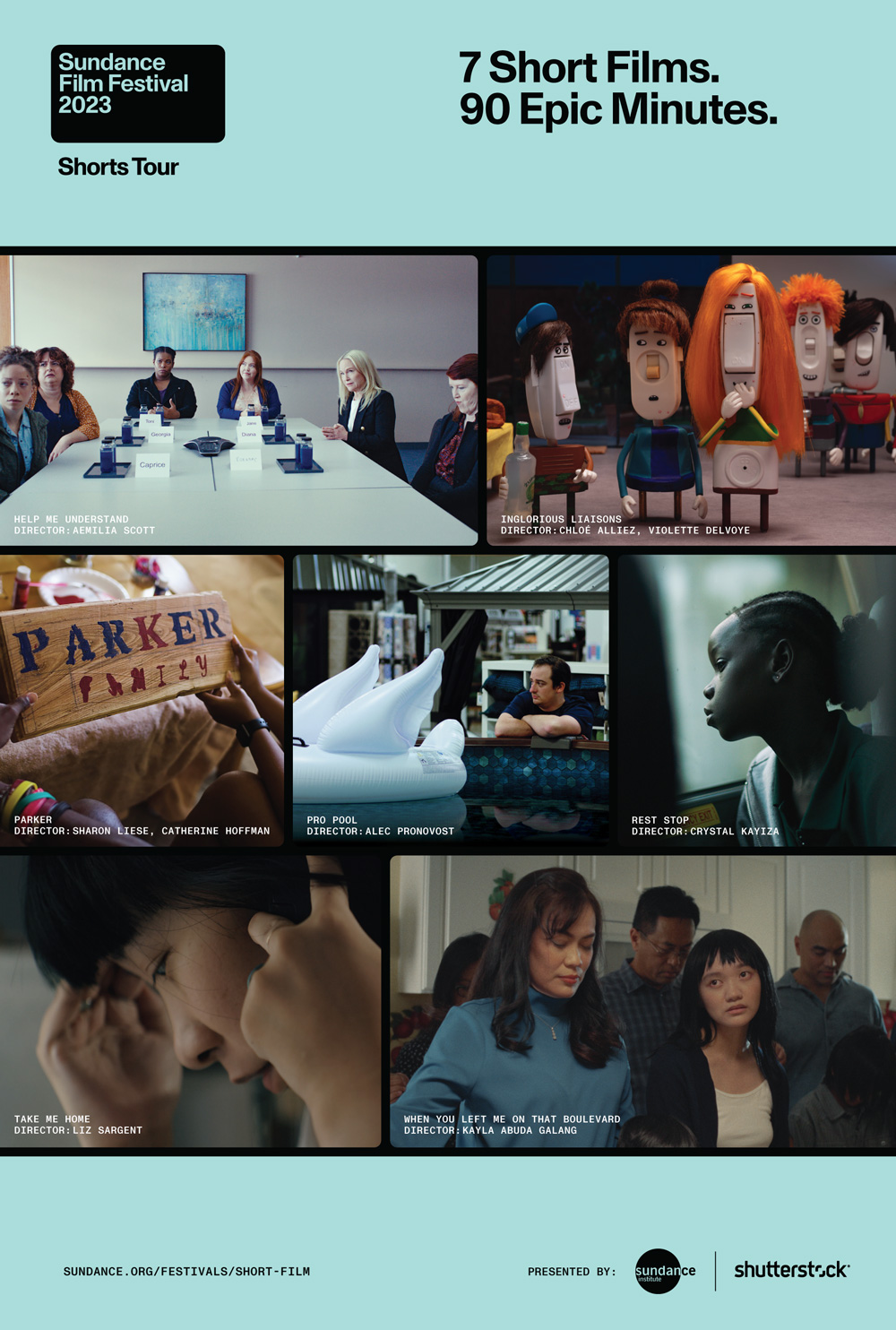 Help Me Understand
United States (Director and Screenwriter: Aemilia Scott, Producers: Paul Feig, Laura Fischer, Kesila Childers, Erica Fishman, Amy Geist)
Six women come to a consensus. Fiction. Cast: Dana Powell, Dierdre Friel, Rachael Harris, Nicole Michelle Haskins, Kate Flannery, Ken Marino, Kali Racquel


Aemilia Scott
Aemilia Scott is a filmmaker working in Los Angeles, Chicago, and Berlin. She began in sketch comedy, but over the years her films have gotten longer and less funny. She was a semifinalist for the Academy Nicholl Fellowship in Screenwriting for a feature, and she won a BAFTA LA award for a short. She just finished directing her first TV episode.
Inglorious Liaisons
France/Belgium (Directors and Screenwriters: Chloé Alliez, Violette Delvoye, Producers: Jean-François Le Corre, Mathieu Courtois, William Henne)
On the night of a big party for Lucie, Maya, and their friends, Jimmy has also come. Everyone knows he is here for Maya, but does she have the same feelings for Jimmy? Fiction/Animation. Cast: Evmorfia Spanoudis, Hélène Bolenge Boteku

Chloé Alliez
Chloé Alliez obtained a master's in animation at La Cambre in 2015. Then, she started working on animation films such as Le petit pirate, directed by Studio TABASS co. Her collaboration with Violette Delvoye began in 2017 with the traveling and collaborative series World in (Stop)Motion.

Violette Delvoye
Violette Delvoye obtained her master's in animation at La Cambre in 2016. Then, she started working on different projects as an animator. Her collaboration with Chloé Alliez started in 2017 with the creation of their traveling and collaborative animated series. In 2018, they started the development of the film Inglorious Liaisons.
Parker
United States (Directors: Catherine Hoffman, Sharon Liese, Producers: Sharon Liese, Funmi Ogunro, Samantha Hake)
Three generations of a Kansas City family are finally unified when they do something that countless other Black Americans could not — choose their own last name. Non-Fiction.
Catherine Hoffman is an award-winning journalist, documentary filmmaker, and TV host. Hoffman has degrees in documentary journalism, Black studies, and French from the University of Missouri. She currently works for Kansas City PBS, where she's won two Mid-America Emmy Awards for her work documenting social issues and Black history.
Sharon Liese is an award-winning director whose films include The Flagmakers (National Geographic), Transhood (HBO), The Gnomist (CNN Films), and Selfie (Sundance Institute/Dove). Her documentary series work includes Pink Collar Crimes (CBS) and High School Confidential (We TV). She's currently the director and executive producer of a new four-part true crime documentary series for Starz.
Pro Pool
Canada (Director and Screenwriter: Alec Pronovost, Producer: Patrick Francke-Sirois)
Newly graduated with a bachelor's degree in history and civilization, Charles-Olivier struggles to find a job in his field and must rely on a clerk position in a pool shop. Feeling down, he navigates his gig as best he can. Fiction. Cast: Louis Carrière, Alexis Martin, Sylvie De Morais, Sébastien Rajotte, Oussama Fares, Louis Girard-Bock
Former Club Piscine employee Alec Pronovost left the aquatic world to work as a director and writer. He is the creator behind the series The Killing, as well as the short films Jeep Boys, Tony Speed and Sainte Marie-Josée part en croisade. Pronovost loves fun, rock, and sunny afternoons.
Rest Stop
United States (Director and Screenwriter: Crystal Kayiza, Producers: Jalena Keane-Lee, Brit Fryer)
On a bus ride from New York to Oklahoma, Meyi, a young Ugandan-American girl, realizes her place in the world through her mother's ambitious effort to reunite their family. Fiction. Cast: Leeanna E. Tushabe, Alicia Basiima, Khalid Semakula, Robert Wanyama, Margaret Bisase, Olivia Nantongo. Short Film Jury Award: US Fiction.
Crystal Kayiza was raised in Oklahoma and is now a Brooklyn-based filmmaker. Named one of Filmmaker Magazine's "25 New Faces of Independent Film," her most recent films include Rest Stop, See You Next Time, and Edgecombe. Her work has screened at Sundance, Toronto International Film Festival, and the MoMA, and has appeared on The New Yorker, STARZ, and PBS.
Take Me Home
United States (Director and Screenwriter: Liz Sargent, Producer: Minos Papas)
After their mother's death, a cognitively disabled woman and her estranged sister must learn to communicate in order to move forward. Fiction. Cast: Anna Sargent, Jeena Yi, Joan Sargent

Liz Sargent
Liz Sargent is a Korean-American adoptee whose award-winning work explores themes of adoption, disability, and family. As a writer-director, she incorporates her background as a choreographer into visual storytelling that channels complex human emotions that are an extension of her experience as the middle child of eleven and recognize her intersectional identity as an adult.
When You Left Me On That Boulevard
United States (Director and Screenwriter: Kayla Abuda Galang Producers: Alifya Ali, David Oconer, Udoy Rahim, Samantha Skinner)
Teenager Ly and her cousins get high before a boisterous family Thanksgiving at their auntie's house in southeast San Diego in 2006. Fiction. Cast: Kailyn Dulay, Melissa Arcaya, Elle Rodriguez, Whitney Agustin, Gina May Gimongala, Allan Wayne Anderson. Short Film Grand Jury Prize.

Kayla Abuda Galang
Kayla Abuda Galang is a second-generation Filipino-American filmmaker exploring themes of home, family, and belonging. Her short films, Joan on the Phone (2016) and Learning Tagalong with Kayla (2021), premiered at SXSW. The latter was an Audience Award recipient. Galang is developing two feature films, '06-'07 and On Earth as it is in Heaven. She is based in Austin, Texas.
---
About the Sundance Film Festival
The Sundance Film Festival, a program of the nonprofit, Sundance Institute, is the pre-eminent gathering of original storytellers and audiences seeking new voices and fresh perspectives. Since 1985, hundreds of films launched at the Festival have gone on to gain critical acclaim and reach new audiences worldwide.
The Festival has introduced some of the most groundbreaking films and episodic works of the past three decades, including Fire of Love, Cha Cha Real Smooth, Flee, CODA, Passing, Summer of Soul (…or, When the Revolution Could Not Be Televised), Clemency, Never Rarely Sometimes Always, Zola, O.J.: Made in America, On the Record, Boys State, The Farewell, Honeyland, One Child Nation, The Souvenir, The Infiltrators, Sorry to Bother You, Top of the Lake, Won't You Be My Neighbor?, Hereditary, Call Me By Your Name, Get Out, The Big Sick, Mudbound, Fruitvale Station, Whiplash, Brooklyn, Precious, The Cove, Little Miss Sunshine, An Inconvenient Truth, Napoleon Dynamite, Hedwig and the Angry Inch, Reservoir Dogs and sex, lies, and videotape.
The program consists of fiction and nonfiction features and short films, series and episodic content, emerging media, and performances, as well as conversations, and other events. The Festival takes place both in person in the state of Utah and online, connecting audiences across the U.S. to bold new artists and films.
This year the Festival received 10,978 short film submissions and selected 64 to show. The Festival programs a collection of shorts from its most recent Festival for a theatrical tour of independent art houses in cities throughout the U.S. It is one of very few theatrical releases of short films in the United States.
Be a part of the Festival at Sundance Film Festival and follow the Festival on Facebook, Instagram, Twitter and YouTube.
---