499 [In-Person Only]
This event took place Oct 8 - Oct 10, 2021
$13 General Admission
$10 Student/Child/Senior
$7 Member
⚠️ Public safety notice ⚠️
NWFF patrons will be required to wear face coverings while in the building. To be admitted, patrons ages 12+ will also be required to present EITHER proof of COVID-19 vaccination OR a negative result from a COVID-19 test administered within the last 48 hours by an official testing facility.
NWFF is adapting to evolving recommendations to protect the public from COVID-19. Read more about their policies regarding cleaning, masks, and capacity limitations here.
Rodrigo Reyes
Mexico & US
2021
1h 28m
About
To reflect on the 500-year anniversary of the Spanish conquest of Mexico in 2021, director Reyes offers a bold hybrid cinema experience exploring the brutal legacy of colonialism in contemporary Mexico. Through the eyes of a ghostly conquistador, the film recreates Hérnan Cortés' epic journey from the coasts of Veracruz to the Aztec capital of Tenochtitlan, the site of contemporary Mexico City. As the anachronistic fictional character interacts with real-life victims of Mexico's failed drug wars and indigenous communities in resistance, the filmmaker portrays the country's current humanitarian crisis as part of a vicious and unfinished colonial project, still in motion, nearly five hundred years later.
Provocative, unique, and strikingly cinematic, 499 mixes non-fictional and performative elements with elements of the road movie to show how past traumas continue to affect contemporary reality. While linking these seemingly disparate histories of violence, the film confirms Reyes as one of the most potent voices in American independent cinema.
(Rodrigo Reyes, Mexico & US, 2021, 88 min, in Spanish with English subtitles)
Description and image credits: Eduardo San Juan in 499. Courtesy of The Cinema Guild.
"Rodrigo Reyes has created a strong, beautiful and disturbing film that seems to occupy a genre all its own… 499 deftly weaves brutality with tender beauty, and harsh reality with the realm of dreams." – Jim Jarmusch
"An ambitious and unflinching portrait of contemporary Mexico." – The Film Stage
"A unique look at modern day Mexico….Covering five hundred years of history in less than an hour and a half is a daunting task. Director Rodrigo Reyes does just that in 499." – AIPT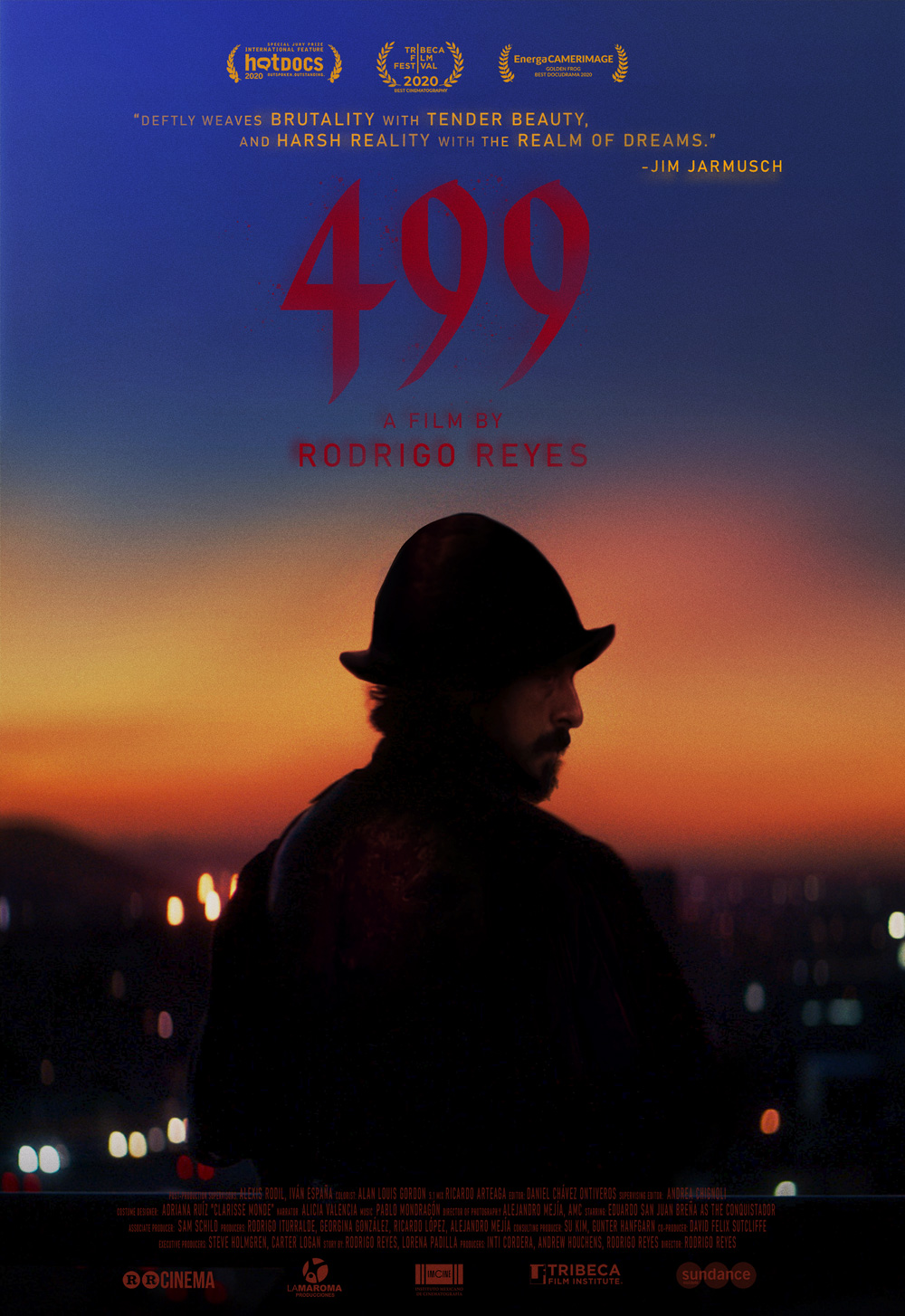 ---