2019 Sundance Indigenous Shorts
This event took place Nov 6 - Nov 27, 2019
$13 General Admission
$10 Student/Child/Senior
$7 Member
About
A new collaboration between Sundance Institute's Indigenous Program and Art House Convergence (AHC), a North American coalition of community-based, mission-driven movie theaters, was announced by Sundance Institute's Indigenous Program Director N. Bird Runningwater (Cheyenne/Mescalero Apache) at the Toronto International Film Festival. The collaboration will bring six Indigenous short films from Sundance Institute Fellows to select AHC theaters in North America during November's annual celebration of National Native American and Alaska Native Heritage Month.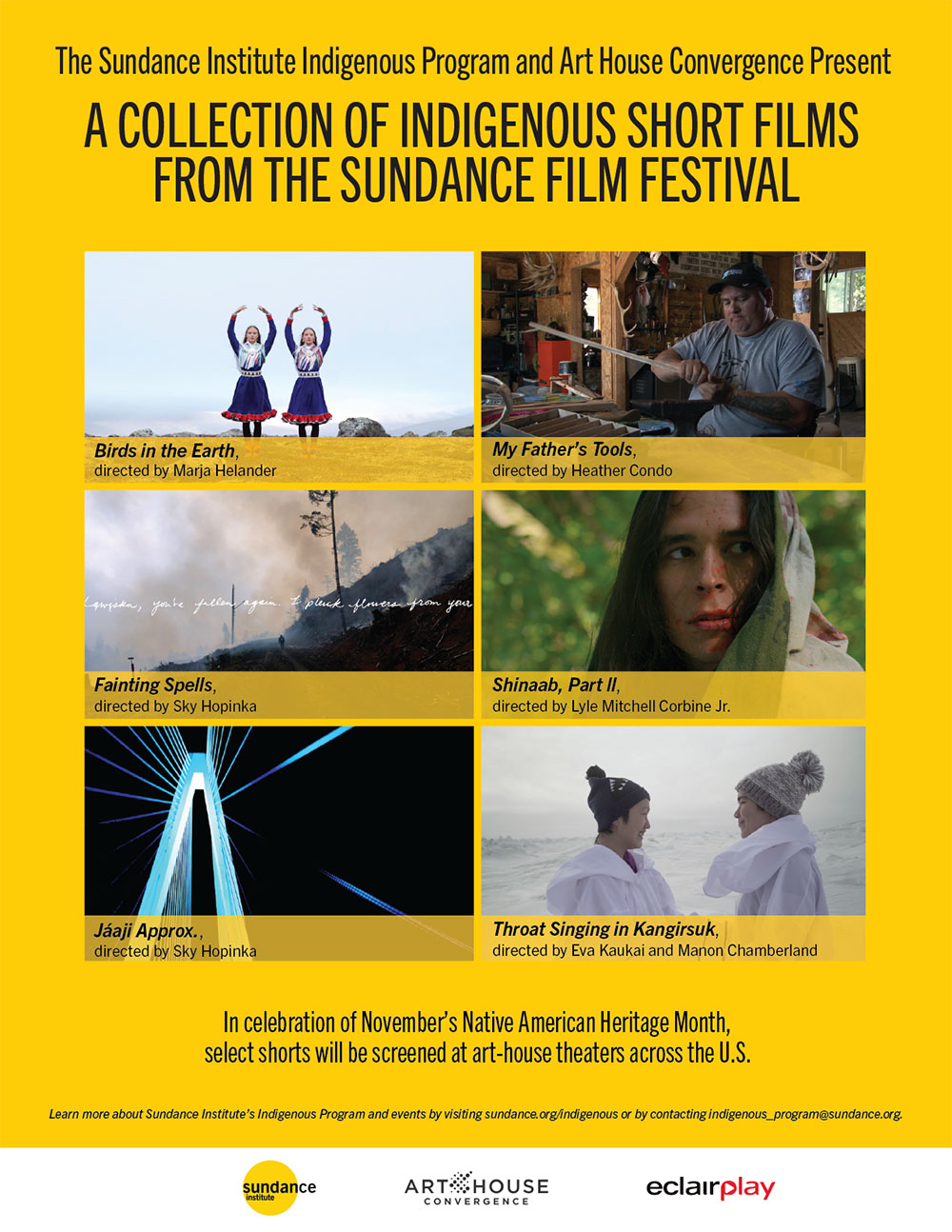 Birds in the Earth
(Marja Helander (Sámi), 11 min)
Examining the deeper questions of the ownership of the Sami land through the ballet performances of two young dancers.
Fainting Spells
(Sky Hopinka (Ho-Chunk/Pechanga Band of Luiseño), 10 min)
Told through recollections of youth, learning, lore, and departure, this is an imagined myth for the Indian pipe plant used by the Ho-Chunk to revive those who have fainted.
Jáaji Approx.
(Sky Hopinka (Ho-Chunk/Pechanga Band of Luiseño), 8 min)
Against landscapes that the artist and his father traversed, audio of the father in the Ho-Chunk language is transcribed using the International Phonetic Alphabet, which tapers off, narrowing the distance between recorder and recordings, new and traditional, memory and song.
My Father's Tools
(Heather Condo (Mi'gmaq), 7 min)
Stephen continues producing traditional baskets to honor his father and thus finds peace in his studio as he connects with the man who taught him the craft.
Throat Singing in Kangirsuk
(Eva Kaukai (Inuit) & Manon Chamberland (Inuit), 4 min)
Eva and Manon practice the art of throat singing in the small village of Kangirsuk, in their native Arctic land. Interspliced with footage of the four seasons of Kangirsuk by Johnny Nassak.
Shiinaab Part II
(Lyle Mitchell Corbine Jr. (Bad River Band of the Lake Superior Chippewa Indians), 8 min)
A look at Ojibwe ideas surrounding the death process as a young man strives to honor his late father.
About Sundance Institute's Indigenous Program
The Indigenous Program champions Indigenous independent storytelling artists through residency labs, fellowships, public programming, and a year-round continuum of creative, financial, and tactical support. The Program conducts outreach and education to identify a new generation of Indigenous voices, connecting them with opportunities to develop their storytelling projects, and bringing them and their work back to Indigenous lands. At its core, the Program seeks to inspire self-determination among Indigenous filmmakers and communities by centering Indigenous people in telling their own stories.
Learn more about Sundance's Indigenous Program here >
---