Alma's Rainbow [In-Person Only]
This event took place Nov 6 - Nov 17, 2022
$13 General Admission
$10 Student/Child/Senior
$7 Member
⚠️ Public safety notice ⚠️
NWFF patrons will be required to wear masks that cover both nose and mouth while in the building. Disposable masks are available at the door for those who need them. We are not currently checking vaccination cards. Recent variants of COVID-19 readily infect and spread between individuals regardless of vaccination status.
NWFF is adapting to evolving recommendations to protect the public from COVID-19. Read more about their policies regarding cleaning, masks, and capacity limitations here.
Ayoka Chenzira
US
1994
1h 25m
About
(Ayoka Chenzira, US, 1994, 85 min, in English)
** New restoration! **
Alma's Rainbow is a coming-of-age comedy-drama about three Black women living in Brooklyn. Ayoka Chenzira's first feature explores the life of teenager Rainbow Gold (Victoria Gabrielle Platt) who is entering womanhood and navigating conversations and experiences around standards of beauty, self-image, and the rights Black women have over their bodies. Rainbow attends a strict parochial school, studies dance, and is just becoming aware of boys. She lives with her strait-laced mother Alma Gold (Kim Weston-Moran), who runs a hair salon in the parlor of their home.
When Alma's free-spirited sister Ruby (Mizan Kirby) arrives after from Paris after a ten-year absence, the sisters clash over what constitutes the "proper" direction Rainbow's life should take. Alma has convinced herself that she has no need of male companionship and advises her daughter to follow her example. Ruby encourages both her niece and her sister to embrace life —and love —fully and joyfully. Alma's Rainbow highlights a multi-layered Black women's world where the characters live, love, and wrestle with what it means to assert and exercise their agency.
Synopsis and stills courtesy of Kino Lorber & Milestone Films.
"A gorgeous clarion call for our young Black girls, heralding the community, creativity and confidence that is the pride of our culture." – Ava DuVernay
"Chenzira's much celebrated and award winning early work is essential viewing today as much as it was when first released in 1994." – Julie Dash
"An important filmmaker whose works inspire and celebrate the richness of Black culture." – Ruby Dee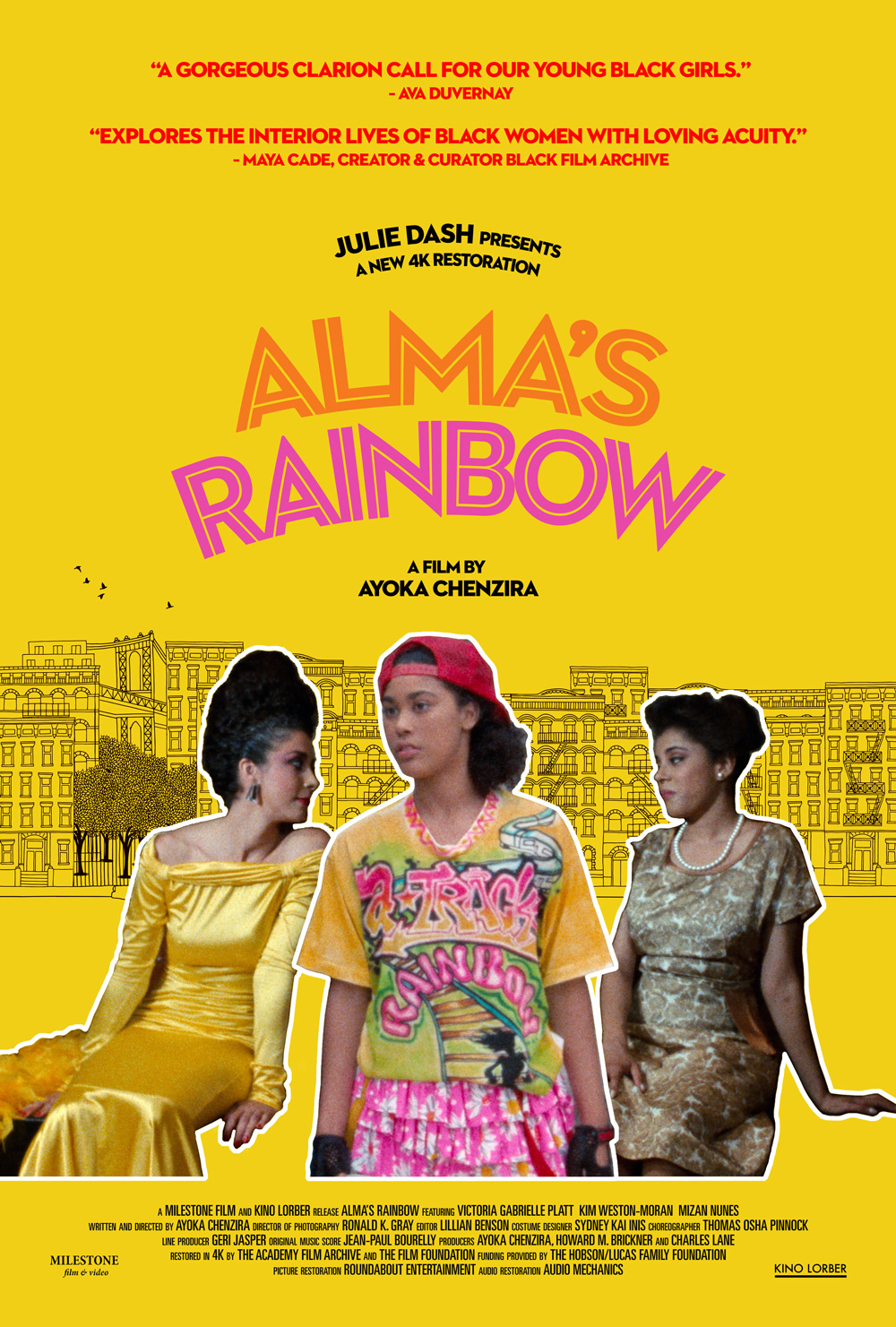 ---