ByDesign 2023 – Monobloc [Hybrid]
Watch in person:
Mar. 17 at 7pm
Mar. 18 at 7:30pm

Watch online: Mar. 17–26, 2023
$14 General Admission
$10 Student/Child/Senior
$7 Member
Pay what you can, $5-25
$50-90 Sliding Scale
$30 for NWFF members!
VIRTUAL, IN-PERSON, and HYBRID (virtual AND in-person) Festival Passes are available
Hauke Wendler
Germany
2022
1h 30m
Click for Accessibility Info
Ticketing, concessions, cinemas, restrooms, and our public edit lab are located on Northwest Film Forum's ground floor, which is wheelchair accessible. All doors in Northwest Film Forum are non-motorized, and may require staff assistance to open. Our upstairs workshop room is not wheelchair accessible.
The majority of seats in our main cinema are 21″ wide from armrest to armrest; some seats are 19″ wide. We are working on creating the option of removable armrests!
We have a limited number of assistive listening devices available for programs hosted in our larger theater, Cinema 1. These devices are maintained by the Technical Director, and can be requested at the ticketing and concessions counter. Also available at the front desk is a Sensory Kit you can borrow, which includes a Communication Card, noise-reducing headphones, and fidget toys.
The Forum does NOT have assistive devices for the visually impaired, and is not (yet) a scent-free venue. Our commitment to increasing access for our audiences is ongoing, and we welcome all public input on the subject!
If you have additional specific questions about accessibility at our venue, please contact our Patron Services Manager at maria@nwfilmforum.org. Our phone number (206-329-2629) is voicemail-only, but we check it often.
Made possible due to a grant from Seattle Office of Arts & Culture, in partnership with Sensory Access, our Sensory Access document presents a visual and descriptive walk-through of the NWFF space. View it in advance of attending an in-person event at bit.ly/nwffsocialnarrativepdf, in order to prepare yourself for the experience.
🆓 Free Community Tickets 🆓
A number of seats will be held at each show for members of the community for whom ticket cost is an obstacle. If you'd like to attend free of charge, please email María and Paul (maria@nwfilmforum.org, paul@nwfilmforum.org) to let them know which program and showtime you're interested in!
NWFF patrons will be required to wear masks that cover both nose and mouth while in the building. Disposable masks are available at the door for those who need them. We are not currently checking vaccination cards. Recent variants of COVID-19 readily infect and spread between individuals regardless of vaccination status.
Read more about NWFF's policies regarding cleaning, masks, and capacity limitations here.
About
(Hauke Wendler, Germany, 2022, 90 min, in English, German & Portuguese with English subtitles)
Universally recognized yet frequently discarded, since its creation in the 1970s, the Monobloc plastic chair has been the world's best-selling piece of furniture.
With more than a billion units in circulation worldwide, this deceptively bland piece of furniture was originally conceived by designer Henry Massonnet as a fashionable commodity for upper-class consumers. The pursuit of lowered production costs above all else soon turned the Monobloc into a symbol of cheap design, environmental waste, and bad taste across much of the Western world. Hauke Wendler's documentary Monobloc takes a closer look at its ubiquity and streamlined production process, finding a microcosm of economic globalization and inequality.
Filming across five continents, Wendler contrasts this disparaging view of the Monobloc with its role in many developing countries, where its low cost has made it one of the few pieces of furniture that impoverished families can afford. In Uganda we are introduced to Dan Schoendorfer, whose Free Wheelchair Mission has modified inexpensive Monoblocs to make wheelchairs available to millions for the first time. Trips to India and Brazil similarly reveal the chair's importance to the developing world, where local industrialist families have taken over both the production and recycling process.
Expansive in scope, Monobloc reveals how a single consumer product can tell a much broader story of global development, aesthetic judgement and economic inequality.
Images on this page courtesy of Icarus Films.
Praise for Monobloc:
"A tale with a critical eye toward globalization; a story that spans functionality and beauty, capitalism and sharing, consumption and recycling." — Pier 53
"A story about economics, justice, equal opportunities, dignity and the strange relationship between people and things." — A Visual Zine
"Monumental banality: An extremely ugly chair… that everyone has anyway." — Der Spiegel
"Recommended! Interconnecting stories about patents, design, sustainability, and culture." — Educational Media Reviews Online (EMRO)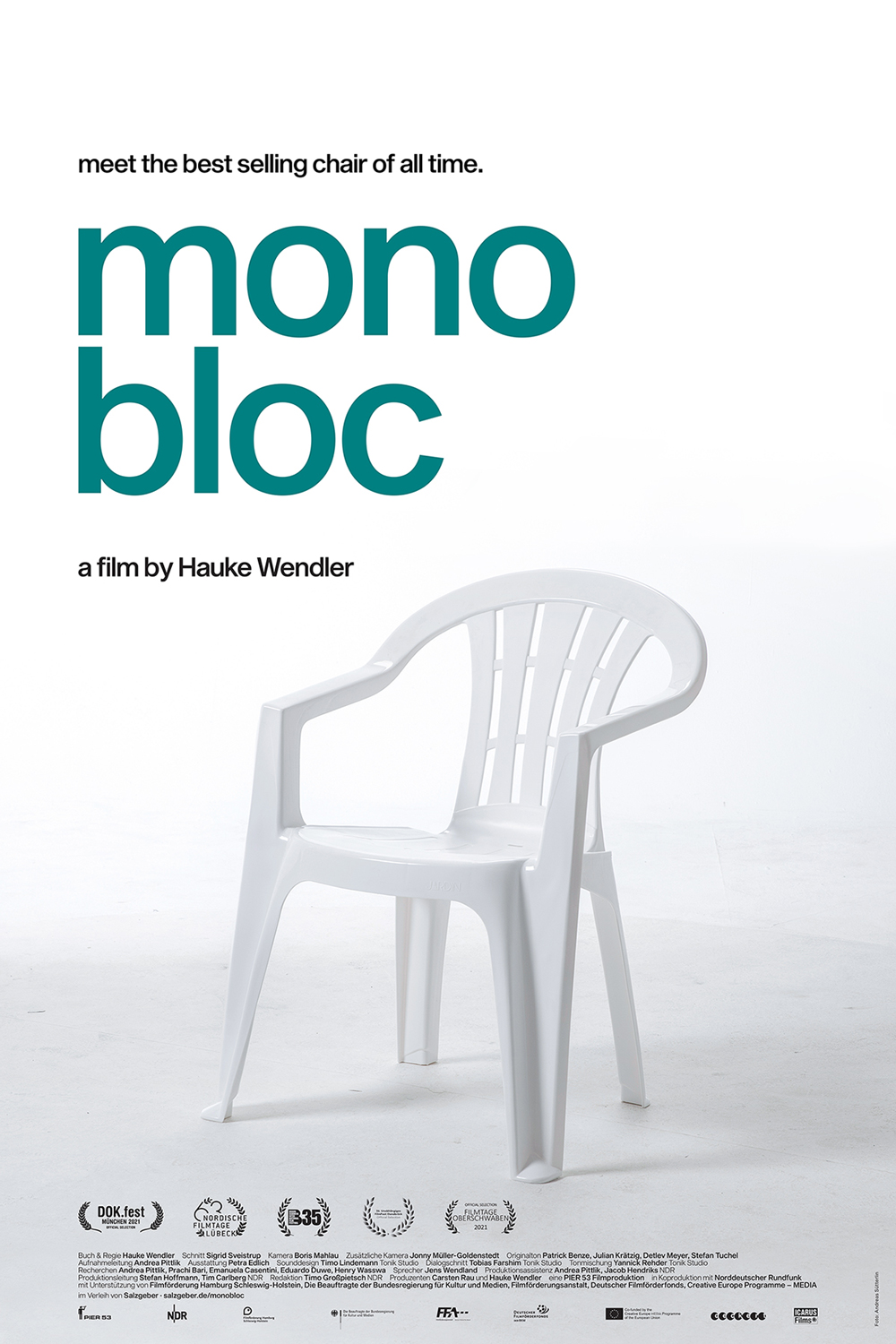 FAQ: How do I watch in-person?
Purchase your ticket through Brown Paper Tickets; come to the show!
You can also purchase a ticket on the day of the screening at Northwest Film Forum's box office (1515 12th Ave, Seattle).
If you have purchased a Hybrid or In-Person-Only Festival Pass, we'll be able to look you up at Will Call by the name you purchased under.
FAQ: How do I watch online?
Purchase your ticket through Northwest Film Forum's Eventive virtual cinema. A free Eventive login is required.
From the Eventive virtual catalog page, purchased tickets will appear under "My Content Library" under your user menu (upper-right). From the Eventive festival landing page, they will appear under "My Tickets" on the site's menu bar (at top).
Your confirmation email will also route you back to these pages to watch. (Can't find it? Check spam!)
If all else fails, please contact paul@nwfilmforum.org
---
⚠️ Please note: NWFF patrons will be required to wear masks that cover both nose and mouth while in the building. We are not currently checking vaccination cards.
ByDesign Festival is a cross-cultural exploration of people, structures, and ideas at the intersection of design and the moving image. With a broad, inclusive selection of films, ByDesign 2023 invites festivalgoers to interrogate their own relationships to personal and collective identity and to examine how humanity's understanding of itself is central to the ways in which it creates the physical world.
---