Chez Jolie Coiffure
This event took place Oct 20 - Oct 30, 2019
$13 General Admission
$10 Student/Child/Senior
$7 Member
** A ticket to one Rosine Mbakam show is a ticket to both! Chez Jolie Coiffure and The Two Faces of a Bamileke Woman play one after the other on Oct. 20, 23 & 30 – if you are a ticketholder for either, you may give your name at will call for admission to the other. **
Rosine Mbakam
Belgium
2019
1h 10m
About
** Co-presented with LANGSTON Seattle. Director in attendance 10/23! **
Sabine's hands move quickly and precisely as she tightly braids hair in her tiny salon. The sign outside offers African, European, or American hairstyles. Sabine is a charismatic, larger than-life personality crammed into a tiny shop in the immigrant Brussels district of Matonge. Here, she and her employees style extensions and glue on lashes while watching soaps, dishing romantic advice, sharing rumors about government programs to legalize migrants, and talking about life back home in West Africa.
At the start of Chez Jolie Coiffure, director Rosine Mbakam stands outside the salon, filming. Sabine calls her in, warning her it's unsafe out in the hallway of the cramped urban mall. Mbakam sets up in the shop—and stays, filming over the course of a year, becoming a regular fixture and presence. This cinematic "chamber piece," which takes place entirely inside a salon not much larger than a take-out stand, makes skillful use of its many mirrors.
More than a place for women to get their hair done, Jolie Coiffure serves as a community hub for West African women—many from Cameroon, like Sabine. Fueled by endless cans of soda and cups of McDonald's coffee, she recruits for a tontine—an investment scheme paying each member a yearly annuity, organizes accommodation for a pregnant woman who lacks immigration papers, and, in quieter, more introspective moments, tells of her own harrowing journey to Belgium after working as a domestic under terrible conditions in Lebanon.
Though she has created a home in her own space, Sabine remains an outsider in Belgium. Students and tourist groups made up only of white people walk past, pausing at the window and gawking. (At one point, Sabine urges Mbakam to turn her camera on them so they'll go away; the director obliges.) When word has it that the immigration police are coming through, she hurriedly turns off all the lights and quickly vanishes out the door.
Chez Jolie Coiffure is a revealing documentary, capturing the day-to-day lives and concerns of immigrant West African women in a space they can call their own.
Photo credit: Courtesy Icarus Films.
"Intense vulnerability makes the film emotionally gripping; the contrast between a public storefront and intimate confessions makes it engrossing… Chez Jolie Coiffure unequivocally extracts a powerful sense of empathy—and urgency." — Vox Magazine
"One of the two best films at the True/False Film Festival. Mbakam passes the mic to a community we've long read about in the news [in this study of] home, community and place." — Little White Lies Magazine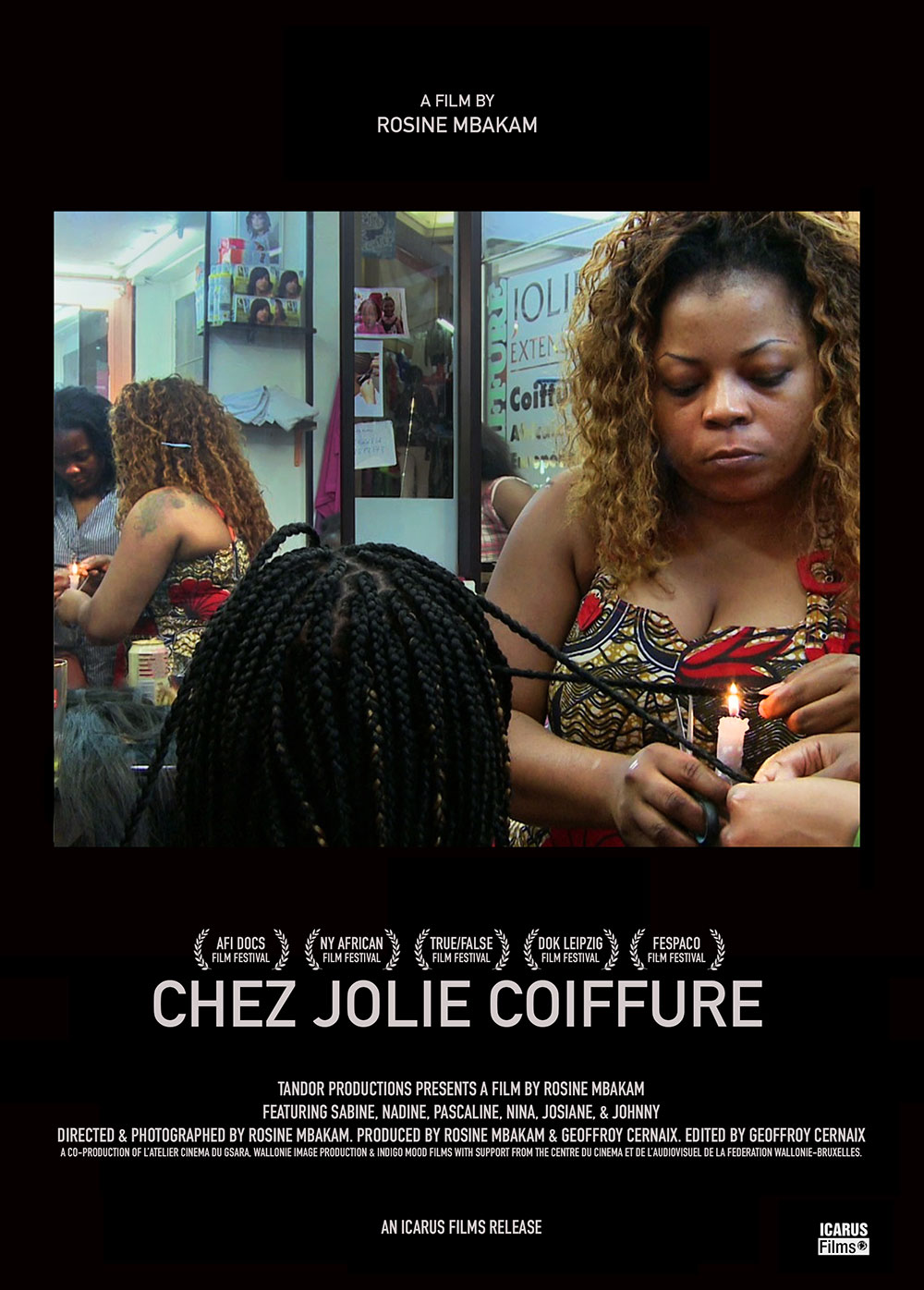 ---