Encounters in the Anthropocene
This event took place on Nov 24, 2019
$13 General Admission
$10 Student/Child/Senior
$7 Member
** Filmmaker in attendance! **
About
With this collection of short works that meditate on the profound meaning and implications of the Anthropocene and the 6th Mass Extinction currently underway, filmmaker Georg Koszulinski's approach turns to the science-fiction genre in order to make truth claims about possible futures, attempts to weigh ecological problems from a multispecies perspective, or operates as diachronous thought experiments, merging multiple time scales alongside one another in an attempt at taking measure of the ecological crises facing all life on Planet Earth.
The films in this collection make attempts at representing multiple temporalities: deep time, historical time, cinematic time, mythological time, subjective time—as in 'a watched pot never boils', or 'time stood still'—and visual representations of the passage of time, as in the rings of an old-growth tree laid bare, a young girl turning an hourglass in her hand, or a photograph capturing the fragment of a second on July 16, 1945, when the atom was split in the deserts of New Mexico.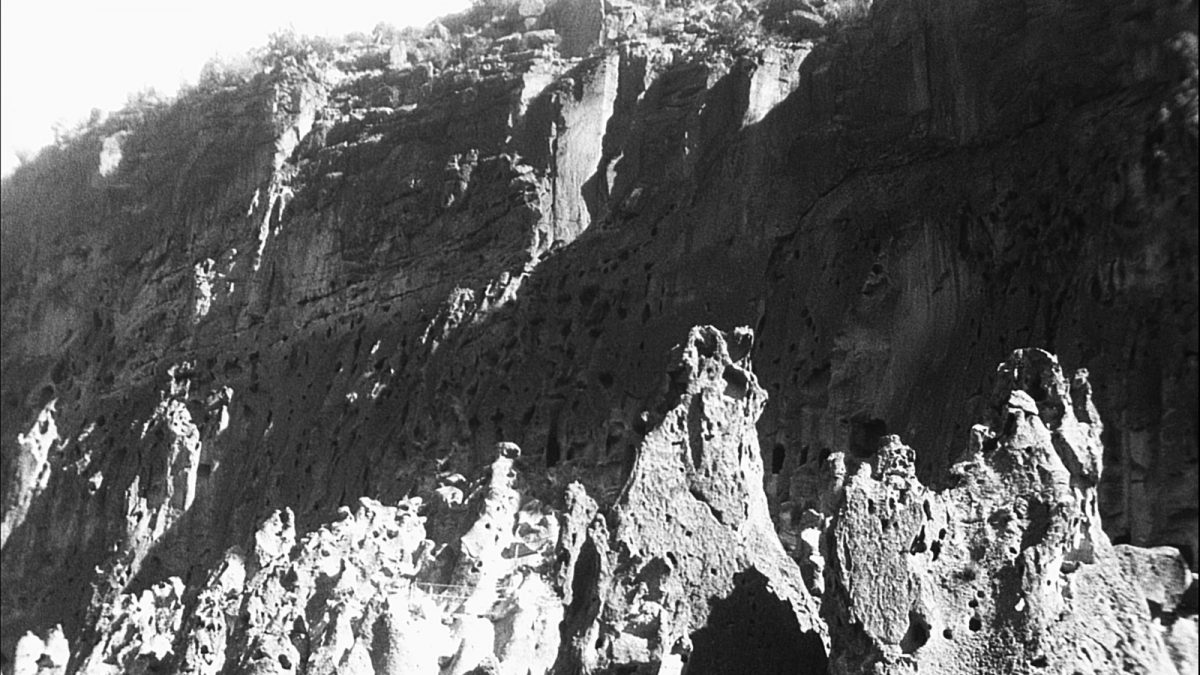 Juskatla
Juskatla weaves together perspectives of the people who live on the islands of Haida Gwaii—an archipelago on Canada's Northwest coast, and the ancestral territories of the Haida Nation. From industrial loggers who harvest trees from ancient forests, to Sphenia Jones, a Haida woman who bears an intimate knowledge of her ancestral territories, Juskatla meditates on the divergent ways of being that shape the islands and its people.
Frontier Journals #8: Antipodes Rising
Through repetition of an automobile ride through a dark mountain tunnel, Antipodes Rising invokes a hallucinatory passageway into another social reality. Through the magic of the "medium," the tunnel becomes a portal into an alternative vision of the Pacific Northwest.
Archeopsychic Time Zones
Multiple time zones converge in the deserts of New Mexico – Pre-Columbian petroglyphs & Indigenous cave dwellings, post-war highways, Spanish colonial remnants, and the deserts of ancient past and post-apocalyptic future coalesce into single image stream. Inspired in part by J.G Ballard's 1962 science-fiction novel, The Drowned World.
Continents Quiver as Memories Erupt into Earthflames
A personal essay film reflecting on the connections between the Anthropocene, poetry, parenthood, and the history of Alan Moore's 1980's run of the Swamp Thing comic book.
New Mexico Deathwish Diatribe
Three narrators converge in the deserts of New Mexico, each with a separate story to tell. One narrator is J. Robert Oppenheimer, another is an alien lifeform, and the other is me. Our stories converge across the span of time and space into a single stream of consciousness.
These Sight-Altering Spells Sometimes Speak
In the late 9th century, a Viking named Floki set out to find a rumored land in the north Atlantic. He had three ravens as his only navigational guide. Upon releasing the ravens, one flew back to Norway, another came back to the ship, and the third led Floki to a new land. And do you know what the names of those birds were?
---