Engauge 2021 – Live Scratch & Stick Loops (Special Event, In-Person Only)
This event will not be available online!

In-person performance at NWFF:
Oct. 30 at 9pm PT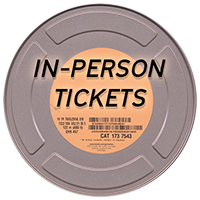 We are adopting a hybrid virtual-and-in-person festival model for 2021. VIRTUAL, IN-PERSON, and HYBRID (virtual AND in-person) Festival Passes are available here.
⚠️ PUBLIC SAFETY NOTICE:
NWFF patrons will be required to wear face coverings while in the building. To be admitted, patrons ages 12+ will also be required to present EITHER proof of COVID-19 vaccination OR a negative result from a COVID-19 test administered within the last 48 hours by an official testing facility.
NWFF is adapting to evolving recommendations to protect the public from COVID-19. Read more about their policies regarding cleaning, masks, and capacity limitations here.
A one-time-only, immersive, projection performance event of expanded cinema mayhem, Live Scratch & Stick Loops can only be experienced in person. It will not be broadcast online. The analog revolution is anything but remote; it can never be televised.
During September's Local Sightings Film Festival, Avida Jackson and Devon Damonte led a hybrid workshop adventure in cameraless 16mm filmmaking, scratching into black film leader and sticking washi tape onto clear film. The event at this year's Engauge will incorporate loops of footage made by the Local Sightings workshop participants, plus additional direct animation by Damonte and Jackson. Presented on multiple projectors, their performance will make use of all possible spaces in the theater.
Be a part of this unique motion graphics happening! Duration: approximately 45 min.
---
Purchase your ticket through Brown Paper Tickets; come to the show!
You can also purchase a ticket on the day of the screening at Northwest Film Forum's box office (1515 12th Ave, Seattle).
If you have purchased a Hybrid or In-Person-Only Festival Pass, we'll be able to look you up at Will Call by the name you purchased under.
---
Engauge Experimental Film Festival celebrates sprocket-driven, artist-made work.
Each Fall, Engauge hosts screenings sponsored by the Interbay Cinema Society in partnership with Northwest Film Forum. The festival screens only work that originates on film, by filmmakers both local and international.
This year's festival will be a hybrid model, taking place both on the web and at NWFF's cinema in Seattle's Capitol Hill neighborhood.
⚠️ Please note: For the sake of public safety, NWFF will require both face-coverings and proof of vaccination from audiences. We reserve the option to shift the festival to virtual-only on short notice.
---