EO [In-Person Only]
This event took place Jan 4 - Jan 8, 2023
$14 General Admission
$10 Student/Child/Senior
$7 Member
⚠️ Public safety notice ⚠️
NWFF patrons will be required to wear masks that cover both nose and mouth while in the building. Disposable masks are available at the door for those who need them. We are not currently checking vaccination cards. Recent variants of COVID-19 readily infect and spread between individuals regardless of vaccination status.
NWFF is adapting to evolving recommendations to protect the public from COVID-19. Read more about their policies regarding cleaning, masks, and capacity limitations here.
⚠️ Content warning ⚠️
This film contains violence against both animals and people. Assuming any risk of spoilers, audiences may refer to DoesTheDogDie for more detailed warnings. EO also contains strobing red lights which may affect photosensitive viewers.
Jerzy Skolimowski
Poland & Italy
2022
1h 27m
About
(Jerzy Skolimowski, Poland & Italy, 2022, 87 min, in Polish, Italian, English, French & Spanish with English subtitles)
** Poland's official submission to the Best International Feature Film category of the 2023 Academy Awards **
With his first film in seven years, legendary director Jerzy Skolimowski (Deep End, Moonlighting) directs one of his most free and visually inventive films yet, following the travels of a nomadic gray donkey named EO. After being removed from the traveling circus, which is the only life he's ever known, EO begins a trek across the Polish and Italian countryside, experiencing cruelty and kindness in equal measure, all the while observing the follies and triumphs of humankind. During his travels, EO is both helped and hindered by a cast of characters including a young Italian priest (Lorenzo Zurzolo), a Countess (Isabelle Huppert), and a rowdy Polish soccer team. Loosely inspired by Robert Bresson's Au hasard Balthazar, and featuring immersive, stunning cinematography by Michal Dymek coupled with Pawel Mykietyn's resonant score, Skolimowski's film puts the viewer in the perspective of its four-legged protagonist. EO's journey speaks to the world around us, an equine hero boldly pointing out societal ills, and serving as warning to the dangers of neglect and inaction, all while on a quest for freedom.
Synopsis and stills courtesy of Janus Films.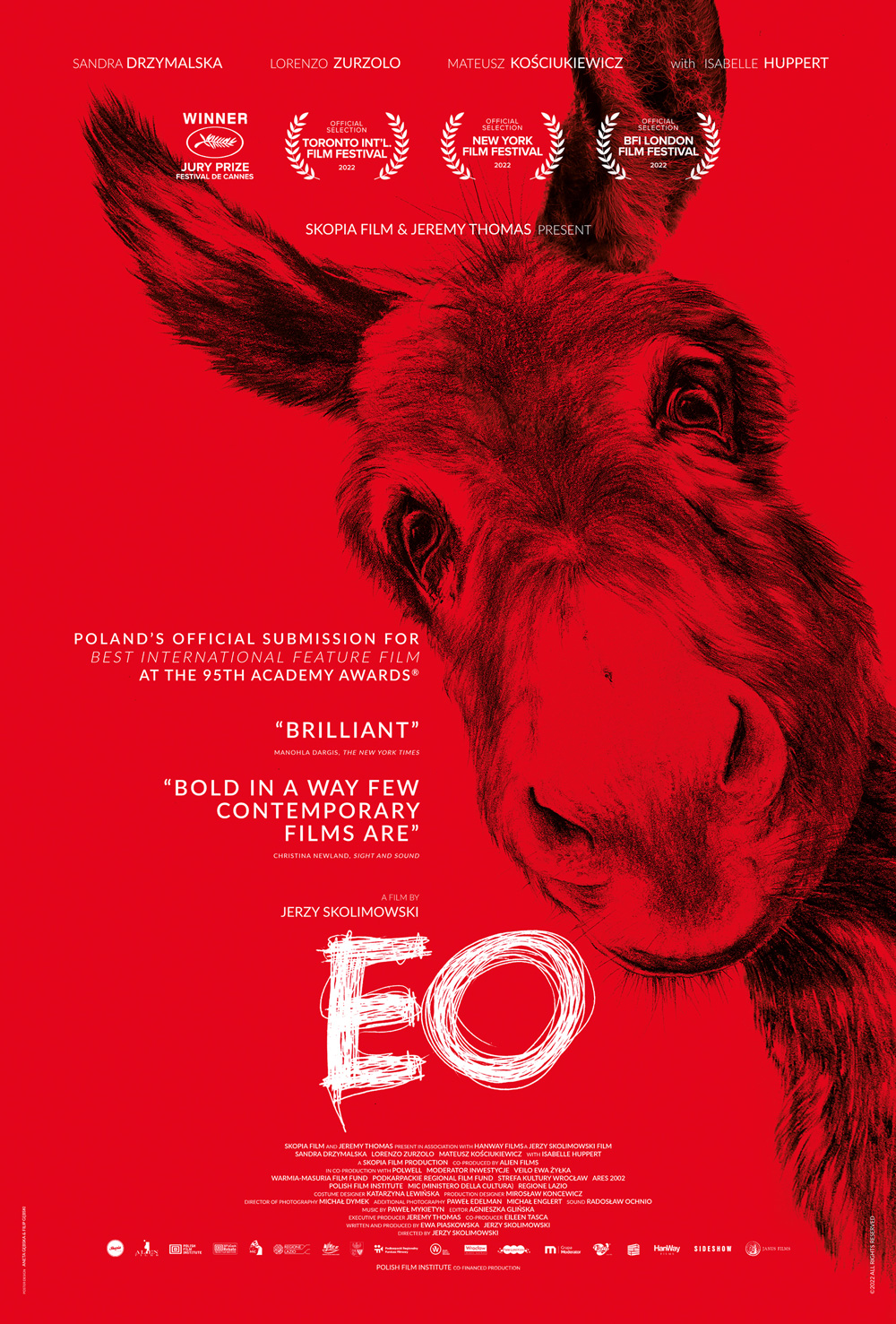 ---