Everybody's Everything ft. Lil Peep
[**LAST SCREENING EVER**]
Sun Dec 22: 4.30pm
$13 General Admission
$10 Student/Child/Senior
$7 Member
Ramez Silyan & Sebastian Jones
US
2019
1h 56m
About
Creating a unique mix of punk, emo and trap, Lil Peep was set to bring a new musical genre to the mainstream when he died of a drug overdose at just 21 years old. From the streets of Long Beach and Los Angeles to studios in London and sold out tours in Russia, the artist born Gustav Ahr touched countless lives through his words, his sound and his very being.
During a sweeping journey from the depths of the underground to a meteoric rise through the music industry, Gus wrestled with what it meant to be Lil Peep and in turn, what Lil Peep meant to so many.
Executive produced by Terrence Malick, Everybody's Everything is an intimate, humanistic portrait that seeks to understand an artist who attempted to be all things to all people.
Description courtesy of Gunpowder & Sky.
—
"Across its two-hour runtime, Everybody's Everything is less interested in moralizing Peep's demons than in capturing his dualities… While the story of a troubled young star burning too bright and flaming out isn't new, Everybody's Everything makes Peep's story feel notably of the moment. Like the 2015 Amy Winehouse doc Amy, the film benefits from the fact that everyone is their own personal documentarian now, thanks to cellphones and social media. Pulling from a surplus of home movies, performance clips, photographs, tour footage, and Instagram videos, Everybody's Everything details Peep's ascent from doe-eyed toddler to insecure rebel to troubled star." – Pitchfork
"…a film about change — how it destroys and enlivens us, and how difficult it is to deal with both its burdens and blossoming opportunities." – The FADER
—
NOTE: While the distributors did not receive an official age range for the United States, recommended ages in the EU are as follows: UK: 15; Ireland: 16; Netherlands: 16
See below for details on how to enter. It's easy. Danny Denial, local musician and filmmaker, is shown here with the poster 🙂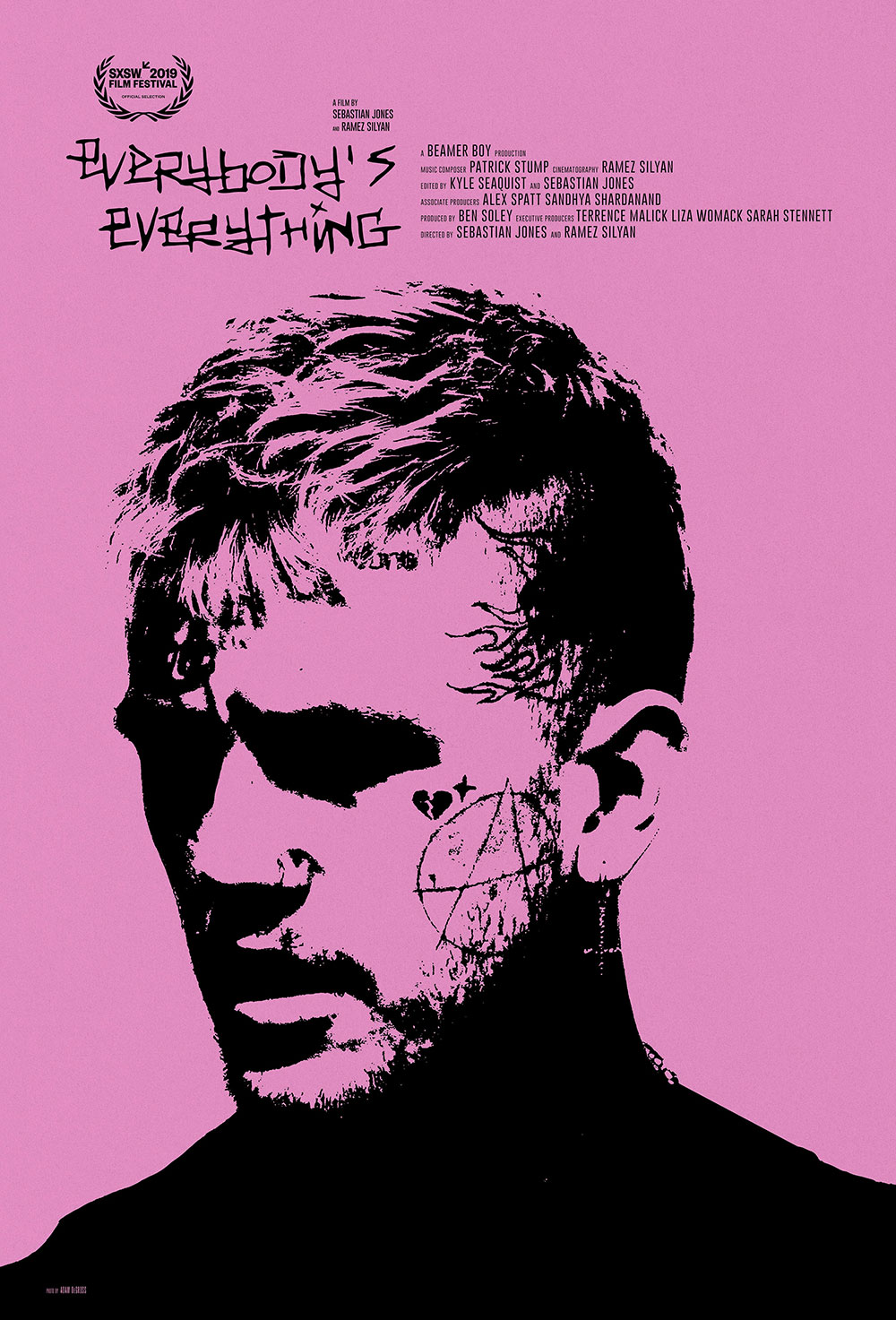 ---