GERMAN CINEMA NOW! – All is One. Except 0. (Alles ist Eins. Außer der 0.) [Online]
Screen this title on demand
Sep. 22 at 5pm to Sep. 23 at 5pm PT
Sliding scale admission: $5–25.
Hard-coded English subtitles.
Please pay what you can.
---
Photo credit: Interzone Pictures.
• • HOW TO WATCH • •
Purchase your ticket and watch on this film's GERMAN CINEMA NOW! Eventive page.
When logged in to Eventive, your ticket will appear under "My Tickets" in the main menu of the site. You will also receive a confirmation email linking to the watch page, and if you pre-ordered, a reminder shortly before the film becomes available on Sep. 22 at 5pm PT. The viewing window is only 24 hours long! (Don't see a confirmation email? Check your spam filter.)
If you encounter any issues logging in, please contact rana@nwfilmforum.org for a quick follow-up. (But please, check for your confirmation email!)
Klaus Maeck & Tanja Schwerdorf
Germany
2020
1h 30m
** Featuring a post-screening Q&A between co-director Klaus Maeck and Program Curator Martin Schwartz of Goethe Pop Up Seattle **
About
The monthly film series GERMAN CINEMA NOW! is curated by Goethe Pop Up Seattle. This year, the series explores themes of disruption and continuity to inspire public dialogue about the ways in which the past shapes our moment and can inform a radically different future.

About the film:
In 2021, German Cinema Now! has explored individual, cultural, and planetary change through the lens of Radical Break/Radical Continuity. It was only a matter of time until we came to the subject of Klaus Maeck's stylish, high-energy found-footage feast Alles ist eins. Außer der 0 (All is One. Except 0.). The rise and interconnection of computers has fundamentally shifted the way we conceptualize the world. Einstein posited that the universe consists of matter and energy. Our digital reality has forced us to add another core element: information. Key to understanding the Information Age—how it came about, what it is, what comes next—is the story of the Chaos Computer Club, a group of science-fiction obsessed, utopian, anarchistic engineering savants who came together in West Germany in 1981, and pioneered the ethos of computer hacking for good.
Through interviews and archival material, we get to know the CCC´s founder and patron saint, the "data artist" Wau Holland, whose philosophical clarity and grungy idealism suffuses the movement to the present day. Hacker culture grew out of Cold War skepticism about official information. In the 1980s, divided Germany was a buffer zone between two nuclear powers, and Wau's TV got reception from both. There was no way all of either newscast could be right. Inspired by Stewart Brand's Whole Earth Catalogue, the sheer joy of DIY engineering, and the odd dose of LSD, this bunch of "strange men with strange machines" set up shop after hours in the office of a radical newspaper. There, they opened battle against data centralization, monopolies, secrets and lies in the belief that private data should be protected and public data should be shared, and not the opposite. Through their first major action, the BTX Hack against the German Post Office's supposedly secure BTX data system, the CCC and its stars, Wau and Steffen Wernéry, became famous. The stakes went up quickly from there: the Chernobyl disaster makes the government's information-hoarding a matter of life and death. And when a splinter group gets involved with the KGB, the powers that be do not take it lightly.
The CCC thrives today, still causing major headaches for the superpowers of the world. How this decentralized band of outsiders became an indispensable institution is the fleetly told, suspenseful story of Alles ist eins, directed by Maeck, the longtime manager of legendary Berlin underground group Einstürzende Neubauten, and Tanja Schwerdorf, and featuring a terrific score by the Neubauten's Alexander Hacke. Not everyone will approve of CCC's idealistic agenda. Luddites, technoutopians, tech workers, and data privacy advocates will all get something different from this film. They all should see it.
** West Coast premiere! **
(Klaus Maeck & Tanja Schwerdorf, Germany, 2020, 90 min, in German with English subtitles)
"[The film's] collage technique impressively demonstrates how, as early as the '80s and '90s, visionary Wau Holland predicted the problems of digitization with which we still struggle today." – Meike Laaff, Die Zeit
"With apparent playfulness, Maeck and Schwerdorf have crafted a truly amazing found footage montage: informative, engaging, and full of anarchic humor, just as Wau Holland & Co. displayed in their actions." – Falk Straub, Kino-Zeit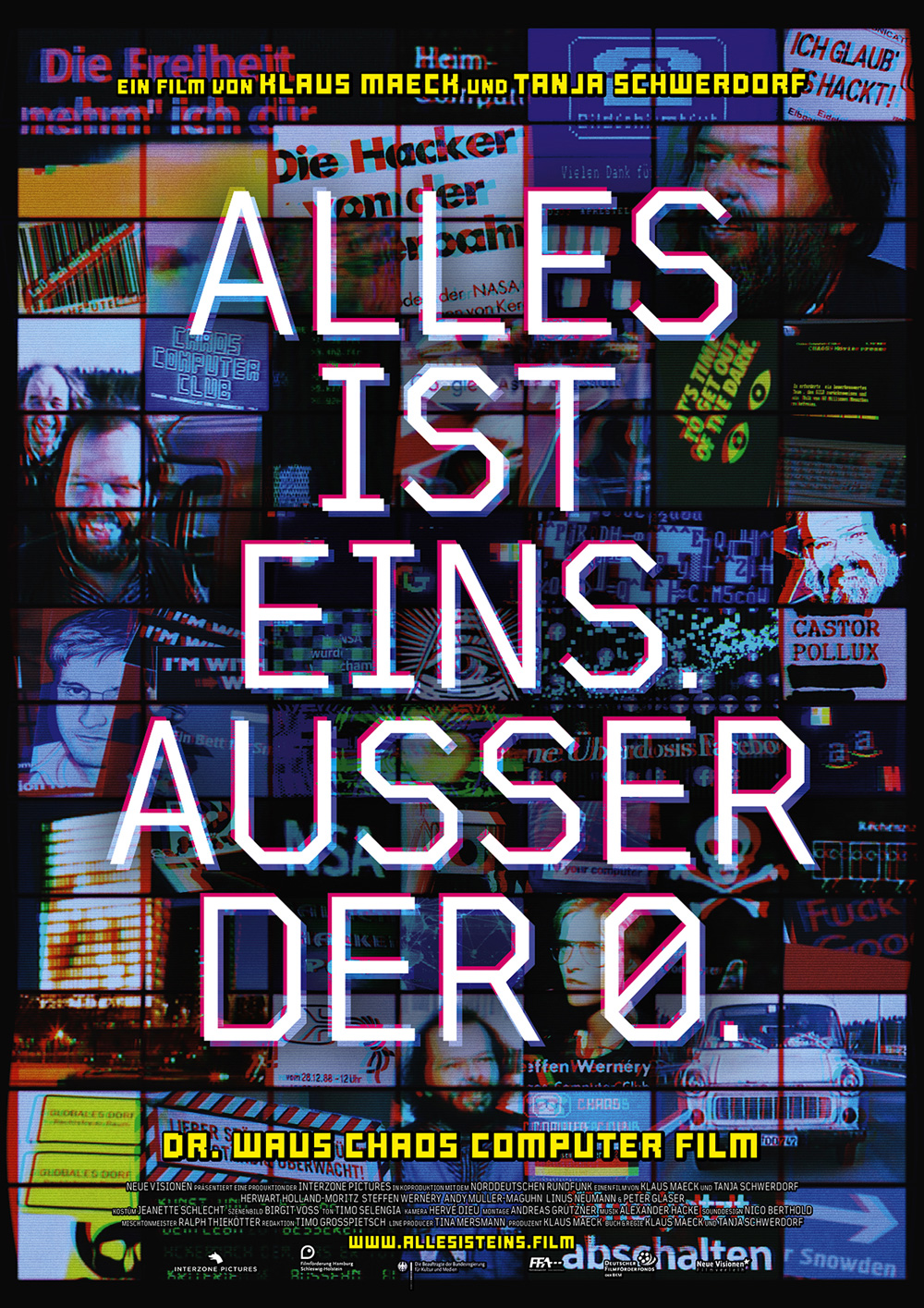 Klaus Maeck
Klaus Maeck, born 1954 in Hamburg, began working intensively with Super-8 films at the beginning of the 1980s. Among the best known films he produced and co-created from this period is Decoder, by film artist Muscha. In 1988 he co-founded the independent music publisher Freibank, which initially attended to rights for Einstürzende Neubauten and other bands from their scene. In 2004, he and director Fatih Akin founded the production company Corazón International. Since 2013, he has run his own production company, Interzone Pictures. This is his third work as director. Maeck is a member of the German Film Academy and the European Film Academy.
Tanja Schwerdorf
Tanja Schwerdorf, born 1979 in Cologne, began working as a lighting and camera assistant for film and TV productions at the age of 21. In 2004, she began formal study at the HFBK Hamburg, where Wim Wenders was among her professors. She served as junior producer on the film Fraktus – The Last Chapter of Music History, and directed the short film Nach dem Regen, which was shown throughout Germany and on television on NDR. Since 2013, she has been part of the team for Klappe auf! Hamburg Short Film Festival.
---