GERMAN CINEMA NOW! – The Last City (Die letzte Stadt) [Online]
Screen this title on demand
Apr. 28 at 5pm to Apr. 29 at 5pm PT
Sliding scale admission: $5–25.
Please pay what you can; proceeds support Northwest Film Forum during our closure.

Images courtesy of Filmgalerie 451.
---
Northwest Film Forum is SCREENING ONLINE! NWFF's physical space is temporarily closed in light of public health concerns around COVID-19, but community, dialogue, and education through media arts WILL persist.
• • HOW TO WATCH • •
Purchase your ticket and watch on this film's GERMAN CINEMA NOW! Eventive page.
When logged in to Eventive, your ticket will appear under "My Tickets" in the main menu of the site. You will also receive a confirmation email linking to the watch page, and if you pre-ordered, a reminder shortly before the film becomes available on Apr. 28 at 5pm PT. The viewing window is only 24 hours long! (Don't see a confirmation email? Check your spam filter.)
If you encounter any issues logging in, please contact rana@nwfilmforum.org for a quick follow-up. (But please, check for your confirmation email!)
Heinz Emigholz
Germany
2020
1h 40m
** This screening is followed by a 30-minute recorded Q&A with the director, Heinz Emigholz, and Goethe Pop Up's Martin Schwartz **
About
The monthly film series GERMAN CINEMA NOW! is curated by Goethe Pop Up Seattle. This year, the series explores themes of disruption and continuity to inspire public dialogue about the ways in which the past shapes our moment and can inform a radically different future.

About the film:
Have you, represented by performance artist John Erdman, ever woken up in a hotel room in Athens next to a man thirty years your junior who also happens to have tattooed on him Marx's last thesis on Feuerbach and the removed retina of a rabbit, just as you do? Do you have disturbingly lucid transracial dream-experiences in which you are interrogated in Hong Kong by a woman resembling Columbia history professor Dorothy Ko and forced to digest the crimes of imperial war, and which culminate in the production of "Japanese-German Guilt Sausages" cased in your viscera? Does your average workday as a Berlin parish priest (Young Sun Han) include defiantly violating your vow of celibacy (at least) twice through vigorous lovemaking with your policeman brother, offering and withholding absolution to close family members, and sharing a nice pasta dinner with mom? Have you, now in the guise of Argentinean director Jonathan Perel, shocked your friends by becoming an advanced weapons designer because it entails the avant-garde practice of empathy?
Is your life, in short, animated by an endless, endlessly shifting discussion, haunted by the spirits of art and psychoanalysis, an infinite round dance among cities and personae, a search for a city whose coordinates continually shift?
If this all sounds familiar, then The Last City offers a window of inversion into your world. For the rest of us, it delivers the bracing suggestion that perhaps, for the duration of the movie at least, we are the same person.
Heinz Emigholz's film interrupts narrative flow through its unusual camera levels and canted angles, mid-conversation shifts in setting and time of day, and the weird directness and intimacy of the actors' delivery. What is however joyously constant is a high-velocity hide-and-seek of thought—thought, that is, and the thinker, whoever that may be.
– Martin Schwartz
The Last City was recently awarded the Special Jury Award at Documenta Madrid. In the jury's words: "With this film we celebrate the radicality of a cinema that questions its language at the same time that it makes the most of its expansive possibilities. Formal and irreverent, humanist and structural, it is a film in mutation, where reflections continue after the spaces, the characters and sequences, to infinite combinations."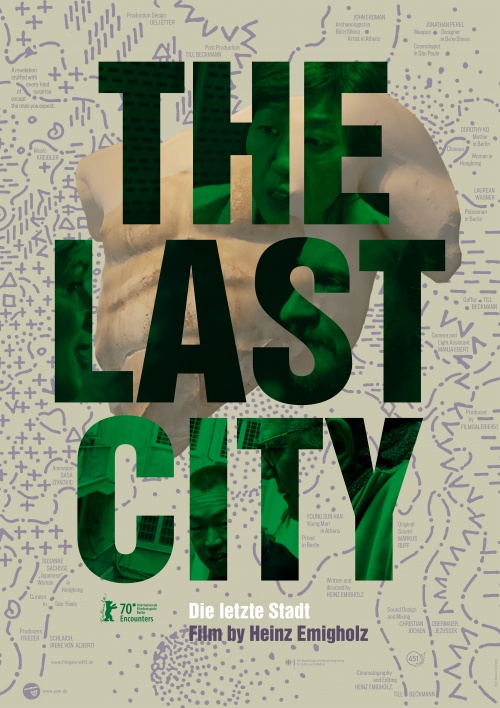 About the filmmaker:
Born in 1948 near Bremen in Germany, Heinz Emigholz trained first as a draftsman before studying philosophy and literature in Hamburg. He began filmmaking in 1968 and has worked since 1973 as a filmmaker, artist, writer and producer in Germany and the USA. In 1984 he started his film series Photography and beyond. He held a professorship in Experimental Filmmaking at the Berlin University of the Arts from 1993 to 2013, and co-founded the Institute for Time-based Media and the Art and Media program there. In 2003 Filmgalerie 451 launched an edition of all his films on DVD. Heinz Emigholz is a member of the Academy of the Arts Berlin.
---