A Re-Introduction to Ryusuke Hamaguchi – Wheel of Fortune and Fantasy (偶然と想像) [In-Person Only]
This event took place on Apr 13, 2022
$13 General Admission
$10 Student/Child/Senior
$7 Member
⚠️ Public safety notice ⚠️
NWFF patrons will be required to wear masks that cover both nose and mouth while in the building. Disposable masks are available at the door for those who need them. To be admitted, patrons ages 5+ will also be required to present either proof of COVID-19 vaccination OR a negative result from a COVID-19 test administered within the last 48 hours.
NWFF is adapting to evolving recommendations to protect the public from COVID-19. Read more about their policies regarding cleaning, masks, and capacity limitations here.
Ryusuke Hamaguchi
Japan
2021
2h 1m
About
An unexpected love triangle, a failed seduction, and a chance encounter with the past.
Propelled by coincidence and imagination, and guided by love's gentle current, acclaimed director Ryūsuke Hamaguchi (Happy Hour, Asako I & II) returns with an enchanting triptych that spins mundane encounters into a world of infinite possibilities. In Episode 1: Magic (or Something Less Assuring), a young woman is startled when she realizes that her best friend's new flame might just be her ex; in Episode 2: Door Wide Open, a disgruntled student plots to trick his college professor, using his friend-with-benefits as bait; and in Episode 3: Once Again, a girl's college reunion leads to an unanticipated run-in with an old friend, and awakens long-forgotten feelings.
Playfully inspired by life's tiny miracles, and binding them together with threads of memory, regret, deception, and fate, Hamaguchi leaves no stone unturned in his quest to chart the ever-deepening mysteries of the all-too-human heart.
(Ryūsuke Hamaguchi, Japan, 2021, 121 min, in Japanese with English subtitles)
Description and images on this page courtesy of Film Movement.
"The geometry of desire is elegantly plotted in Wheel of Fortune and Fantasy, a wistful, moving, outwardly unassuming movie." — The New York Times 
"A playful triptych of self-contained vignettes (complete with their own credit blocks) that are bound together by a shared fascination with memory, coincidence, and the deep truths that shallow lies tend to uncover…" — IndieWire
We all have regrets and wish for do-overs sometimes, Hamaguchi exercises these second chances and fantasies in intimate human stories… It's one of those films you want to see it again immediately after finishing it. — ScreenAnarchy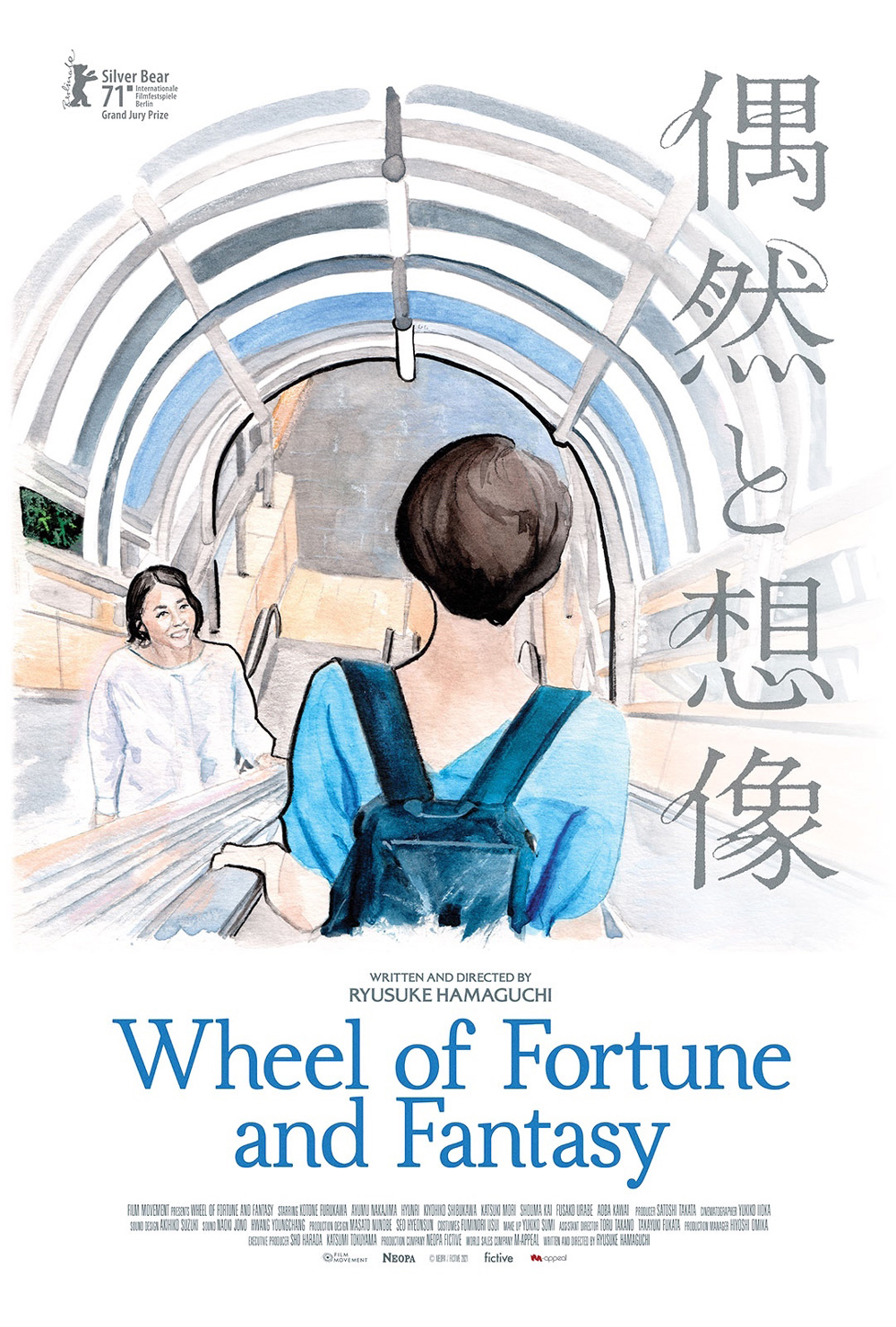 ---