A Kaddish For Bernie Madoff [In-Person Only]
This event took place on Jan 25, 2023
$14 General Admission
$10 Student/Child/Senior
$7 Member
⚠️ Public safety notice ⚠️
NWFF patrons will be required to wear masks that cover both nose and mouth while in the building. Disposable masks are available at the door for those who need them. We are not currently checking vaccination cards. Recent variants of COVID-19 readily infect and spread between individuals regardless of vaccination status.
NWFF is adapting to evolving recommendations to protect the public from COVID-19. Read more about their policies regarding cleaning, masks, and capacity limitations here.
Alicia J. Rose
US
2021
1h 15m
** Followed by a Q&A with director Alicia J. Rose, star Alicia Jo Rabins, and producer Lara Cuddy, lead by Rabbi Rachel Nussbaum, co-founder of Kavana Cooperative! **
About
(Alicia J. Rose, US, 2021, 75 min, in English)
A hybrid of musical memoir and narrative fantasy, A Kaddish For Bernie Madoff tells the story of Madoff and the system that allowed him to function for decades through the eyes of musician/poet Alicia Jo Rabins, who watches the financial crash from her 9th floor studio in an abandoned office building on Wall Street. Fueled by her growing obsession, real-life interviews transform into music videos, ancient spiritual texts become fevered fantasies of synchronized swimming, and a vivid, vulnerable work of art is born from the unique perspective of an artist watching the global financial collapse up close.
Synopsis and stills courtesy of the director.
"If Anna Deavere Smith, Sarah Koenig, and Joey Soloway wrote a self-reflexive musical about finance and religion, it might approach [this] film's impish, mystical spirit…it's a blessing." – The Atlantic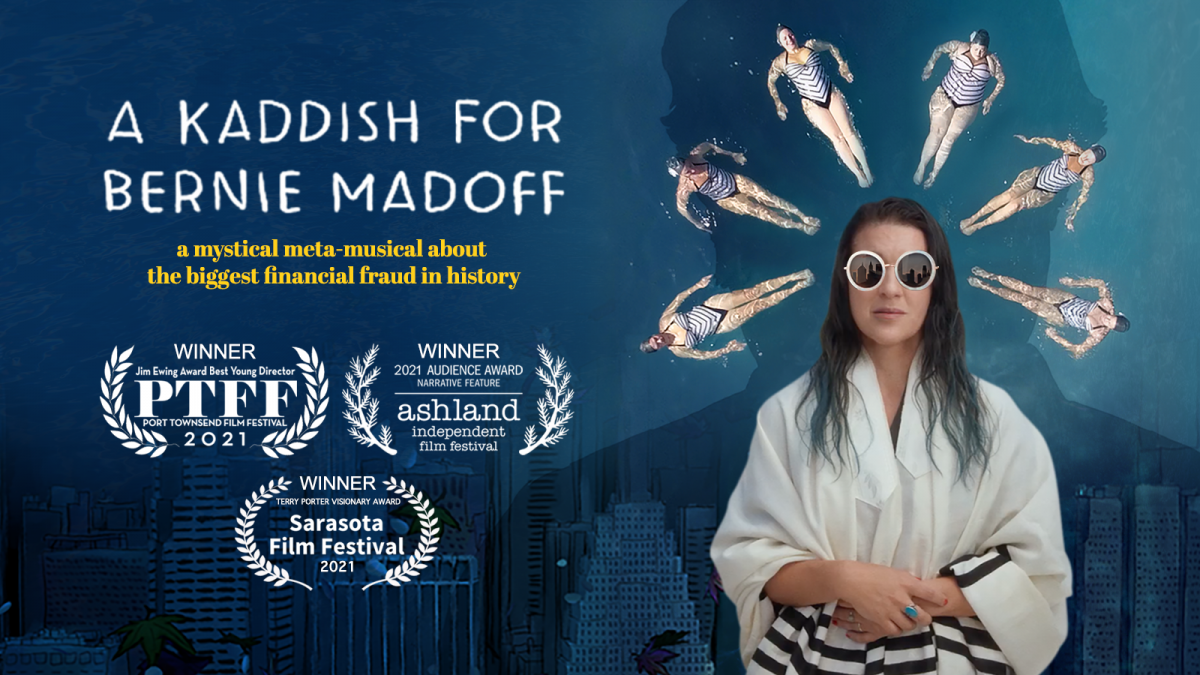 Awards:
WINNER: Audience Award, 2021 Ashland Independent Film Festival
WINNER: Jim Ewing Young Director's Award, 2021 Port Townsend Film Festival
WINNER: Terry Porter Visionary Award, 2021 Sarasota Film Festival
Official Selection: "Rebels With A Cause" competition at Tallinn Black Nights of Cinema Festival 2021
---