Cure (キュア) [In-Person Only]
This event took place Oct 27 - Oct 29, 2021
$13 General Admission
$10 Student/Child/Senior
$7 Member
⚠️ Public safety notice ⚠️
NWFF patrons will be required to wear face coverings while in the building. To be admitted, patrons ages 12+ will also be required to present EITHER proof of COVID-19 vaccination OR a negative result from a COVID-19 test administered within the last 48 hours by an official testing facility.
NWFF is adapting to evolving recommendations to protect the public from COVID-19. Read more about their policies regarding cleaning, masks, and capacity limitations here.
Kiyoshi Kurosawa
Japan
1997
1h 51m
About
** In Bong Joon-ho's top ten favorite films! (Sight & Sound, 2012) **
Kiyoshi Kurosawa's spellbinding international breakthrough established him as one of the leaders of the emerging new wave of Japanese horror while pushing the genre into uncharted realms of philosophical and existential exploration. A string of shocking, seemingly unmotivated murders—each committed by a different person yet bearing the same grisly hallmarks—leads Detective Kenichi Takabe (Koji Yakusho) into a labyrinthine investigation to discover what connects them, and into a disturbing game of cat and mouse with an enigmatic amnesiac (Masato Hagiwara) who may be evil incarnate. Awash in a mood of hushed, hypnotic dread, Cure is a tour de force of psychological tension and a hallucinatory journey into the darkest recesses of the human mind.
(Kiyoshi Kurosawa, Japan, 1997, 111 min, in Japanese with English subtitles)
Description and images on this page courtesy of Janus Films.
"There's a sense of horror that trickles down your spine while watching it." – Bong Joon-ho
"Cure delves ever further into abstraction as it goes along, casting its own hypnotic spell and inviting as many interpretations as a Rorschach inkblot." – AV Club
"There are numerous points in Kiyoshi Kurosawa's breakthrough film Cure where a more conventional filmmaker would lead us down a rather familiar path. Instead, we drift from a police-procedural murder mystery to a foreboding psychodrama that dissolves all understanding of identity and consciousness."  – Screen Slate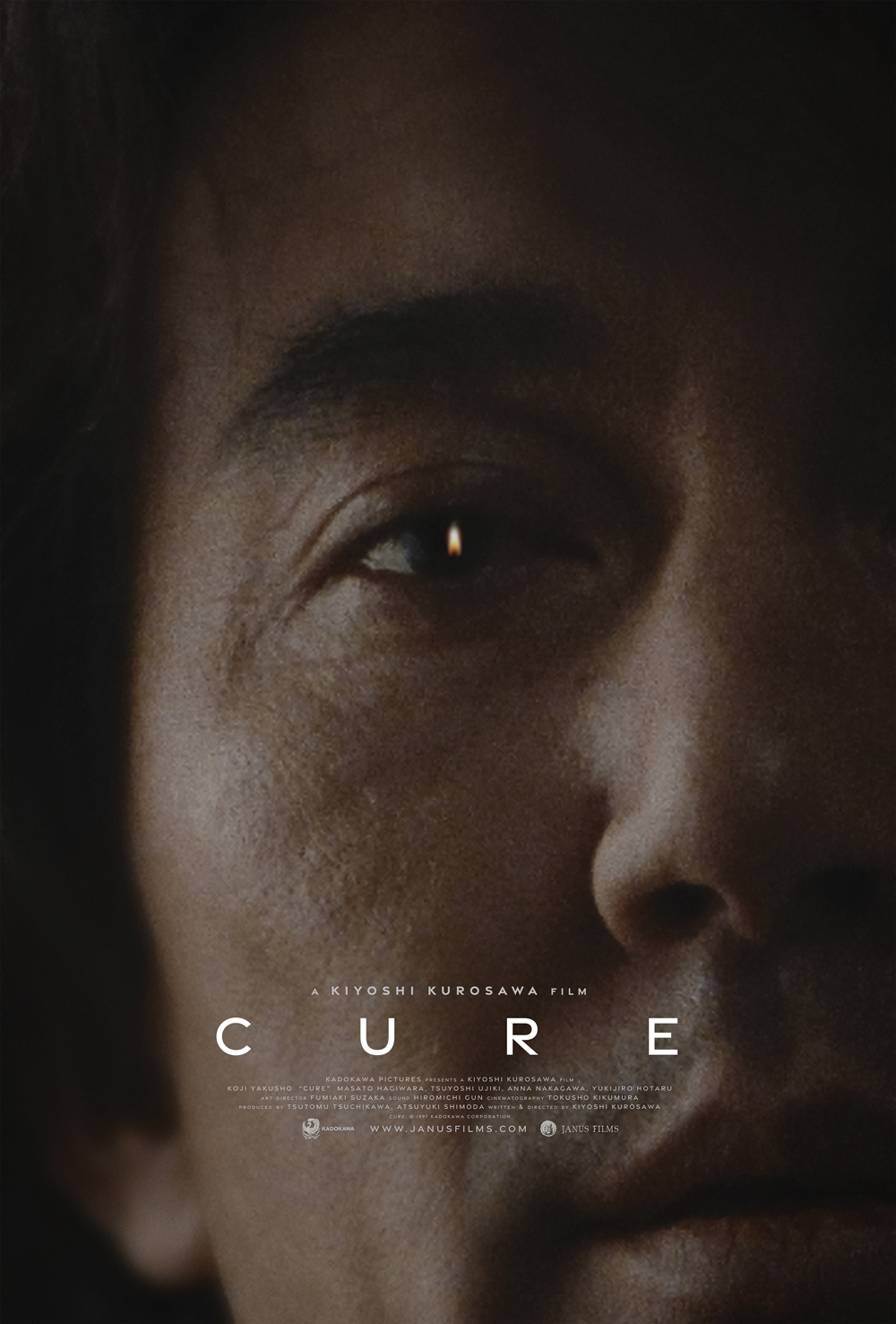 ---