Local Sightings 2021 – Moving History: Local Sightings 2021 Edition [In-Person Only]
In-person screening at NWFF:
Sep. 26 at 4pm PT

To accommodate evolving public health recommendations regarding COVID-19, we are adopting a hybrid virtual-and-in-person festival model for 2021. VIRTUAL, IN-PERSON, and HYBRID (virtual AND in-person) Festival Passes are available here.
⚠️ Please note: For the sake of public safety, NWFF will require both face-coverings and proof of vaccination from audiences. We reserve the option to shift the festival to virtual-only on short notice.
About
At this year's Local Sightings Film Festival, Moving Image Preservation of Puget Sound (MIPoPS) will present their first in-person archival screening since February 2020. This momentous Moving History screening will highlight content from:
Seattle City Council Film Forum (Nick Licata's initiative to share Seattle-area filmmakers' work, curated by former NWFF Program Director Adam Sekuler, before meetings of the Housing, Human Services, Health and Culture Committee)
The Seattle Channel's Seattle Cine-visions series
and Northwest Film Forum's own vault!
As you might imagine, the Forum's vault is home to some truly incredible pre-"content" content – music videos made in Anna Oxygen's Loop Girls tween music production camp, best-of compilations on Betacam from early 2000s Local Sightings, hilarious-and-beautiful teenage video poetry from when Northwest Film Forum was WigglyWorld Studios, short NWFF promos by locally famous filmmakers, and much more.
The headliner of the event is Our Round Earth, a little-seen experimental film edited by none other than Lynn Shelton and newly re-scored by Lori Goldston. Read below for a more complete program!
Walk down recent-memory lane with MIPoPS archivists at this in-person celebration of local filmmakers and Pacific Northwest creativity!
Header photo credit: Our Round Earth, edited by Lynn Shelton, 2001.


Stills from Run Wiggly Run, Wes Kim, 2002.
---
Featuring but not limited to:
Shorts by Wes Kim (2002-2003)
Run Wiggly Run (2002), Why It's a Good Thing That Not All Asians Know Martial Arts (2002), and trailers for NWFF programs Obsolete Media Weekend (2003) and Ultra: The High Noon of Consumer Culture (2002).* Kim's cheeky style, humor, and keen-but-kind sense of irony is written all over these WigglyWorld-era productions. The vault holds several VHS tapes of Kim's promotional bumpers for NWFF that show off his creative versatility with media – digital effect compositing, Super-8 film, and DV.
* TRIVIA: The Ultra series included a man-versus-pig Whopper-eating contest, held at WigglyWorld's Little Theatre on 19th.
Short animations and music videos from a 2005 youth media camp that are all but guaranteed to make you wish NWFF sold ice cream.
We're fairly certain that these are the girls who left an unequivocally affirming tag on the wall of the vault: LOOP GIRLS RULE.
Zorah Oppenheimer's "Water Motion" (2003)
Then-teenaged filmmaker Zorah Oppenheimer's Water Motion (2003) arranges a suite of distinct water sounds into a rhythmic composition. The resulting visual arrangement seems incidental to the sound composition, and the overall effect is a hypnotic, deliberate, and danceable celebration of nature. As of this writing, Oppenheimer is now a District Manager of Clark Conservation District in Battle Ground, WA, helping landowners protect their county's natural resources.
Mon'ica Brown & Jeff Palmer's "...Just a Little Over a Million" (2001)
Mon'ica Brown and Jeff Palmer's collaborative film …Just a Little Over a Million (2001) is a fast-paced, quick-witted spoken word short that lampoons the cumulative commercial sensibilities that we allow to inform the construction of our individual self-image. We are sold the idea that our values can be communicated by commodity curation, and are constantly reminded to interrogate our worth in terms of appearances – and these teens aren't having it.
Karl Krogstad music video for The Visible Targets' "Life in the Twilight Zone" (c. 1983)
It simply wouldn't be a regional film retrospective without some Krogstad.
Proclaimed by one of his own flyers (though signed "Roger Ebert") as "the father of Seattle Independent Filmming," the late Karl Krogstad was a chaotically creative force of nature. His films positively explode with DIY technical experimentation, gleefully leaping between artistic disciplines and mashing concepts, sounds, images, and fragments of writing together like tightly clutched toy cars. May his video for The Visible Targets' "Life in the Twilight Zone" (c. 1983) grant us all new perspective on the possibilities of plastic wrap in set decoration!
Rest in peace, KK
(7/25/1948–10/27/2019)
Shorts by Webster Crowell (1998-2021)
Excerpts from his Last Call short film series, a fantastic bumper for NWFF sibling cinema The Grand Illusion 👏, and his latest film, Solar Forests (2021), round out our micro-retrospective of Crowell's work. Since 1997, Crowell has been involved in filmmaking, primarily through his ingenious stop-motion animations, though he has also taught animation workshops to NWFF's younger filmmakers, built marvelous structures and contraptions, designed costumes, and more. Both his human-scale and miniature worlds are highly tactile, marked by his striking, personal spin on steampunk aesthetics.
Hannah Palin's found films (2003-2011)
University of Washington Special Collections Moving Image Curator Hannah Palin presents two found films; Comin' Home Baby (1968/2011), an orphan silent film reel in the "city symphony" style, discovered in the Victor Steinbrueck collection, and Lost & Found Film, a collage of color 8mm footage from home movies created for Home Movie Day 2003.
Britta Johnson's "Waterway" (2009)
Britta Johnson's Waterway (2009) is a stop-motion depiction of glassy, enlarged-to-show-detail beads of water traveling through a rough world of organic matter and creatures that cleanse them of contaminants as they go. Two out of two reviewing MIPoPS staff cried when they watched it, so obviously it had to be included.
Set to a plucky, atmospheric score by Lori Goldston and Stuart Wolferman, and assisted by Clyde Petersen, Waterway was commissioned by the Seattle Office of Arts & Cultural Affairs using Seattle Public Utilities 1% for Arts Funds. An excerpt of the film was presented to Nick Licata as part of the Seattle City Council Film Forum series while NWFF's Adam Sekuler was curating the series.
Three films that express the experimental spirit of the Pacific Northwest by setting their subjects on fire, impaling them, hurling them into a lake, covering them in reiterative drawings of themselves… we don't want to give too much away, in case you start guessing!
David Phillips's "I Don't Feel Too Good"
I Don't Feel Too Good is a shuddering, zoetrope-like vision of sticky exuberance, seemingly wrenched directly from a Seattle millennial's own memories of having ridden "The Orbiter" at Fun Forest after eating a hot dog and a half on a blistering summer day. Blazing with bright, desaturated colors and echoing with squeals of what we can only hope is joy, Phillips's film is a ride: simple, intuitive, and thrilling.
Lynn Shelton & Lori Goldston's "Our Round Earth" (2001)
Our closing film is edited by the late Lynn Shelton and newly re-scored by Lori Goldston, whose music also accompanied it when it debuted at On the Boards' 2001 Northwest New Works Festival. Our Round Earth is a found footage compilation with a focus on organic forms and intimate, tactile imagery, with a recurring theme of orb-ness/circularity. All footage seems to have been pulled from 16mm educational reels, with the exception of a nearly 2.5-minute sustained shot of someone napping in front of a convenience store marquee that advertises coffee, sandwiches, hot dogs, milk, "cig," oil, bait, and soda.
Lori Goldston on "Our Round Earth" —
I met Lynn while scoring her film The Clouds That Touch Us Out of Clear Skies, an experimental documentary. We became friends right away and wanted to work on something else. At the time she was working primarily as a film editor.
We made Our Round Earth, a live amplified solo cello score with a film edited from old science films for the Northwest New Works series at On the Boards.

At the time, nearly every school and library in the country was getting rid of their Super8 and 16mm film collections. We bought dirt-cheap boxes of reels with titles like Biography of a Bee, Tornado: Your Chance to Live, and Our Round Earth, and howled with laughter while watching them.
Lynn's wit and goofy humor shine brightly; the film is both psychedelic and narrative, full of questions and comments about humanness and existence. Awash in gate scratches, leader, random color fades, and skips from the damaged perfs, et cetera, it's the work of someone who loves the physicality of the medium.
I performed with it for Northwest New Works, probably for two or three evenings. It was around that time that I was starting to work very seriously with amplification, and the music was messy and noisy.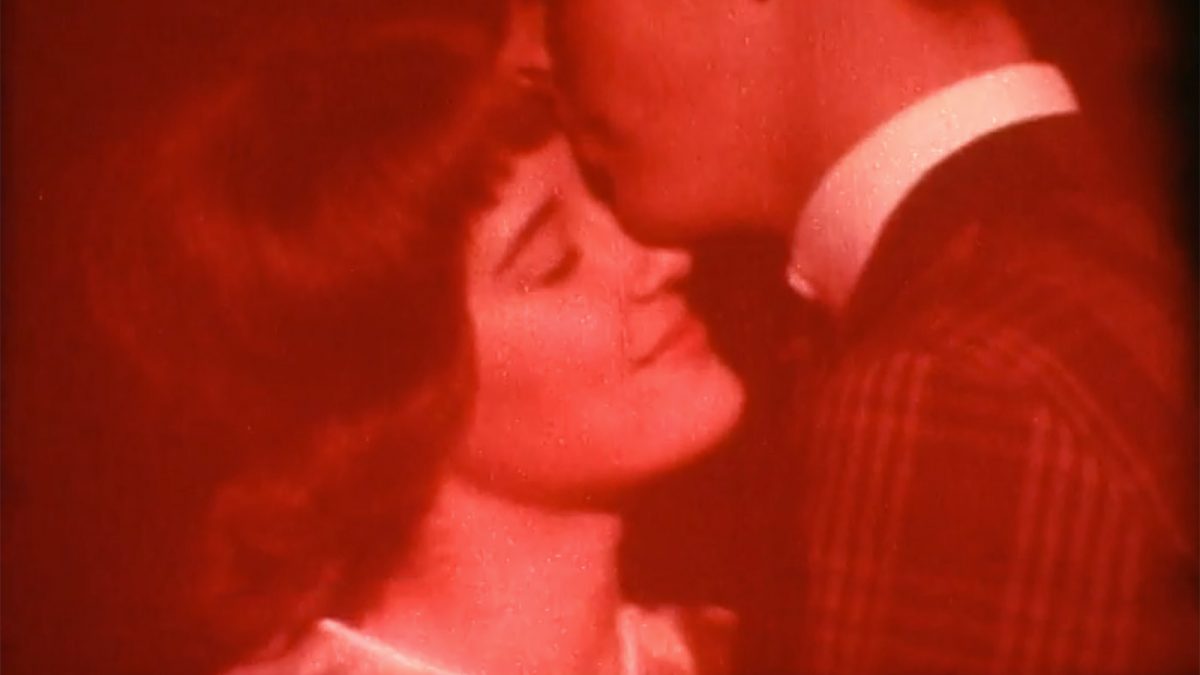 Still from Our Round Earth, Lynn Shelton, 2001.
---

• • THIS PROGRAM IS ONLY AVAILABLE TO WATCH IN-PERSON • •
Purchase your ticket through Brown Paper Tickets; come to the show!
You can also purchase a ticket on the day of the screening at Northwest Film Forum's box office (1515 12th Ave, Seattle).
If you have purchased a Hybrid or In-Person-Only Festival Pass, we'll be able to look you up at Will Call by the name you purchased under.
---
⚠️ Please note: For the sake of public safety, NWFF will require both face-coverings and proof of vaccination from audiences. We reserve the option to shift the festival to virtual-only on short notice.
Presented by Seattle's Northwest Film Forum, the 24th Annual Local Sightings Film Festival is a virtual-and-in-person showcase of creative communities from throughout the Pacific Northwest. The 2021 program, which runs from September 16–26, features a competitive selection of curated short film programs and feature films, inviting regional artists to experiment, break, and remake popular conceptions around filmmaking and film exhibition.
Local Sightings champions emerging and established talent, supports the regional film industry, and promotes diverse media as a critical tool for public engagement.
---