Local Sightings 2023 – A Midsummer Night's Dream In Prison [Hybrid]
Watch online: Sep. 15–24

Watch in person: Sep. 21 at 7:30pm
$14 General Admission
$10 Student/Child/Senior
$7 Member
$5 – $25 Sliding Scale
$60 – $150 Sliding Scale
VIRTUAL, IN-PERSON, and HYBRID (virtual AND in-person) Festival Passes and Individual Tickets are available!
** Film subject Brandon Gillespie in attendance! **
Click for Accessibility Info
Ticketing, concessions, cinemas, restrooms, and our public edit lab are located on Northwest Film Forum's ground floor, which is wheelchair accessible. All doors in Northwest Film Forum are non-motorized, and may require staff assistance to open. Our upstairs workshop room is not wheelchair accessible.
The majority of seats in our main cinema are 21″ wide from armrest to armrest; some seats are 19″ wide. We are working on creating the option of removable armrests!
We have a limited number of assistive listening devices available for programs hosted in our larger theater, Cinema 1. These devices are maintained by the Technical Director, and can be requested at the ticketing and concessions counter. Also available at the front desk is a Sensory Kit you can borrow, which includes a Communication Card, noise-reducing headphones, and fidget toys.
The Forum does NOT have assistive devices for the visually impaired, and is not (yet) a scent-free venue. Our commitment to increasing access for our audiences is ongoing, and we welcome all public input on the subject!
If you have additional specific questions about accessibility at our venue, please contact our Patron Services Manager at maria@nwfilmforum.org. Our phone number (206-329-2629) is voicemail-only, but we check it often.
Made possible due to a grant from Seattle Office of Arts & Culture, in partnership with Sensory Access, our Sensory Access document presents a visual and descriptive walk-through of the NWFF space. View it in advance of attending an in-person event at bit.ly/nwffsocialnarrativepdf, in order to prepare yourself for the experience.
NWFF patrons will be required to wear masks that cover both nose and mouth while in the building. Disposable masks are available at the door for those who need them. We are not currently checking vaccination cards. Recent variants of COVID-19 readily infect and spread between individuals regardless of vaccination status.
Read more about NWFF's policies regarding cleaning, masks, and capacity limitations here.
About
(Bushra Azzouz, US, 2022, 60 min, in English) Seattle premiere!
"The three hours we spend down here – it's almost like not being in prison," says Zeb, a prison inmate in rural Eastern Oregon.
Zeb and his fellow cast members are putting on a production of Shakespeare's A Midsummer Night's Dream. Most have never even considered acting, and were simply drawn in by the opportunity to break up the monotony of incarceration. In rehearsals, as they work together and learn more about each other, the men find unexpected new perspectives about their lives – past, present, and future.
As their dramatic odyssey unfolds, themes of gender identity and the challenges faced by BIPOC prisoners are deftly explored, and the power of the arts to challenge and heal, even under the most difficult circumstances, is affirmed and celebrated.
The production of this film is its own powerful story. The seed of the film was planted in 2006, when Johnny Stallings began producing plays with inmates at Two Rivers Correctional Institution, and was eventually documented by Bushra Azzouz. Azzouz was a beloved educator at Portland's Northwest Film Center (now PAM CUT) for decades before she passed in 2019 from breast cancer. Her colleagues Ellen Thomas and Enie Vaisburd then took up the film's completion as their tribute to her memory, paring down 70 hours of footage over the course of three years to create this feature-length documentary.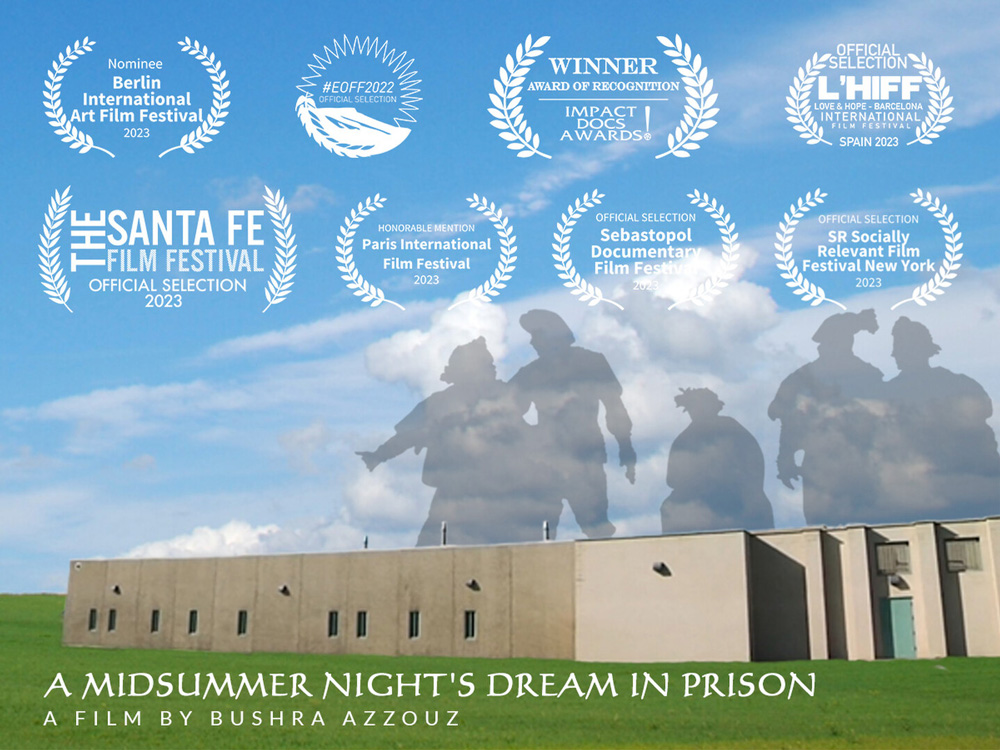 FAQ: How do I watch online?
FAQ: How do I watch in-person?
Purchase your ticket through Brown Paper Tickets; come to the show!
You can also purchase a ticket on the day of the screening at Northwest Film Forum's box office (1515 12th Ave, Seattle).
If you have purchased a Hybrid or In-Person-Only Festival Pass, we'll be able to look you up at Will Call by the name you purchased under.

A Home for Social Justice Film
The Social Justice Film Festival serves as a dynamic forum where art and social justice intersect to build community beyond borders and lift-up voices, issues, and stories of public importance.
As one of the few film organizations exclusively focused on social justice, we feature a diversity of mostly independent films and programs that promote civic engagement. We welcome first-time and aspiring filmmakers, especially from underrepresented communities, in addition to more established social justice filmmakers.
This year's festival takes place in person (at various venues, including NWFF) from Oct. 11–15, and continues online from Oct. 16–22.
---
⚠️ Please note: NWFF patrons will be required to wear masks that cover both nose and mouth while in the building. We are not currently checking vaccination cards.
Presented by Seattle's Northwest Film Forum, the 26th Annual Local Sightings Film Festival is a virtual-and-in-person showcase of creative communities from throughout the Pacific Northwest. The 2023 program, which runs from September 15–24, features a competitive selection of curated short film programs and feature films, inviting regional artists to experiment, break, and remake popular conceptions around filmmaking and film exhibition.
Local Sightings champions emerging and established talent, supports the regional film industry, and promotes diverse media as a critical tool for public engagement.
---