Małni—Towards the Ocean, Towards the Shore [Online]
View this film on-demand
Apr. 9–30, 2021
• • HOW TO WATCH VIRTUALLY • •
Sky Hopinka
US
2020
1h 20m
About
(pronounced: moth-nee)
A poetic, experimental debut feature circling the origin of the death myth from the Chinookan people in the Pacific Northwest, małni – towards the ocean, towards the shore follows two people as they wander through their surrounding nature, the spirit world, and something much deeper inside. At its center are Sweetwater Sahme and Jordan Mercier, who take separate paths contemplating their afterlife, rebirth, and death. Probing questions about humanity's place on Earth and other worlds, Sky Hopinka's film will have audiences thinking (and dreaming) about it long after.
Images on this page courtesy of Grasshopper Film.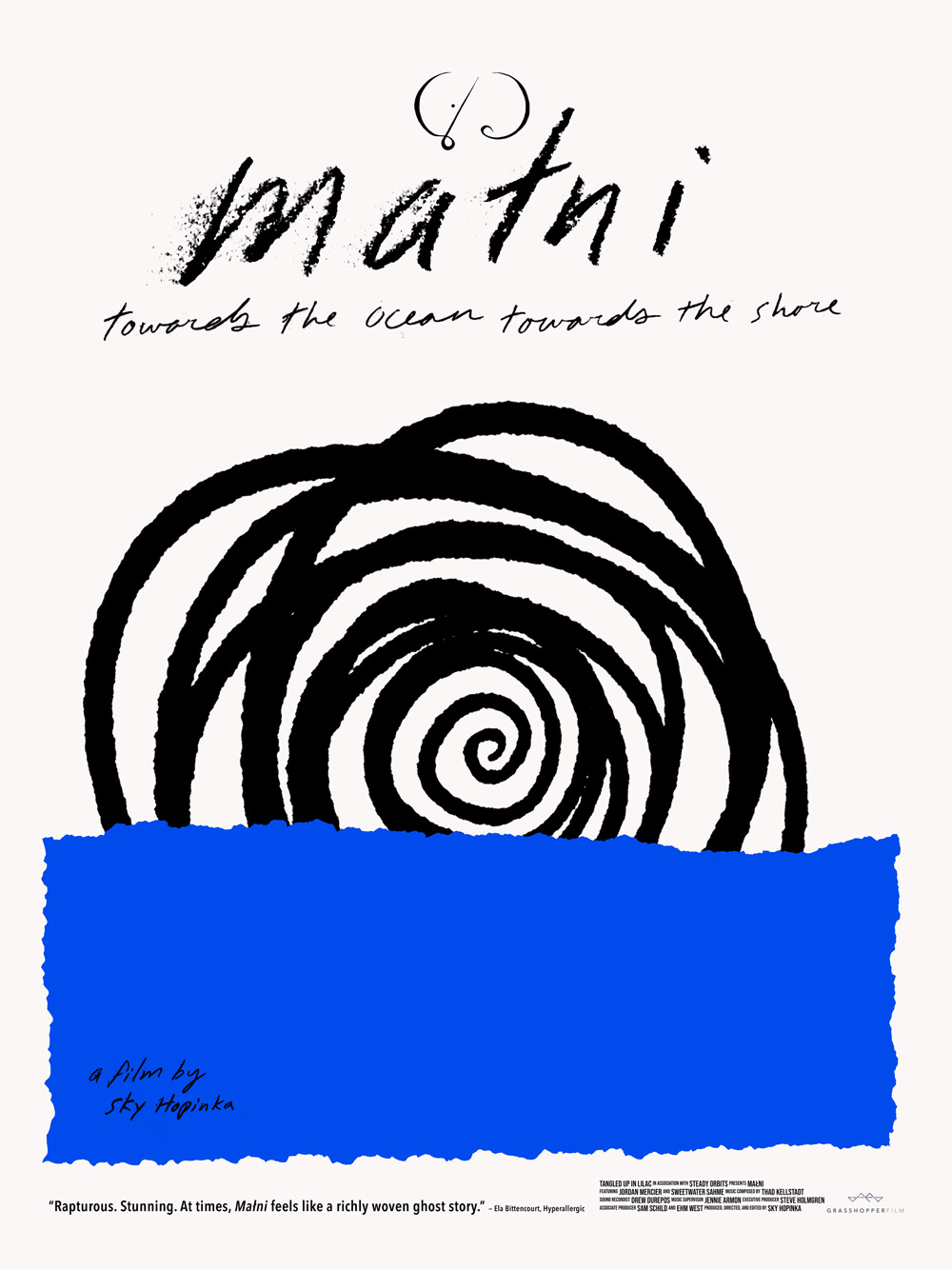 Praise for małni:
"Critic's Pick! An essential portrait of contemporary Indigenous life. Refreshingly centers the Native perspective, and beckons audiences onto its wavelength by tapping into something more intuitive, the stuff of dreams." – Beatrice Loayza, The New York Times
"Rapturous. Feels like a richly woven ghost story." — Ela Bittencourt, Hyperallergic
"Stunning. Nothing short of astonishing. One of the most awe-inspiring films I saw." — Vikram Murthi, Rogerebert.com
"Mr. Hopinka is a member of the Ho-Chunk Nation and descended from the Pechanga Band of Luiseño Indians. His work, which he aptly calls "ethnopoetic," is built on that biographical data, but expands outward from it…. It rivals in visual and linguistic beauty any new art I've seen in some time." – Holland Cotter, The New York Times
About the filmmaker:
Sky Hopinka (Ho-Chunk Nation/Pechanga Band of Luiseño Indians) was born and raised in Ferndale, WA, and spent a number of years in Palm Springs and Riverside, CA, Portland, OR, and Milwaukee, WI. In Portland he studied and taught chinuk wawa, a language indigenous to the Lower Columbia River Basin. His video, photo, and text work centers around personal positions of Indigenous homeland and landscape, designs of language as containers of culture expressed through personal, documentary, and non fiction forms of media. He received his BA from Portland State University in Liberal Arts and his MFA in Film, Video, Animation, and New Genres from the University of Wisconsin-Milwaukee.
Hopinka's work has played at various festivals including ImagineNATIVE Media + Arts Festival, Images, Wavelengths, Ann Arbor Film Festival, Sundance, and Projections. His work was a part of the 2016 Wisconsin Triennial, the 2017 Whitney Biennial, and the 2018 FRONT Triennial. He was a guest curator at the 2019 Whitney Biennial and was a part of Cosmopolis #2 at the Centre Pompidou. He was awarded jury prizes at the Onion City Film Festival, the More with Less Award at the 2016 Images Festival, the Tom Berman Award for Most Promising Filmmaker at the 54th Ann Arbor Film Festival, the New Cinema Award at the Berwick Film and Media Arts Festival and the Mary L. Nohl Fund Fellowship for Individual Artists in the Emerging artist category for 2018. He was a fellow at the Radcliffe Institute for Advanced Study at Harvard University in 2018-2019 and Sundance Art of Nonfiction Fellow for 2019, and is 2020 Guggenheim Fellow.
---