MEX AM NW – Animated Shorts for Youth
This event took place on Sep 2, 2018
$5 General Admission
Free for NWFF Members!
About
A collection of four animated shorts created by young filmmakers from Mexico makes for a great introduction to cinema for the younger members of the family!
Directors Rita Basulto, Luis Beltrán, Edgar Romero, Pedro Zulu González and Christian Alain Vázquez provide creative and innovative approaches to subjects that might be challenging to undertake for parents or teachers: death, war, family life… vampires.
The shorts are in Spanish, with English subtitles, but rely mostly on visual expression. Even non-Spanish-speaking kids who are not yet ready to read subtitles will understand and enjoy this program.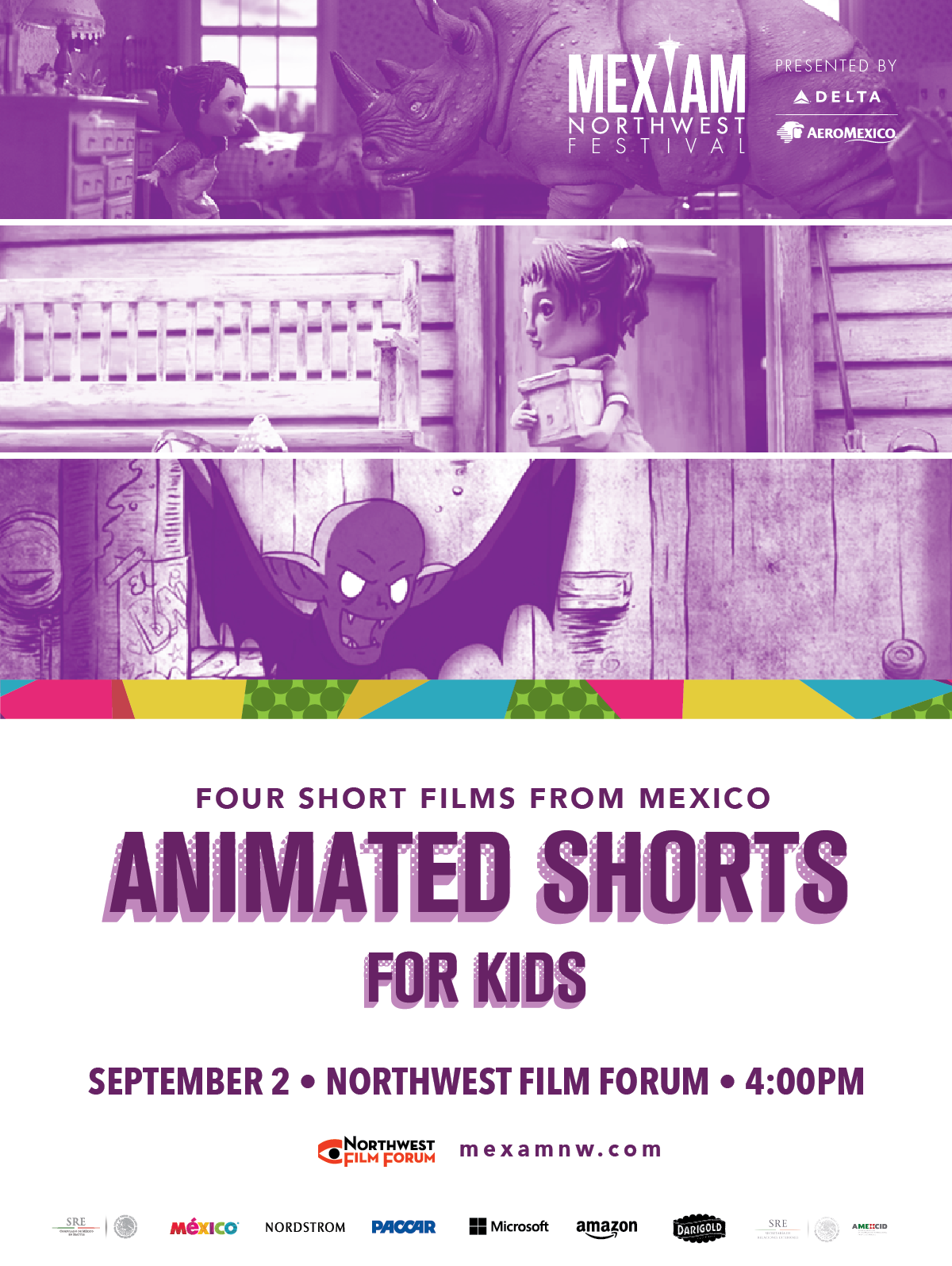 ---
Lluvia en los ojos (Rain in the Eyes), dir. Rita Basulto
A whimsical story of a little girl who is mourning the death of her beloved and much-traveled grandfather, and is puzzled by the things he left behind. Seven-year-old Sofía remembers the day that she fractured her arm while being chased through the forest… this story is full of fantasy, but hides a heart-rending moment in Sofía's life.
¿Qué es la guerra? (What is War?), dir. Luis Beltrán
Marina, a young girl, becomes trapped after a bomb is dropped near her house. While seeking a way to escape, she shows that a sense of adventure and innocence can withstand even the direst of circumstances.
Un día en familia (A Day with Family), dir. Pedro Zulu González
It is a Sunday family outing in Chapultepec Park. El Negro is not cheered up by a boat ride or a visit to the zoo. His apathy changes when a question leads us to discover that happiness exists in the park, but also that it has a price.
El regreso del vampiro (The Vampire Returns), dir. Christian Alain Vázquez
Sleeping in the graveyard in Bethlehem, a vampire wakes up to find that he is in an unfamliar future where everything seems hostile, and where he is no longer a threat.
---
El Festival MEX AM Northwest une a México y los EE.UU a través de negocios, música, cine, comida, artes visuales, digitales y conferencias. El Consulado de México en Seattle presenta este Festival para exponer la innovación, industria, creatividad, cultura popular y voz de México por medio de eventos en la ciudad de Seattle y área metropolitana, promoviendo un intercambio transcultural.
The MEX AM Northwest Festival unites Mexico and the US through business, music, film, food, visual arts, digital art, and talks. The Consulate of Mexico in Seattle presents this Festival to showcase Mexico's innovation, industry, creativity, popular culture, and voice through events all over the Seattle metro area, promoting cross-cultural exchange.
---