Moving History – Bernie Whitebear and Vi Hilbert [In-Person Only]
This event took place on Nov 26, 2023
$14 General Admission
$10 Student/Child/Senior
$7 NWFF Member
All proceeds will be donated to Lushootseed Research, a nonprofit dedicated to sustaining Lushootseed language and culture to enhance cross-cultural knowledge, wisdom and relations, as shared and celebrated by the First Peoples of Puget Sound, through research, recording, publishing and the presentation of oral traditions and literature. Lushootseed Research's director, Jill La Pointe, is Vi Hilbert's granddaughter.
About
To celebrate Native American Heritage Month, MIPoPS presents two video documents of nationally beloved stewards of Native culture from this state: Vi taqʷšəblu Hilbert, Upper Skagit elder and dedicated conservationist of the Lushootseed language, and Bernie Whitebear, a son of the Confederated Tribes of the Colville Reservation, Sinixt Band, who became a renowned activist and a key figure in the occupation of Fort Lawton. Whitebear also co-founded the Seattle Indian Health Board, the United Indians of All Tribes Foundation, and the Daybreak Star Cultural Center.
These films are crystal-clear reminders of the importance of history-keeping – they capture narratives of Native advocacy and activism from the very people who lived them, preserving them as a gift and inspiration to future generations.
Click for Accessibility Info
Ticketing, concessions, cinemas, restrooms, and our public edit lab are located on Northwest Film Forum's ground floor, which is wheelchair accessible. All doors in Northwest Film Forum are non-motorized, and may require staff assistance to open. Our upstairs workshop room is not wheelchair accessible.
The majority of seats in our main cinema are 21″ wide from armrest to armrest; some seats are 19″ wide. We are working on creating the option of removable armrests!
We have a limited number of assistive listening devices available for programs hosted in our larger theater, Cinema 1. These devices are maintained by the Technical Director, and can be requested at the ticketing and concessions counter. Also available at the front desk is a Sensory Kit you can borrow, which includes a Communication Card, noise-reducing headphones, and fidget toys.
The Forum does NOT have assistive devices for the visually impaired, and is not (yet) a scent-free venue. Our commitment to increasing access for our audiences is ongoing, and we welcome all public input on the subject!
If you have additional specific questions about accessibility at our venue, please contact our Patron Services Manager at maria@nwfilmforum.org. Our phone number (206-329-2629) is voicemail-only, but we check it often.
Made possible due to a grant from Seattle Office of Arts & Culture, in partnership with Sensory Access, our Sensory Access document presents a visual and descriptive walk-through of the NWFF space. View it in advance of attending an in-person event at bit.ly/nwffsocialnarrativepdf, in order to prepare yourself for the experience.
NWFF patrons will be required to wear masks that cover both nose and mouth while in the building. Disposable masks are available at the door for those who need them. We are not currently checking vaccination cards. Recent variants of COVID-19 readily infect and spread between individuals regardless of vaccination status.
Read more about NWFF's policies regarding cleaning, masks, and capacity limitations here.
---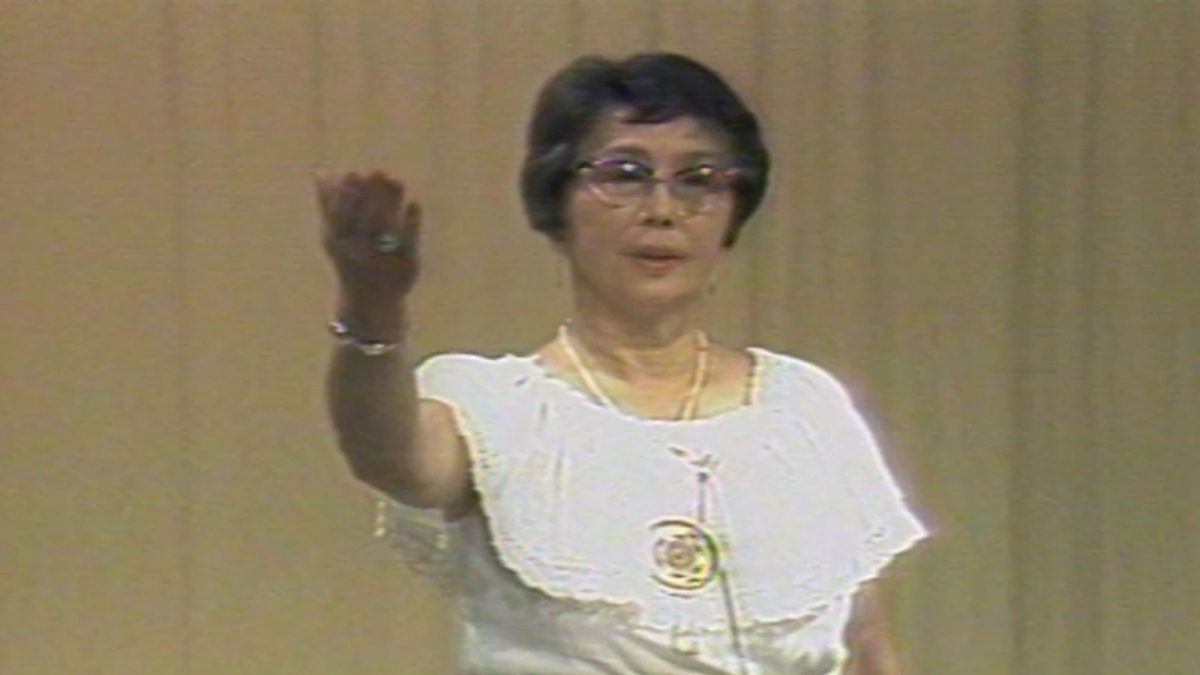 Sharing Legends at Upper Skagit (1985)
Vi taqʷšəblu Hilbert
💐 7/24/1918 – 12/19/2008 💐
Vi Hilbert was a member and noted elder of the Upper Skagit tribe. Her first language was Lushootseed, a Coast Salish language found in the Puget Sound region of western Washington state. During her long and productive life, Vi Hilbert played a major role in the revitalization of the language and culture of the First People of the Pacific Northwest.
She became known as a teacher, storyteller, publisher, and public speaker. For over 40 years she built and maintained a research archive of cultural materials. Working with other scholars, she developed and published teaching materials and volumes of stories through Lushootseed Research, an organization which she founded. Her commitment to preserving Lushootseed language and literature is largely responsible for the renaissance of interest in Lushootseed culture and the growth of tribal language programs all over western Washington.
This footage documents an event organized by Vi Hilbert, featuring storytellers from seven Coast Salish tribes recorded at the Upper Skagit Tribal Center. Produced by Vi Hilbert and Crisca Bierwert for Lushootseed Research. Directed by Pila Laronel, with grant support from the Washington Commission for the Humanities.
Digitization of this videotape at MIPoPS was made possible, in part, by the National Endowment for the Humanities: Exploring the human endeavor.
2005-1.2374, Vi Hilbert Collection, University of Washington Ethnomusicology Archives
Original format: 1-inch Type C

Bernie Whitebear: Modern Warrior (2000)
Bernie Whitebear
💐 9/27/1937 – 7/16/2000 💐
Kurt Feldhun's documentary on Bernie Whitebear, beloved Native American community organizer, features archival interviews and clips of Whitebear and some of his legion of friends, collaborators, and family, including Vi Hilbert, Joe DeLaCruz, Janet McCloud, and others. The film traces his story briskly from childhood, to the 1970 American Indian occupation of Fort Lawton, his contributions to the establishment of the Daybreak Star Indian Cultural Center and the United Indians of All Tribes Foundation, and finally his own meditations on mortality during his cancer treatment.
Digitization of this videotape at MIPoPS was made possible, in part, by a grant from the National Historical Publications & Records Commission.
Item 6625, Record Series 3902-01: Seattle Channel Moving Images, Seattle Municipal Archives
Original format: Betacam SP
---
Additional reading about Bernie Whitebear:
"No one helped more Indians in need in the last century than Bernie Whitebear." – Vine Deloria, Jr., Standing Rock Sioux author
The University of Washington Ethnomusicology Archives (UWEA) is home to the Vi Hilbert Collection. UWEA has been collecting and curating unique ethnographic music recordings for over 50 years. Its holdings of more than 25,000 items include field recordings documenting music traditions of all kinds from most areas of the world, concert recordings of visiting musicians, and films and videos of a variety of musical events, as well as several hundred musical instruments. The Archives serves the students and faculty in the UW Ethnomusicology Program, the broader university community, Pacific Northwest tribes, and an international clientele of musicians, students, and teachers.
The mission of the Archives is to support the goals of the City of Seattle and the citizens of the City by identifying, acquiring, arranging, describing, preserving, and making accessible – for the use of City agencies, scholars, students, and the general public – the records of enduring value created or received by City agencies and elected officials. The Municipal Archives holdings document the history, development, and activities of the agencies and elected officials of the City of Seattle. Strengths of the records include those documenting engineering, parks, urban planning, the legislative process and elected officials. Holdings include over 13,000 linear feet of textual records; 3,000 maps and drawings, 3,000 audiotapes; hundreds of hours of motion picture film; and over 1.5 million photographic images of City projects and personnel. The Archives is open to the public. The holdings of the Archives are public records and are managed in accordance with the Revised Codes of Washington public records law and public disclosure law. For more information on holdings, please refer to the various indexes and guides. Archives staff work with teachers, faculty and students to provide support for use of primary sources in a learning environment.
As an award-winning director, producer, editor, composer, writer and performer, Kurt Feldhun has been involved in a vast range of projects over the past 30 years and has worked with a diversity of world-famous artists.
Feldhun began his career in the entertainment business while attending NYU film school in the 1980's. As cameraman for The Miller Time Concerts on the Pier in NYC, he got to work with artists such as Frank Zappa, Herbie Hancock, Black Uhuru, King Crimson, Crosby, Stills, and Nash, Cyndi Lauper and Stevie Ray Vaughan.
After graduating from NYU, Feldhun was asked to direct a music video for the legendary Bad Brains. The video for the song "Hired Gun" was featured on MTV's 120 Minutes. Clips from the video can also be seen in the highly acclaimed documentary Punk Attitude, directed by Don Letts. Feldhun went on to direct, produce and edit several music videos for artists such as Nocera, Sky Cries Mary, Delesh, and Bitches With Sticks.
Feldhun is also known for his work as a documentary filmmaker. His documentary Bernie Whitebear: A Modern Warrior won the American Indian Film Institute Award for Best Short Documentary. He also co-produced and edited the Emmy-nominated Building One House, a short film about the Red Feather Development Group, an organization which builds houses for Native American elders living in poverty. The film was narrated by Robert Redford and featured the music of Pearl Jam. The documentary caught the attention of Oprah Winfrey, whose Angel Network gave the organization $100,000 and featured parts of the documentary on The Oprah Winfrey Show.
While living in NYC in the late 1980s, Feldhun was also a freelance music journalist and photographer covering the burgeoning rap scene. His interviews with Ice T, Ice Cube, and 2 Live Crew, as well as his photographs of Public Enemy performing at Rikers Island Prison, appeared in music magazines and newspapers around the world.
Feldhun also composes music for film and television. Several of his songs are featured in the documentary The Heart of the Game (Disney/Miramax) and Loaded, a thriller starring Jesse Metcalfe (Desperate Housewives) and Chace Crawford. His music compositions have been used nationally and internationally in film and TV for the following networks: NBC, Bravo, Comedy Central, Discovery, E!, Encore, ESPN International, TruTV, MTV, National Geographic Explorer, Oxygen, OWN, VH1, Palladia, Showtime, Starz, Style Network, Travel Channel and the Movie Channel. Feldhun has also scored pieces for a variety of corporate clients including Microsoft, The Seattle Seahawks, John Deere, Kraft Foods, and The Seattle Times.
As a recording artist, Feldhun's solo album, "The Life and Times of Sugar Daddy Longlegs" hit #6 on the electronic chart on Seattle's KEXP. He also co-wrote, produced and recorded a sultry, downtempo electronica album entitled "From A Horizontal Position" featuring chanteuse Nikol Kollars. The duo called themselves Delesh and released their debut album on Feldhun's own label, Baby Candy Records. Delesh garnered great reviews from The Seattle Times and from Marlene Goldman, a freelance journalist for Rolling Stone Online.
As a performer, Kurt has played in such legendary clubs as the Knitting Factory and CBGB's as a guitarist and song writer for Baby Tapeworm, an NYC punk band. Since then he has been immersed in the music and film industries in New York City, Seattle and Australia. He also plays guitar with hard rock band Bitches With Sticks.
Recently, Feldhun was the director, co-host, editor and composer for the TV show Fishin' Impossible, which aired on ESPN International in 75 countries and on the World Fishing Network (WFN) in the U.S.
Feldhun is currently co-directing a feature documentary on the legendary Flamin' Groovies and continues to compose music for film, TV, commercials, corporate videos and web media.
Ever wonder what kind of video treasures are sequestered in the depths of places like MOHAI, the Wing Luke Museum, or Seattle Art Museum? Moving Image Preservation of Puget Sound (or MIPoPS – pronounced mee-pops) works with your favorite local libraries, museums, and archives to digitize the video treasures hidden in their collections. They have U-matics, Betacam, DVCAM, LaserDiscs, VHS tapes, and more – and MIPoPS has the equipment and know-how to bring those old formats back to life. Founded in 2013, MIPoPS is a tiny non-profit with a large reach. They have partnered with heritage organizations all over Puget Sound to help make the region's video heritage accessible again.
---
📼 Find out more about MIPoPS at mipops.org
📼 Watch past screenings on their YouTube Channel
📼 Browse hundreds of videos they've digitized on their Internet Archive collection
📼 Find them on Twitter, Facebook, and Instagram
---