Moving History – Doris Chase: A Bridge to Awareness [In-Person Only]
This event took place on Feb 27, 2022
$13 General Admission
$10 Student/Child/Senior
$7 Member
⚠️ Public safety notice ⚠️
NWFF patrons will be required to double-mask while in the building. Disposable masks are available at the door for those who need them. To be admitted, patrons ages 5+ will also be required to present EITHER proof of COVID-19 vaccination OR a negative result from a COVID-19 test administered within the last 48 hours by an official testing facility. Boosters are strongly recommended, though not required for entry.
NWFF is adapting to evolving recommendations to protect the public from COVID-19. Read more about their policies regarding cleaning, masks, and capacity limitations here.
⚠️ Sensory advisory ⚠️
Nearly all of these films contain rapidly flashing images and colors which could potentially trigger seizures for people with photosensitive epilepsy. Some of the accompanying music is abrupt, irregular electronic music, briefly punctuated by high, resonant pitches.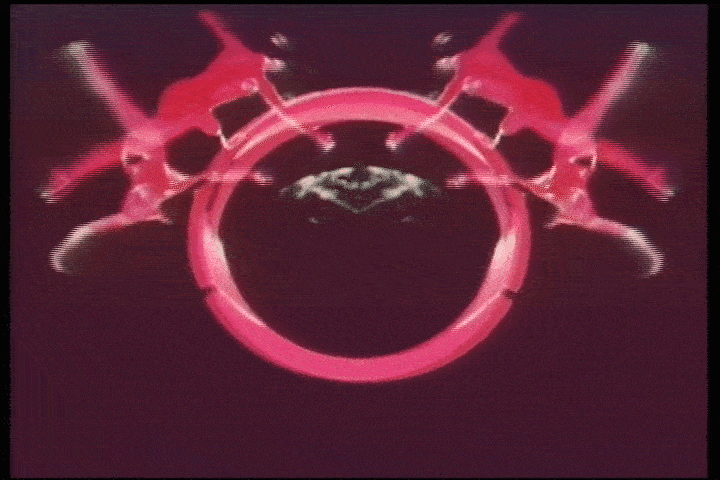 Seattle's own Doris Totten Chase (Apr. 29, 1923 – Dec. 13, 2008) was a pioneer in many artistic mediums, with an openness to exploration and collaboration that grew over the course of a long and inspiring career. Some of her most notable work has been in sculpture (see: Changing Form, in Seattle's Kerry Park, and Moon Gates at Seattle Center) and interdisciplinary video art. The latter makes up the majority of this showcase.
The beginning of her path in the arts was significantly delayed by a series of unfortunate circumstances: as a young wife, her husband was suddenly paralyzed by polio, and she found herself responsible for both his care and that of their two young sons. This trying period greatly shaped her perspective on the tangled relationships and imbalances between work, family, art, and feminism.
As she became increasingly dedicated and adventurous, Chase's work began to clearly express both her values and aesthetic affinities. From subtle and elementally meditative paintings, to quietly harmonious and totemic sculptures which grew in scale over her career, to unexpected interplays of poetry, free jazz, electronic music, and dance with early video art, the nuance of her work deepened continuously as she involved more collaborators. To realize her ideas, she enlisted the help of woodworkers, steel, bronze, and plexiglass fabricators, computer programmers, musicians, video engineers, poets, actors, dancers, and writers. The mutual influence of this growing community of fellow artists, thinkers, and craftspeople created strong, complex artwork.
MIPoPS has been working with UW Libraries, Special Collections to digitize and preserve Doris's oeuvre, and it has been a joy that we can't wait to share at this screening!
** With an introduction by Hannah Palin, Moving Image Curator for UW Libraries, Special Collections **
Additional reading:
For more context, listen to the episode of Beyond Scope and Content: Hidden Histories from the Film Archive that Hannah Palin dedicated to Doris Chase. Hannah is the Moving Image Curator for UW Libraries, Special Collections, and a MIPoPS board member. (Look at your armrest – she may also have donated the seat you're sitting in at Northwest Film Forum.)
A more detailed trace of Chase's artistic path can be found at HistoryLink.org. Below the film program, NWFF and MIPoPS Communications Manager Paul Siple has provided a short summary bio for Chase.

Full Circle: The Work of Doris Chase (1974, 9.5 min) – For the benefit of newcomers to her work, this brief artist profile of Chase traces the arc of her artistic practice from her period of wooden sculpture to her collaborative video art and dance pieces of the '70s. As her compositions grew from hand-worked wooden maquettes into 4-ton steel sculptures, she confidently adapted to the work's growing material demands. Her large-scale sculptures caught the attention of choreographer Mary Staton, with whom she collaborated to produce a sculpture-assisted dance for the Seattle Opera company.
In Chase's words: "I like to work with the choreographer, to a degree, in suggesting how the forms might work, might form as an aesthetic whole or sculpture – and then, of course, I leave them to their own devices. … I create the form in the beginning, and then they transcend it with their motion and their change – and then of course I have to have the last word in putting it on tape and film."
Tall Arches (7 min) – Several monochromatic recordings of the same dance performance are staggered and overlaid with one another, accentuating Mary Staton's languid, ludic choreography. The dancers interact with fluidly movable sculptures designed by Chase, whose nesting-doll character is accentuated both by the choreography and Chase's color separation technique. Accompanied by a synthesized soundtrack by Vito Ricci.
Circles II (1972, 8 min) – No two ways about it – this video is utterly blissful. Dancers and their multicolored reiterations run in joyful circles, slowly cartwheel through space, and pirouette and pose within large sections of cylinders fabricated by Chase. As the number of film exposures and interactions between them reaches peak density, the film segues to a mandala-like perspective, filming dancers from above and mirroring their movements to create a marvelous symmetry
Moon Gates (1974, 6 min) – Bringing together all of the signature elements of Chase's dance films – symmetry, geometry, body-scale sculptures as props, interplays of hue, solarization, and multiple exposure – Moon Gates' captivating flow of color and motion positively vibrates with the energy of its designer, hovering between extravagance and balance.
Rocking Orange (1970-71, 3.5 min) – In one of her several collaborations with Mary Staton, obelisk-like hollow forms rock back and forth as they are shoved, lounged upon, spun, and gently rocked by dancers. Color editions of the dance are once again staggered and overlapped, with the obelisks posed up- and downstage to exaggerate the depth of the composition.
Op Odyssey (1977, 2.5 min excerpt) – With a wonderful combination of confidence, strength, and playfulness, dancers collaborate with Chase's gigantic, crescent-shaped dance props. Valerie Hammer's choreography, taking advantage of the opportunities offered by dancing with a giant letter U, is augmented by subtle superimpositions of multiple camera angles and video feedback.
Dance Eleven (1975, 7.5 min) – This dance makes use of a favorite technique of Chase's: individually de-beaming the red, green, and/or blue color signals to create dramatic color trails. Chase's intention was to capture the unique character and strength of ballerina Cynthia Anderson, who was only a teenager at the time of this recording. Paired with a moody, evocative soundtrack by the great Laurie Spiegel, Dance Eleven inspires meditations on the aura of youth, the embodiment of emotion, and impressions that we leave as we move through the world.
Dance Seven (1976, 4.75 min excerpt) – Marnee Morris performs a solitary dance, surrounded and followed by trailing, flaming video bloom. Chase's contribution in post-production superimposition, compositing, and color video effects never overshadow the intensity of Morris's performance. Even when their vivid colors dominate the frame, the effects dance with, ahead of, or behind the footwork.
Dance Four (1977, 6.25 min) – Kei Takei's ultra-controlled dance combines smooth motion with jerking, self-animating movements that evoke a stroboscopic puppetry performance. For Chase's part, she superimposes and keys together solarized, negative, and psychedelically colorized perspectives on Takei. Both artists take the scale of their movements and effects from the micro of fingertips to the macro of full-frame flurries of color. The overall effect is spectacular. Set to an original free jazz composition by George Kleinsinger, Eric Eigen, and Mike Mahaffey.
Introduction to Doris Chase Sculpture Series 1974–1984 (1984, 7.5 min) – This miniature video portfolio is a strong expression of the intersection of Chase's sculptural practice with her video art. As insistent rhythms center viewers' attention, a series of dramatically lit sculptures by Chase are processed using different video synthesis techniques, creating an unexpectedly seamless blend of the two mediums. Interstitial elements of purely synthetic video augment the series.
Squares (1973, 7.5 min) – Square outlines, organized into nested trios, orbit themselves and one another, dancing against a softly shifting pastel background. Their movements create new dimensionality within the composition, echoing the geometric visual music of Oskar Fischinger.
Circles with Jonathan Hollander (1977, 4.5 min) – This film adds one dancer to an existing Chase piece, Circles: A Computer Film., and replaces its Morton Subotnick score with music by her fellow Chelsea Hotel tenant George Kleinsinger. Stacked circles, floating in space around the silhouette of Jonathan Hollander, undulate in an array of different rotational cycles. Nods in the credits to Rutt Electrophysics and The Boeing Company explain the programmed precision of the background.
Dance Ten, Jonathan and the Rocker (1977, 3.75 min excerpt) – Silhouettes of Hollander join hands with oscillating waves and pointillistic video feedback arrays in a contemplative, intimate dance. Music by William Bolcomb.
Jazz Dance (1979, 4 min) – Video effects distort and extend the movements of dancer Gay Delanghe's outline, propelling her performance from moments of elegant symmetry and composure into clownish cartoons and unexpected moments of pure, abstract, illustrative delight. Music by Uptown Lowdown Jazz Band.
---

About Doris Chase
Seattle-born artist Doris Totten Chase (Apr. 29, 1923 – Dec. 13, 2008) came to art later in life than her self-evident knack for it might indicate at first blush; a veritable storm system of destructively timed misfortune delayed her first steps into her practice. She had dropped out halfway through an architecture degree at UW to marry U.S. Navy Lt. Elmo Chase, and while their home (designed by Chase herself) was under construction, her new husband was paralyzed by polio. Her first son Gary was 3 years old at the time, and she was pregnant with Randy, her second. After six months in the hospital, Elmo recovered, but the intensive home care that he required, compounded by her responsibilities as a mother, pushed Chase's affinity for art to the back burner. This early experience of life's precarity, and the extraordinarily complex expectations placed on women in the context of family, would remain a powerful theme in her art throughout her life.
Deferred dreams began to take root and grow once Elmo returned to work, and affinity became aptitude. Starting with painting, Chase took up an exploratory thread that she would follow for the rest of her life, trying medium after medium as she found her voice in each one. After painting, she applied herself to sculpture, making objects that were energetically powerful, yet spiritually calm. Her scale of work quickly moved from small to large, and from static to kinetic. Many of these objects had a clear formal influence from Pacific Northwest Native iconography and artwork, which fused with her background in architecture, incorporating arches and other essential building forms. Through the design and fabrication process, she became a great collaborator, involving the craftsmen and studios that her visions required.
Two of Chase's largest sculptures, each standing about 15 feet tall, can be found in Seattle parks: Changing Form (1971) at Kerry Park, and Moon Gates at Seattle Center (1999; celebrated with the dedication of June 23 as "Doris Chase Day" in Seattle) Each is a bold expression of Chase's desire to create works that invite "…the body to be involved in actually getting into and onto and through [the sculptures]. I want people to move them; I want them to power them, to pleasure in them, and find that motion and form exist for visual pleasure and visual pleasure alone."
By the time her children had grown up and left home, Elmo had long been able to support himself, and the two divorced. Doris moved into the Chelsea Hotel, where opportunities for collaboration multiplied many times over. She dove ever further into the intersections of experimental video art, dance, and poetry, often working with fellow Chelsea tenants to co-develop and rehearse work in their apartments. In video, Chase finds an ideal medium, with the capacity to integrate many of the themes, performances, and mediums that she had previously explored.
One of her last major projects may be her most-seen, in part because it was so frank, necessary, and relatable, with an unambiguously defined target audience: By Herself, a dramatic series dedicated to giving more dimension to onscreen portrayals of older women. The series of short video dramas centered mature women in emotionally nuanced situations. Among other scenarios, it drew upon Chase's own experience of divorce, a considered decision she made to deepen her relationship with art, expand her perspective, and reclaim her independence. The program was offered to senior centers, with talking points, a moderator, and ample opportunities for audiences to discuss the films in the context of their own life experience. In Chase's words: "…the tapes serve as a catalyst for group discussions … a vehicle for nurturing ongoing intergenerational dialogue in a variety of group settings. By Herself provides role models of intelligent older women while suggesting the possibilities and excitement associated with independence in later life."
Chase spent the last twenty years of her life traveling between Seattle, where she had resumed her sculpture practice, and New York City, where she continued to work on video-related works. She passed away in Seattle from Alzheimer's disease and a series of strokes in 2008.
With a body of work that runs the gamut from ethereally and sensually contemplative, to playful and technologically optimistic, to utterly grounded and serious, it's hard not to find something you love about Doris Chase.
---
About Moving Image Preservation of Puget Sound
---