Neptune Frost [In-Person Only]
$5–25 Sliding Scale (no one turned away; contact rana@nwfilmforum.org)
⚠️ Public safety notice ⚠️
NWFF patrons will be required to wear masks that cover both nose and mouth while in the building. Disposable masks are available at the door for those who need them. We are not currently checking vaccination cards. Recent variants of COVID-19 readily infect and spread between individuals regardless of vaccination status.
NWFF is adapting to evolving recommendations to protect the public from COVID-19. Read more about their policies regarding cleaning, masks, and capacity limitations here.
⚠️ Content warning ⚠️
Police brutality; strobing and flashing lights that may affect photosensitive viewers.
Saul Williams & Anisia Uzeyman
Rwanda & US
2021
1h 45m
Saul Williams will be in attendance for a discussion after the film on Sunday, April 2nd at 7pm!
About
(Saul Williams & Anisia Uzeyman, Rwanda & US, 2021, 105 min, in English, Kinyarwanda, Kirundi, Swahili & French with English subtitles)
** Co-presented with Black Cinema Collective, Meany Center & Wa Na Wari! **

Multi-hyphenate, multidisciplinary artist Saul Williams brings his unique dynamism to this Afrofuturist vision, a sci-fi punk musical that's a visually wondrous amalgamation of themes, ideas, and songs that Williams has explored in his work, notably his 2016 album MartyrLoserKing. Co-directed with his partner, the Rwandan-born artist and cinematographer Anisia Uzeyman, the film takes place in the hilltops of Burundi, where a group of escaped coltan miners form an anti-colonialist computer hacker collective. From their camp in an otherworldly e-waste dump, they attempt a takeover of the authoritarian regime exploiting the region's natural resources – and its people. When an intersex runaway and an escaped coltan miner find each other through cosmic forces, their connection sparks glitches within the greater divine circuitry.
Set between states of being – past and present, dream and waking life, colonized and free, male and female, memory and prescience – Neptune Frost is an invigorating and empowering direct download to the cerebral cortex and a call to reclaim technology for progressive political ends.
Synopsis and stills courtesy of Kino Lorber.

"A mesmerizing Afropunk odyssey hacking at the boundaries of gender, technology, and class." – Toussaint Egan, Polygon
"A percussive, transcendental Afrofuturist musical… sounds out with force and clarity." – Charles Bramesco, Little White Lies
"The future of Black film. Pure cinematic power." – Jourdain Searles, The Hollywood Reporter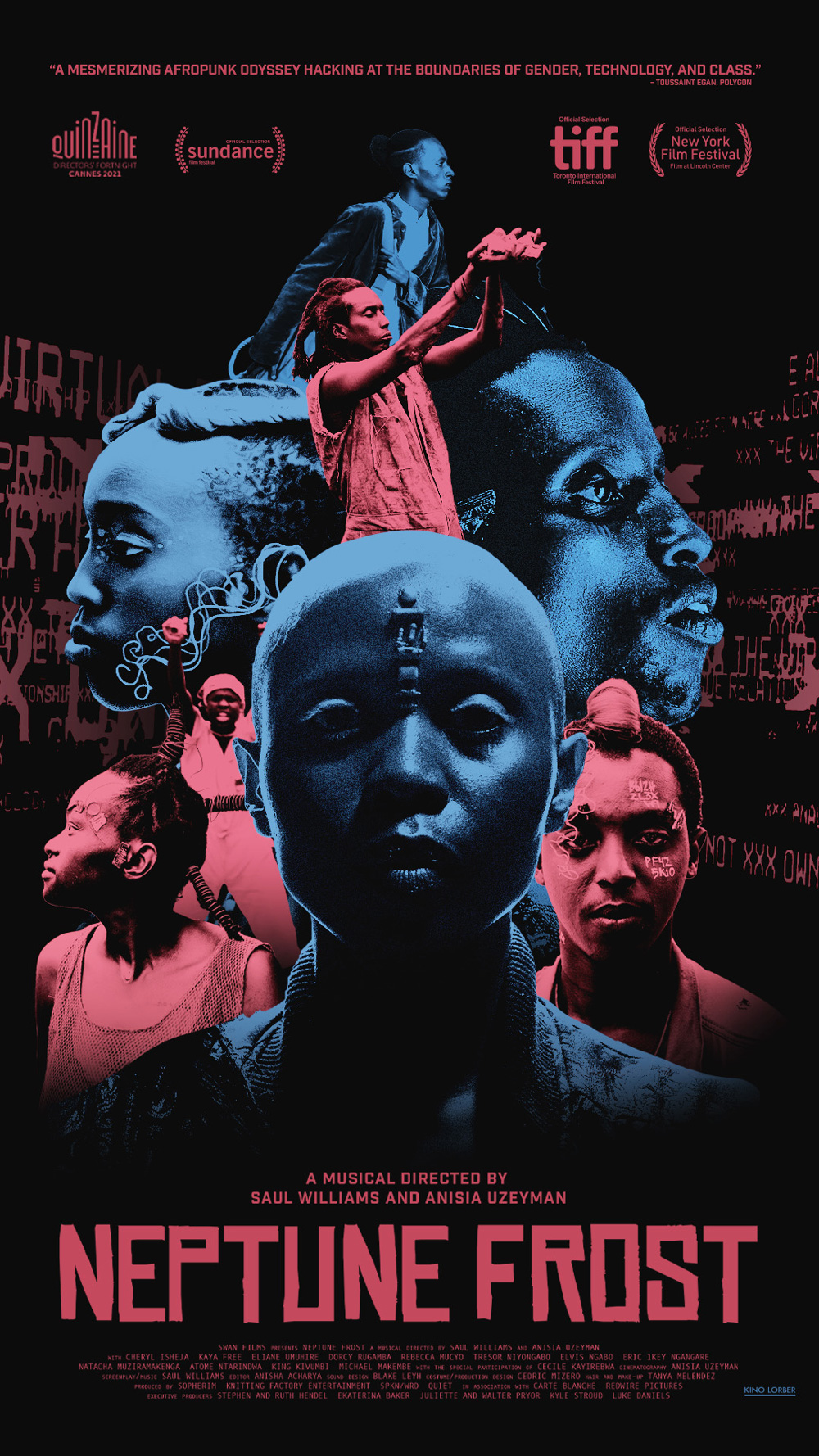 About Saul Williams
(Composer, Co-Director)
Saul Williams is an American poet, musician, and actor. He made his acting debut in Marc Levin's Slam, which he co-wrote. The film won Sundance's Grand Jury Prize and the Cannes Camera D'Or in 1998. Saul was a series regular on Girlfriends and has appeared in films including: K-Pax, Lackawanna Blues, New York, I Love You, Akilla's Escape (TIFF 2020) and Aujourd'hui- TEY (Alain Gomis) which won 2013's L'Etalon D'Or at FESPACO. Saul was the first African-American to win Best Actor at the festival. TEY was also awarded The Prize of the City at Venice. In 2014, Saul made his Broadway debut as the lead in Holler If Ya Hear Me, based on the lyrics of Tupac Shakur. Saul has published five books of poetry which have been translated into several languages. As a musician, Saul has released six albums and toured and collaborated with artists including: Nas, Janelle Monae, Nine Inch Nails, Rage Against The Machine, The Roots, Mos Def, Allen Ginsberg, Amiri Baraka, Gil Scott-Heron, TV On the Radio, Blackalicious, and Erykah Badu.

About Anisia Uzeyman
(Co-Director)
Anisia Uzeyman is an actress, playwright and director. Born in Rwanda, she studied drama at the Superior School of Theater in France. Her directorial debut Dreamstates was shot entirely on iPhones and starred Saul Williams, William Nadylam and Beau Sia. The film premiered at the LAFF in 2016. She has also directed numerous music videos. As an actress Anisia has starred in, among others, the award winning film Aujourd'hui-TEY where she met Saul Williams, and the feature film Ayiti Mon Amour by Guetty Felin which premiered at TIFF 2017. Her first book, a poetic treatment of her original screenplay Saolomea, Saolomea was published by Not a Cult this past Fall.
---