NEWCOMER: A Seattle Hip-Hop Mixtape [Online]
View this title free of charge, from
Nov. 12 – Dec. 6, 2020
Gary Campbell
US
2020
1h 22m
About
** Official Selection: 2020 New York Hip-Hop Film Festival (New York, NY), 2020 Golden Sneakers International Hip-Hop Film Festival (Hamburg, Germany) **
In honor of Hip-Hop History Month, this November 2020, Northwest Film Forum, 206 Zulu, and Crane City Music present a four-week online run of NEWCOMER: A Seattle Hip-Hop Mixtape. The film is an intimate introduction to Seattle's vibrant hip-hop underground, assembled from hundreds of tiny performance clips into a single, continuous concert mosaic. In 82 minutes, enjoy a perfect year of concerts for a year without concerts.

Seattle and Tacoma musicians in the film include:
52Kings, AJ Suede, Alex Cade, Amp Fire, Archie, Bari Bux, Blake Anthony, Blimes Brixton, Blksknn, Blossom, Bruce Leroy, Bujemane, C.Dubb, Carlarans, Charlie Cash, Chong The Nomad, Crockett King, D.Mikey, Da Qween, Dave B, Def Dee, Dex Amora, DJ Marvelous, DoNormaal, Eazy Eq, Falon Sierra, Gemm Forza, Gifted Gab, Greg Cypher, Hezza Fezza, Hi-Def, The Hollerables, Isabella Du Graf, Jake One, Jarv Dee, Jay Park, Julie-C, Jusmoni, Justin Hale, K-Due, Kassa Overall, Khris P, King Youngblood, Koga Shabazz, Kung Foo Grip, Language Arts, Laro$a, Leo Shallat, Lil Mosey, Lovely, Macntaj, Micstro, Mirrorgloss, Mr. Hentvii, Nate Jack, Ness Divine, New Track City, Nic Masangkay, Nice&AO, Noah, Nobi, OCNotes, Perry Porter, Ralph Redmond, Rasheed Smiley, Rave Holly, Razberry Beretta, Remember Face, Rik Rude, Rocket Tha Prophet, Romaro Franceswa, Samurai Del, Sango, SassyBlack, Seaan Brooks, Seven Da Pantha, Shorty Fresco, Silas Blak, Sir Mix-A-Lot, Slabs, Specswizard, Stas Thee Boss, TezaTalks, Topspin, Tré Ross, Tyler Swan, Vitamin D, Wishbaby, Wizdumb, Xave Zelda, Xperience, and Zensei.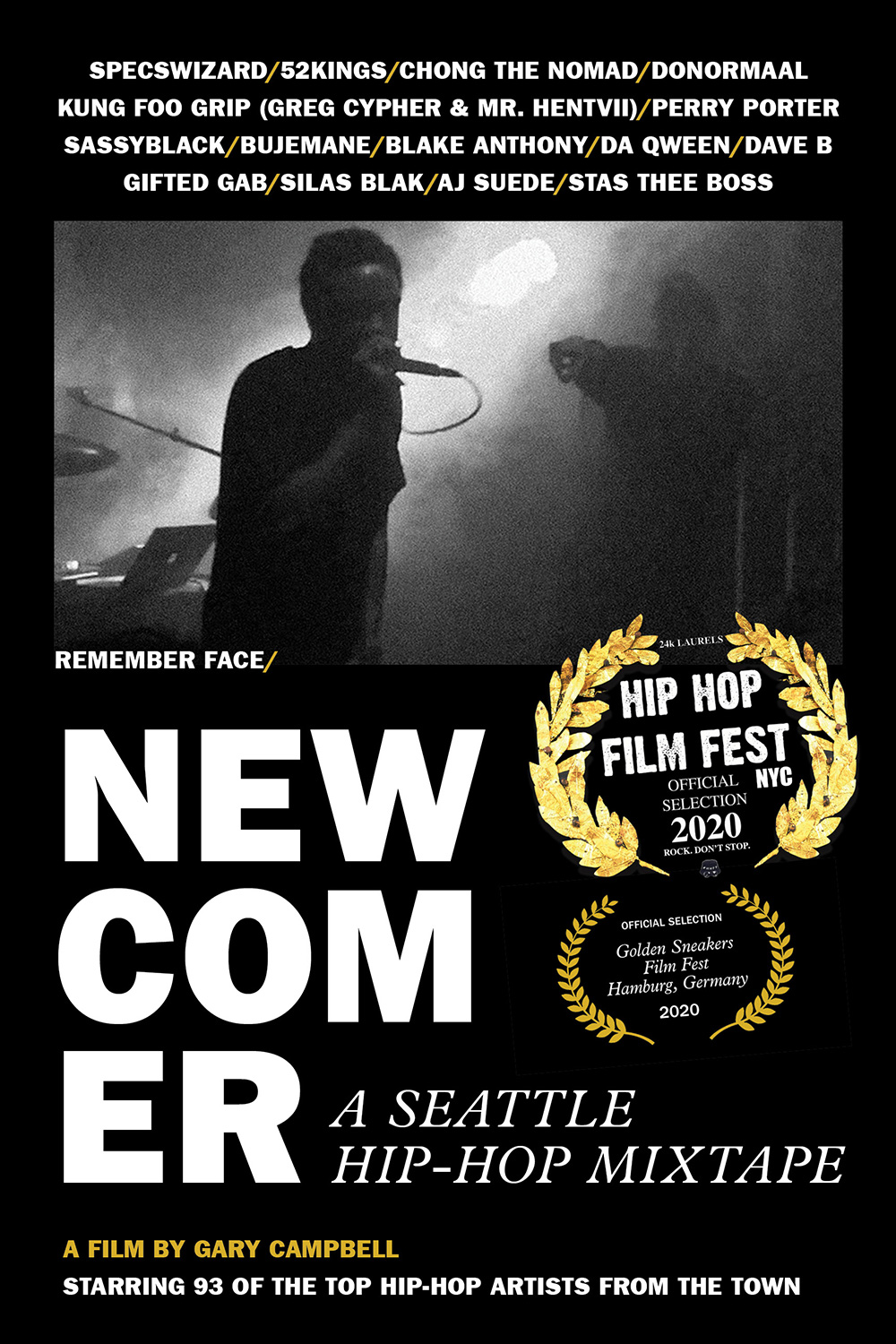 Praise for NEWCOMER:
"The fly-on-the-wall perspective places you in the audience as you bounce from one Seattle music venue to the next… The abstract, avant-garde vibe of the visuals takes over the screen and you forget you're watching candid footage captured on a cellphone." – Respect My Region
"For whatever reason, Seattle's hip-hop scene remains one of the most slept-on rap scenes in the nation, regardless of the fact that it's also one of the most diverse, talented, and in a lot of cases, formally daring. Gary Campbell applies his filmmaking prowess to document our bustling landscape of hip-hop artists, including Bruce Leroy, Chong the Nomad, DoNormaal, Perry Porter, and so many more." – KEXP
About the team:
NEWCOMER was shot and edited by Canadian multimedia artist, journalist, and filmmaker Gary Campbell. For the past eight years, he's been documenting the distinctive hip-hop culture of the Pacific Northwest through writing, photography, video, 'zines, and events. He's the Creative Director of the Crane City Music collection, an essential listening library of Seattle hip-hop on wax. His debut feature, NEWCOMER: A Seattle Hip-Hop Mixtape, was collaged from hundreds of tiny performance clips originally shot on iPhone and posted on Instagram.
Audio post-production for NEWCOMER was done by Grammy Award Winner Inaam Haq. His credits include work with Bruno Mars, Mark Ronson, Rihanna, Justin Bieber, Ed Sheeran, and Ludacris.
***
Monday, Nov. 16th @ 6:30pm, Gary Campbell will discuss his film and the editing process at NWFF's monthly spotlight and mixer event The Get Together. Read more and register free here.
---