Nocturnal Emissions – Good Manners (As Boas Maneiras) [Online]
Special Screening: Sep. 4 at 7:00pm PDT

Or view it on-demand any time
Sep. 5–13, 2020
Sliding scale admission: $0–25.
Please pay what you can; proceeds support Nocturnal Emissions and Northwest Film Forum!
---
Northwest Film Forum is SCREENING ONLINE! NWFF's physical space is temporarily closed in light of public health concerns around COVID-19, but community, dialogue, and education through media arts WILL persist.
• • HOW TO WATCH • •
Purchase a ticket through Brown Paper Tickets.
Your email receipt from Brown Paper Tickets will contain a link and password for viewing, under "Ticket Details". (Don't see it? Check your spam filter.) The password will expire at midnight PDT on the last date of the screening.
Don't forget: opening night ONLY, there will be a live watch-along / Twitter trivia stream with Nocturnal Emissions hostess Isabella Price! Details below.

If you encounter any issues logging in, please contact louie@nwfilmforum.org for a quick follow-up. (But please, check your confirmation email!)
Juliana Rojas & Marco Dutra
Brazil & France
2017
2h 15m
Opening night ONLY – Friday, Sep. 4 at 7pm PDT – The premiere screening features an exclusive pre-show reel of classic werewolf movie moments and trailers highlighting the history of Brazilian horror, as well as a live Twitter stream of werewolf trivia presented by Isabella herself via @NocEmiss and #NocturnalEmissions.
Every virtual screening of GOOD MANNERS will feature a special introduction by Mistress Isabella and her "faithless" manservant as well as a post-film conversation with directors Marco Dutra & Juliana Rojas.
Throughout the run of the film, we'll also be accepting submissions for a special DIY werewolf costume contest with a random, weird prize box awarded to one winner selected by Seattle's shape-shifting sex symbol, Isabella L. Price! Tune in to the show for details on how to enter.
About
Filmmakers Juliana Rojas and Marco Dutra's second collaboration (after the acclaimed Hard Labor) deftly integrates art-house and genre cinema to create a thrilling and dark gothic fable with sharp social commentary.
Set in São Paulo, the film follows Clara, a lonely nurse from the outskirts of the city who is hired by mysterious and wealthy Ana to be the nanny of her soon to be born child. Against all odds, the two women develop a strong bond. But a fateful night marked by a full moon changes their plans.
With powerful visuals and an impeccable cinematography (by Zama's Rui Poças), Good Manners is Disney meets Jacques Tourneur. The film becomes an unexpected and wild werewolf movie unlike any other, and a poignant social and racial allegory on modern-day Brazilian society.
Synopsis and images courtesy of Distrib Films US.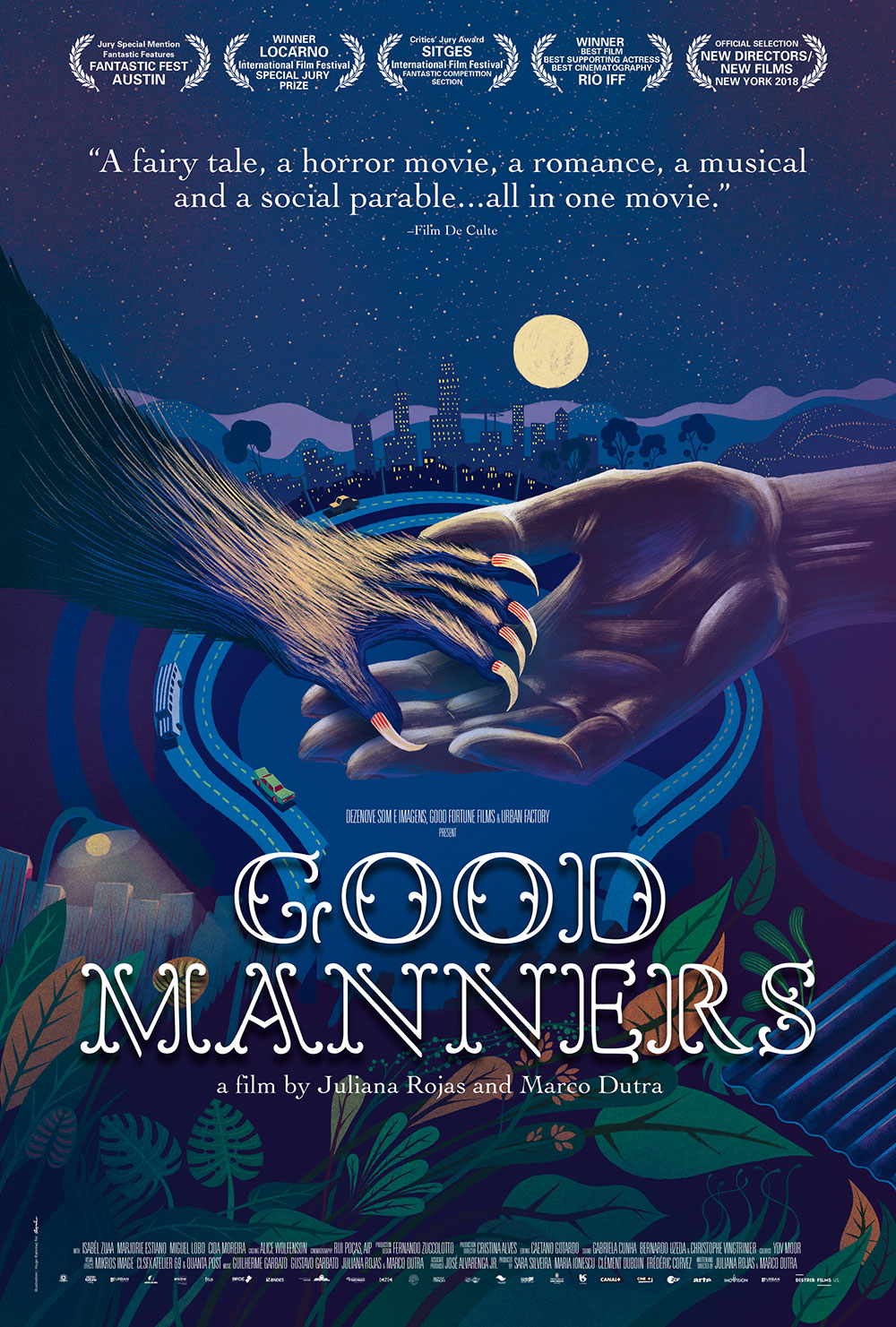 ---

About your host:
Isabella L. Price is a filmmaker, writer, costume designer, podcast host, burlesque performer, and horror film aficionado who currently runs Seattle's only paranormal radio show, Nocturnal Emissions, on Hollow Earth Radio 104.9 FM. Price has held panels and presentations focusing on genre film at conventions like Crypticon, Emerald City Comic Con, GeekGirlCon, PAXWest and New York Comic Con.

---