The Novelist's Film (소설가의 영화) [In-Person Only]
This event took place Dec 14 - Dec 18, 2022
$13 General Admission
$10 Student/Child/Senior
$7 Member
⚠️ Public safety notice ⚠️
NWFF patrons will be required to wear masks that cover both nose and mouth while in the building. Disposable masks are available at the door for those who need them. We are not currently checking vaccination cards. Recent variants of COVID-19 readily infect and spread between individuals regardless of vaccination status.
NWFF is adapting to evolving recommendations to protect the public from COVID-19. Read more about their policies regarding cleaning, masks, and capacity limitations here.
Hong Sangsoo
South Korea
2022
1h 32m
About
Junhee (Lee Hyeyoung, last seen in Hong's In Front of Your Face) is a novelist who's grown disenchanted with her own writing. On a trip to see an old friend, she runs into a film director who was set to adapt one of her novels before the project fell through. One chance encounter leads to another and soon she finds herself having lunch with Kilsoo (Kim Minhee), a well-known actress who's also questioning her role as an artist. It's then that Junhee has an epiphany: she will make a film starring Kilsoo. It won't be like other films. It will be the novelist's film.
For his 27th feature, Hong holds a mirror up to his own artistic process and asks what exactly it is we're looking for from a work of art. As his characters discuss their lives and work and the ways they intertwine, Hong sets down a sort of manifesto for his own inimitable oeuvre before exploding it (or perhaps fully realizing it) in a moving final flourish. With sparkling performances from Lee, Kim and an incredible cast of Hong regulars, The Novelist's Film is a summation of Hong's career-long artistic project, even as it signals bold new directions.
Synopsis and images courtesy of Cinema Guild.
"As close as Hong as come to dramatizing his own process." – Dennis Lim, Tale of Cinema
"One of the director's sweetest films, registering ultimately as a touchingly sincere tribute to his life in filmmaking, and to love discovered through art-making." – Matt Turner, Little White Lies
"[Hong's] most openly emotive and personal filmmaking to date… palpably life-affirming." – Joshua Minsoo Kim, In Review Online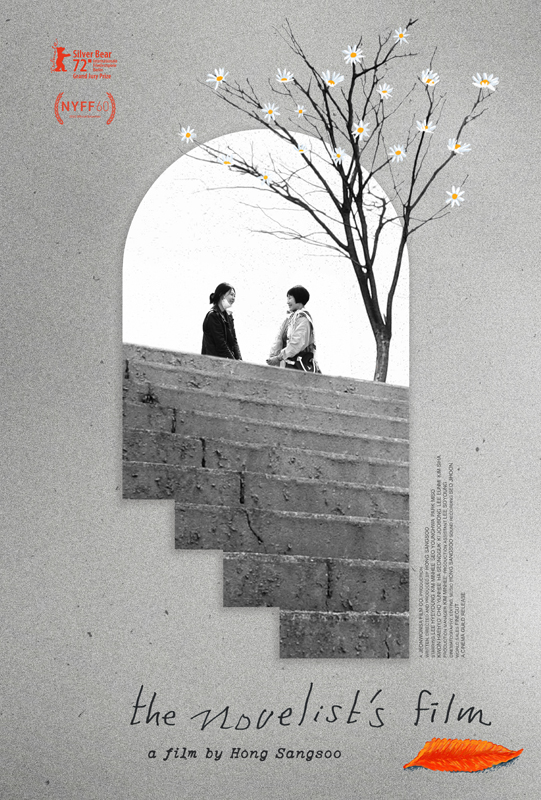 ---