Pr0n 4 Freakz 2019
Sat Dec 08 +
Thu Feb 14 +
Sat Apr 13 +
Sat Jun 15
6.00–9.00pm
Price: Pay what you can, in tiers from $5–25
highest tier comes with sexy Polaroids as door prize
limited tickets per tier
tickets may be purchased in advance or day-of
** No one under 18 will be admitted to this screening series! **
About
Welcome to a Trans/Queer Smut Screening Event Series!
Revelations of the Beast is a campy, magic-filled queer porn. A pair of park rangers falling for each other are swept up by otherworldly energy. Will they find the source before their relationship and workplace are overtaken by mystical forces?
Each night starts off with a sexy witchy market and social, followed by a screening, featuring premieres from ScumTrust, Lyric Seal, and more. The night will be rounded out by a Q+A after the screening featuring queer porn filmmakers and performers centering the procedures, ideas and creative process behind making erotic films.
The events in April and June will premiere new ScumTrust short films as well as showing other queer artists' erotic short films. At the final June event, Jiz Lee and Louise Shine Houston of Crash Pad/PinkLabel TV will join us for the screening.
These interactive screenings will be hosted and facilitated by Isha Lynde, Saira Barbaric, Lyric Seal and Alistair Fyrn – all of whom are trans and/or queer and the majority of whom are black. This crew of local creatives, workers and artists are curating and cultivating a steamy, thoughtful and fun evening of queer erotica!
This event series is dedicated to building community while fostering inclusive, accessible dialogue around sex, gender, sexuality, magic, porn, and queer bodies.
---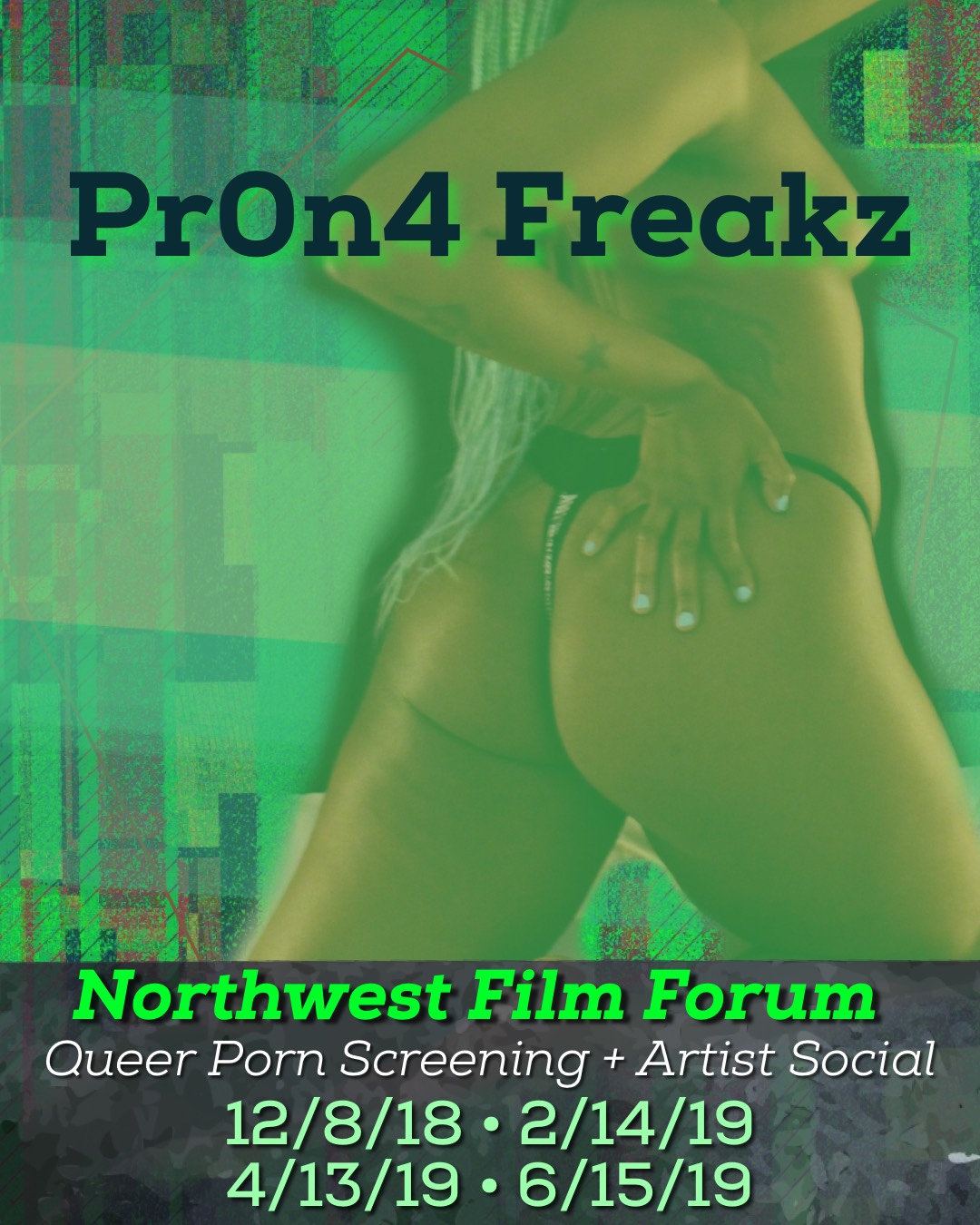 ---
Schedule for each event:
6 – 7pm || Market + Mingle
7 – 8:30pm || Shorts Screening
8:30 – 9pm || Talkback
---
Uiara: River Monster ~5 min.
Alistair Fyrn plays professor Augustine Frye, a curious professor who set out into the deep woods seeking to lay eyes upon a mythical river mermaid, the Uiara (played by Saira). Little does he know that the creature has always yearned for a human lover to keep and today is its lucky day. Augustine is going to get sucked right into the Uiara's depths.
Revelations of the Beast – Vol. 1 ~15 min.
In the first segment of ScumTrust feature film, with Saira Barbaric as Riya and Isha Ali as Neptune, Riya and Neptune go about their day as park rangers, flirting with one another and engaging in a good ol' fashioned round of heavy petting and tit torture. As they make out, supernatural forces take hold of their desire and they lose track of time and space.
Veteran CrashPad performers Lyric Seal and Vai finally fulfill their fucking destiny by fucking each other. (Vai was Lyric's intended CrashPad first). While there is no explicit verbal narrative, watch and listen closely, because these forest creatures are performing a healing and cleansing ritual of epic proportions. Nettles hurt a lot but sometimes, you are rewarded with flowers. Directed by Shine Louise Houston, more info on crashpadseries.com
Daylight Delight with Mia Secreto ~10 min.
Xöe and Mia have a spontaneous meeting through friends and what starts as a cute, innocent joint-sharing blossoms into something more sensual.
Coven Compilation 1 ~11 min.
This short compilation featuring Alistair Fyrn, Saira Barbic and Drew Honey takes a sweet moment to show these witchy queers enjoy themselves and each other. With stone and metal toys as well as vibrators and quirky paddles, this coven celebrates each other in a luscious way.
Training of Poe, excerpt ~20 min.
Chelsea Poe embarks on a journey to deepen her relationship with submission and pain through a weekend with Mistress Bella Vendetta.
A Sunday Hike ~15 min.
ScumTrust Productions' first short film and a 2017 HUMP selection with an original score by K.Hudson. In this nonspeaking short film, Saira Barbaric plays a woodland coven leader and Alistair Fyrn, an unsuspecting hiker who settles in the wrong part of the forest. How will Alistair possibly get free of the witches clutches? Does Alistair even want to?
White Fur ~5 min.
Directed by Lyric Seal (Neve) with cinematography by Nikki Silver is a luscious award winning short (Best Short, TIPF, Judges Pick, EB XPress Briefs') which has toured around the world numerous times since 2015, charming audiences with its lurid, deft, yet fond take on service and power. Also, there are puppies.
Xöe's Visit with Ero Rose ~15 min.
Xöe travels to visit Ero for the first time after weeks of flirting online, and while they are staying together things get heated up quickly. Hot, sweaty, unbridled encounter between two gorgeous non-binary babes.
Rumor between Bros ~15 min.
A smoke session between bros get personal and intimate, starring Saira B and Alistair Fyrn.
Fucking Against Fascism excerpt – feat. Chelsea Poe ~10 min.
Chelsea Poe will hypnotize and seduce you in the slippery and sexy solo short, shot by Courtney Trouble. Be ready for water, dildos and latex.
Dinner Date 1 ~20 min.
Drew Honey is new to Saira Barbaric's house of kink play. They'll get thoroughly introduced on their first date together.
Birthday ~6 min
By Shine Louise Houston
A dreamy moment in a queer couple celebrating a sexy birthday featuring masturbation, voyeurism, and pissing.
Venus in Scorpio ~3 min
By Evie Snax
Made in collaboration with Luzifer Priest for unveilandunravel.com. A sensual dance between black elegance and natural rawness featuring a snake via Dylan Kordani and self worship.
Oral Fixation ~3 min
By Kenzi Cras
A tableau of cute babes and nasty mouths. Featuring food play, oral play and object play.
Dinner Date 2 - Pig Roast ~18 min
By Scumtrust
The second episode in Scumtrust's messy, romantic, silly domestic kink series. Featuring food play, fingering, strap-ons, rope bondage, impact play, dick sucking and wet cuties.
1-800-Keep-It-Spicy ~5 min
By Evie Snax
 Is your love life getting boring? Let these seductive scorpios show you how to spice it up! Featuring funny infomercial vibes and threesome intimacy.
Brunch on Bikes ~3min
By Ethan and Ty
Freshly-fucked foodies dial up a special delivery. A film by Ethan Folk and Ty Wardwell, featuring dot bat and Torian, with music by Jeans Team, camera by Noam Gorbat, and dolly by Yoav. Featuring fucking and the confluence of food play and anal retention.
Goddess Venus ~11 min
By Scumtrust + Venus Selenite
Kick back and enjoy a voyeuristic moment with Venus in the woods as xe pleasures xemself. Featuring smoking, solo masturbation, pissing.
Xoe + Pipe's First Sex Tape ~17 min
By Black Pipe + Xoe Nova, shot + edited by Laura Corinn
See these two babes going at it for the first time featuring oral sex, penetrative sex and fingering.
Dear Babe ~3 min
By Ethan and Ty
This penpal's ink doesn't flow until the arrival of a couple horny houseguests. A film by Ethan Folk and Ty Wardwell feat. Layton Lachman and Ace with music by Kool Toad.
Worship Them ~24 min
By Scumtrust
 A new member is joining the coven. Watch as their inducted into the realm of earthly witchcraft featuring toe sucking, mud wrestling, oral sex, group sex.
---

Mx. Saira Barbaric
Mx. Saira Barbaric is a genderpunk enby bully, a surrealist slutmonster and multimedia artfag. Whether wrestling, filmmaking or partying, Saira loves excess and savors every step to get there.

Alastair Fyrn
Alastair Fyrn is a multifaceted creator and filthy mucky pig often to be found amongst rocks and upon mossy hillsides. Rolling in the dirt, not breathing, being inspired by emotions and a solid paddling are a few of their favorite things.
---

Lyric Seal
Lyric Seal is a myth, an important invention of the imagination of Neve Be. They are the final girl of the beautiful horror landscape that is sexual healing. Dancer, singer, writer, porn actor, and presenter, they are a veteran favorite performer on CrashPadSeries created by Shine Louise Houston, and played a supporting lead role in Houston's most recent feature length film, Snapshot. They have also starred in numerous queer porn scenes and scenarios since 2012, including Naughty Natural, Trouble Films, and several self made art films. Seal was a staff writer for Harlot Magazine 2015-2016, and was published in Jiz Lee's anthology, Coming Out Like a Porn Star, through threeLmedia. Lyric Seal is currently resting without their batteries, while their inventor blooms and grows and heals, though they are slated to make their return to the slick silver screen via ScumTrust Productions, the graphic arm of PlayThey Studios, of which their creator is a director. Lyric Seal exists predominantly in the ethosphere, on Instagram and Twitter @lyricsealxxo. Contact Lyric at lyricsealxxo@protonmail.com

Jiz Lee
Jiz Lee is the Marketing Director of Pink & White Productions, managing its distribution, affiliate program, crowdfunding campaigns, and more. An actor and producer with a non-profit arts administration background, Jiz has almost 20 years of experience using free and creative strategies to get the most mileage from shoe-string budgets. Their work and advocacy in the industry is driven by a desire to expand what's possible in adult film by empowering marginalized adult film creators with the tools to succeed. Follow them online at www.JizLee.com
Photo credit: Toronto International Porn Festival

Shine Louise Houston
As the founding producer and director of Pink and White Productions, (CrashPadSeries.com, PinkLabel.tv), Shine Louise Houston has always had unique vision. Graduating from San Francisco Arts Institute with a Bachelors in Fine Art Film, her works have become the new gold standard of adult cinema. During a five year position at the women-owned, sex toy purveyor Good Vibrations, Shine recognized an underserved demand for an alternative to mainstream pornography, and began to create well-crafted queer made porn. Shine's films have been recognized among the next big wave of women-produced porn and have been internationally screened from Amsterdam to New Zealand.
Photo credit: CrashPad Series

Xöe Nova
Xöe Nova is an artist, model and independent porn performer. They love books, writing poetry, taking Polaroids and making erotic films. They are especially passionate about challenging rigid ideals surrounding sexuality, body positivity, and what it means to be a queer gender non-conforming person of color today. Find them on xoenova.findrow.com and patreon.com/xoenova plus Twitter and Instagram @xoetrope

Isha Ali
Isha Ali wants you though it's doubtful that you can satiate them. Isha is an experience likely to cause primal humping ecstasy and disconnection from the space-time continuum.
---

Nomihelene
Nomihelene specializes in one of a kind, handmade adornments, jewelry, and collars with a distinct, individualized, alternative spin. Wearable art constructed from recycled materials and vintage findings.
---
ScumTrust is a collection of queer, trans & nonbinary monsters in pursuit of exhibiting their inner demons, embracing surreal darkness and exploring woodland mythologies. They seek to probe the depths of power dynamics and to show the transformative magic of joyous bizarre BDSM. They celebrate the lusty, the grimy, the ridiculous, the gritty, and the grotesque.
---