Recorder: The Marion Stokes Project w/ BLKNWS
This event took place Jan 31 - Feb 6, 2020
$13 General Admission
$10 Student/Child/Senior
$7 Member
About
** Co-presented with Moving Image Preservation of Puget Sound! **
For over 30 years, Marion Stokes obsessively and privately recorded American television news twenty-four hours a day. A civil rights-era radical who became fabulously wealthy and reclusive later in life, her obsession started with the Iranian Hostage Crisis in 1979—at the dawn of the twenty-four hour news cycle. It ended on December 14, 2012 as the Sandy Hook massacre played on television while Marion passed away. In between, Marion filled 70,000 VHS tapes, capturing revolutions, wars, triumphs, catastrophes, bloopers, talk shows and commercials that show us how television shaped the world of today and in the process tell us who we were.
A mystery in the form of a time capsule, Recorder delves into the strange life of a woman for whom home taping was a form of activism to protect the truth (the public didn't know it, but the networks had been disposing their archives for decades into the trashcan of history) and though her visionary and maddening project nearly tore her family apart, her extraordinary legacy is as priceless as her story is remarkable.
Description courtesy of Zeitgeist Films.
Pictured: Marion Stokes in Recorder: The Marion Stokes Project, directed by Matt Wolf. Photo credit: Eileen Emond.
—
"Outstanding… An information revolutionary, Stokes, despite her decades of isolation, touched the nerve center of the times." – Best Films of 2019,  New Yorker
"Weirdly exhilarating… Enlightening and the stuff of madness." Critic's Pick – New York Times
"The Information Age has found a startling, eccentric heroine in the subject of Matt Wolf's eye-opening documentary." – LA Times
"Matt Wolf's remarkable Recorder uses Stokes' recording obsession as a way to explore both Stokes herself and the world she literally committed to video tape. The results are fascinating, weird, and often quite moving." – Indiewire
"Intriguing from first minute to last… Relating this stranger-than-fiction tale with the narrative twists and turns of a well-paced thriller, Recorder will make news junkies feel a lot better about themselves." – Hollywood Reporter
"Utterly compelling and beautifully textured… A thrilling portrait of a woman collecting the history of the world as she lived through it through the very media we all engaged with, this is a powerful and truly important documentary feature." – CriterionCast
"Recorder quietly seeds damning observations about the ways media narratives are formed, and how the shapers of these narratives distort the truth and our worldview." – Flixist
"Marion's life makes for a pensive, complicated romantic tragedy." – Nonfics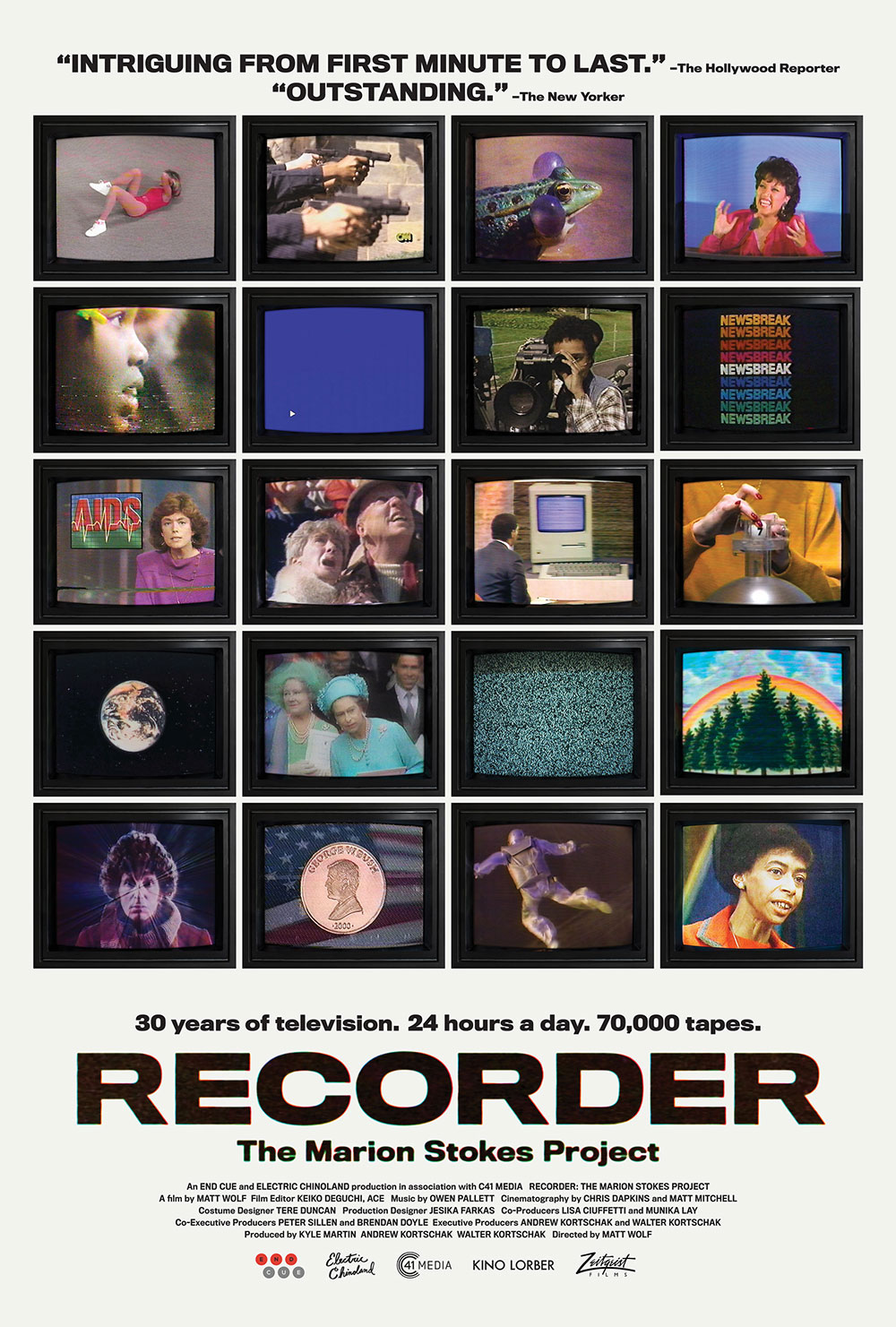 Screens with a short segment from the Kahlil Joseph project BLKNWS
BLKNWS is an ongoing project by artist and filmmaker Kahlil Joseph that blurs the lines between art, journalism, entrepreneurship, and cultural critique. As an artwork, BLKNWS has exhibited at The Underground Museum in Los Angeles, across Stanford University in Palo Alto, and was an anchoring work at the 58th Venice Biennale. For art house and theater screenings in conjunction with Sundance, BLKNWS is presented in a condensed form that nods to Pathé News (now British Pathé) newsreel series that traditionally aired ahead of film screenings in the 1900s. Responsible for conveying current events and interests specific to their moment in brief, multi-story cycles, these Pathé newsreels blurred news with propagandist uplift during both World Wars. BLKNWS appropriates the newsreel format as an opportunity to reimagine the contemporary cinematic experience, mixing an element of seriousness with a lighthearted upending of expectations of what news can be.
---