SJFF 2022 – BLOCK 12 – You are Your profile [Hybrid]
Watch online: Sep. 28 – Oct. 2

Watch in person: Oct. 2 at 4:30pm
In-person tickets
$13 General Admission
$10 Student/Child/Senior
$7 Member
Virtual tickets
$5 – $25 Sliding Scale
$50 – $125 Sliding Scale
Festival Passes grant access to BOTH virtual AND in-person film programs!
Individual Tickets are available, as well, but are for EITHER virtual-only OR in-person-only access.
Click for Accessibility Info
Ticketing, concessions, cinemas, restrooms, and our public edit lab are located on Northwest Film Forum's ground floor, which is wheelchair accessible. All doors in Northwest Film Forum are non-motorized, and may require staff assistance to open. Our upstairs workshop room is not wheelchair accessible.
We have a limited number of assistive listening devices available for programs hosted in our larger theater, Cinema 1. These devices are maintained by the Technical Director, and can be requested at the ticketing and concessions counter. Also available at the front desk is a Sensory Kit you can borrow, which includes a Communication Card, noise-reducing headphones, and fidget toys.
The Forum does NOT have assistive devices for the visually impaired, and is not (yet) a scent-free venue. Our commitment to increasing access for our audiences is ongoing, and we welcome all public input on the subject!
If you have additional specific questions about accessibility at our venue, please contact our Patron Services Manager at cris@nwfilmforum.org. Our phone number (206-329-2629) is voicemail-only, but we check it often.
Made possible due to a grant from Seattle Office of Arts & Culture, in partnership with Sensory Access, our Sensory Access document presents a visual and descriptive walk-through of the NWFF space. View it in advance of attending an in-person event at bit.ly/nwffsocialnarrativepdf, in order to prepare yourself for the experience.
NWFF patrons will be required to wear masks that cover both nose and mouth while in the building. Disposable masks are available at the door for those who need them. We are not currently checking vaccination cards. Recent variants of COVID-19 readily infect and spread between individuals regardless of vaccination status.
Read more about NWFF's policies regarding cleaning, masks, and capacity limitations here.
You are Your profile - personal considerations when online
(Jerry de Mars, US, 2022, 50 min, in English)
In this film we follow a number of personal stories of young people living in a city, and the sacrifices and considerations that go into their being active on the Internet. We are all active online in today's more and more connected society. However, are we aware of the considerations we make when interacting with others and logging on to online platforms? How do we deal with the wrongdoings that might befall us online? Are we aware of what exactly is happening with our personal data, and is it in our control? This film addresses digital human rights, which will become more and more important to protect our privacy and dignity in a digital world.
This film is part of the growing documentary project with a focus on the importance of being able to control your own personal data online. Gradually, almost every person's life becomes connected to the Internet, and they use it in their daily lives. But how aware are we about the personal data we share when we are connected to the Internet? For people this might have safety implications and it can harm our wellbeing and dignity. This film has the aim to enlighten and to debate openly the future of our lives in a more and more online connected society.
You are Your profile – personal considerations when online follows the stories of several (young) people with a focus on their personal experiences, how they dealt with the (mis)use of (their) personal data and what implications it has/had in their lives. One of the focuses is on how personal data can suddenly be misused by someone else, for example, by blackmail, scams or sextortion. Besides a number of 'negative' stories we will also highlight less negative stories that contemplate about the future of the Internet and how to be active online. YaYp will showcase considerations made in the past leading towards the digital world we live in today.
YaYp presents empowering stories that are able to raise awareness. Stories that show we can all be a victim online, but how do we prevent this? How aware are we? What would we have done differently? The stories are recorded, among others, in Amsterdam, London, Willemstad, Helmond, Den Bosch.
Header photo credit: You are Your profile – personal considerations when online, dir. Jerry de Mars
FAQ: How do I watch online?
FAQ: How do I watch in-person?
Purchase your ticket through Brown Paper Tickets; come to the show!
You can also purchase a ticket on the day of the screening at Northwest Film Forum's box office (1515 12th Ave, Seattle).
If you have purchased a Hybrid or In-Person-Only Festival Pass, we'll be able to look you up at Will Call by the name you purchased under.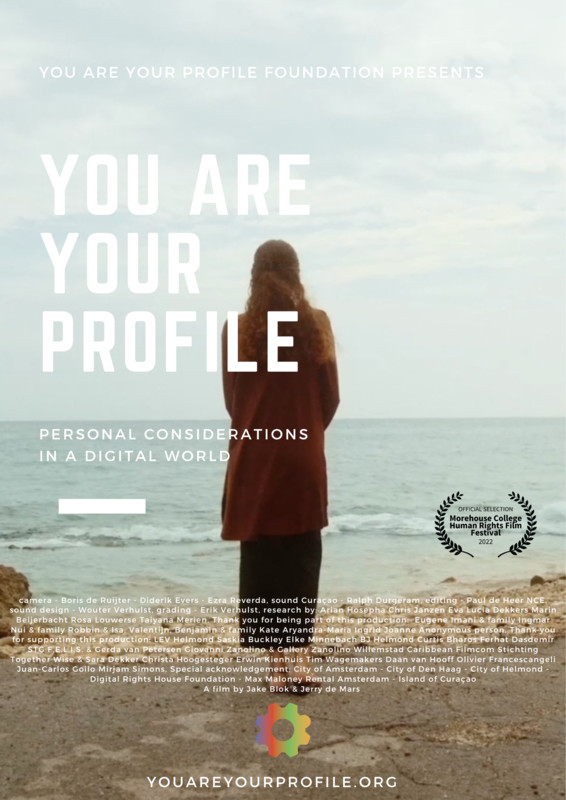 ---
Digital Champions leading the fight against FGM in Tanzania
(Steven Hervieu, Tanzania, 2022, 5 min, in English)
CW: discussions of violence towards women
Girls at risk of FGM in Mara, Tanzania live in very remote villages, far from the rule of law. Digital Champions help map these villages to ensure girls can be found quickly, especially in the middle of the night when most calls for urgent help are received, particularly during the "cutting season." They also educate their communities and report cases of Gender Based Violence using a free smartphone app.
In Between
(Lindy Boustedt, US, 2020, 20 min, in English)
It's the late-1980s and Lisa, a biracial teenager who has just moved to Seattle from London, is forced into a new world when she is segregated to a different school from her white sister. But when she meets a welcoming student at orientation, everything changes.
Written by a student in SHARE, the screenwriting program at the Washington Corrections Center for Women, In Between is based on a true story – through the lens of a what-if.
What if her journey in Seattle had a different outcome and Lisa had found community and connection? What if she had been able to find confidence in herself? How differently could her life have turned out?
Becoming Black Lawyers
(Evangeline Mitchell, US, 2021, 25 min, in English)
CW: discussion of race and slavery
When these Black lawyers set out to receive a legal education, they did not realize that they would have to struggle against additional battles even more challenging than the rigors of learning law.
---
Click to return to Festival Home:
⚠️ Please note: NWFF patrons will be required to wear masks that cover both nose and mouth while in the building. We are not currently checking vaccination cards.
---