SJFF 2022 – BLOCK 6 – Raised Up West Side [Hybrid]
Watch online: Sep. 28 – Oct. 2

Watch in person: Sep. 30 at 9pm
In-person tickets
$13 General Admission
$10 Student/Child/Senior
$7 Member
Virtual tickets
$5 – $25 Sliding Scale
$50 – $125 Sliding Scale
Festival Passes grant access to BOTH virtual AND in-person film programs!
Individual Tickets are available, as well, but are for EITHER virtual-only OR in-person-only access.
Click for Accessibility Info
Ticketing, concessions, cinemas, restrooms, and our public edit lab are located on Northwest Film Forum's ground floor, which is wheelchair accessible. All doors in Northwest Film Forum are non-motorized, and may require staff assistance to open. Our upstairs workshop room is not wheelchair accessible.
We have a limited number of assistive listening devices available for programs hosted in our larger theater, Cinema 1. These devices are maintained by the Technical Director, and can be requested at the ticketing and concessions counter. Also available at the front desk is a Sensory Kit you can borrow, which includes a Communication Card, noise-reducing headphones, and fidget toys.
The Forum does NOT have assistive devices for the visually impaired, and is not (yet) a scent-free venue. Our commitment to increasing access for our audiences is ongoing, and we welcome all public input on the subject!
If you have additional specific questions about accessibility at our venue, please contact our Patron Services Manager at cris@nwfilmforum.org. Our phone number (206-329-2629) is voicemail-only, but we check it often.
Made possible due to a grant from Seattle Office of Arts & Culture, in partnership with Sensory Access, our Sensory Access document presents a visual and descriptive walk-through of the NWFF space. View it in advance of attending an in-person event at bit.ly/nwffsocialnarrativepdf, in order to prepare yourself for the experience.
NWFF patrons will be required to wear masks that cover both nose and mouth while in the building. Disposable masks are available at the door for those who need them. We are not currently checking vaccination cards. Recent variants of COVID-19 readily infect and spread between individuals regardless of vaccination status.
Read more about NWFF's policies regarding cleaning, masks, and capacity limitations here.
Raised Up West Side
Seattle Premiere!
(Brett A. Schwartz, US, 2022, 87 min, in English)
CW: gang-related incidents and themes, but no sequences showing violence
Chicago's West Side epitomizes the violent, struggling city we see daily in the media. Raised Up West Side peels back the layers, exposing the deep-seated segregation, food insecurity, and mass incarceration that continue to shape these predominantly Black neighborhoods. Following the harrowing, yet frequently inspiring plight of ex-offenders, social activists, and entrepreneurs working on the West Side, we witness the fierce tenacity required to change the narrative — and change lives.
Header photo credit: Raised Up West Side, dir. Brett A. Schwartz
FAQ: How do I watch online?
FAQ: How do I watch in-person?
Purchase your ticket through Brown Paper Tickets; come to the show!
You can also purchase a ticket on the day of the screening at Northwest Film Forum's box office (1515 12th Ave, Seattle).
If you have purchased a Hybrid or In-Person-Only Festival Pass, we'll be able to look you up at Will Call by the name you purchased under.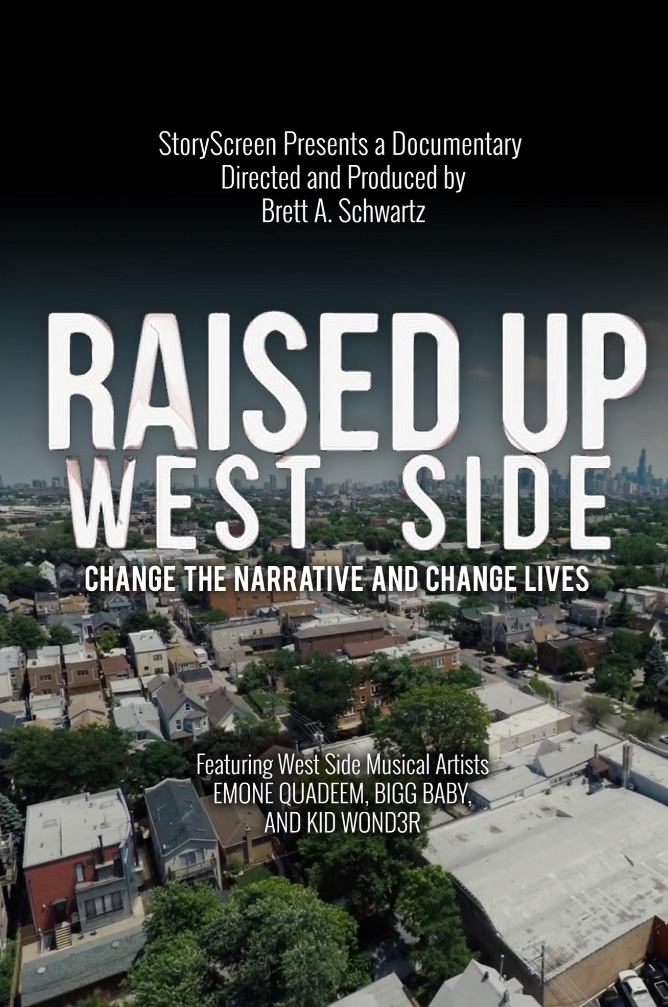 ---
Breaking Ground: America's First Black Tomb Guard
West Coast Premiere!
(Phil Garrison, US, 2022, 5 min, in English)
An elite group of US soldiers continually guard the Tomb of the Unknown Soldier in Arlington National Cemetery. In 1961, Fred Moore became the first Black Tomb Guard and paved the way for more change.
Free to Care
(Chris Temple & Owen Dubeck, US, 2022, 12 min, in English)
Over 30 years ago, Lisa Creason attempted to rob a Subway cash register. She had no plan, no weapon, and no get-away car. It was an act of desperation to feed her infant daughter, and resulted in a criminal record she couldn't escape. Denied her dream of becoming a nurse, Lisa must fight an unjust law to provide for her family and create opportunities for thousands of others across the state of Illinois. Trailer >
---
Click to return to Festival Home:
⚠️ Please note: NWFF patrons will be required to wear masks that cover both nose and mouth while in the building. We are not currently checking vaccination cards.
---