SJFF 2022 – BLOCK 7 – NECESSITY: Climate Justice & the Thin Green Line [Hybrid]
Watch online: Sep. 28 – Oct. 2

Watch in person: Oct. 1 at 1:30pm
In-person tickets
$13 General Admission
$10 Student/Child/Senior
$7 Member
Virtual tickets
$5 – $25 Sliding Scale
$50 – $125 Sliding Scale
Festival Passes grant access to BOTH virtual AND in-person film programs!
Individual Tickets are available, as well, but are for EITHER virtual-only OR in-person-only access.
Click for Accessibility Info
Ticketing, concessions, cinemas, restrooms, and our public edit lab are located on Northwest Film Forum's ground floor, which is wheelchair accessible. All doors in Northwest Film Forum are non-motorized, and may require staff assistance to open. Our upstairs workshop room is not wheelchair accessible.
We have a limited number of assistive listening devices available for programs hosted in our larger theater, Cinema 1. These devices are maintained by the Technical Director, and can be requested at the ticketing and concessions counter. Also available at the front desk is a Sensory Kit you can borrow, which includes a Communication Card, noise-reducing headphones, and fidget toys.
The Forum does NOT have assistive devices for the visually impaired, and is not (yet) a scent-free venue. Our commitment to increasing access for our audiences is ongoing, and we welcome all public input on the subject!
If you have additional specific questions about accessibility at our venue, please contact our Patron Services Manager at cris@nwfilmforum.org. Our phone number (206-329-2629) is voicemail-only, but we check it often.
Made possible due to a grant from Seattle Office of Arts & Culture, in partnership with Sensory Access, our Sensory Access document presents a visual and descriptive walk-through of the NWFF space. View it in advance of attending an in-person event at bit.ly/nwffsocialnarrativepdf, in order to prepare yourself for the experience.
NWFF patrons will be required to wear masks that cover both nose and mouth while in the building. Disposable masks are available at the door for those who need them. We are not currently checking vaccination cards. Recent variants of COVID-19 readily infect and spread between individuals regardless of vaccination status.
Read more about NWFF's policies regarding cleaning, masks, and capacity limitations here.
NECESSITY: Climate Justice & the Thin Green Line
US Premiere!
(Jan Haaken, US, 2021, 57 min, in English)
The film tells the story of activists as they enlist the necessity defense in a jury trial after a direct action in the Columbia River Gorge, following tribal leaders, Indigenous activists and white allies as they resist oil terminals and trains cutting through critical waterways. From the courts, to the streets, to railroad tracks, activists quite literally put their bodies on the line in their fight to save the planet.
Header photo credit: NECESSITY: Climate Justice & the Thin Green Line, dir. Jan Haaken
FAQ: How do I watch online?
FAQ: How do I watch in-person?
Purchase your ticket through Brown Paper Tickets; come to the show!
You can also purchase a ticket on the day of the screening at Northwest Film Forum's box office (1515 12th Ave, Seattle).
If you have purchased a Hybrid or In-Person-Only Festival Pass, we'll be able to look you up at Will Call by the name you purchased under.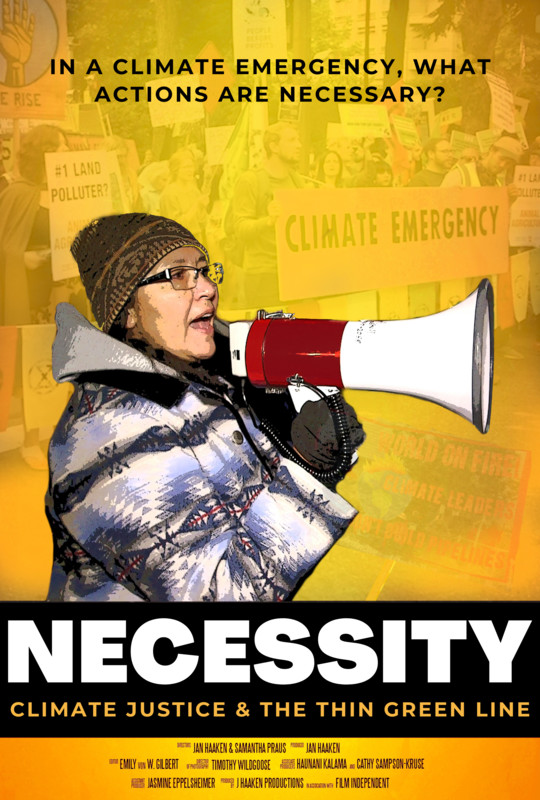 ---
When Mama & Me Lived Outside: One Family's Journey Through Homelessness
Seattle Premiere!
(Peter Menchini, US, 2021, 8 min, in English)
Tiny Gray-Garcia's heartbreaking true story about growing up on the streets of Los Angeles, San Francisco and Oakland with her mother, Mama Dee. Based on her children's book of the same name.
Sacrificed
West Coast Premiere!
(David Sanchez, Canada, 2021, 12 min, in French with English subtitles)
Flavie is a daring and opinionated 15-year-old teen who, in order to defend her social and environmental beliefs, is ready to practice civil disobedience even at the risk of facing legal repercussions.
New-Chah-Nulth: Reclaiming Tradition
Seattle Premiere!
(Michael Morash, Canada, 2021, 17 min, in English)
CW: stories of residential schools and racism may be triggering
The Nuu-chah-nulth Peoples are decolonizing education. They're integrating language, tradition, and land-based skills into their school curriculum to save their culture from the brink of extinction.
Into Dust
(Orlando von Einsiedel, UK, Denmark, Pakistan, India, 2020, 40 min, in English & Urdu with English subtitles)
The extraordinary true story of Perween Rahman, a woman who worked tirelessly to protect the rights of Pakistan's poor, who paid the ultimate price.
---
Click to return to Festival Home:
⚠️ Please note: NWFF patrons will be required to wear masks that cover both nose and mouth while in the building. We are not currently checking vaccination cards.
---